How Mitzi Tulane Was Created Part 2

(Last updated May 31, 2016)
Once author Lauren McLaughlin's story was ready, Random House editor Maria Modugno sent Debbie Ridpath Ohi the manuscript. Before starting to sketch, Debbie read Lauren's story many times: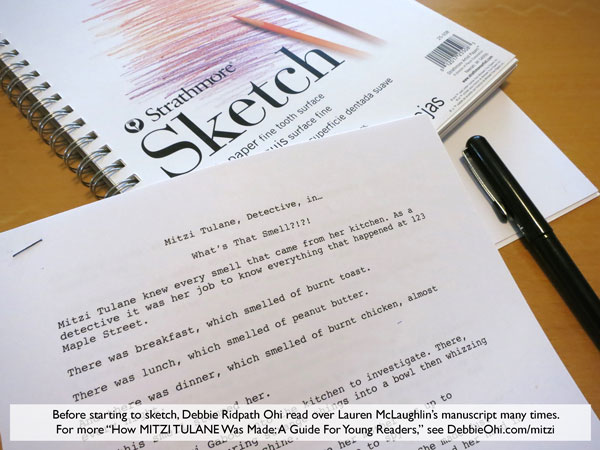 Next, Debbie began character sketches as well as figuring out how to best break up the text into page spreads: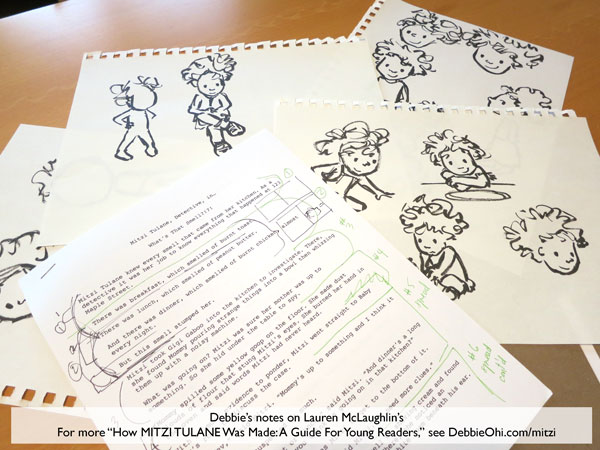 Debbie modelled the main character, Mitzi, after the author's daughter, Adelina. You can read the story of how Addie was adopted in this blog post by the author.
Here is one of the adorable photos that Debbie received: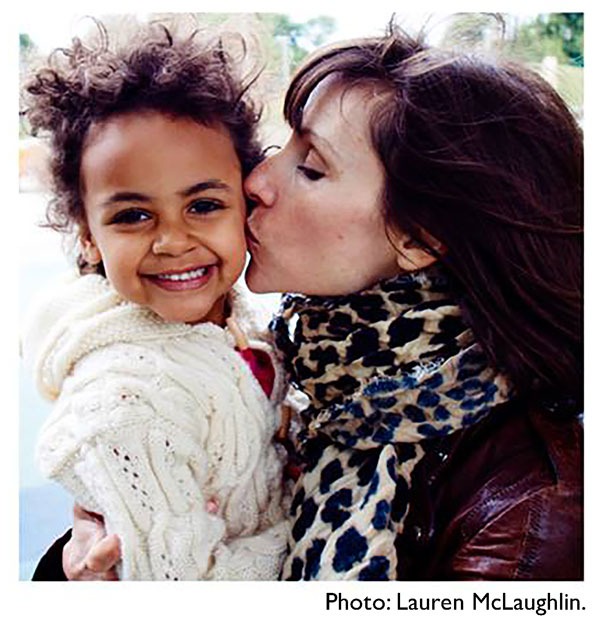 Debbie modelled Gigi Gaboo in the book after the real-life Gigi Gaboo: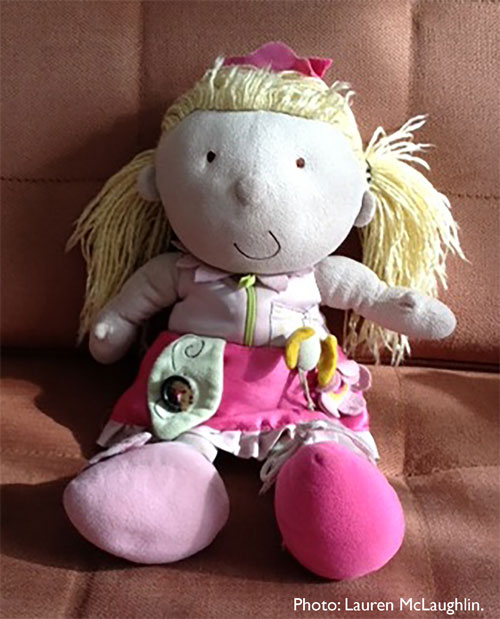 Here's a photo of Addie with Gigi Gaboo: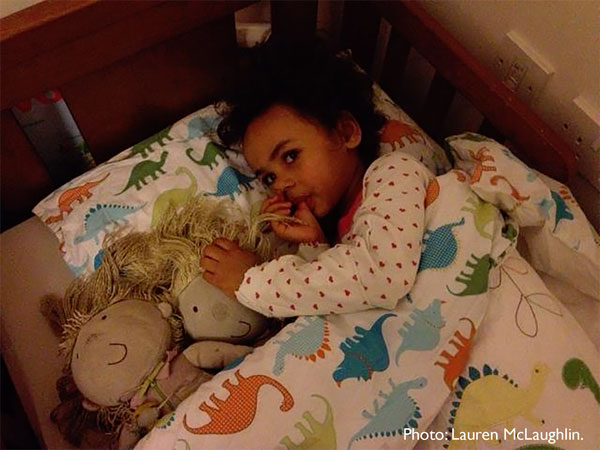 Debbie started drawing "thumbnail sketches" (small sketches) to make easier for her to see if the overall pacing and flow were working ok.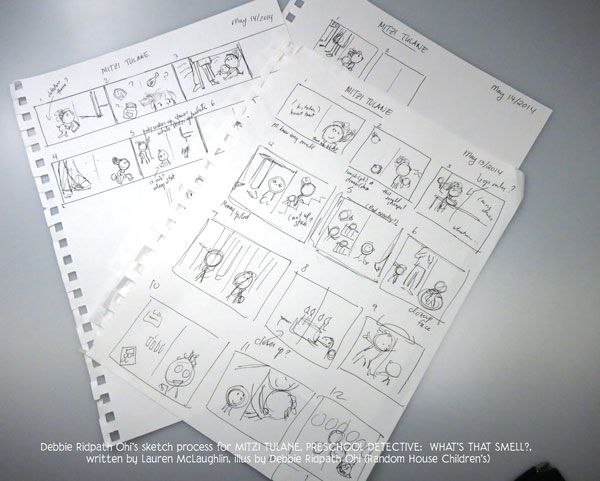 Then Debbie started working on larger sketches of each illustration spread. She went through several rounds of sketches with Cathy Goldsmith (art director on first part of the project), then Martha Rago (art director) and Maria Modugno (editor). For each, they all talked about what was working, what wasn't working, and what could be improved.
Here's an example of the stages that the opening spread went through.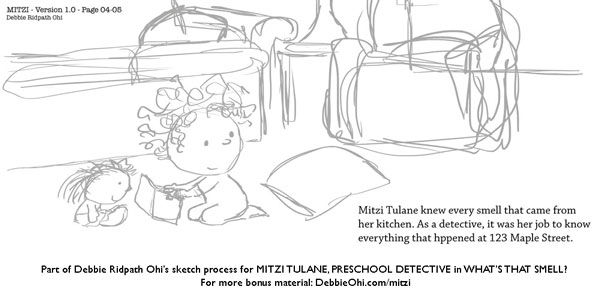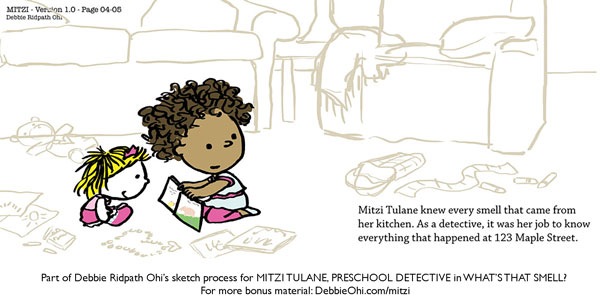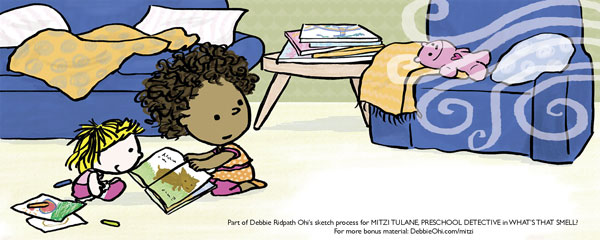 With notes from Debbie's art director: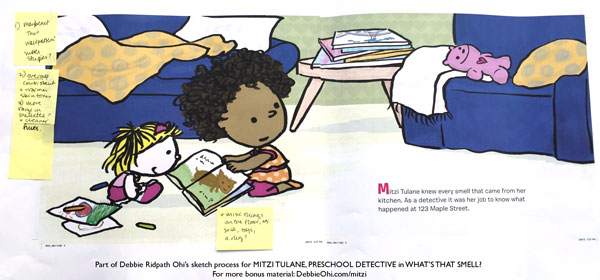 We decided the colors were too dark, so I sent some new color samples of the same scene. Here are a few: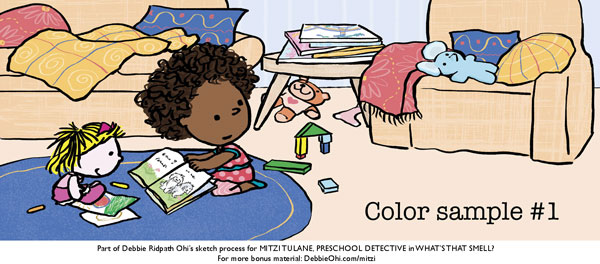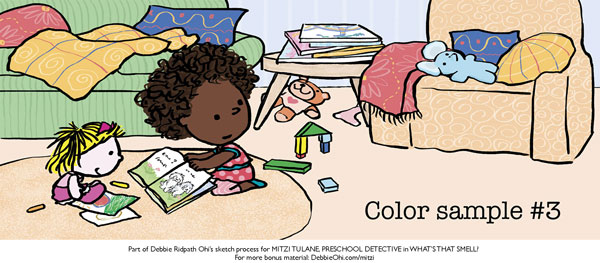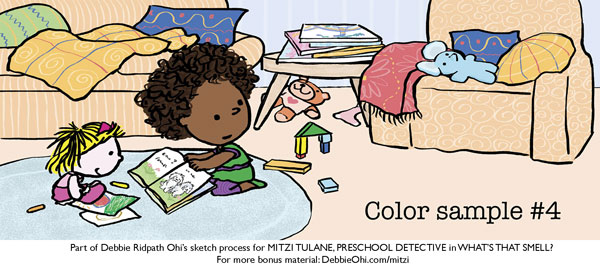 Here is the final version after art director Martha Rago arranged the text: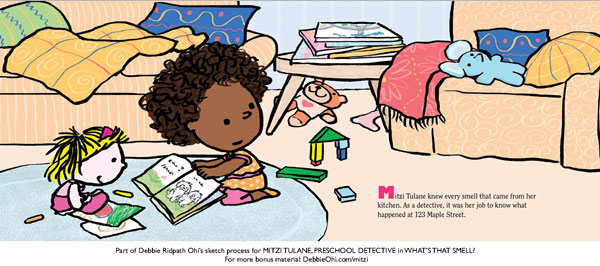 Some insider info about this spread:
See the book on top of this pile?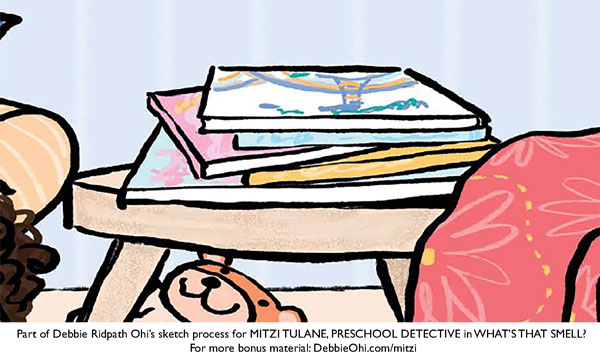 The book is modelled after this book: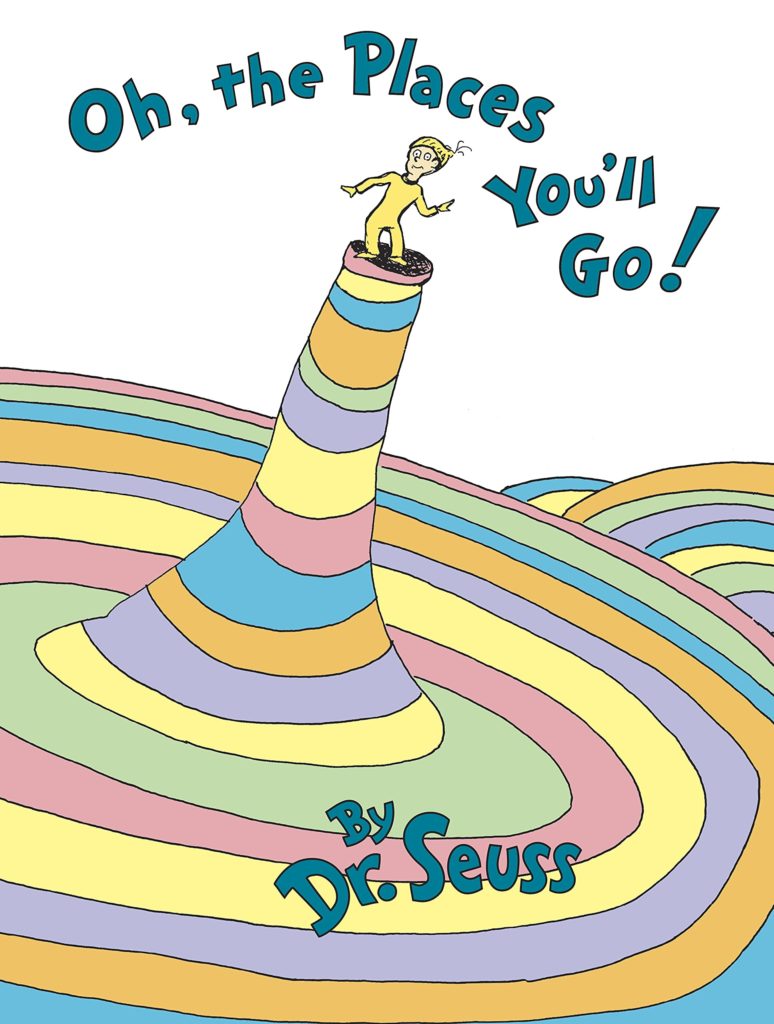 Debbie included it because one of the art directors she worked with on MITZI was Cathy Goldsmith, who used to work with Dr. Seuss.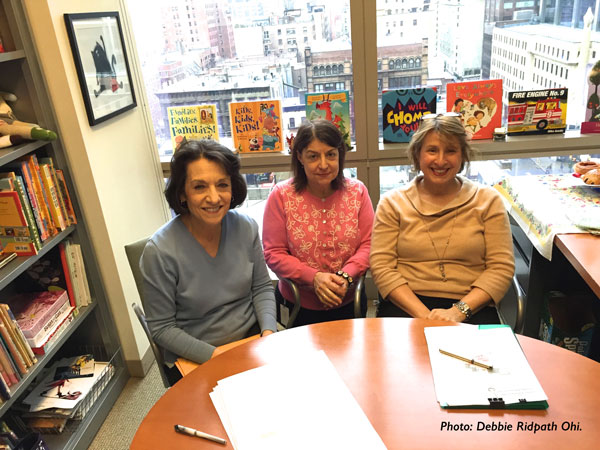 See the mouse toy on the armchair?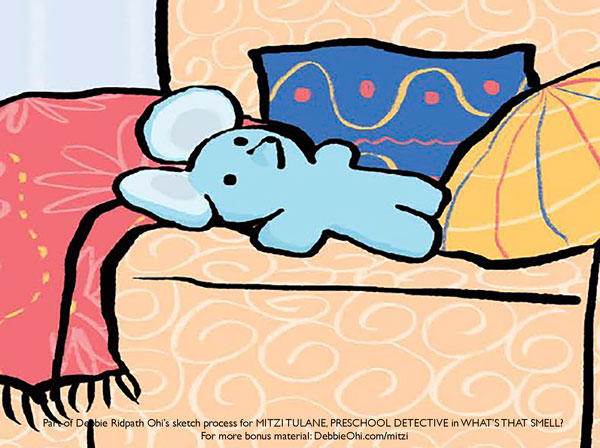 He is modelled after Flatmouse, a childhood toy of Debbie's husband's: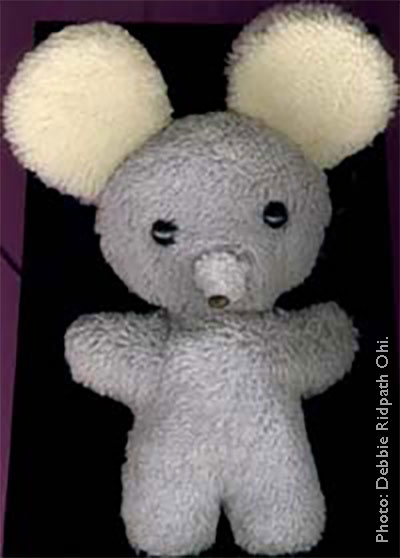 Last but not least, see the picture book that Mitzi is showing Gigi Gaboo?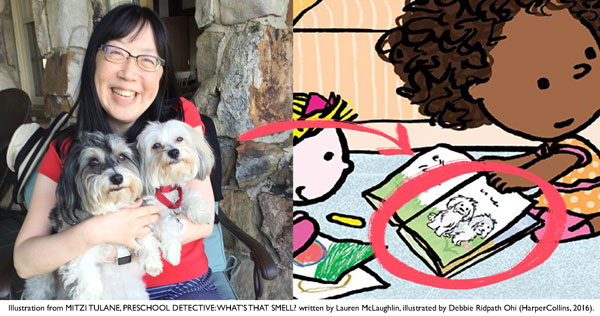 They are modelled after two real-life dogs that belong to a friend of Debbie's! The dogs' names are Jorgie and D.J, named after baseball players Jorge Posada and Derek Jeter.
As Debbie worked on sketches, she hung each one up on a string that was stretched across her office ceiling: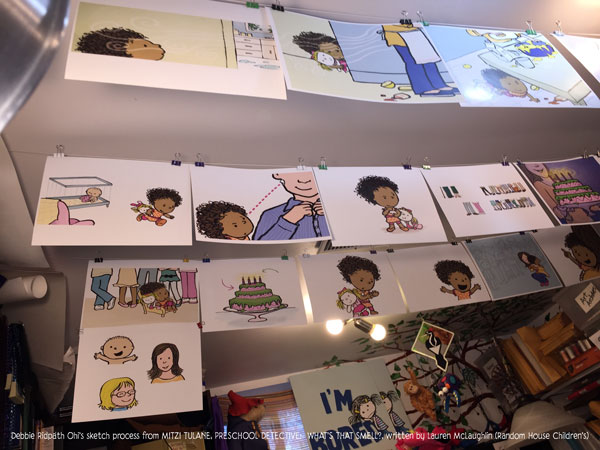 This way, she easily scan all the sketches she had drawn so far and get a sense of her progress. Plus it made Debbie happy to see all those Mitzi illustrations hanging from her ceiling!
It was so exciting to see the final book come out!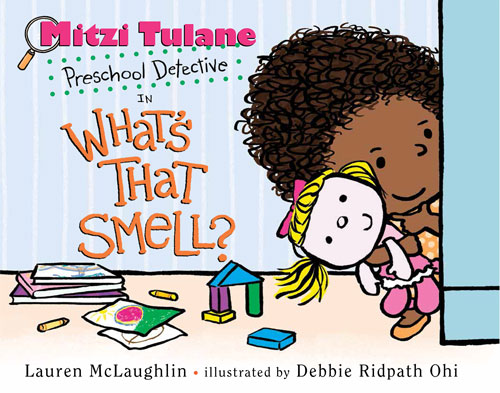 The next year, the second Mitzi Tulane book came out: THE SECRET INGREDIENT!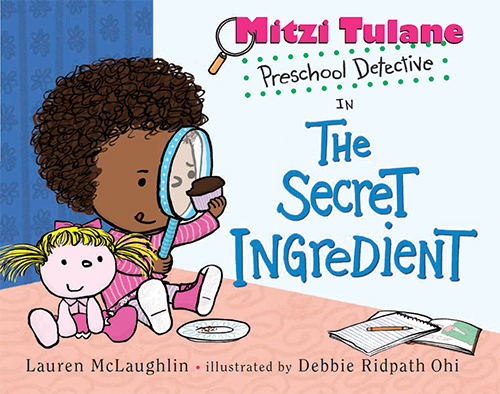 Debbie had fun celebrating the launch at Nerd Camp in 2017!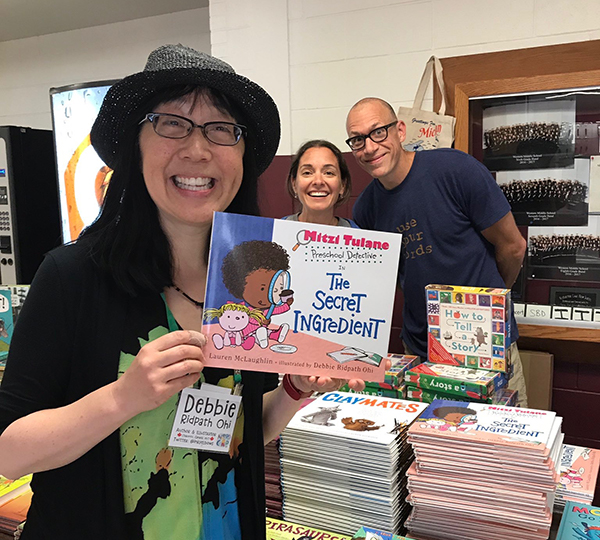 And Debbie even got dressed up as Juanita (thanks to author/illustrator Shelley Johannes for the costuming help during Nerd Camp! And to Justin the Nerdy Photographer for the fun photo below):