Q. Do you still offer free virtual visits?
Please note that Debbie is no longer offering free 15-minute Q&A Skype visits. Like many others, her income has been affected by the pandemic. Flipgrid enables Debbie to continue offering an affordable alternative for educators who are doing e-learning with students.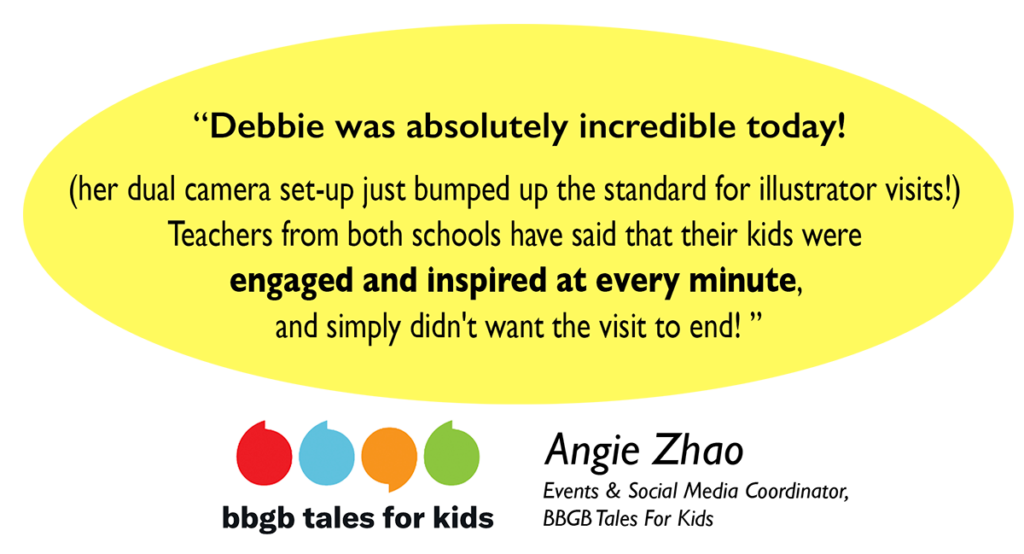 To maximize the value of Debbie's visit for everyone, here are some tips and more info:
Q. What content do you offer in a virtual visit?
FOR YOUNG READERS:
A reading of any of Debbie's books. (Live visits only.)
Talking about her writing and illustration process, how a picture book is created. With virtual visits, she can easily show sketches and props.
Suggestions for how to brainstorm story and character ideas.
Drawing demos: live drawing via overhead camera, flipchart with paper, digital drawing demo, iPad screen sharing. Some of these depend on the platform being used.
Drawing workshop: Students are encouraged to have paper and something to draw with, and are also encouraged to hold up their work for Debbie to see at the end.
Writing workshop: Interactive writing exercises.
Comics workshop: After having taught two Graphic Novel Writing workshops for the Toronto Public Library, Debbie experience in working with 8-12 year old creators, helping them learn about character and story brainstorming, story pacing, comics format and more.
Flipgrid visit: In addition to my free Flipgrid visit offer, I also offer individual responses to student questions and show-and-tell.
Combo of any of the above.
FOR PROFESSIONAL EVENTS:
Debbie's presentations and workshops about the craft or business of writing and illustrating picture books include:
Practical tips for children's book creators on how to cope during the pandemic (virtual networking, promotion, virtual school presentations, self-care etc)
Bootcamp for book creators: promoting yourself and your books during the pandemic.
Livestreaming basics: what you need, what you should know, how to get started.
Social media master class for children's book creators.
What picture book writers should know about picture book illustration.
Networking tips for introverts.
Debbie's presentations for educators include:
How to brainstorm characters and story ideas with young creators using found object art.
Social-Emotional Learning in the classroom using the I'M… picture books. Note: This presentation is being developed and will be ready in November.
If you are interested in a live virtual visit from Debbie, please inquire through her Author Village presenter page.
To get the most out of my virtual visits with young readers, here are some tips:
BEFORE DEBBIE'S VIRTUAL VISIT:
To get the most out of my visit, I strongly advise you to familiarize your students with at least one of my books ahead of time. During the pandemic (please check Simon & Schuster's Online Reading Guidelines for the extended date), you can find cover-to-cover read-alouds on Debbie's YouTube channel. Thanks to Simon & Schuster for permission to do these cover-to-cover readings online! I also have Classroom Guides, free print-ready activities, book creation templates and more on my website; please see my Resources page.
Educators should familiarize their students with the procedure for the virtual visit ahead of time.
DURING DEBBIE'S VIRTUAL VISIT:
At least one adult should be available to help things run smoothly: to mute students when necessary (or unmute), to monitor the text chat when she does call-and-response (if text chat is being used). During Q&A and other call-and-response activities, that moderator will be the one to choose students to unmute and ask their questions, etc.
Ideally, students will only post in the text chat when asked by Debbie or by an educator. That way, she can use the text chat as another way of engaging the students.
Someone should be available who is able to text Debbie via cell phone, just in case of tech issues.
Debbie prefers the students' cameras to be ON so she can see their (hopefully engaged) faces. She finds that her own visit energy feeds off the reactions of the students, plus it makes call-and-response activities easier.
Educator should make sure that students do NOT have the ability to mute Debbie's microphone or boot her out of the chat (Debbie's heard horror stories from other authors, especially for Microsoft Teams).
Educators using Zoom should make sure that the Annotate feature is not available to students during Debbie's visit. This will prevent the more tech-savvy sutdents from drawing over Debbie's screen. 🙂
If students have been distance learning and haven't had a chance to see each other for a while, it's probably good to reserve a few minutes at the beginning for some kind of engaging warm-up activity. This also gives stragglers a chance to show up. Suggestions: Before the visit, ask them to bring a book they love to hold up when prompted, or some other kind of show-and-tell.
---
TIPS FOR BOOK CREATORS WHO ARE DOING VIRTUAL VISITS:
Having a checklist handy will help you remember everything before doing a visit, especially making sure to have everything you need within easy reach. Your list will vary, but here are some of Debbie's:
Confirm date and time (WITH TIMEZONE) ahead of time.
Do a tech test beforehand to make sure everything is running smoothly.
Remind the educator (if they haven't reminded me first) the day before of the upcoming visit, including all the details (including the timezone).
Have a cell phone handy, just in case something goes wrong on Debbie's end or the educator's end and they have to make changes on the fly.
Remove any potential interruptions: Debbie removes her landline handset from the room; she knows she could just turn off the ringer, but she's worried she'll forget to turn it back on. She makes sure her cell is on silent.
If the educator hasn't already, remind the students to Pin your thumbnail image so that they can see you. She also has a little paper sign handy with the symbol that she can hold up as a reminder.
---
More tips to be added over time! You can also see Debbie's School Visit Resource For Authors And Illustrators.
Do you have additional tips? Please let Debbie know!