Story behind the dedication page in MITZI TULANE, PRESCHOOL DETECTIVE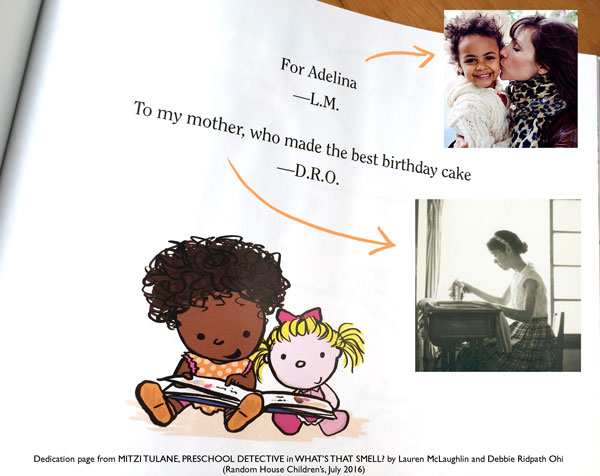 The first MITZI TULANE, PRESCHOOL DETECTIVE picture book launches next Tuesday from Random House Children's! Here's some insider info from the dedication page: mine is for my mom, who died of cancer when I was in my 20s. We didn't have a ton of money when we were growing up, and Mom sewed a lot of our clothes. One of the reasons I love compartmentalized food is because TV dinners were always a treat for us when we were kids (and the little kid part of my brain still regards them as a luxury).
For my birthday, Mom would usually make birthday cake from a Betty Crocker mix, letting me choose what flavour I wanted; I almost always chose chocolate. Thing is, those cakes were WONDERFUL even if they came from a mix, and later on I came to realize that I loved Mom's cakes not so much because of how they tasted, but of the love that went into them. My mom was still alive when I quit my programmer/analyst job to pursue freelance writing but died before any of my books got published. I think she would have been so happy to see this book come out.
Lauren's dedication is to her daughter Addie, who helped inspire the book. Read Lauren's Nerdy Book Club piece about diversity and transracial adoptive families  and also how she wrote Mitzi Tulane, Preschool Detective.
For more info about this new picture book, see the Random House Kids page about Mitzi Tulane, Preschool Detective.