"You must write every single day of your life…" – Ray Bradbury
I'm up to 51,000 words in the first draft of my middle grade! In the home stretch now. If you're confused about why I'm talking about writing middle grade and not picture books, please see my Perseverance post. Using Linda Sue Park's #12minutes first-drafting method helped me get going, as has writing EVERY DAY.
But back to the photo I posted at the top, which I took this morning. Many years ago, my friend Cathy Rutland gave me this framed Ray Bradbury quote as a gift. Not only does she know I am a longtime Ray Bradbury fan, but she also knows that I've been wanting to write for young people since the early days; Cathy and I have known each other since second grade.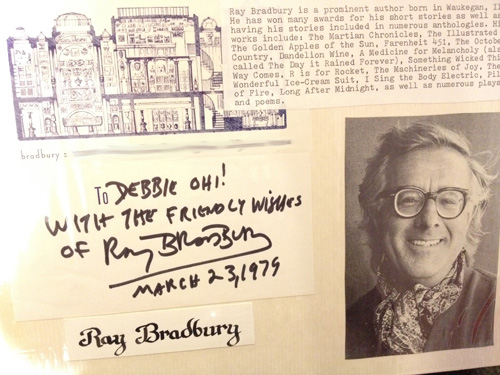 Above: A page from one of my childhood autograph albums.
Ray Bradbury's Dandelion Wine was the first novel I read where I became aware of how much an author's voice could enhance my reading experience. I found myself slowing down when I read Bradbury's work, savouring the words. I still have my first copy of this book, a gift from my sister. Ruth has been one of my biggest cheerleaders in my efforts to get my middle grade writing published; she knows it's been my dream since the beginning.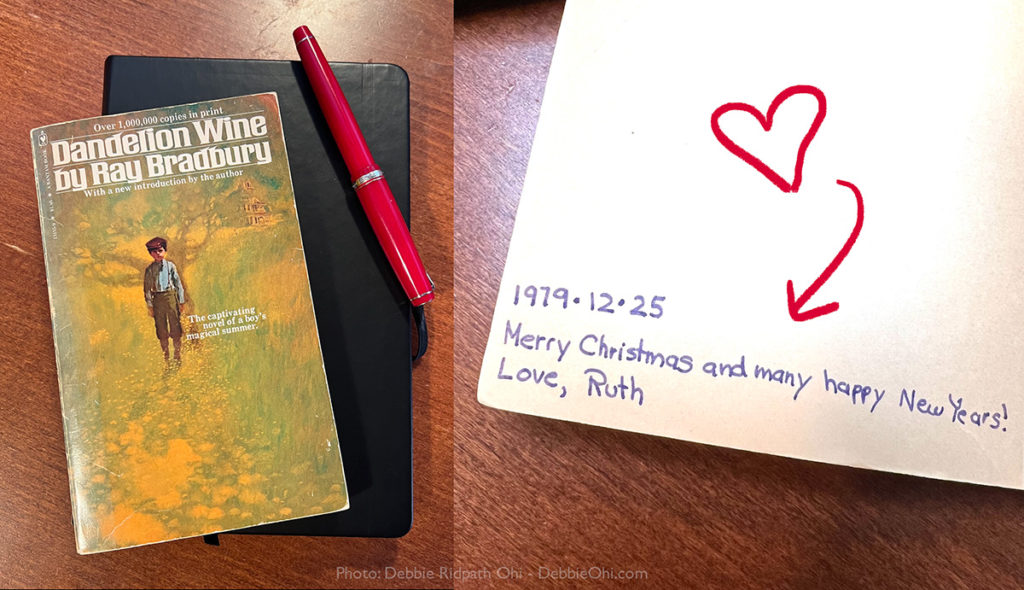 Grateful to both Cathy and Ruth for these gifts, which have helped encourage me through the many ups and downs over the years.
I also wrote a song based on one of my favourite Ray Bradbury short stories. My song "Homecoming" was inspired by "The Rocket Man" from his R Is For Rocket collection of short stories. Like the story that inspired it, my "Homecoming" song is about love and loss and family. Of all the songs I've written, this is the song of which I'm most proud.
Here's the recording of the song from one of our concerts, with Jodi Krangle singing lead, Allison Durno on lead guitar and harmonies, and I'm doing a bit of harmonizing and rhythm guitar.
Also, see that gorgeous cover? It was illustrated and designed by Beckett Gladney, my illustrator friend who helped me put together that first portfolio that ended up getting me my first children's book contract!
I was thrilled when my friend Sunnie Larsen covered the song in one of her concerts in the UK, with the help of Steve Macdonald, Mike Whitaker, and Marcos Duran:
You can hear Sunnie's recorded version as well as purchase the track from Sunnie's album, The Space Between Notes.
I also loved my friend Errol Elumir's cover of Homecoming:
Here are the lyrics and chords (you can also download the PDF, if you're interested in covering my song – if you do, please do let me know!):
HOMECOMING
Words and music by Debbie Ridpath Ohi (c) 1996
Listen to Urban Tapestry's recording (just found this on Spotify) on our Sushi and High Tea album
Based on the short story "The Rocket Man" by Ray Bradbury, from R Is For Rocket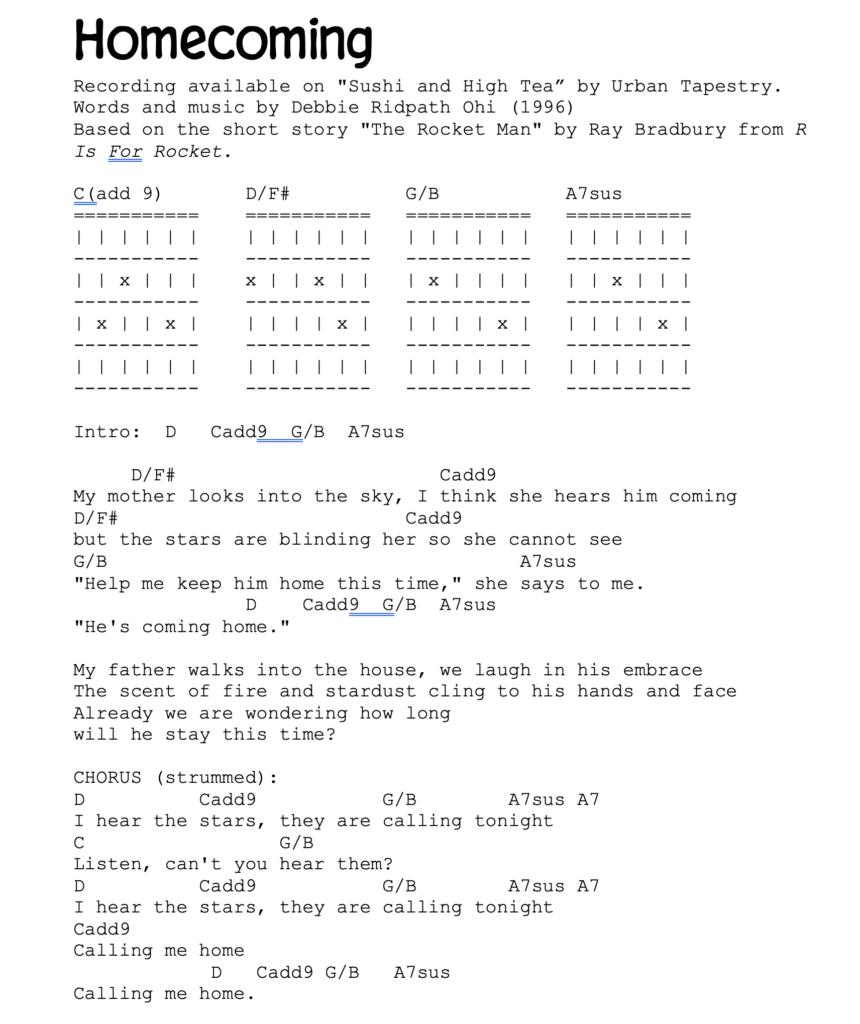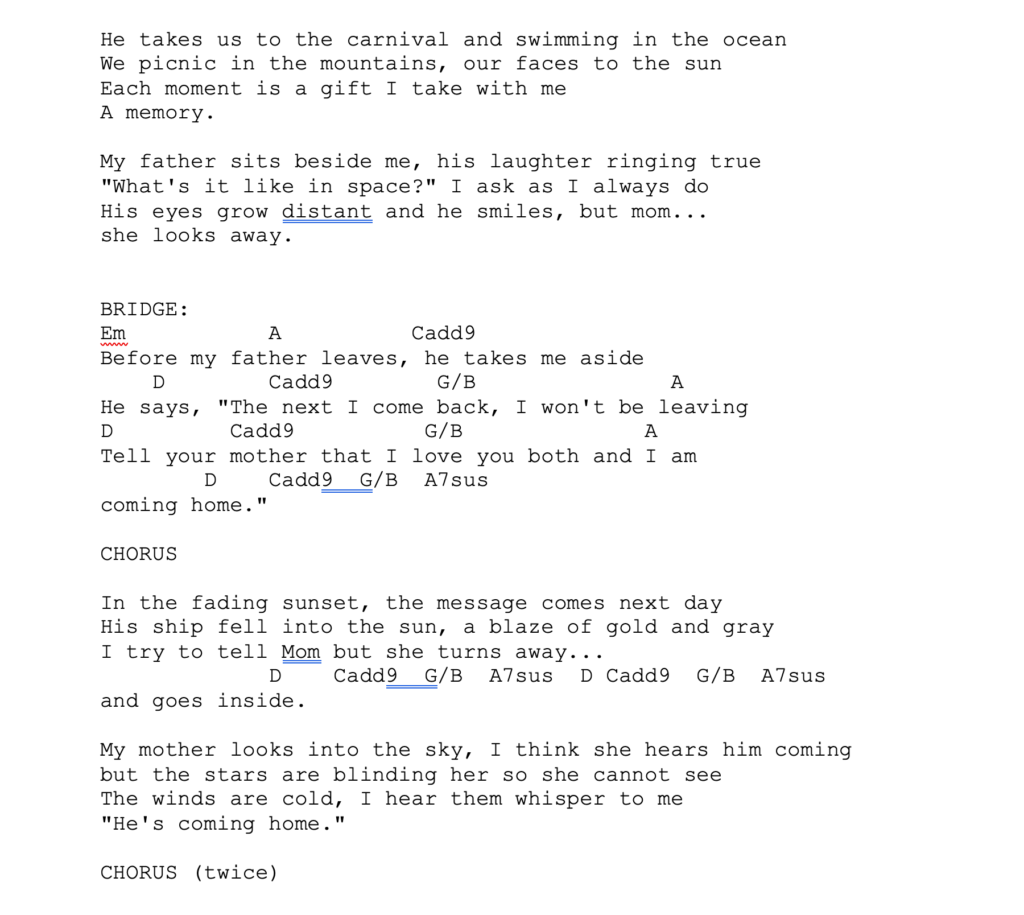 In any case, the framed quote from Ray Bradbury at the top of this post is something I've been seeing every single morning for many years now, and one I'm especially taking to heart this year as I try to WRITE every single day, even if it's only for a few minutes.
Speaking of which, I'm going to sign off and do some WRITING now.