R.I.P. Ray Bradbury
Update: Thanks to some of my musician/songwriter friends for covering my "Homecoming" song!
From Sunnie Larsen:
From Errol Elumir:
See info below for the background, lyrics/chords for this song]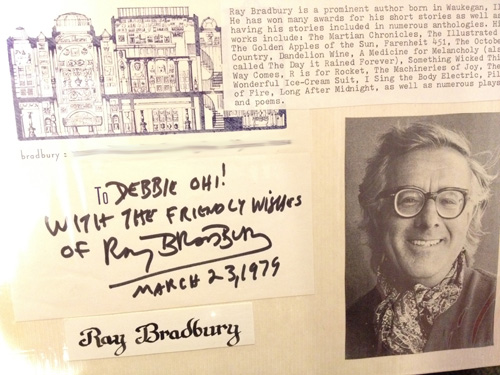 Above: page from my childhood autograph collection.
Just found out that Ray Bradbury died this morning at the age of 91. 🙁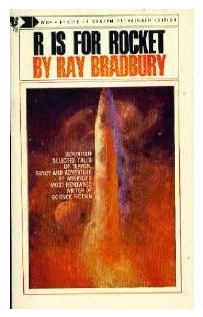 I always loved reading, but it wasn't until I read Ray Bradbury's Dandelion Wine that I became aware of style in writing. I'm generally a fast reader, but with Ray Bradbury's books I slowed way down so I could savour the language. His books helped me appreciate the importance of word choice, and also got me hooked on science fiction.
I wrote a song called "Homecoming" that was based on one of my favourite Ray Bradbury short stories, "The Rocket Man" (included in his R Is For Rocket short story collection). You can hear my group, Urban Tapestry, performing Homecoming in our live performance CD. I'm playing the rhythm/underlying picking guitar part on this track, Allison Durno plays lead guitar bits and Jodi Krangle sings lead. Allison and I sing some backup during the chorus. I've included the lyrics/chords at the bottom of this post.
Even before I experienced family loss myself, I was deeply moved by this story and others by Bradbury. His writing affected me in so many ways, and was a major factor in my own desire to be a writer. I owe this man so much and had hoped to meet him in person someday.
For more info about Ray Bradbury, see http://www.raybradbury.com/
HOMECOMING
Words & music by Debbie Ridpath Ohi
Based on "The Rocket Man", a short story by Ray Bradbury from his R Is For Rocketanthology.
Performed by Urban Tapestry (included on our live performance CD, Sushi and High Tea)
Also hear a cover of this song by Andrea Dale.
C(add 9)       D/F#          G/B           A7sus
===========    ===========   ===========   ===========
| | | | | |    | | | | | |   | | | | | |   | | | | | |
-----------    -----------   -----------   -----------
| | x | | |    x | | x | |   | x | | | |   | | x | | |
-----------    -----------   -----------   -----------
| x | | x |    | | | | x |   | | | | x |   | | | | x |
-----------    -----------   -----------   -----------
| | | | | |    | | | | | |   | | | | | |   | | | | | |
-----------    -----------   -----------   -----------

Intro:  D   Cadd9  G/B  A7sus

     D/F#                       Cadd9
My mother looks into the sky, I think she hears him coming
D/F#                         Cadd9
but the stars are blinding her so she cannot see
G/B                                    A7sus
"Help me keep him home this time," she says to me.
               D    Cadd9  G/B  A7sus
"He's coming home."

My father walks into the house, we laugh in his embrace
The scent of fire and stardust cling to his hands and face
Already we are wondering how long
he'll stay this time.


CHORUS (strummed):
D          Cadd9           G/B        A7sus A7
I hear the stars, they are calling tonight
C                 G/B
Listen, can't you hear them?
D          Cadd9           G/B        A7sus A7
I hear the stars, they are calling tonight
Cadd9
Calling me home
            D   Cadd9 G/B   A7sus
Calling me home.


He takes us to the carnival and swimming in the ocean
We picnic in the mountains, our faces to the sun
Each moment is a gift I take with me
A memory.

My father sits beside me, his laughter ringing true
"What's it like in space?" I ask as I always do
His eyes grow distant and he smiles, but mom...
she looks away.


BRIDGE:
Em           A          Cadd9
Before my father leaves, he takes me aside
    D        Cadd9        G/B               A
He says, "The next I come back, I won't be leaving
D         Cadd9          G/B              A
Tell your mother that I love you both and I am
        D    Cadd9  G/B  A7sus
coming home."

CHORUS

In the fading sunset, the message comes next day
His ship fell into the sun, a blaze of gold and gray
I try to tell Mom but she turns away...
             D    Cadd9  G/B  A7sus  D Cadd9  G/B  A7sus
and goes inside.

My mother looks into the sky, I think she hears him coming
but the stars are blinding her so she cannot see
The winds are cold, I hear them whisper to me
"He's coming home."

CHORUS (twice)