Perseverance
(Last updated May 25, 2023)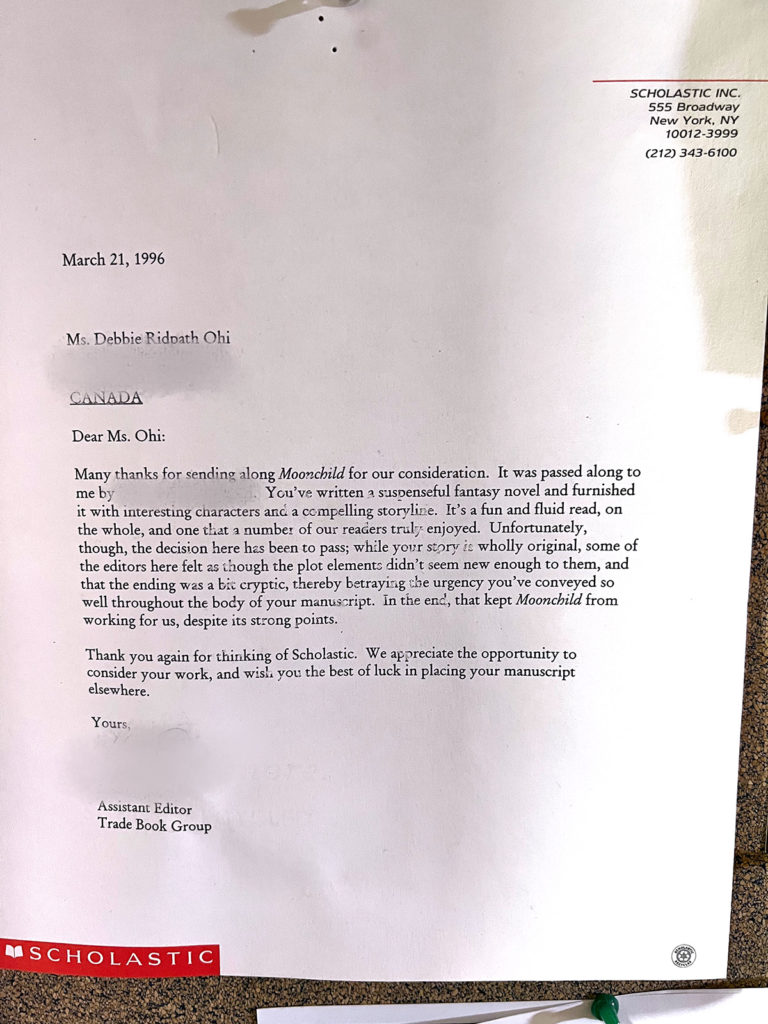 (Also see: Rejection Stories & Advice From Published Kidlit/YA Creators, Linda Sue Park's #12minutes writing routine for first drafts and feel free to join my Inkygirl Daily Writing Challenge on FB)
This is a photo of a letter I've had pinned up on my home office Inspiration Board for years now. It represents the many encouraging-but-still-rejection letters I received over the years when I was actively writing and submitting middle grade novels. I've decided to post it publicly because I keep reading posts from writers who are considering giving up when their first or second book mss doesn't sell.
Note the date on the letter: years before I received my first children's picture book contract (when my editor Justin Chanda/Simon & Schuster discovered my art at an SCBWI conference in 2010). It is also the year before the first Harry Potter book came out. Anyway, I eventually ended up putting my Moonchild mss aside. I have written FOUR middle grade mss which I ended up putting aside.
Mss #1: I never sent this out. After finishing it, my husband read it and marked his comments. I ended up deciding it was terrible, was too embarrassed to send out. What I learned: Have multiple beta readers, not just one. Ideally, find a critique group whose members are familiar with and who enjoy the type of book you're writing.
Mss #2: Children's book author, Lee Wardlaw, was kind enough to critique this for me, and after my revisions she introduced me to her awesome agent, Ginger Knowlton. Ginger took me on as a client because of this mss! Sadly, it never sold and we eventually decided to put it aside. The rejection letter you see at the top of this post was for mss #2, which we sent out over several years. What I learned: Getting an agent is not a guarantee that your book will sell, no matter how wonderful that agent is.
Mss #3: I only recently discovered this forgotten mss while cleaning out an old filing cabinet. Despite the wonderful critique from Lee (thank you again, Lee!), I never did send this out. I couldn't remember why until I saw the date. Less than two months later, our family suffered a terrible loss. The rest of the year was a blur of grief, and I did not take out this mss again. Maybe someday. (My mother had passed away a couple of years earlier.)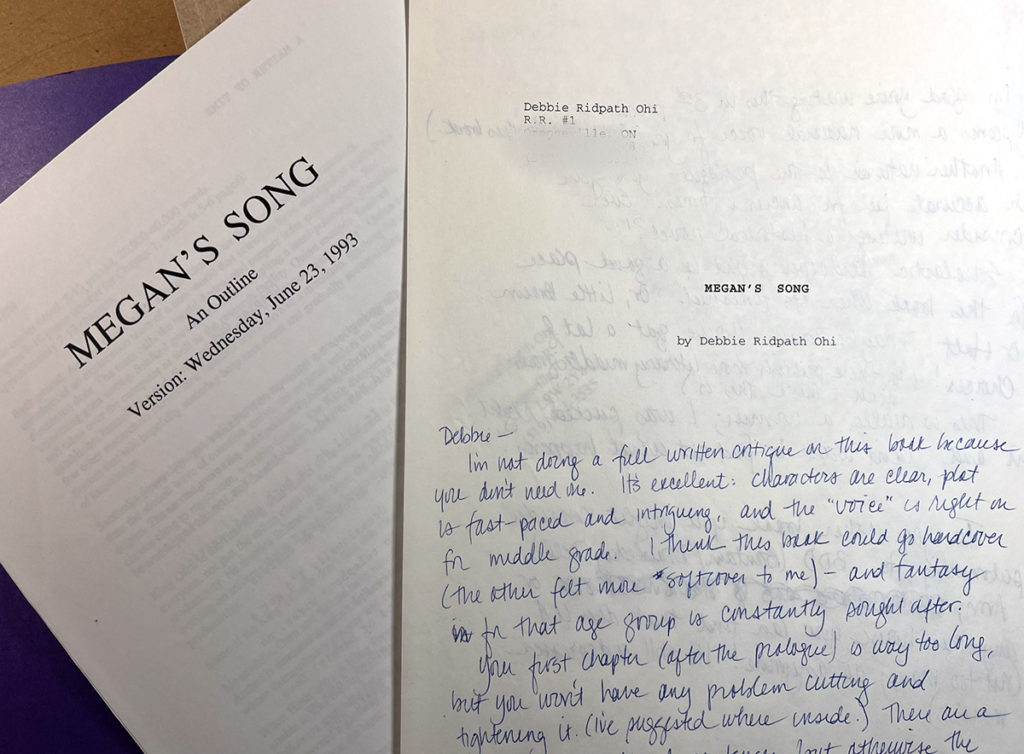 Mss #4: Despite increasingly nice rejection letters and one time when I thought "this is it! I'm actually going to be published!" and going through a revision process with the editor, this mss ended up being rejected. I remember when I told my mom-in-law, she cried – she knew how excited I had been (I had done my crying earlier 🙂 ). What I learned: I learned to never assume a book is actually going to be published until I have a signed contract…and even then, of course, it's no guarantee. Also, even though the editor ended up turning down my mss, I am grateful for the time she took to work with me; it was a valuable learning opportunity and experience.
Mss #5: I never ended up sending to my agent because I could tell the bones weren't strong enough. I may end up rewriting this someday. What I learned: You don't have to send out everything you write. Only send out your very best! Don't be afraid to put mss on the back burner to simmer. Don't be afraid to put projects aside.
Mss #6: [Updated May 25, 2023] WHAT I AM WORKING ON NOW!!!! I rewrote it from scratch, am getting ready to send out. This is a rewrite of the same mss that Andrea Brown agent Jen Rofé critiqued at an SCBWI conference in 2011; she nominated my mss for the SCBWI Sue Alexander Most Promising For Publication Award – although it didn't win, this convinced me I should never abandon my original dream of writing MG. When I posted about my rewrite recently and tagged/thanked Jen, here's what she tweeted back: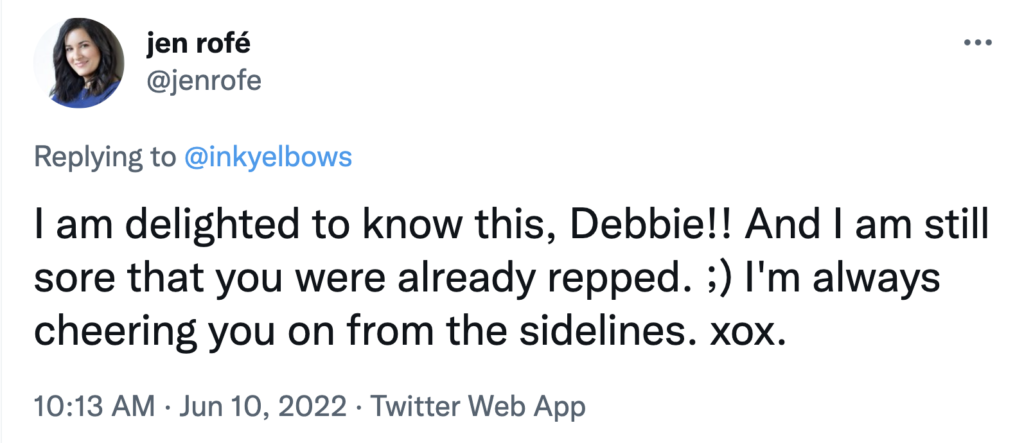 I never did end up finishing the mss or submitting it, because I was focusing on picture books. Jen's encouraging words came the same year as the year I signed my first picture book contract with Justin Chanda / Simon & Schuster.
So this will also be the first middle grade mss I'm sending out since I became a picture book creator. YES, I am nervous. Excited, too. It has mystery and time travel elements, Japanese yokai and a hint of horror.
Fingers crossed! Trying very, very hard NOT to think about the possibility of yet another book project getting rejected. Instead, I'm focusing on the joy of storytelling, writing the best story I possibly can. So much is out of my control. What I can control: finishing and revising, getting it critiqued, revising more, sending it out….then starting the next MG book project while I wait.
I will ALWAYS love creating picture books, but I will never give up my original dream of getting my middle grade novels published. SOMEDAY. And if you're a fellow creator getting discouraged by rejections over the years, please know that I am rooting for you, too.
My takeaway: Work hard on your craft, but know when to put a project aside. And don't be so focused on one goal that you miss seeing doors opening to other opportunities that will bring you joy.
P.S. In retrospect, I am glad these early MG mss were not published. As delighted as I would have been, I am a stronger writer now, have read many more books, and have a deeper understanding of the craft and business. Also, I love making picture books!!!! But I have not given up on my original dream of having my middle grade novels published. Wish me luck, eh?