Discovering Savoury Oatmeal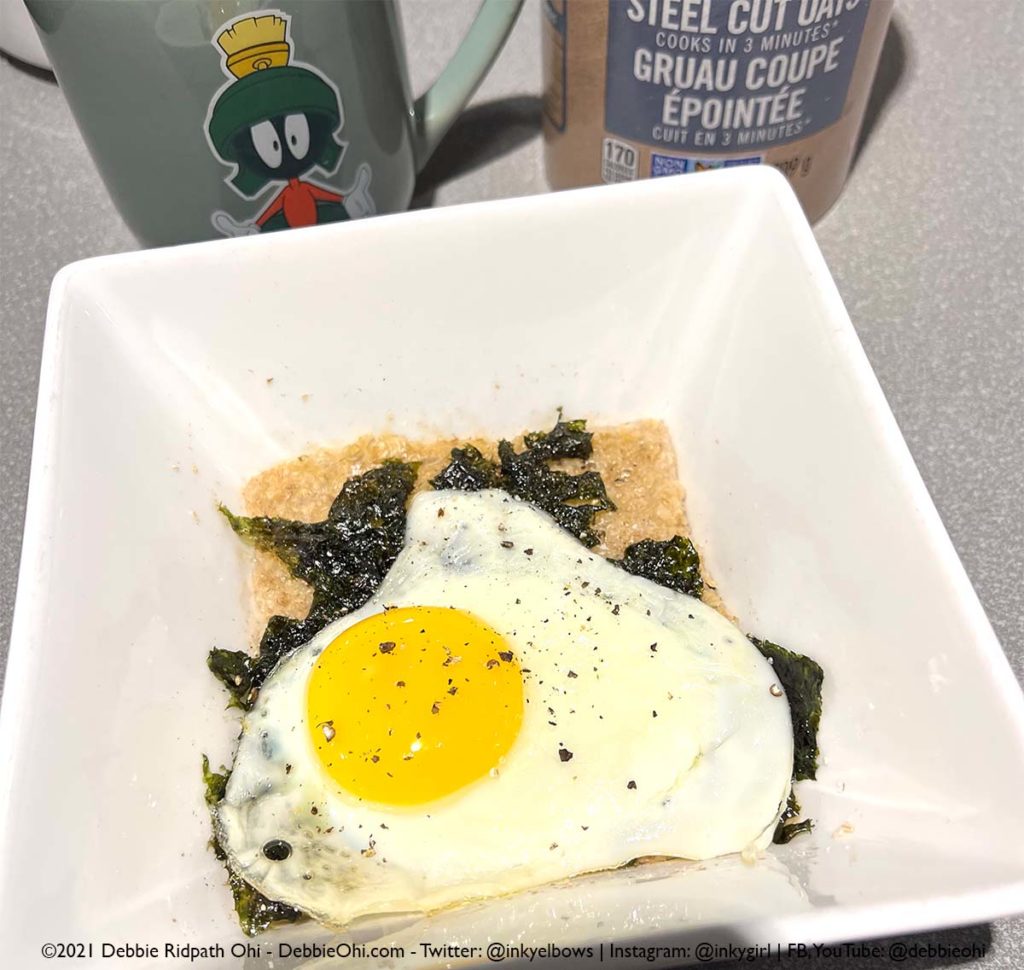 I've never considered myself a cook.
Don't get me wrong; I used to enjoy cooking, back when we lived out in the countryside and when I was still trying to get published and had more time. I was never one of those intuitive cooks, however, and my rare attempts to throw different ingredients together I've never tried before inevitably ended up with us ordering in pizza.
Partway through the pandemic, especially when it was more complicated and stressful to shop for groceries in person, Jeff and I started using a "here's a recipe and ingredients and instructions" meal service called Good Food. I was highly skeptical but ended up liking the compromise between time-saving convenience and the visceral satisfaction of preparing a meal other almost-from-scratch.
It nudged us out of our usual go-to meals, and also made me better appreciate the visual delight of different textures, colours and garnishes, experimenting with different flavours. It reminded me a lot of creative art play, except I could eat the whole piece at the end!
Hence this post.
I'll be posting more about my forays into cooking…mainly as a sort of creative food journal for myself, but I figure I may as well make these posts public in case anyone else is interested.
My friend Hoi Ning and I were talking about oatmeal recently, and she asked me if I liked my oatmeal sweet or savoury. I had no idea that there was such a thing as savoury oatmeal! When I got back home, I looked up the term and sure enough, there are SO many ways of dressing up oatmeal to make it more of a filling breakfast.
My favourite at present: I use Quaker quick-cook steel-cut oats in a bowl, add about a teaspoon of miso to the water before microwaving, throw in some torn-up sheets of nori, add a cooked egg on top. The key, I find, is to leave the yolk a bit runny so that you can mix it in with the oatmeal before eat it. YUMMMMMMMMM. Here are some other savoury oatmeal recipes and tips I want to try, though I'll probably adapt them for my quick-cook oats since I don't want to spend the time cooking the oats from scratch in the morning (I would rather use the time for writing) unless it's an overnight recipe:
Miso Oats With Scallions + Sesame Oil – from Kale & Caramel
Overnight Oats with Soft-Cooked Egg and Miso-Braised Kale – from Bon Appétit
Savory Miso Oatmeal – from Proportional Plates
Do you have any other savoury oatmeal recipes to suggest? Feel free to let me know.