Interview with Holly Thompson, editor of TOMO: Friendship Through Fiction (Stone Bridge Press) plus a giveaway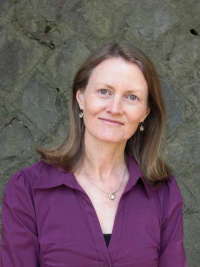 As I've mentioned earlier, I'm very excited to have my first YA short story included in Tomo: Friendship Through Fiction, a new teen anthology edited by Holly Thompson and published by Stone Bridge Press. Part of the sales proceeds will go to help teens affected by the 2011 Japan earthquake and tsunami.
Post a comment below for a chance to win a copy of the book!
——————-
Holly Thompson was raised in New England and is a longtime resident of Japan. She is the author of the YA verse novel Orchard (Delacorte/Random House), which received the APALA 2012 Asian/Pacific American Award for Literature and is a YALSA Best Fiction for Young Adults Selection; the picture book The Wakame Gatherers (Shen's Books); and the novel Ash (Stone Bridge Press). She recently edited Tomo: Friendship Through Fiction (Stone Bridge Press). She teaches creative and academic writing at Yokohama City University and serves as Regional Advisor for the Tokyo chapter of the Society of Children's Book and Writers. Visit her website at www.hatbooks.com and her blog at http://hatbooks.blogspot.com.
How did you come to live in Japan?
My husband had been an exchange student in Japan and was eager to return when we met. I was a biology major at the time, and Japan wasn't on my agenda, but we compromised and I taught biology in Massachusetts for a couple years then we moved to Japan. That was in the 80s–we stayed for three years and during that time, I began writing seriously.
Then, so that I could attend NYU's creative writing program, we moved to New York and ended up staying there until 1998 when we moved back to Japan. We thought we'd stay for another three years or so, but here it is 2012, and we're still here, our children have basically been raised here, and it is definitely home for us . . . though New England and New York are also home.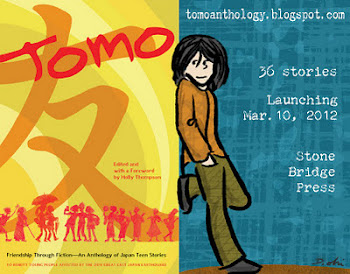 Please tell us about how Tomo: Friendship Through Fiction was born.
March 11, 2011 brought the triple catastrophe of earthquake, tsunami, and nuclear plant disaster to Japan. For me, having lived for many years in the coastal town of Kamakura, the brute force of the tsunami and the destruction it wreaked on towns was terrifying. I happened to be in the U.S. for readings and a conference that day, and watching from afar, while my family was in Japan, was agonizing.
Those days immediately afterward, I was in a deep fog, and in the middle of that fog author Greg Fishbone contacted me to ask what we could do and to share his ideas about a Kidlit for Japan auction. Greg woke me out of my stupor, astounded me with his energy and determination, and I knew that I, too, needed to act.
The first thing I did when I returned to Japan was sign up to volunteer with tsunami cleanup in Tohoku with the NGO Peaceboat. And the next thing I did was to put together my ideas for a benefit anthology of Japan-related YA fiction. My agent reacted with understanding and encouragement, and soon Stone Bridge Press had agreed to take on the project.
What kind of response have you received so far?
People have been enjoying the contributor interviews on the Tomo Blog, and reviewers that have received Tomo: Friendship Through Fiction have praised its depth and breadth. It is a full anthology with 36 stories, including 10 in translation. And we enjoyed March launch events in Tokyo, Boston and New York—see the events page on the Tomo Blog.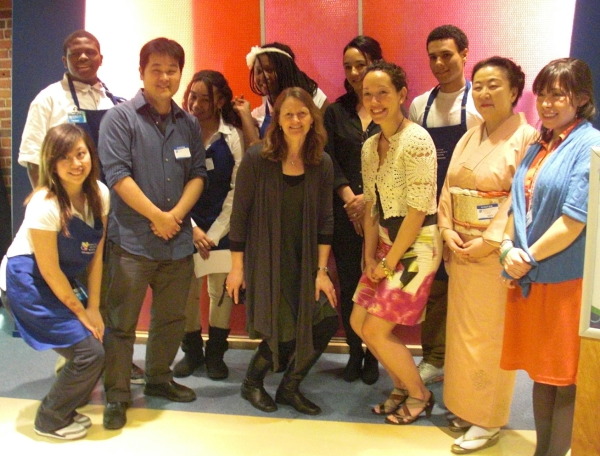 Tomo contributors with the Boston Children's Museum Teen Ambassadors
Any specifics about how the funds will be used?
Funds raised through the sales of Tomo: Friendship Through Fiction will go toward NPOs or NGOs that are active in supporting teens in the earthquake and tsunami affected areas. To start with, proceeds from the sales of Tomo: Friendship Through Fiction will be donated to the Japan-based NPO Hope for Tomorrow which is active in providing educational funding, mentoring and foreign language support to teens in the hardest hit areas.
Was this the first time you've edited a fiction anthology?
I've edited university poetry and fiction anthologies, but this was my first time editing an anthology of fiction that would reach a wide audience. It was also my first time editing works in translation, and the process taught me so much.
Compiling and editing Tomo: Friendship Through Fiction was an enormous undertaking, particularly given the time constraints—we wanted the anthology to launch in time for the one-year anniversary of the earthquake. But I know that I will be a stronger writer and better editor of my own writing thanks to this experience. And I loved plunging deep into the work of other writers and playing a role in shaping and polishing the stories.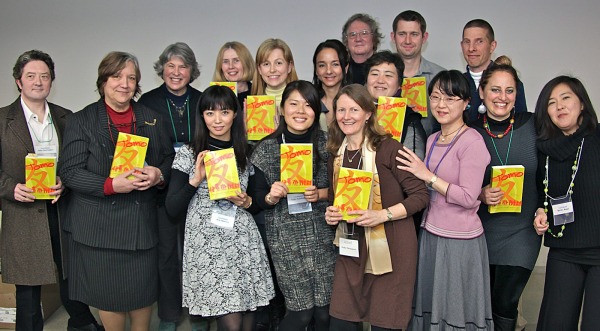 Tokyo launch: Back row, L to R: John Paul Catton, Juliet Winters Carpenter, Deborah Iwabuchi, Margi Napper, Louise George Kittaka, Ann Slater, Charles De Wolf, Trevor Kew, Hart Larrabee Front Row, L to R: Arie Nashiya, Yuko Katakawa, Holly Thompson, Sako Ikegami, Fumio Takano, Leza Lowitz, Mariko Nagai
Do you have any advice for authors considering editing a short story anthology for the first time?
Understand from the get-go that it will consume much more of your time than you can possibly anticipate! Have an angle that will make your anthology completely different from any anthology already on the market. Get writers on board and share your proposal with others for feedback before you approach an agent or editor. Plan as much as possible before you even start.
What was it like, working on TOMO? (any challenges? anecdotes to share?
The biggest challenge, as I've said, was the time constraint. Everything was rushed, from soliciting work, to making final selections, arranging for translators, editing, compiling the glossary and bios, copyediting and proofreading. It was an intense marathon project, but the authors and translators who contributed were wonderful to work with, and Stone Bridge Press has poured time, funds, energy and enthusiasm into this book. I feel so lucky to have had this opportunity.
When I sent "Kodama" to you, I half-expected a rejection because of the unusual format. What convinced you to include it in your anthology?
I love the fun journal format of "Kodama." When I set out to do Tomo: Friendship Through Fiction, I knew from the start that I wanted the book to be open to various forms of fiction—prose, verse and graphic narrative. Many YA editors and publishers have fortunately been very open to and encouraging of innovation, and I think we will continue to see more and more uniquely expressive YA fiction forms.
Please tell us about your YA novel, Orchards, which received the APALA 2012 Asian/Pacific American Award for Literature.
Orchards (Delacorte/Random House, 2011) is a novel in verse told in the voice of Kana, a bicultural Japanese and Jewish-American girl who is sent to spend the summer with relatives in Japan after the suicide of a classmate.
Kana addresses her former classmate, Ruth, as she struggles to make sense of what happened while adjusting to life in a Japanese farm village and coping with issues of her bicultural identity. While Orchards deals with tough topics such as bullying, depression and suicide, it is the story of a girl discovering compassion and the need to take positive action.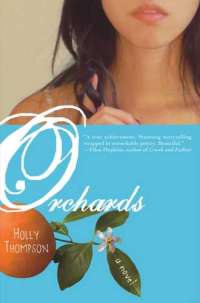 What are your current and upcoming projects? And where can people find out more about you?
I am now busy doing the final revisions for my next YA verse novel The Language Inside (Delacorte/Random House 2013), about a non-Japanese girl raised in Japan who has suddenly moved to the U.S. due to her mother's illness. The book deals with communication on many levels, inner and outer identity, and, of course, language. My website is www.hatbooks.com and my blog where I write about life in Japan, travels in Asia and whatever catches my interest.
Anything else you'd like to say?
Thank you for sharing your story "Kodama" with Tomo: Friendship Through Fiction. I look forward to seeing the full-length work this leads to…hint, hint! And thank you for your enthusiasm for Tomo. The Tomo: Friendship Through Fiction anthology is all about helping teens in Tohoku by connecting readers to Japan. I hope that readers of this blog will enjoy all that Tomo has to offer and find their connection to Japan.
——
For more info about Tomo: Friendship Through Fiction, including interviews with all the contributors, see the blog at: http://tomoanthology.blogspot.com
Also see other Inkygirl Interviews.For more insights from book creators, see my Inkygirl Interview Archives and Advice For Young Writers And Illustrators From Book Creators.