NAKED! Book Tour (Part 3): Snooping through Laurent Linn's office, Simon & Schuster meet-and-greet with Michael Ian Black, fairy godmothers, my trip to Boston
Part 1 (prep) – Part 2 (NYC, meeting Michael Ian Black, B&N) – Part 3 (S&S) – Part 4 (Boston, Porter Square Books) – Part 5 (Northshire Books Saratoga, Division St. Elementary)
After the B&N event, I had lunch with Ginger Knowlton (my agent at Curtis Brown Ltd) at a nearby café. So great to catch up. I was supposed to get together with Ginger back in February, but I cancelled my trip because of the Judy Blume illustration project.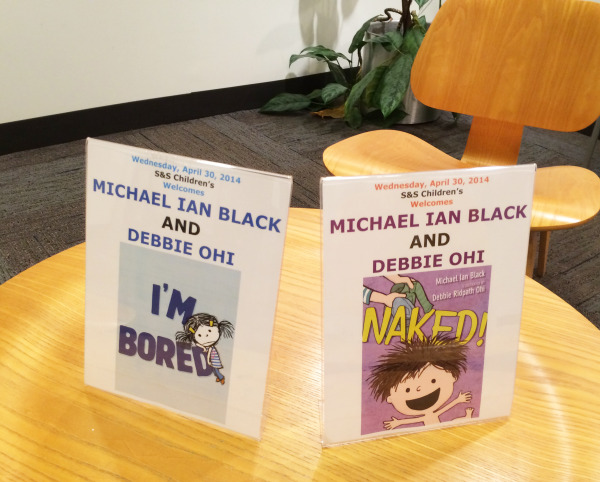 When I arrived at Simon & Schuster for the meet-and-greet, there were NAKED! and I'M BORED signs and books on display in the front lobby of the 4th floor, yay!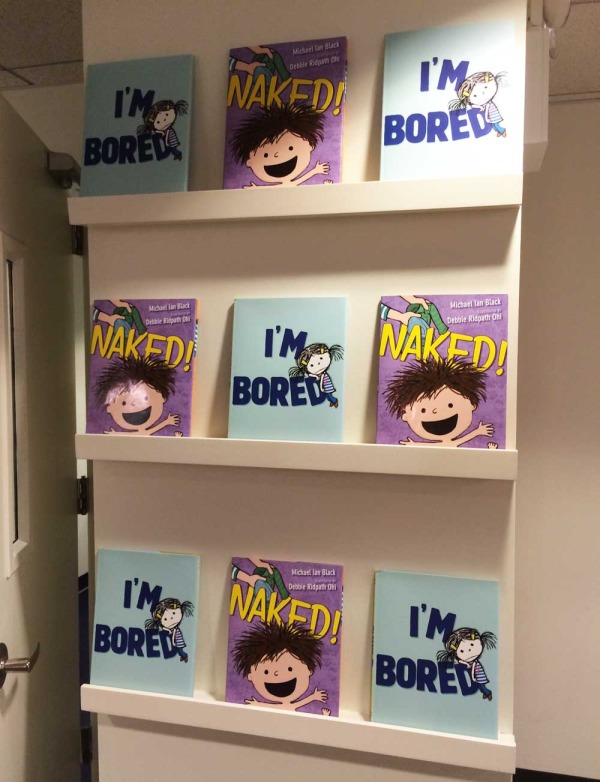 Dani Young (Assistant Editor at S&S Children's) came out to greet me, and took me to Justin Chanda's office to dump my coat and bags. Justin was still in a meeting. It's always fun hanging out in Justin's office when he's not there; not only do I get chance to check out his book collection but I also have such interesting conversations. And Justin, if you're reading this, don't worry — we never talk about you, really. Or snoop through your stuff.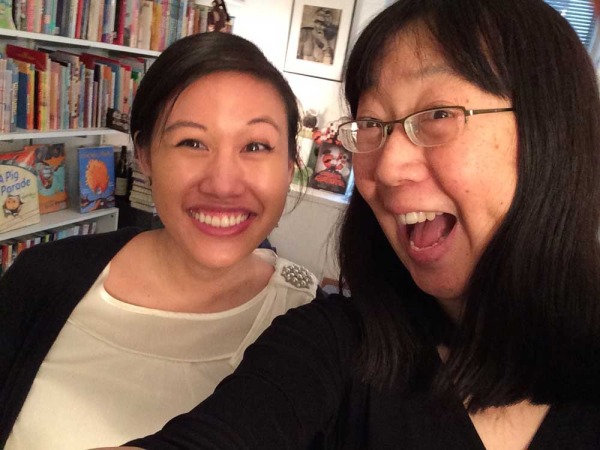 This time, Laurent Linn (my Art Director for both NAKED! and I'M BORED) came by to chat: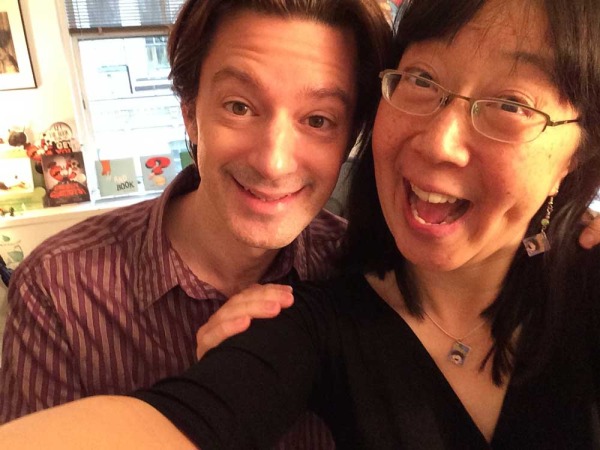 And then while we were catching up, Jeff arrived. He had dropped off some of his luggage at a friend's place but had trouble finding a cab in the rain, so ended up walking all the way to S&S. But yay, he finally got meet Laurent!
Happily, we were early enough that Laurent could take Jeff on a quickie tour of the offices. I trailed along, of course. And I got Jeff to take this photo of us in the lobby: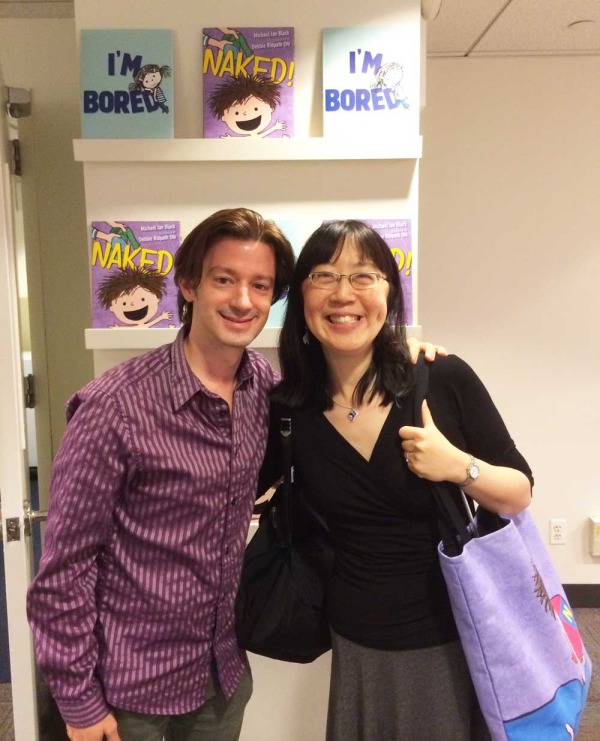 And LOOK! I was excited to come across this display of the revamped Judy Blume books with my illustrations on the cover (designed by Lauren Rille):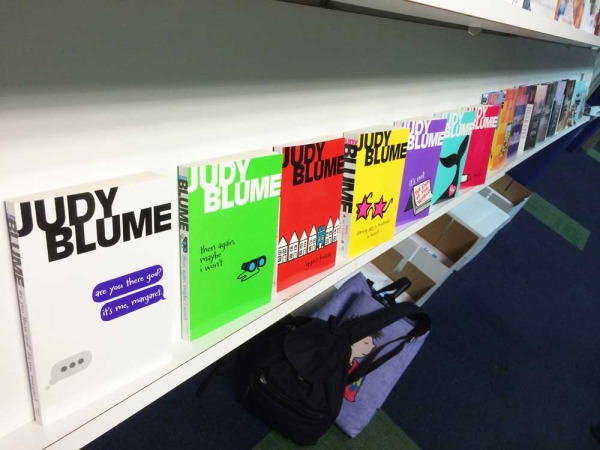 And OH MY GOSH, I spotted hardcover versions of the chapter books I illustrated!!! It was the first time I had seen the final version.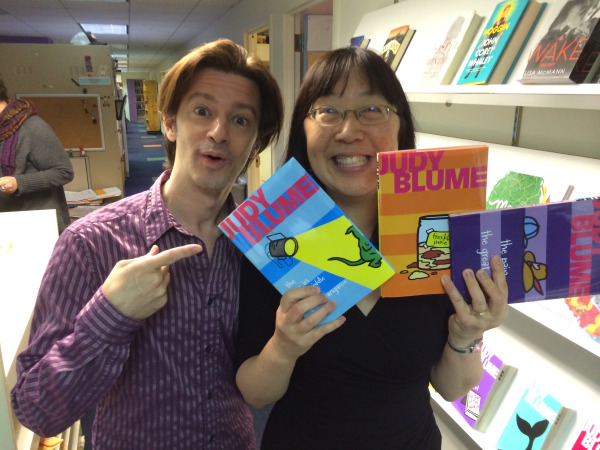 Laurent showed Jeff his office. I love Laurent's office. Look, he has hanging art! Not just mine, but I also spotted art by my friends Kevin Sylvester and Eliza Wheeler: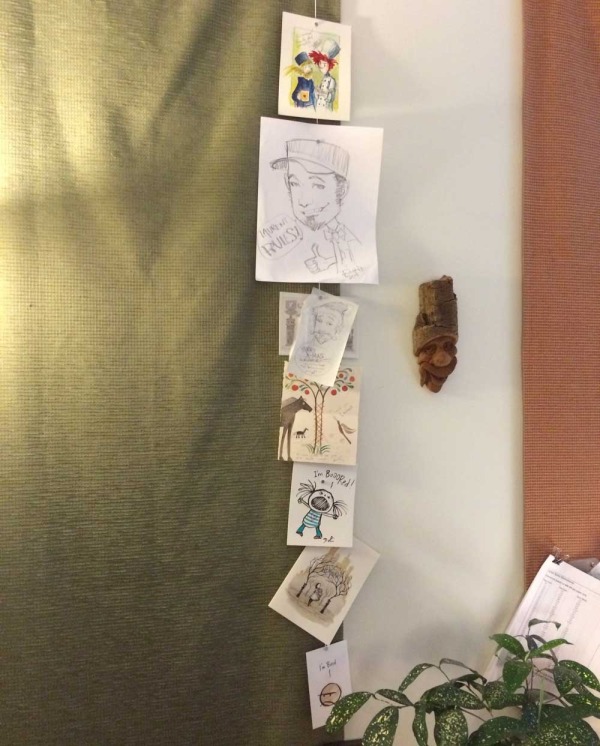 And look! Laurent (who used to work for Sesame Street) won a Daytime Emmy award in 1994 for Outstanding Achievement In Costume Design for Sesame Street. And check out his signed Sesame Street poster: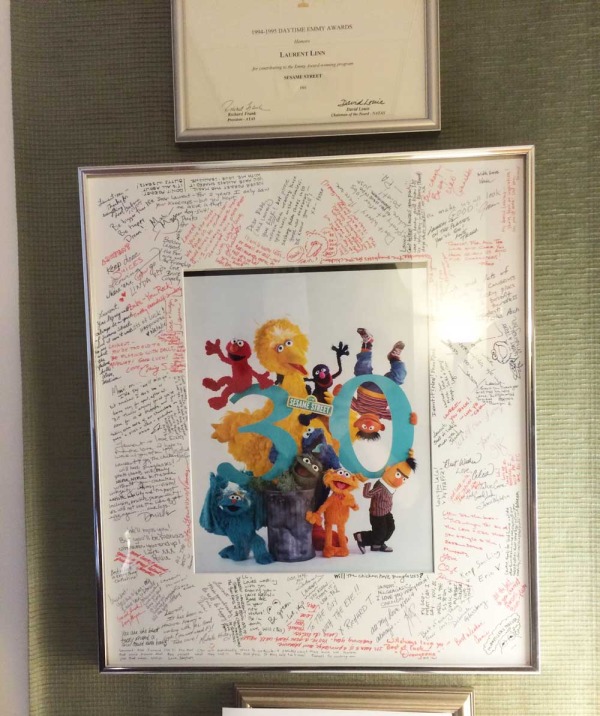 He is also a Totoro fan, and I took this photo for my friend Errol Elumir: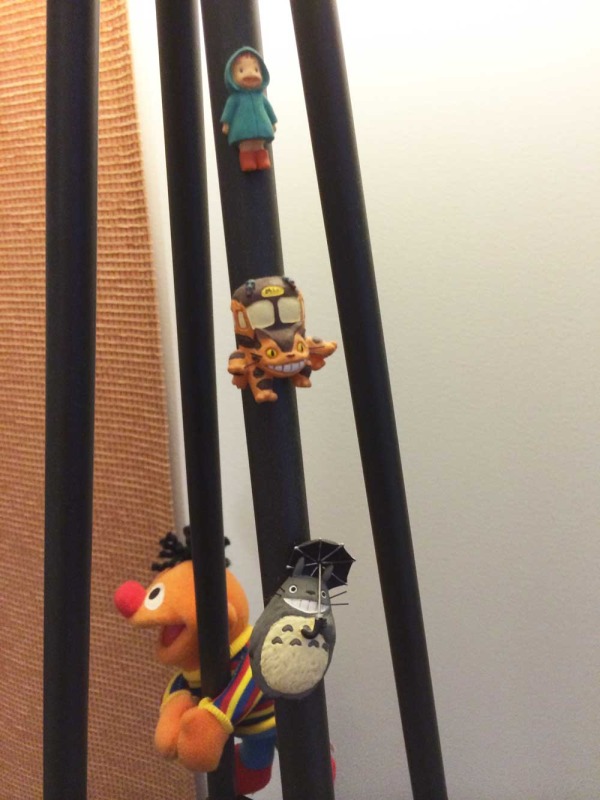 But then it was time for the Meet & Greet. Check out this example of the cool Naked!-themed cups they had at the event: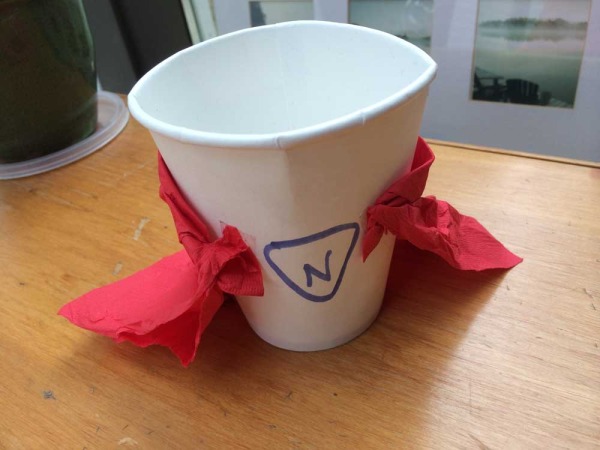 Justin and Laurent talked about how much fun it was to work on NAKED!: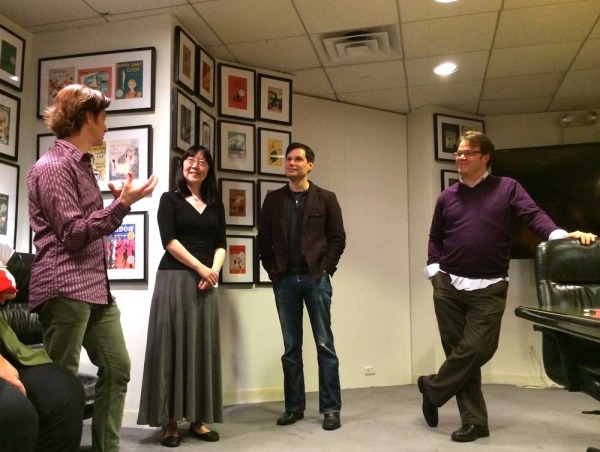 After Michael said a few words (including nice stuff about me *blush*), it was my turn. Because I was nervous, I had some notes written down: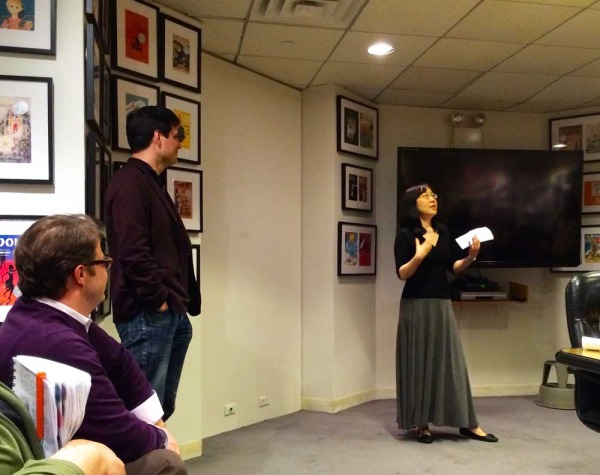 I started by saying how I wish I could take a snapshot of this moment to send to my younger self and (this wasn't planned) Jeff jumped up and took this photo, heh: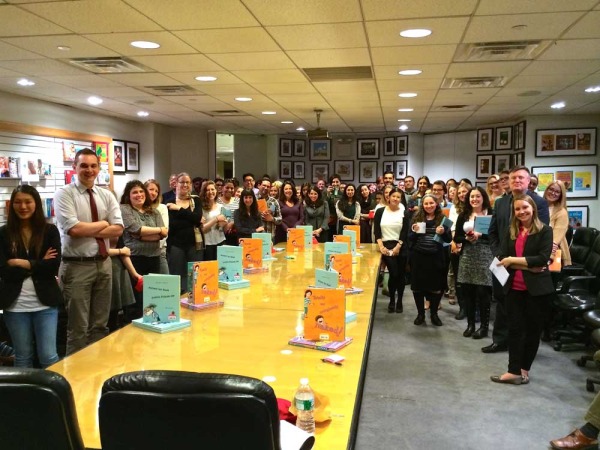 Aw, so many friendly faces.
I mentioned I was nervous so had to use notes, right? Well, turns out I accidentally skipped one of the lines in my notes and FORGOT TO THANK LAURENT LINN FOR BEING SUCH AN AMAZING ART DIRECTOR ON THE PROJECT AAAAAAAAUUUGGGH. I apologized to Laurent afterward. Hopefully he will still want to do projects with me.
At the end of my mini-speech, I mentioned that earlier this year as I was posting about the Judy Blume illustration project as well as NAKED! coming out, someone asked me if I had a fairy godmother. Yes, I told them, and my fairy godmother's name was JUSTIN CHANDA! If you don't know why, I encourage you to read my Thank You To Justin Chanda and Simon & Schuster Children'sas well as the story of how I became illustrator for the Judy Blume books.
So…. I presented Justin with a labelled Fairy Godmother wand and then gave him a big hug. Apparently Justin has taken the Wand to several meetings at S&S since. 🙂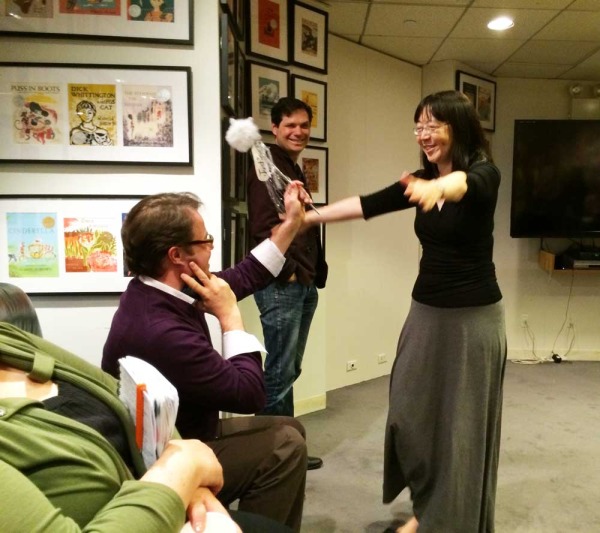 After the speeches, Michael and I were ready to sign some books: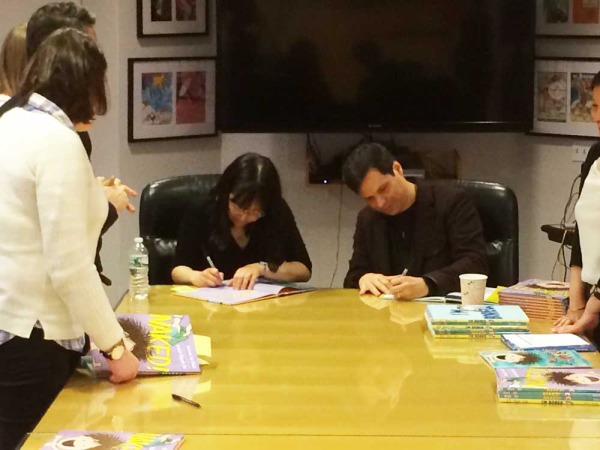 Everyone was incredibly friendly and welcoming, and I loved meeting so many of these behind-the-scenes S&S types who help create such fantastic books.
It was also so great to meet people in person I was mostly familiar with on Twitter, like Rachel Stark (@syntactics on Twitter):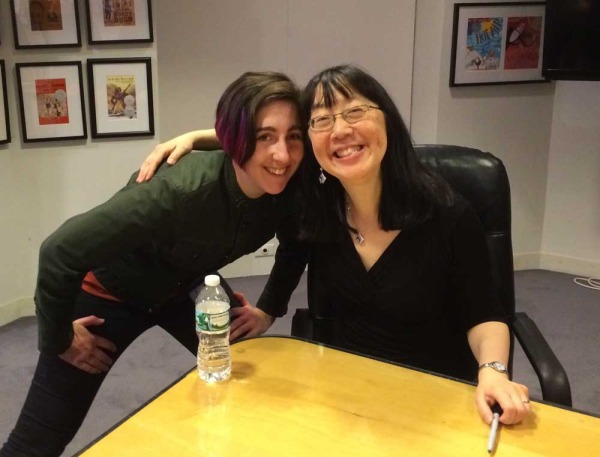 One of the people I had been hoping to meet was Christian Trimmer, who is @MisterTrimmer on Twitter. However, it didn't sink in until later that I DID meet him, but just hadn't connected his face/first name with his Twitter id. Gah! I emailed him after the event to apologize for not recognizing him.
With Veda (digital marketing coordinator), Isa Caban (marketing assistant) and Teresa Ronquillo (marketing coordinator):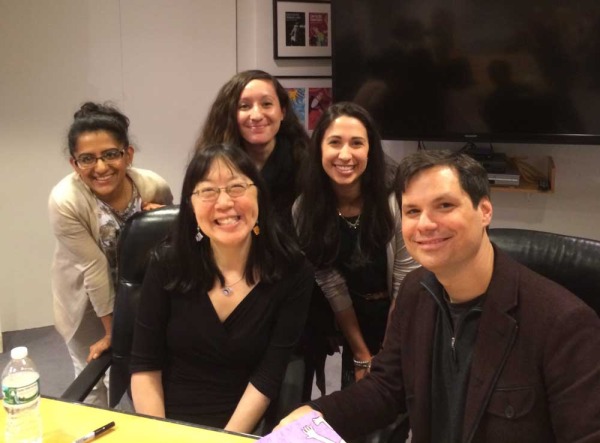 And thanks to Angela Zurlo of Simon & Schuster's Production department for this copy of the UK version of NAKED!, which comes out TODAY. According to my British friends, "pants" means "underwear" in the UK.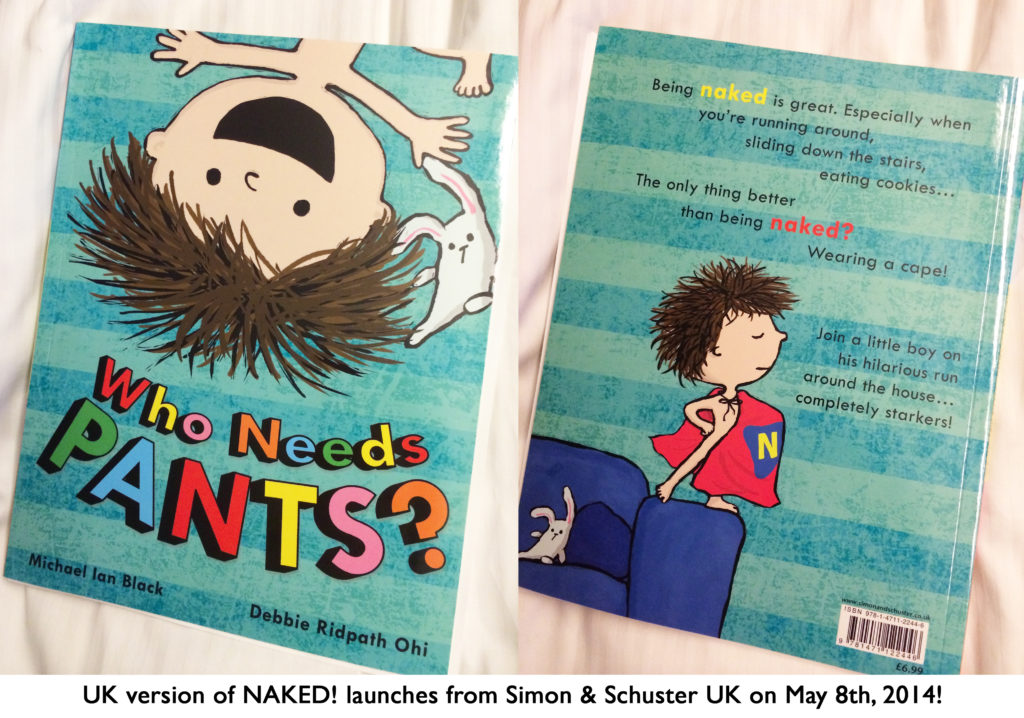 When we finished the signing the last of the books (thanks to those who waited in line until the end), we closed up the room and headed out: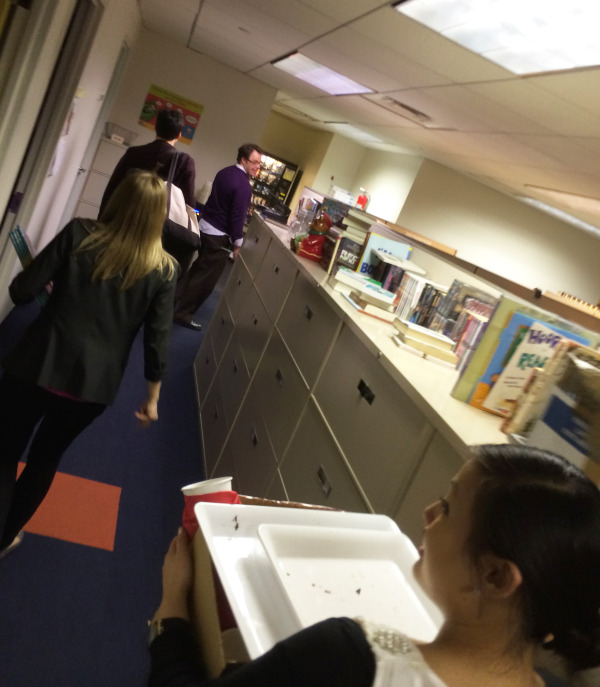 Because Jeff had had so much trouble trying to flag a cab in the rain, we decided to take the subway to Penn station instead. Jeff wasn't coming with me for the rest of the book tour, but he wanted to help me get to the train. I'm so grateful for his help, because lugging stuff through on the NYC subway during rush hour was not fun, especially in my somewhat zombie-ish state…It had been a wonderful day, but I was dead tired. Then I thought of Michael, who was doing a literary-themed comedy event with Parker Posey later that night!
Jeff bought me this Naked granola at Penn station. 🙂
At Penn Station, we had some challenge trying to figure out where I was supposed to get on the train (again, rush hour crowds didn't make this easier). Then we discovered that my train was late. 🙁 We said our good-byes when the train finally arrived, and Jeff wished me luck.
I ended up not getting to my hotel in Cambridge, MA until after midnight. It was pouring rain and there was only one cab waiting, and that got taken by the person just ahead of me. I debated about calling one (how long would it take?) but I wouldn't be able to see it arriving so would have to stand out in the rain with my luggage anyway. After five minutes, though, a cab came along YAY.
I was soooo braindead at that point; I am so not a night person, and it had been a crazy (crazy WONDERFUL) day. Happily, though, my Royal Sonesta Boston room was super-comfy: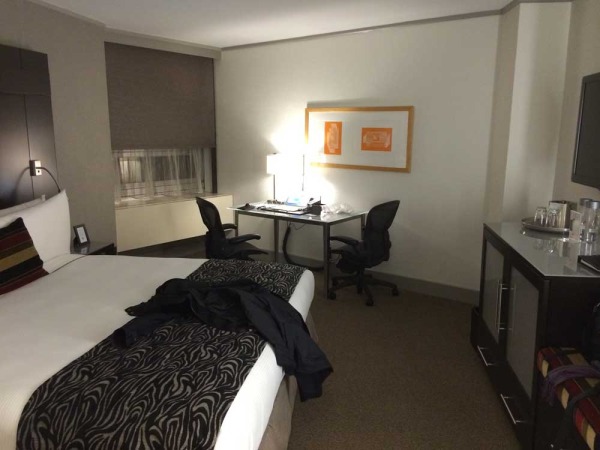 As tired as I was, I needed to reorganize my stuff so that I'd be ready for the next day's presentation. By the time I felt prepped, I had less than six hours until I had to get up again.
The bed was soooo comfortable that I fell asleep almost immediately.
Next up: Talking to kindergarten and grade one classes at Porter Square Books in Cambridge, MA!