Where to get live coverage of the Apple tablet announcement today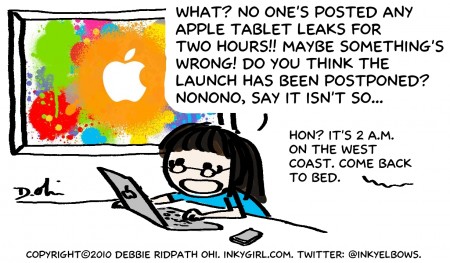 As some of you may already know, I have been obsessed (yes, I said OBSESSED) with the possibility of an Apple tablet for ages. I even launched a separate Twitter account (@tabletgal) just for posting any info I found.
I can't believe the announcement's going to be made TODAY. Finally. But now there's the morning to get through…eek. I think my brain's going to explode if the announcement isn't made soon.
Here are some sites doing live coverage of the event at 10 a.m. PST / 1 pm EST:
Engadget
Gizmodo
MacRumors.com
PC World
Wired
Technologizer
If you know of others, please post below. I'd like to ask a special favour of Inkygirl readers and ask that Apple naysayers NOT post below, just for today. For the rest of you: are you going to be tuning in for live coverage, or waiting until after the event to read the news?