Why I'm excited about the Apple iPad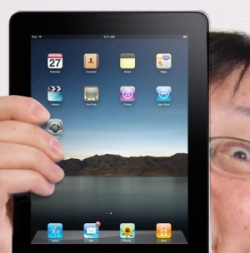 I was excited about the idea of an Apple tablet long before the hype began. I remained excited despite the build-up hype. And yes, I'm STILL excited now that the announcement's been made and people are scrambling over each other to dissect, critique and mock.
I'm not a tech guru, so can't defend the iPad against some of the criticisms about what the iPad should have had.
I also don't claim to be an e-reader device expert, so won't attempt to do a detailed comparison of the iPad with other e-readers at this point.
No, I'm not crazy about the name but heck…it's just a name. My focus will be on how well the iPad is going to work for me.
I'm mainly excited about the Apple iPad because of its e-reading possibilities. Yes, it's backlit. But so is the iPhone, and I've been reading e-books on my iPhone for a while now, with dozens of e-books on my virtual bookshelf. I'm looking forward to having a sleek, portable device with more screen space that's easy to carry around. I will always love the sensual joy of holding a print book, but I also love the idea of being able to carry around a library of books without the back strain and arm strain that comes with it. As someone with occasional tendinitis issues, this is a major boon.

I'm disappointed that the iBooks store isn't available in Canada yet, but I figure that since iPhone apps will work on the iPad, I'll just keep reading e-books the way I do now…but on a larger screen. Plus as with the Kindle, I figure Canadians will get access once Apple sorts through the red tape.
The Stanza and e-Reader people probably started revamping their products for the iPad as soon as the specs came out. The iPad's built-in reader supports the ePub standard, a standard adopted by the International Digital Publishing Forum (IDPF) as an open-standards-based format for digital books. I'm curious to see how Apple handles copy protection, especially if they'll allow iPad users to import unprotected ePub documents.
I'm also excited by the glimpse of some of the other features we saw in the Apple presentation, especially the calendar. I use iCal right now, and that's a pain to use on a small iPhone screen.
(Update, after talking to Alice Ching-Chew: The iPad would be GREAT for sheet music! Much easier than carrying around my binders of printed out music.)
But most of all, I'm excited about the idea behind the iPad. The science fiction nerd inside me loves the idea of holding so much information and functionality in something the size of a thin book (about 9.5″ x 7.5″, 1/2 inch deep). I'm excited to see future versions as Apple continues to tweak and improve, and can't wait to see what comes next.
Jeff pointed out that the iPad delivery date roughly coincides with my birthday at the end of March. Yay!
I'm going to be pouring most of my fangirl ravings pre- and post-iPad arrival into @ipadgirl and ipadgirl.posterous.com. Warning: my posts will not always be objective and may occasionally devolve into way too many exclamation marks. If you don't mind that, feel free to follow.