My iPad Review, Part 1: writing, reading and drawing on the iPad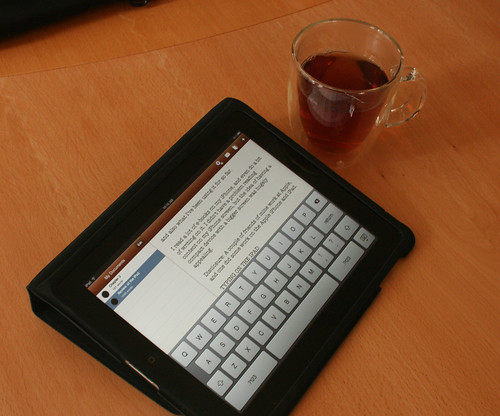 As some of you already know, I've been excited about the iPad for a long time, even before the hype began. As a birthday gift, my husband pre-ordered the Wifi-only 64 MB iPad, and we picked it up while we were in Columbus earlier this month. For those that missed it, here's my report of the day I got my iPad.
(Disclosure: A couple of friends of mine work at Apple, and one did some work on the Apple iPhone and iPad.)
WHY I ORIGINALLY WANTED AN IPAD
I've been reading e-books regularly on my iPhone, mostly purchased from Fictionwise. I've bought quite a few books from Fictionwise since I got an iPhone. While I don't mind reading them on the iPhone screen, I was excited about the prospect of having a bigger screen on a device as portable as an iPad.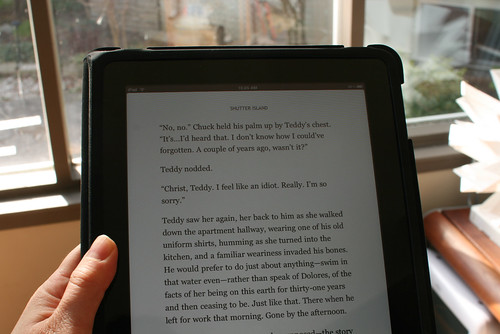 I was also hoping that I might be able to use it to do some short session writing when I wasn't at home, a lighter alternative to carrying my laptop.
TYPING ON THE IPAD
Learning to type on the iPad was much easier than I expected, at least in landscape mode. I was thrown at first, not having the physical cues of the keys to guide my fingers.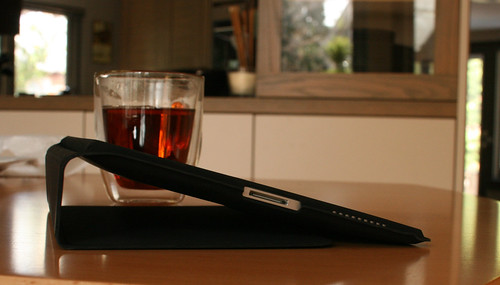 I bought the thin Apple case, whose front cover folds to prop up the iPad at an angle, making it easier to read the screen as well as type. I haven't yet tried typing for a period longer than about an hour on the iPad to see how at feels, but I will report back when I do. I also want to try out a Bluetooth keyboard, but ideally I would love to be able to just take my iPad on its own.
I mentioned that I had no trouble typing in landscape mode. It's more awkward typing when the iPad is in portrait mode, because of the smaller keyboard space. I have heard that people with larger hands type on the iPad with their thumbs, iPhone-style. With the weight of the iPad, however, I'd find this difficult.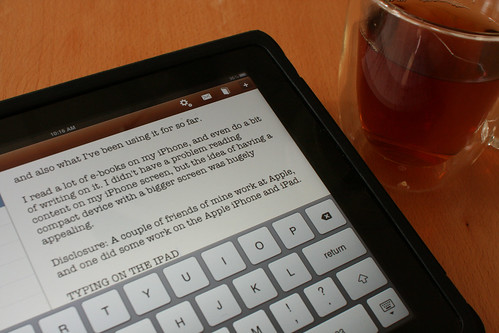 I'm using My Writing Nook for my iPad writing right now. I like it because you can change the font and font size, but I wish it was possible to create hierarchical folders to make it easier to organize different writing projects. Also very much looking forward to getting the iPad version of WriteRoom. I'm sad that there won't be a Scrivener for the iPad but understand the developer's reasons (not enough resources).
Editing on the iPad is much more laborious than a regular keyboard because there are no arrow keys or easy way to navigate around the screen with shortcuts for cutting and pasting. I wouldn't use my iPad to do any heavy revisions, but it's fine for first drafts as well as minor edits.
However, who knows? Maybe someone will come up with an app that makes this easier, or perhaps using an external keyboard with my iPad will make editing shortcuts possible. I'll investigate this and report back in a follow-up.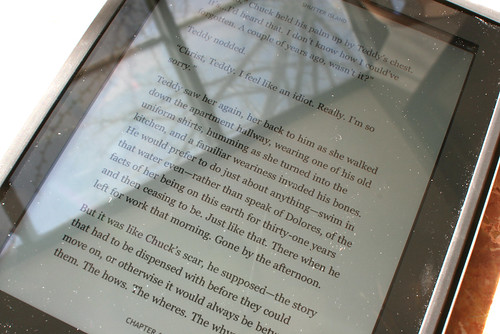 WHAT ABOUT THE GLARE ON THE SCREEN? CAN YOU READ THE IPAD IN DIRECT SUNLIGHT?
With the shiny screen, glare from lights behind and above you can potentially be a problem, depending on your environment. I found it a bit distracting at first, but I don't notice it much anymore, at least indoors. Not sure if this is because I've learned to adjust my iPad position to lessen the problem, or if it's because I've gotten used to it enough that I automatically focus on the screen rather than the reflection.
I haven't tried to do much reading outside yet because it's still a bit too chilly in Toronto for outdoor reading, but I'll write a follow-up report when I do.
The shiny screen also makes finger smudges and dust much more noticeable, and I'm constantly wiping it clean. The Apple case isn't great for this, because dust tends to accumulate under the edges and is impossible to remove without taking the iPad out of the case first.
DO I REALLY NEED A CASE FOR MY IPAD?
Originally I didn't get a slipcase for my iPad but went back to the Apple store to get one because the iPad felt way too slippery in my hands. I wish Apple had given the back casing some texture to make it easier to grip.
WHY I OPTED FOR A WIFI-ONLY IPAD
I already pay Rogers a monthly fee for an iPhone plan and wasn't crazy about paying for a second plan. I also figure that if I find that I really can't survive without 3G, then I can sell this iPad and upgrade.
So far, though, I'm happy with my choice. Sure, there are moments when I'm away from Wifi and automatically open Google to look something up only to remember that I can't, but I can always use my iPhone if I -really- need to get online.
Not being able to access the 3G network has made me more productive in my writing when using the iPad outside of my home.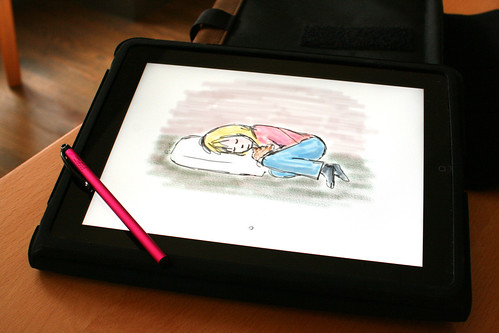 USING THE IPAD AS A SKETCHBOOK
I had never considered being able to draw on the iPad well enough to use it as a sketchpad. Draw with my finger? Too awkward! However, I find that a bit of practice and familiarity with the drawing software makes a huge difference.
My favorite drawing app is Autodesk Sketchbook Pro. The interface is easy to use, with three finger shortcuts to bring up the brush and color palettes, layer window, undo and redo. In only a short time, I got used to using the pinch gesture to zoom in and out so that I could work on fine details as well as being able to see the whole drawing. I can export my drawing to the iPad photo album as well as e-mail it or post to various services.
You can see more of my iPad drawings at http://ipadgirl.posterous.com.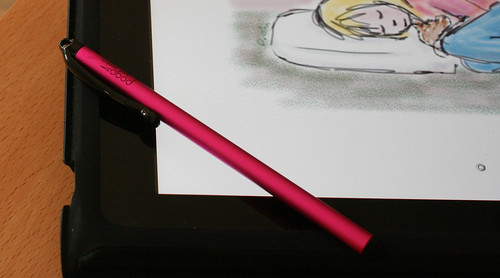 I've also been experimenting with using the Pogo stylus. It's not pressure sensitive like my Intuos Wacom Artpad, but it feels like a regular pen. I'm wondering how long it'll last with regular use, though…the sponge-like material at it's tip doesn't strike me as particularly durable. I hope I'm wrong. With the $14.95 price tag, I'm not crazy about having to replace the pen too often. I've noticed that cheaper alternative solutions are already being posted.
USING THE IPAD TO DISPLAY PHOTOS
This is one major advantage that the iPad has over the Kindle. It's been years since I've taken any print photos, and eventually I'd like to replace all the boxes of print photo albums with folders of scanned images on my laptop…or iPad.
Converting to digital photography has saved me a ton of money in terms of hassle and print processing, but it means that the only way friends and family can view my photos is by going online or looking at them on my laptop.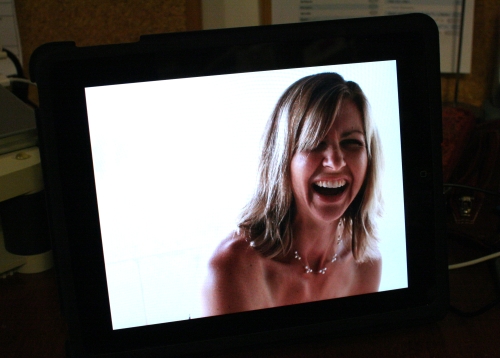 I've set up my iPad syncing to always sync with the last three "events" in my iPhoto library as well as any other albums I specifically select. The other day, my father asked about one of my niece's school productions, for example. Instead of having to e-mail him a URL or drag him to a computer, I just whipped out my iPad and let him flick through the photos himself. I could also have set up a slideshow to display my photos that way.
READING ON THE IPAD
This is the main reason I wanted to get an iPad. I rarely go anywhere without at least one book or magazine with me, and read e-books regularly on my iPhone. The idea of being able to read books and magazines on a bigger screen of a device so easily carried around hugely appealed to me.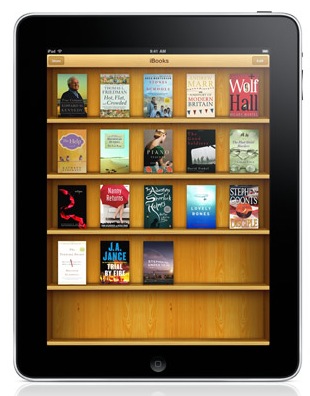 Sadly, the iBookstore is not accessible to Canadian customers yet. However,from this Apple job posting, it sounds as if Apple does plan to open its iBookstore to Canadians eventually.
I knew this before the iPad launch, but figured that at least one of Stanza or eReader would be launching an iPad-optimized version of their e-book reading software. I was wrong. Amazon-owned Stanza has gone silent on the topic and Fictionwise support responded to my query with "Currently at this time, there are no plans to update the iPhone eReader app for iPad." Fictionwise was acquired by Barnes and Noble.
Sigh.
I can run the iPhone eReader or Stanza apps on my iPad, but either they look too small: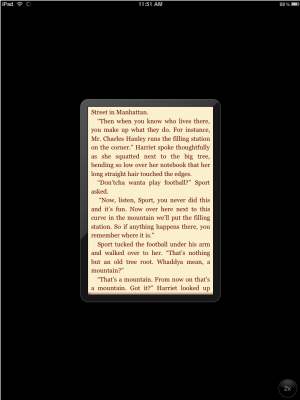 or I blow them up to fill the iPad screen and the text is blurry: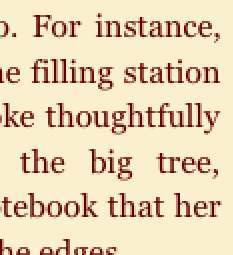 So before you decide to buy an iPad, I strongly suggest you go through all the apps you're counting on and make sure there are iPad-optimized versions available in the iTunes store. I find it deceptive that ALL the apps in the iTunes store say "compatible with iPad" — many people won't realize that this just means that the iPhone apps will run in their smaller format on the iPad screen (as shown above). To find out if a particular app is iPad-optimized, make sure that the app page has screenshots of the iPad version.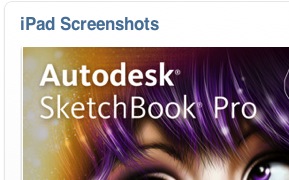 However, even if I knew this ahead of time, I would still have gone ahead and bought my iPad.
UPDATE: Thanks to Christopher Davis for posting:
Apparently Barnes & Noble's version of eReader will be ported, though, and (with a little work) you can load your old Fictionwise and eReader.com purchases into it. (I'm not surprised, really; they added ePub support to the B&N version but not the Fictionwise/eReader.com version…making me think that the latter is dead-ending.)

The trick: put your files on a webserver somewhere (Mac OS X's Personal Web Sharing will do nicely) and then make a page of links to them, except start the URLs with bnereader:// instead of http://.

Then click on them in Mobile Safari; they'll be loaded into the B&N eReader app.
I'm going to try this! Meanwhile, I'm use the e-reader app from Kobo, which is partnered with Chapters-Indigo. Most books at Kobo are available for Web/Mobile/epub.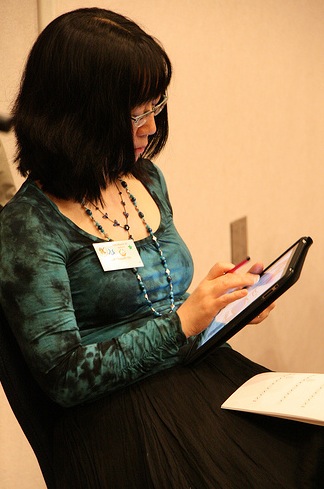 (Sketching on my iPad. Photo by Walter K.)
USING THE IPAD AS AN EXTRA SCREEN
I find that I've started using my iPad as an extra screen in my home office. I usually keep my To Do list or Calendar list open as I work, which helps keep me on track for what I want to accomplish and to keep my time priorities straight.
HOW IS THE BATTERY LIFE?
This is an aspect I haven't fully tested yet. I've noticed that if I'm just writing, the battery power goes down very slowly. Surfing the Web and playing games uses power more quickly. Apparently manywritershave found that their iPads gave them more than the promised 10 hours on a single charge. Gizmodo drained the iPad battery in about 6 hours by alternating between streaming video and playing graphic-intensive games, with Wi-Fi on, brightness at its highest, and the speaker at its loudest setting the entire time. It takes about four hours to fully recharge.
Some other questions some of you have asked…
WHAT IS IT LIKE TYPING ON THE WIRELESS KEYBOARD?
I haven't tried this yet, but will post about it when I do.
ANY SPECIFIC DRAWBACKS OR NEED-TO-KNOWS FOR CANADIANS BUYING U.S. IPADS BEFORE THEY COME OUT HERE?
Rogers has announced that it will offer iPad price plans for all models from the end of May in Canada, but hasn't yet given any numbers.
The iBooks store and iPad Apps Store are not yet available to Canadians, and there's not yet any official word about when they will be available. This means that we Canucks aren't able to buy certain apps like Pages, Numbers and Scrabble, and we can't buy apps directly from our iPads. I currently buy iPad apps through my laptop from the iTunes store, then sync to my iPad.
Because the iPad isn't available in Canada yet (at least I'm assuming this is the reason), the Apps part of the Canadian iTunes store still doesn't have a separate section for iPad apps, categorized by app type. As more iPad apps are added, this makes it more and more of a chore to browse iPad apps. I currently browse iPad apps by searching for the term "iPad." I also check the iPad section of AppShopper, though some of these are unavailable to Canadians.
Some e-books are unavailable to Canadians, even when purchased through the Amazon Kindle shop.
OUR DAUGHTER WANTS A KINDLE FOR COLLEGE. SHOULD WE INSIST ON AN IPAD INSTEAD? IT'S THE DATA PACKAGE THAT IS MAKING ME HESITATE.
Hm, tough question. It depends entirely on what she wants to use it for, plus you should definitely do some data package comparisons. My experience using the Kindle is also very limited.
=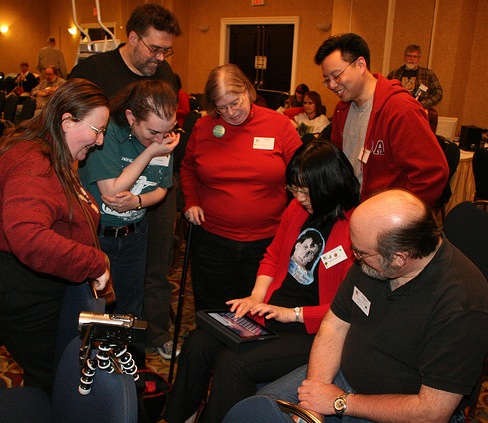 (Photo by Walter K.)
Wow, this review is way longer than I intended. I'll continue my review after I've had a chance to use my iPad a little while longer. Feel free to post any questions you'd like me to answer next time in the comments section below.
I post iPad-related comments, cartoons and info in my ipadgirl Twitter account and iPadGirl blog.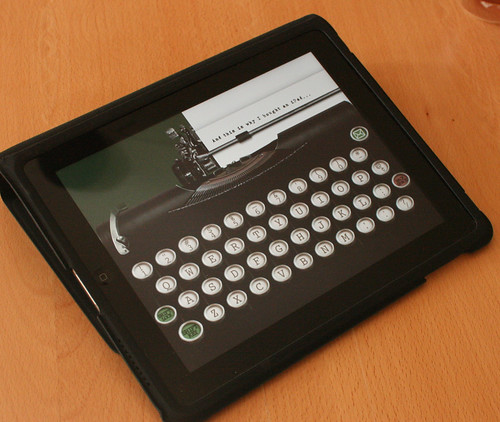 Above: fun retro typewriter app for the iPad. Realistic old-fashioned typwriter sounds, working carriage return, and you can e-mail the retro look typing or just the text. $1.99 in the Apps store.