Interview with Karen M. Greenwald, author of A VOTE FOR SUSANNA: THE FIRST WOMAN MAYOR (Albert Whitman)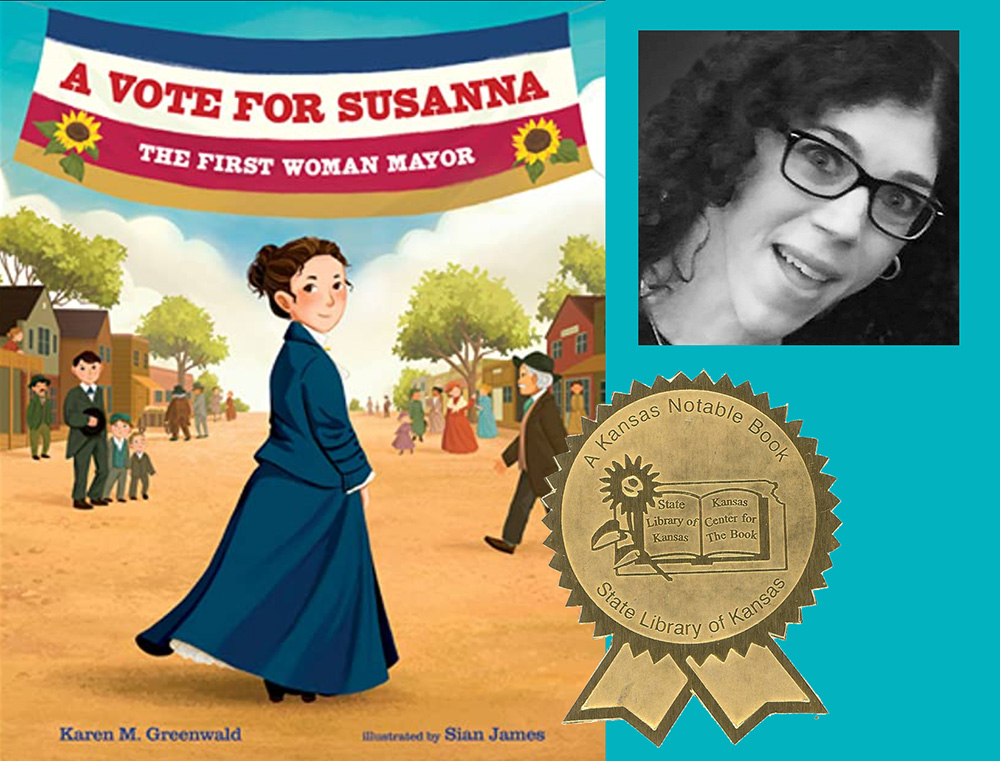 Karen M. Greenwald hopes that the stories she tells about real heroes hidden by history inspire, educate, and delight. She co-founded #SunWriteFun, an annual online kidlit nonfiction writing contest, and raises money for need-based kidlit charities. She is also an international award-winning brand strategist. Her debut, A VOTE FOR SUSANNA, THE FIRST WOMAN MAYOR, is a Kansas Notable Book and Library of Congress (LOC) 2022 Great Reads from Great Places selection. It represented Kansas at the LOC's 2022 National Book Festival. Her next nonfiction book launches in 2024.
Find out more about the Karen M. Greenwald at her website, Instagram, or Post.
Find out more about illustrator Sian James at their website, Twitter, Instagram, and Facebook.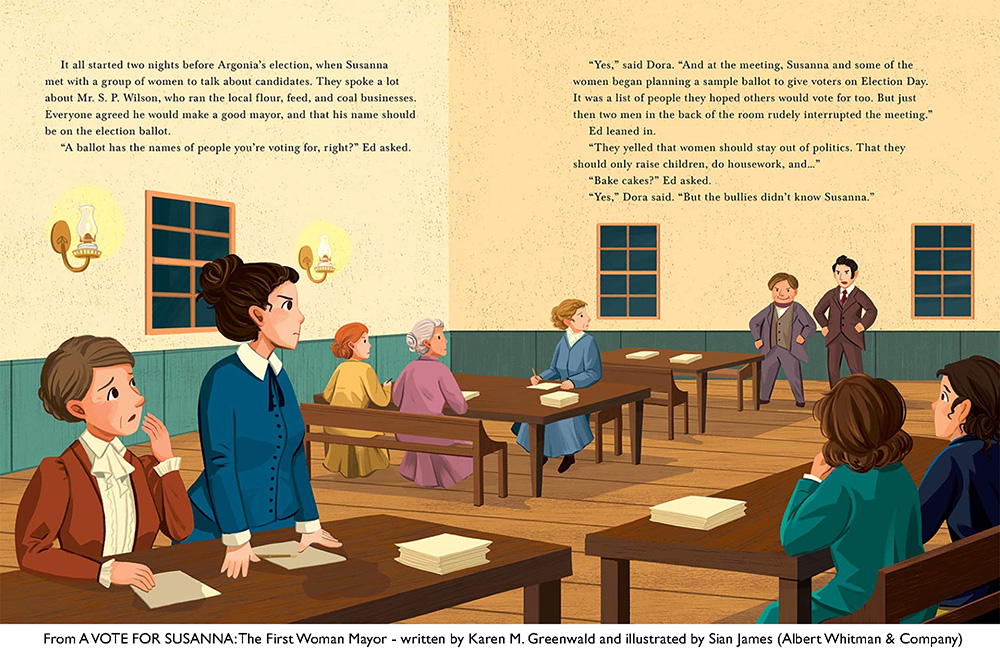 A VOTE FOR SUSANNA: THE FIRST WOMAN MAYOR
Author: Karen M. Greenwald
Illustrator: Sian James
Publisher: Albert Whitman & Company
Audience: ages 4-8
Publication: October 1, 2021
Synopsis: In 1887 the state of Kansas became the first to grant women the right to vote and/or run for office in municipal elections. But some men in the city of Argonia, Kansas didn't think women should have a say in politics. So, they put a woman on the ballot for mayor. Her loss would prove to everyone that nobody wanted women messing in politics. That woman was Susanna Salter—and soon her bullies would find the joke was on them! A grandma who remembered the event tells her grandson the story while they bake a cake. She also shares something even more delicious than her dessert! 
---
Q. How was A Vote for Susanna: The First Woman Mayor created?
When spelunking online one day, a brief sentence caught my attention. How had I never heard of Susanna Salter, the 1887 Kansas law granting women municipal voting/candidacy rights, or the impact of her bravery? History needed to be held accountable for ignoring this Victorian, yet profoundly contemporary piece of America's past.
The title of my book, A VOTE FOR SUSANNA, THE FIRST WOMAN MAYOR indicates why my protagonist remains notable…but her status was only half the tale. Most articles written after Salter's death in 1961, including blogs, covered the basics—with differences mainly limited to stylistic choices. Seemingly none pondered anything about Susanna or her "agency." Finding who she really was and why Susanna embraced such a risk became my purpose and herculean challenge.
Days after I spent a weekend's worth of time online and on the phone with librarians, genealogists, and the like from Kansas State University's library, I learned that it burned to the ground. For one and a half years after, I dug for information, navigated obstacles, and surmounted varied and often unusual barriers. Ultimately, a member of the Salter family and I connected. After a thorough vetting, she and her brother shared precious ephemera with me.
I kept one of Susanna's letters open while writing the manuscript's final words. The three-dimensional, "real" Susanna history ignored came to life with each cursive swirl as the refrain of Hamilton's final number played in my mind. "[W]hen you're gone, who remembers your name? Who keeps your flame? Who tells your story??" The song, her words, my reaching the conclusion—it all felt emotional. Almost mystical.
"Who tells your story??"
"I'm going to," I whispered…
Note: Also check out illustrator Sian James's website to find out more about Sian's illustration work! Sian is a self-taught children's book illustration from Hong Kong, represented by Advocate Art.
Q. When researching a nonfiction book, how do you organize your research? Also, how do you know when your research is done and it's time to actually start writing?
I'm a big color-coder, outliner, and "briefer"—probably techniques and/or habits rooted in being a lawyer. My background informs how I break down and organize information. Preparing for law school exams underscored the importance of knowing how I worked most successfully (the opposite of what was instilled during 1L orientation!). There isn't a "one size fits all" approach for organizing research either.
My "go-to" resource for keeping track of ideas, notations, images, and comments is Microsoft's OneNote. The app allows for note-taking that isn't linear in format which is great for someone who always used every corner of notebook paper margins (both vertical and horizontal). A note can be "pinned" to your desktop so that it remains active even when you rearrange different windows (Caveat: this might be limited to a downloadable older version). Also, for those of us who get too involved in what they're doing, the "save" function is automatic—and, when pasting content from the Internet, it records the date, address, and time automatically. The latter is essential since bibliographies require that information for anything sourced from the Internet.
I create a separate OneNote "notebook" for each manuscript. It becomes a virtual command central while researching, writing, and editing. Afterwards, I often review them when planning presentations, writing blogs, and doing interview prep. In fact, I checked one tab today before writing these answers.
For more about research, see my blog, RE-SEARCH FOR INSPIRATION.
Researching makes me feel like I'm a history detective. Each new clue I uncover inspires ideas. How do I know when I'm ready to begin writing? By the time I type, most major elements are already formulated. The actual putting of words on paper is where things get refined. So, I'm not sure I have a defining line between research and writing…it's more of an ombre situation.
Q. What do you hope young readers will take away from your book?
I hope young readers will learn several things from Susanna and this story. First, her history is world history. As the first woman elected who served, Susanna became an international ceiling-breaking icon. While she did receive some criticism, she more importantly captured global attention and inspired enormous hope for many. Susanna's empowered attitude shows how anyone can become a hero.
I also hope that it causes children and the adults reading with them to consider why the bullies adamantly didn't want women involved in politics—and how her gender had no impact on her capacity for success. I want them to consider what other types of things bullies fear and who else experienced/s discrimination. They should contemplate what motivated the other townsmen to seek out Susanna. Many life lessons relevant for today are embedded in this historic moment.
My teacher's guide is a thorough resource for engaging groups or individual children in a discussion. It looks at many facets of the book and includes suggestions for art projects, PE games, and more. My hope is that the book and these activities will encourage children to learn about heroes from their area—especially those history has overlooked or forgotten.
Q. What advice do you have for young creators?
The art of writing is never a waste of time or effort. You don't need to worry about what it will become. Just participating in the act of writing itself gets your creativity in motion. Sometimes, jotting down a word or phrase can inspire a great story. Other times, a silly doodle might become the focus of your next creative project. But if you don't journal these things, and play with words, sentences, poetry, or sketches, you may never know what great stories you're capable of…so give yourself permission to enjoy the process without it needing to fulfill a lofty purpose!
Q. What are you excited about now?
I'm continually excited about using my role as a #kidlit author to make a difference. One way is by uncovering nonfiction stories. Culture, history, and a community's way of life are grounded in the past—these need to become our prologue. Nonfiction books, like A VOTE FOR SUSANNA, can help by educating, directing, and inspiring children and adults who read with them.
Practically speaking, I see books as passports, mirrors, windows, old friends, and new beginnings. I am enormously passionate about doing what I can to help under-sourced libraries—especially in schools—get new resources.
Q: How have you helped libraries get new resources?
I've taken this on as my personal challenge and have tried to help in two ways:
#SunWriteFun. I co-created the only online kidlit nonfiction writing contest. It is an annual event every summer. We raise awareness of/money for a kidlit charity in conjunction with it. However, writers can compete without taking part in the charity aspect. I would never want it to be a barrier against participation. It feels incredible to help need-based communities get brand-new/free books. I'm incredibly proud of all the industry support the contest gets—from editors and agents to organizations and authors.

Women's History/Read Across America Book Drive Raffle.
I asked two other kidlit authors to join forces with me and host a book drive for the charity I've promoted for the past few summers via #SunWriteFun. We asked people to buy books from two different women-owned independent bookstores and send them directly to the charity. In return, they would earn 1 raffle ticket per book. We also offered incentives, like a way to earn two raffle tickets for the price of one book and committed to matching (up to 10 books total) when ours were donated. In total, 135 brand new books were donated!

---
Also see other Interviews with Book Creators and Advice For Young Writers And Illustrators