Interview with Karen Henry Clark about LIBRARY GIRL: How Nancy Pearl Became America's Most Celebrated Librarian (Illustrated by Sheryl Murray)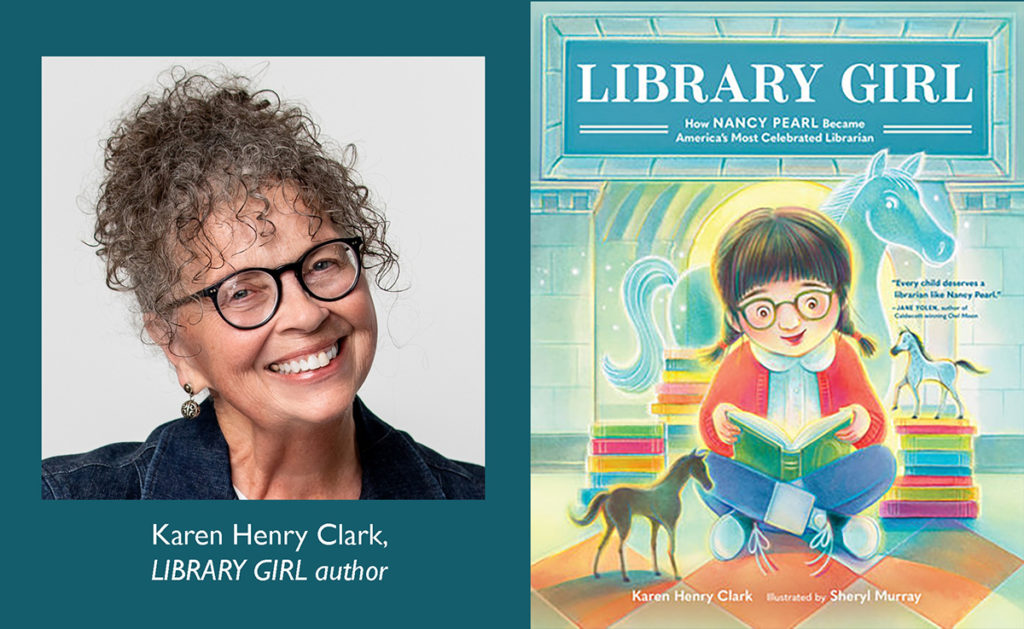 FREE IN-PERSON EVENT: Meet Nancy Pearl, Karen Henry Clark and Sheryl Murray in person on Tuesday, October 11th, 2022, 6:00 pm (PT) at University Book Store in Seattle! More info and RSVP here. Also, retweet this post by Oct. 13, 2023 for a chance to win a copy of the book AND a Nancy Pearl Librarian Action Figure!
Karen Henry Clark decided to become an author when she was four and wrote her first story on the living room wall. No publishers appeared. She worked as a bookstore clerk, teacher, college administrator, and copywriter but never forgot her early ambition. When she and husband Cliff adopted a daughter from China, she found the right story: Sweet Moon Baby. On her blog "Margin Notes," she writes about simple but magical moments in her small-town Ohio life. You can find out more about Karen at KarenHenryClark.com and on Facebook.
LIBRARY GIRL: How Nancy Pearl Became America's Most Celebrated Librarian
Author: Karen Henry Clark
Illustrator: Sheryl Murray
Publisher: Little Bigfoot / Penguin Random House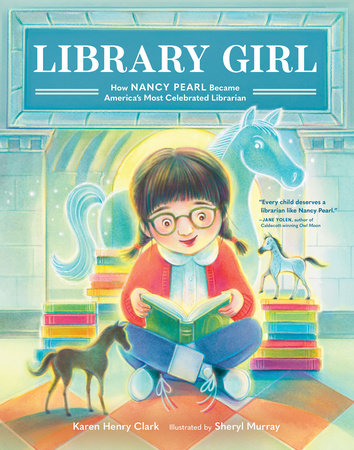 Synopsis of LIBRARY GIRL:
Library Girl is the inspiring childhood story of how beloved librarian, author, and Seattle icon Nancy Pearl discovered her confidence and realized her passion. It is a loving tribute to the power of books, librarians, and helpers—both real and imaginary—to transform lives.
Q. What inspired you to write LIBRARY GIRL?
My 35-year friendship with Nancy Pearl is the short answer.
The long answer offers the scope of Library Girl. When we worked together at a Tulsa bookstore in the late 1980s, we discovered our shared dream of becoming authors. Decades later, I found my way into picture books. Nancy, being Nancy, found her way into just about everything else, after becoming a super star librarian in Seattle. Because I knew about her childhood challenges, I approached her with the idea of a picture book. We agreed it should mirror any child's struggle to overcome obstacles, whether they realized Nancy was a real person or not..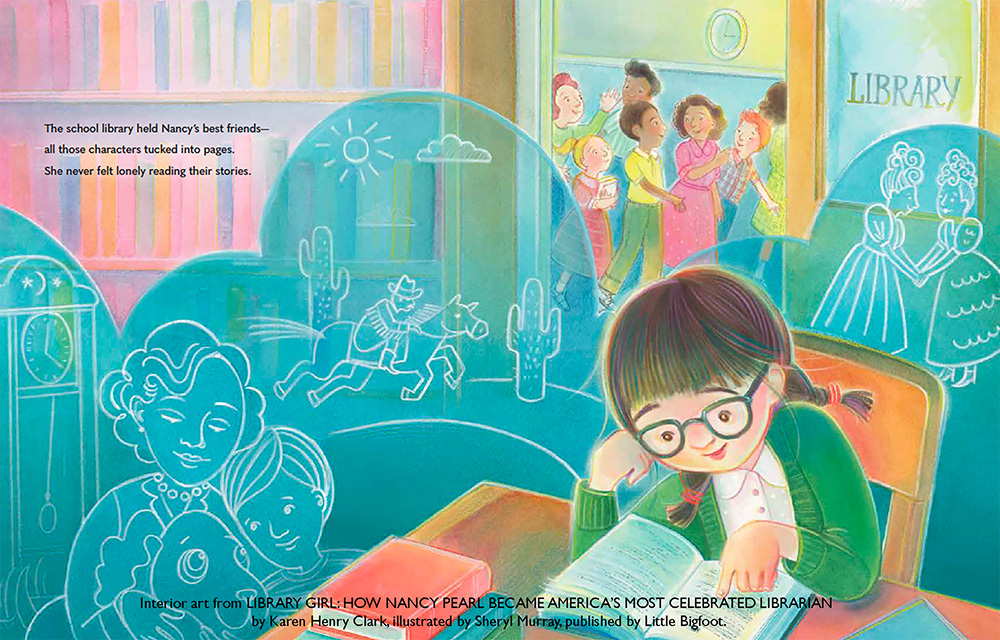 Q. What was your writing process?
When I first interviewed Nancy about her childhood, she honestly recalled little. So I placed her as a character among other book characters in postcard-pretty scenes. Critique partners asked about Nancy herself. Years of interviews finally produced the pivotal points for a story arc.
Because so much of her story happened in Detroit's Francis Parkman Branch Library, I contacted them for early photographs, trying to understand why this building enchanted her. In black and white, I saw the magic–the soaring ceilings, the stone carvings, the stained-glass above a long window seat. The entire building served up characters, along with the wise children's librarians.
I asked Nancy for a picture of herself at that age. She had only kept one: her on the bike named Charger that she imagined as a horse. Definitely another character.
Fortunately, as Nancy read countless drafts, she remembered more.
Once the manuscript sold, Sasquatch/Little Bigfoot editor Christy Cox helped trim or expand key scenes, asking for an Author Note to present pertinent details about Nancy's expansive career.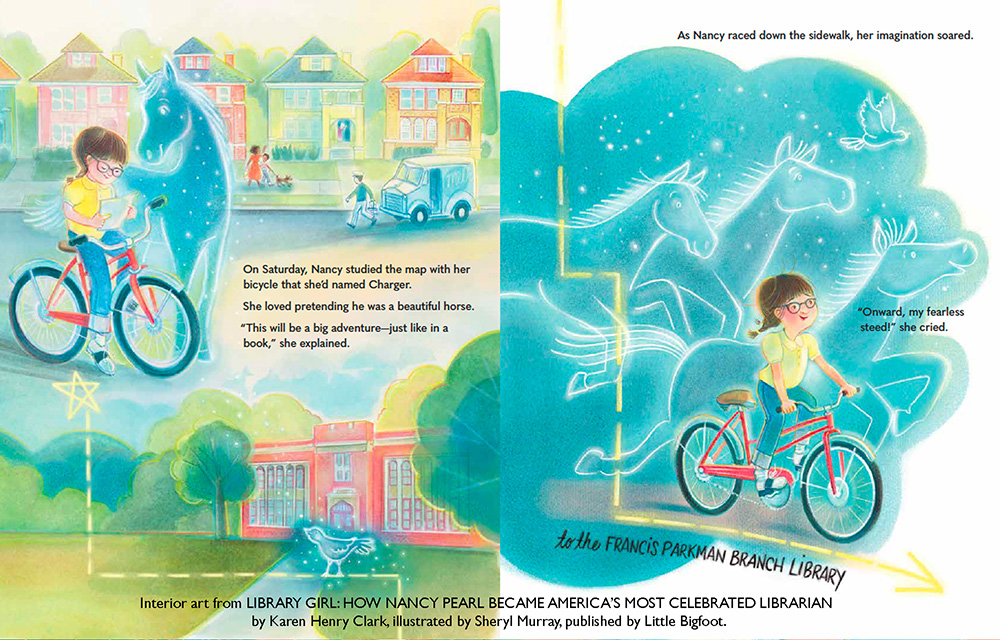 Q. What advice do you have for those who feel it's too late for them to finding publishing success?
Keep going, especially if readers find something compelling in your manuscript.
I wanted to be an author before I even knew there was an alphabet. My first book debuted when I was 59, so clearly it's never too late. I'll be 71 when Library Girl launches. An editor never asks to check your driver's license birthdate before offering a contract.
You're old enough to have faced NO many times. I was told NO when I applied to a prestigious journalism department because they insisted it was "a man's profession." I angled for years to get into newsprint, finally landing essays in the Chicago Tribune. Let NO inspire you.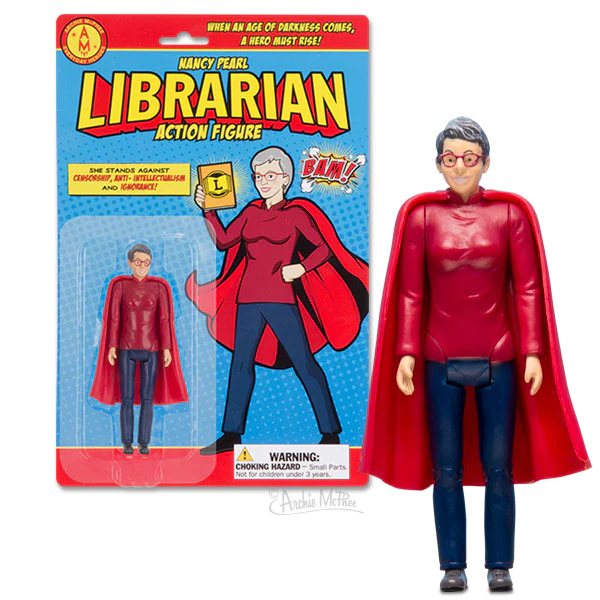 Q. What advice do you have for young writers?
I'm no expert. Obviously.
Accept that there is no easy way to be published. Five different authors will tell five different stories to explain their success. Yours will be different, too. I promise.
That said, read Ann Whitford Paul's Writing Picture Books to grasp how many plates you must spin to write a successful manuscript.
Join your regional SCBWI and participate, instead of hiding in the back row like I do.
Find a critique group with members who know more than you. Don't argue with their advice.
Read a dozen children's books at your library each week. Type the stories you love to feel the flow.
If possible, attend bookstore author events. You learn about the industry when you see success in action.
Be careful. Don't spend so much time on all of this that you fail to write. Getting better at writing is the only way through the challenges.
---
Also see my other Interviews With Book Creators as well as Advice For Young Writers and Illustrators.