I illustrated Judy Blume's covers! Here's what I learned.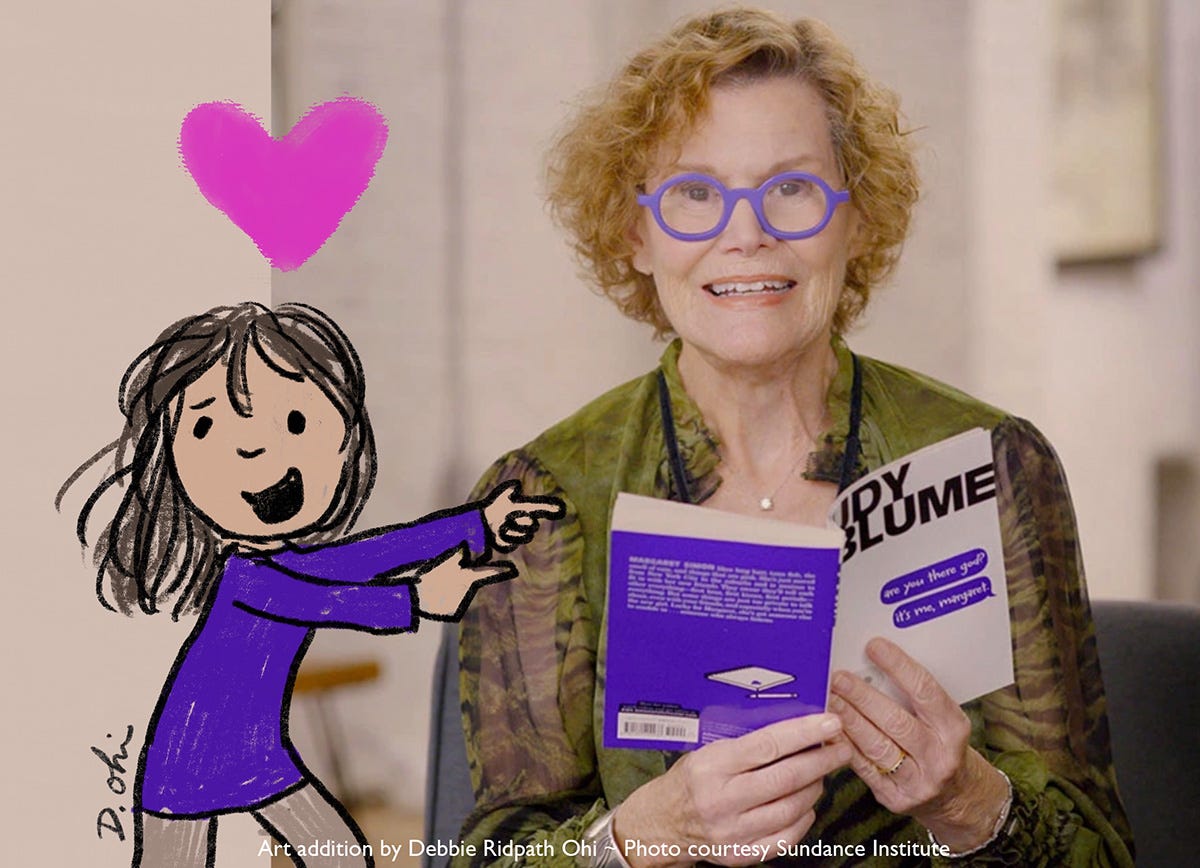 (The following was also included in my new Inkygirl newsletter on Substack.)
On Dec. 19th, 2013, my editor at Simon & Schuster contacted me to see if I'd be interested in auditioning for a project "of great proportions." I said sure. See this re-creation of my response.
I had been working with Justin Chanda for a couple of years at that point, ever since he discovered my work at an SCBWI conference and gave me my first children's picture book contract.
---
? What I learned: While I enjoy sometimes working with other publishers, I have found a real value and personal satisfaction in having a longterm working relationship with my editor at Simon & Schuster. Justin is an amazing editor, and I feel incredibly lucky to be working with him. Because we've collaborated on many books, we're familiar with each other's process, and have a high level of trust.

---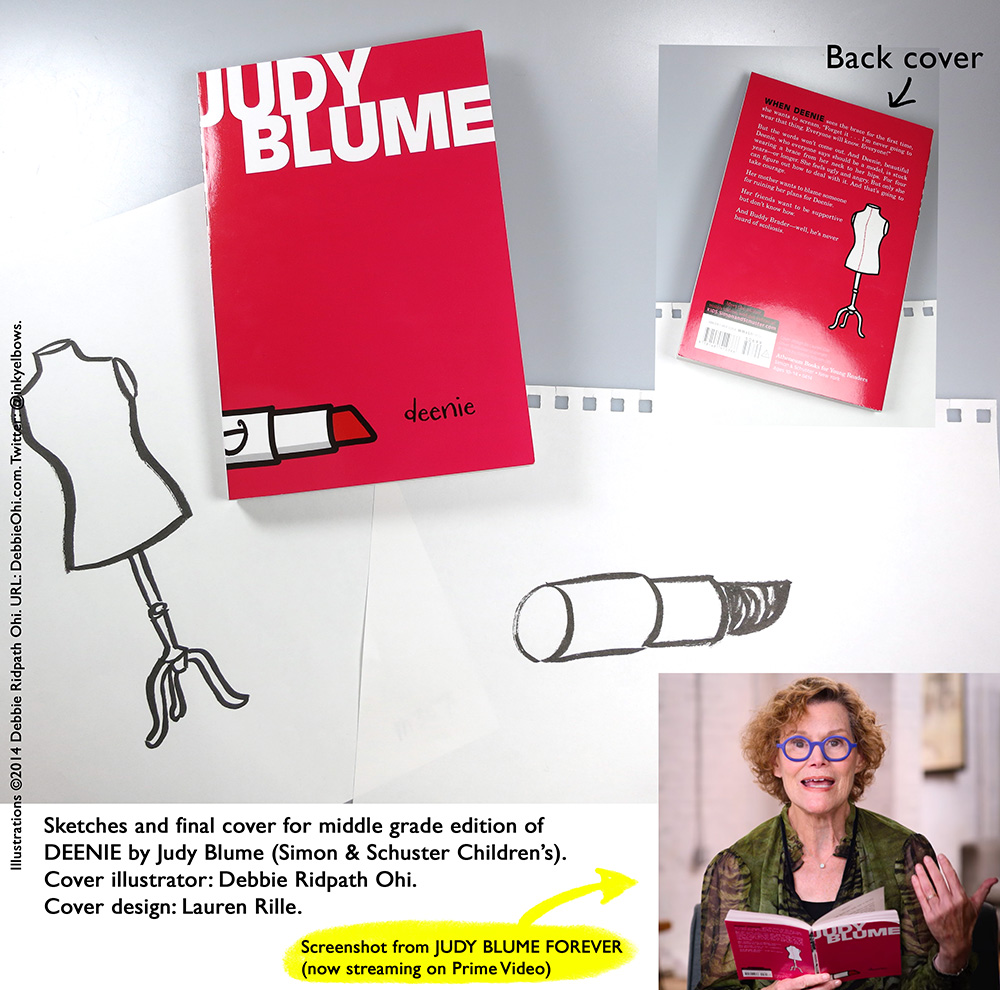 Justin told me that they were looking for someone to illustrate the middle grade reissues of Judy Blume books. He warned me that I may not get the job, that other illustrators had already been passed over. I knew that I'd need to work through the holiday season…only to find out I didn't get picked.
But of course I had to say yes! I mean….JUDY BLUME!!
---
? What I learned: Not to let the fear of rejection stop me from trying to achieve something important to me. (Note: I'm about to go through this again when I resume my goal of getting my middle grade novels published!)

---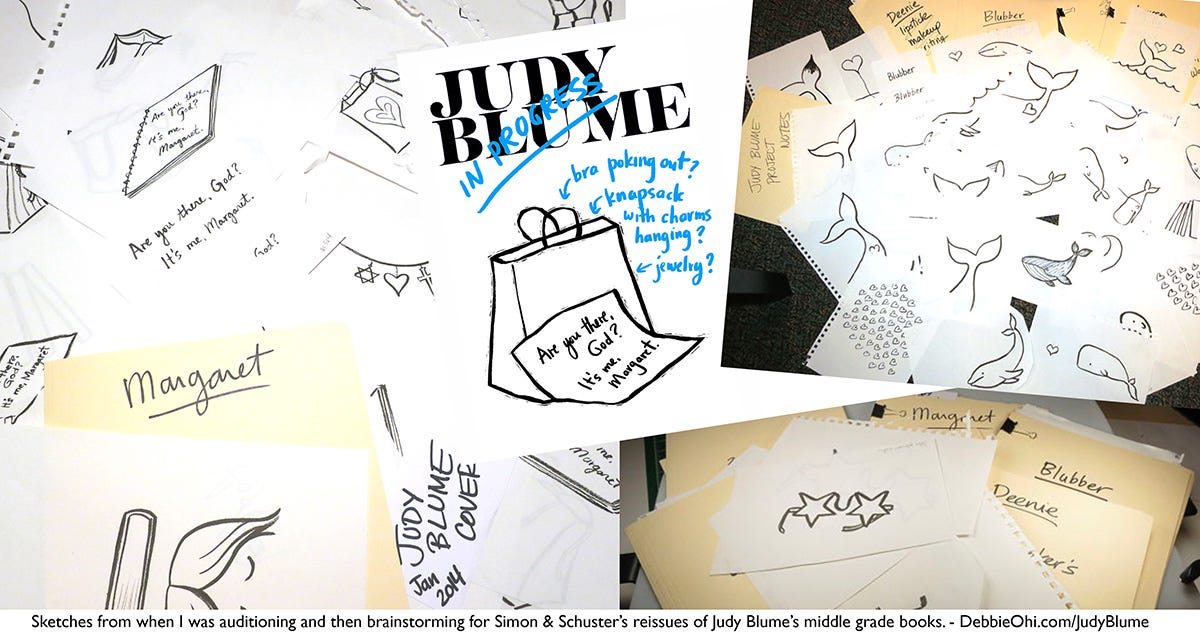 Shortly after I started the audition process, however, a major Toronto ice storm hit that took out our power (and that of hundreds of thousands of other households). My friend, Cathy Rutland, came to the rescue and offered to let me stay at her apartment until our power came back on. Jeff (MY HERO) took a break from trying to keep our water pipes from freezing and moved my scanner, iMac, Wacom stuff and other hardware I needed over to Cathy's apartment.
---
?What I learned: To be grateful for the supportive friends and family in my life.

---
Justin and I exchanged emails every day throughout the winter holidays, including New Year's. I would send him ideas and he'd send feedback. The cover for Margaret was especially challenging! Here are some of the brainstorming ideas from Justin Chanda and art director Lauren Rille: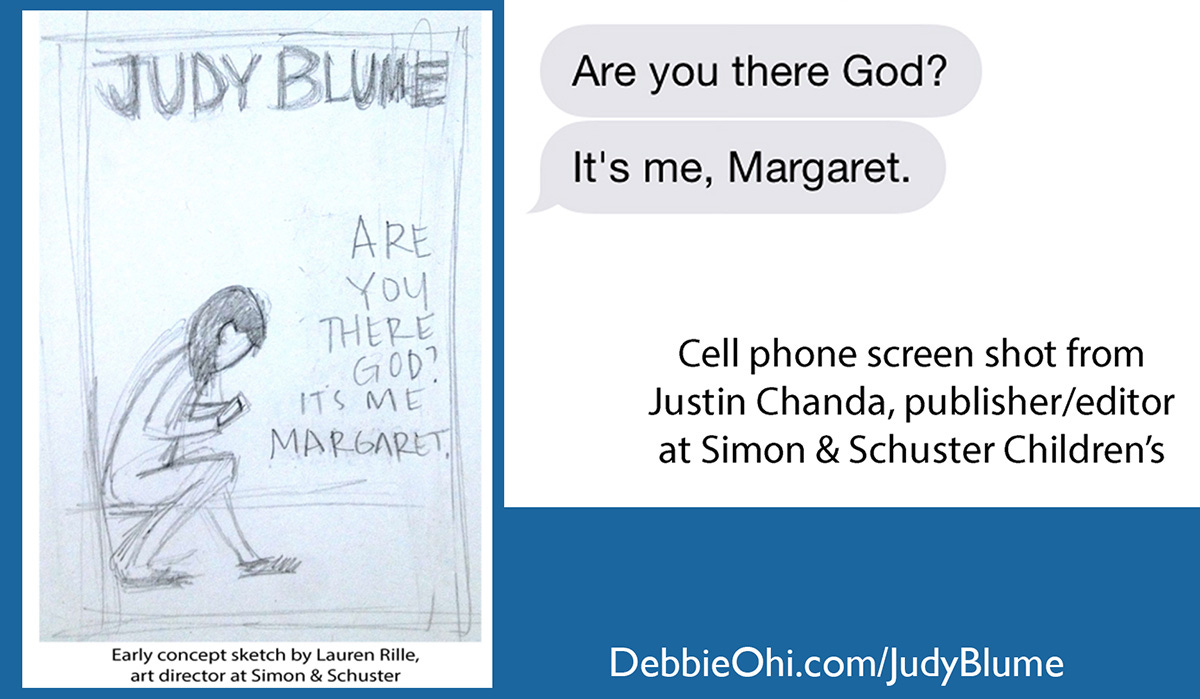 Because the books were coming out in April and they had not yet found the right illustrator, timing was tight. I estimate I drew over 150 sketches during that time and sent Justin 50 of those. When everyone else got back after the holidays, I continued the brainstorming and sketching process with Justin, Dan Potash, Namrata Tripathi and Lauren Rille.
And then it was time to wait to see what Judy Blume thought of my sketches.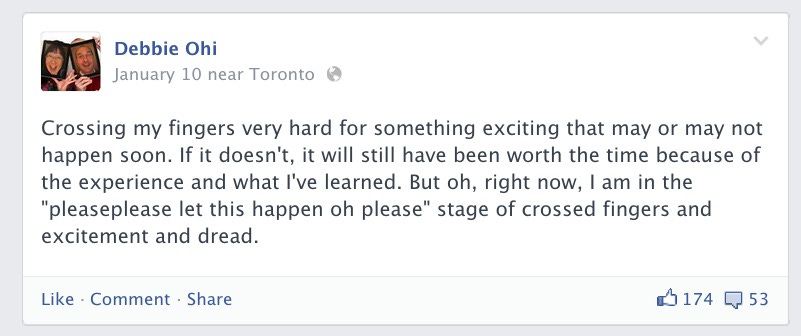 The waiting was AGONY. I was such an airhead at home, forgetting where I put things, only half paying attention to what was going on around me. I burned meals. I also put dish soap in the rinse agent compartment of our dishwasher….there were suds everywhere! Jeff was incredibly patient. ?
Justin called me on January 16th, 2014. I remember noticing the 212 area code and immediately thinking newyorknewyorkohpleaseohplease and then picking up the phone and JUSTIN TOLD ME THAT JUDY BLUME LOVED THE COVERS YAAAAAAAAY *AND* that they wanted me to also do the interior illustrations for the three chapter books: Freckle Juice, The Pain and The Great One, and The One In The Middle Is The Green Kangaroo.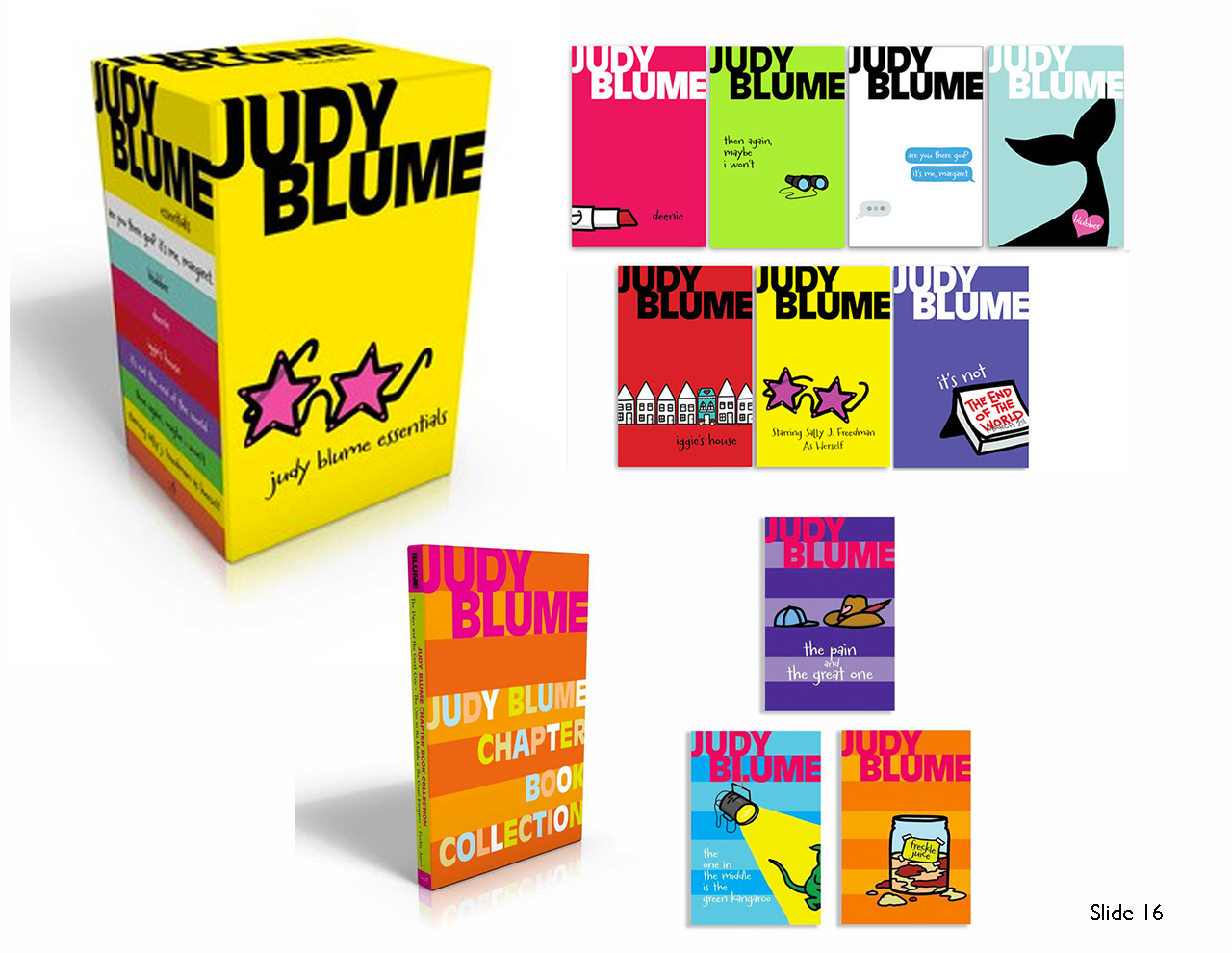 I freaked out. I became aware I had started screaming at Justin, tried to calm down and be professional, but then started screaming again. At one point, he had to reassure me that "Yes, this is really happening." After the call, I immediately called Jeff at work and screamed at him and then I emailed my sister and my agent at Curtis Brown, Ginger Knowlton (by that point my throat was sore from all that screaming ?).
---
?What I learned: Sometimes it all works out. ❤️ A lot of the times it doesn't, though, so I've also learned the importance of enjoying the journey. Or if I can't enjoy the journey, at least to learn SOMETHING from the journey.

---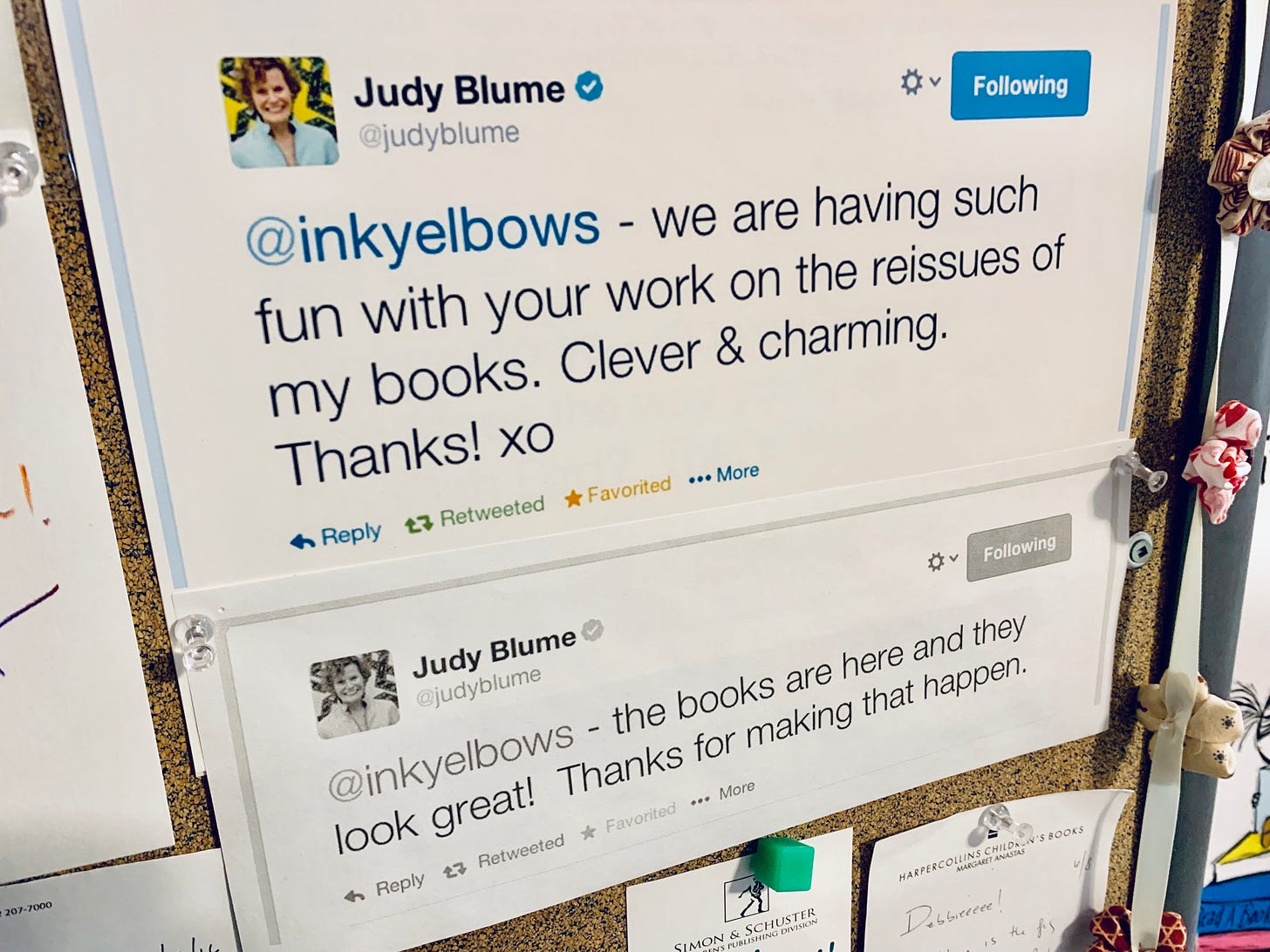 Above photo: Tweets from Judy Blume! These printouts are STILL on my corkboard in my home office.
Fast forward to NOW, when I just finished watching the new JUDY BLUME FOREVER documentary on Prime Video. Not only is this documentary heartwarming and honest (plus I learned things about Judy and her life I didn't know before!), but the covers I did with Lauren Rille are all the way through the documentary!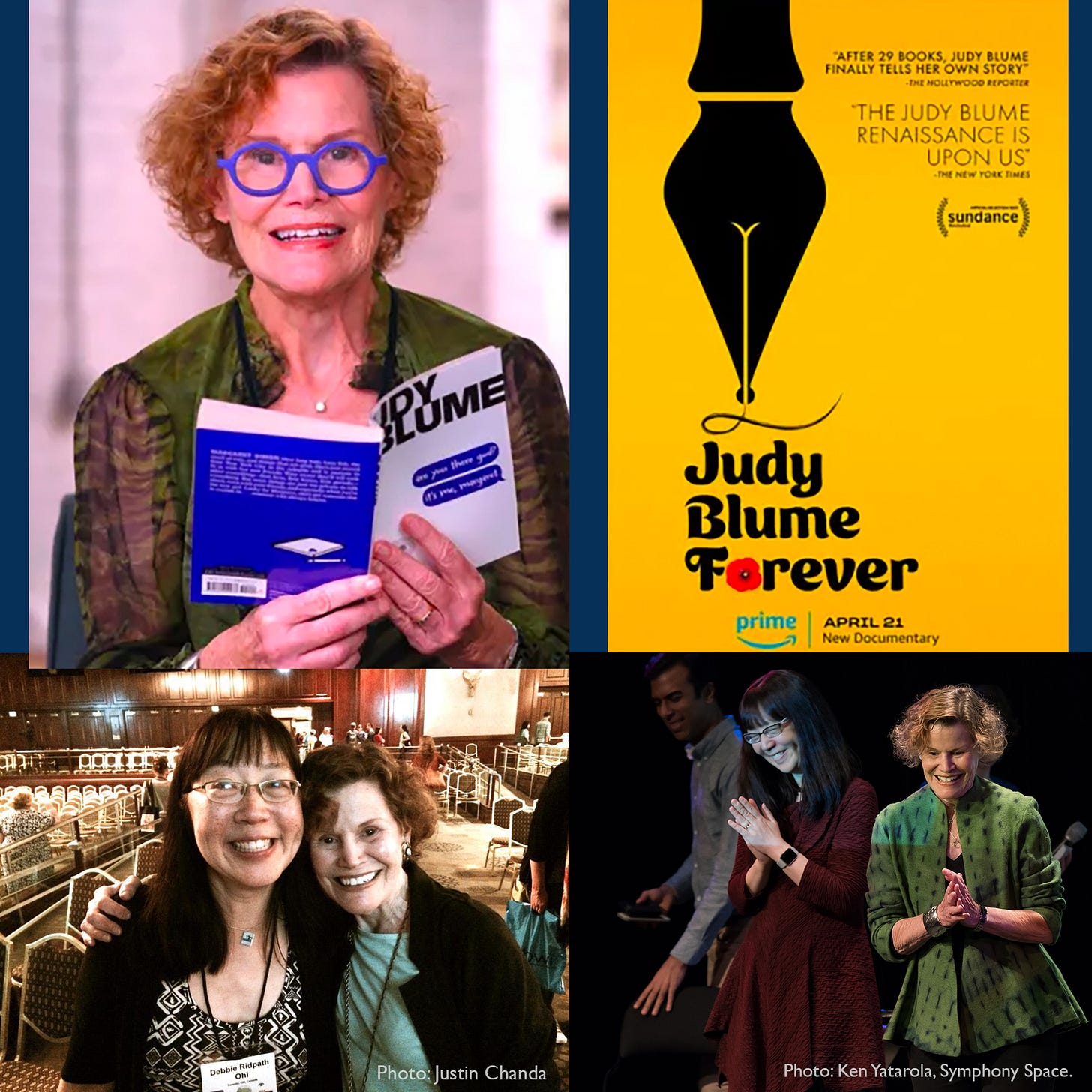 The photos above are from the two occasions I was lucky enough to be able to chat with Judy Blume in person. I look weird in the first photo because I had just burst into tears when my editor introduced me for the first time (apparently this is a common reaction from women my age who grew up reading Judy Blume). The second photo is from when I appeared on stage WITH Judy Blume at Symphony Space in NYC in celebration of her 80th birthday. Earlier in the Green Room, Judy told me that she was carrying my Sam & Eva book in her Key West bookstore!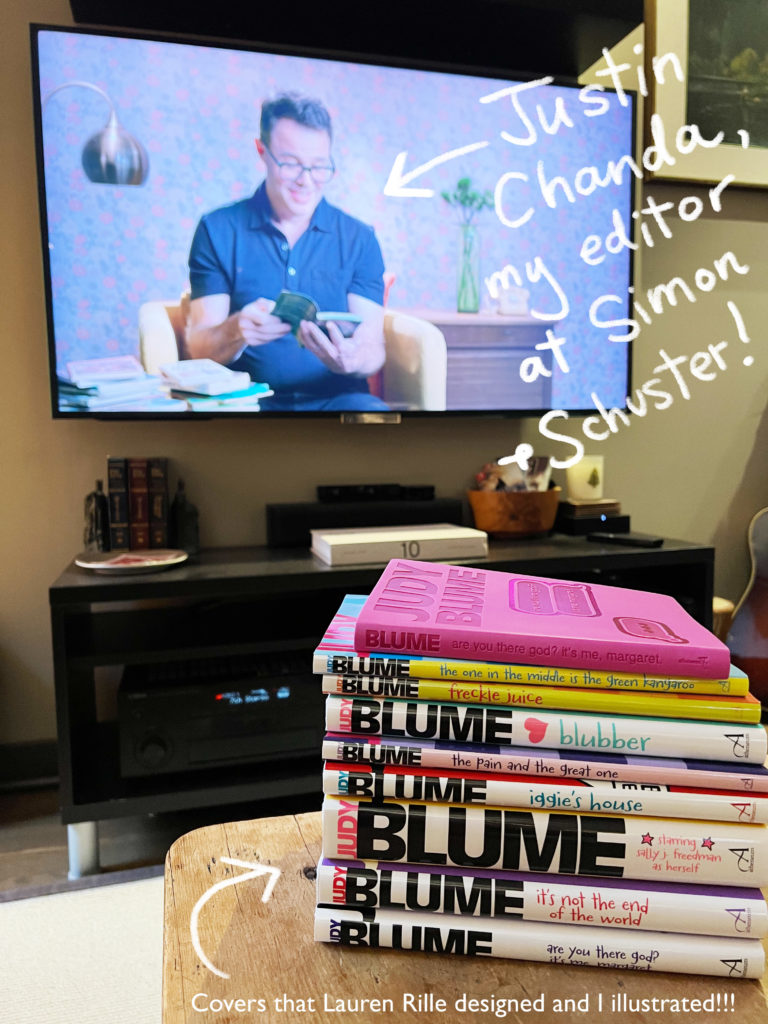 Anyway, not only are my covers throughout, but also my Simon & Schuster editor, Justin Chanda! In case you haven't seen it yet, here's the trailer for Judy Blume Forever, which I highly recommend:
And I can't wait to see the movie version of Are You There God? It's Me Margaret.
You can find out more about how art director Lauren Rille and I helped create a new look for Judy Blume classics in our post on the Nerdy Book Club.
---
?What I learned: To persevere, not be afraid to take chances even if chances of success are low, appreciating those who support me and trying to do the same in return, and to enjoy every moment of the journey.

---