Interview with Molly Ruttan, author/illustrator of SOMETHING WILD (Nancy Paulsen Books)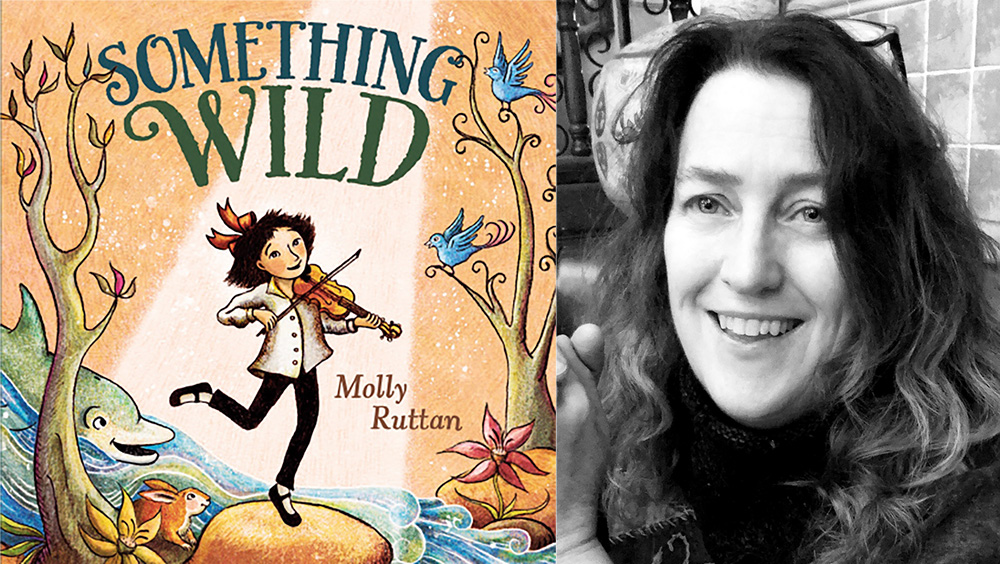 I met Molly Ruttan through the SCBWI Illustrator Mentee Program years ago, and I am excited about her upcoming new picture book, SOMETHING WILD, which launches soon from Nancy Paulsen Books/PRH. Molly's story explores the butterflies of anxiety that come with stage fright, and the joy and magic of facing our fears. You can read the starred Kirkus review here.
I'm honoured to be one of the stops on the Something Wild blog tour! Previous stop, in case you missed it: Maria Marshall interviewed Molly plus offers a giveaway. Do check out Molly's Instagram for more info about her virtual book tour. See Molly's bio at the end of this post, and you can also find out more at MollyRuttan.com and her Linktree.
SOMETHING WILD
Written and illustrated by Molly Ruttan
Published by Nancy Paulsen Books / Penguin Random House
Publication date: Feb. 28, 2023
You can get a signed copy if you order Something Wild through Molly's local bookstore.
Q. How was SOMETHING WILD created?
A. Debbie, before we begin I want to take a minute to thank you for having me on your amazing blog! What a pleasure to be interviewed by a fellow SCBWI mentee. You are a great inspiration to me!
The idea for my new picture book, Something Wild, has roots that go back to when I played violin in elementary school. Even though I was hidden in the orchestra, when it came time for the recital, I was terrified! I've continued to experience stage fright into my adulthood, as I have carried on with performing (as a drummer and backup singer) for much of my life.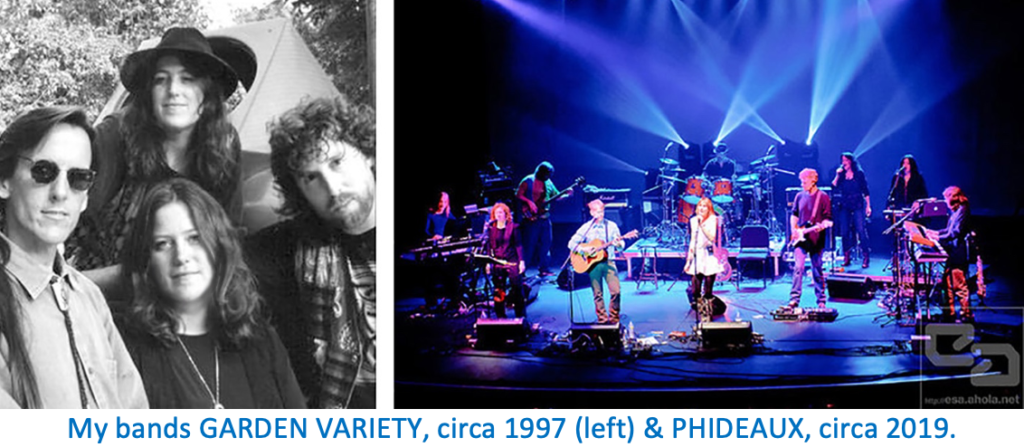 I have also always been an artist. I attempted to pursue my dream of writing and illustrating children's books right out of art school, but the demands of my life and career made it hard, and I didn't know how to begin. One of the things I finally did, after many years, was to start attending SCBWI conferences. It was at one of the regional conferences that I heard some new friends talking about Marla Frazee's upcoming class. I signed up. I had no idea at the time how much it would change my life!
To all you late-bloomers out there — it's never too late! You never retire from being an artist, of any kind.
Around this time, I began to experience a newfound sense of freedom on stage when I was performing. When our class was given the task to create a sequence, I was inspired to try and illustrate how it felt. I painted a short narrative about a girl who was afraid to perform, but when she took the stage and remembered how much she loved to play, the stage transformed into something wild and beautiful. It felt like the beginning of a book, so I spent some time working on it, trying to figure out what came next, but I couldn't solve it. I put the sequence into my portfolio for the upcoming SCBWI Summer Conference, and to my complete astonishment, my portfolio was one of six that won the Illustration mentorship that year! Winning this contest opened the door.
To all you kidlit creators out there — join SCBWI, and participate! No one can see your light if you keep it hidden.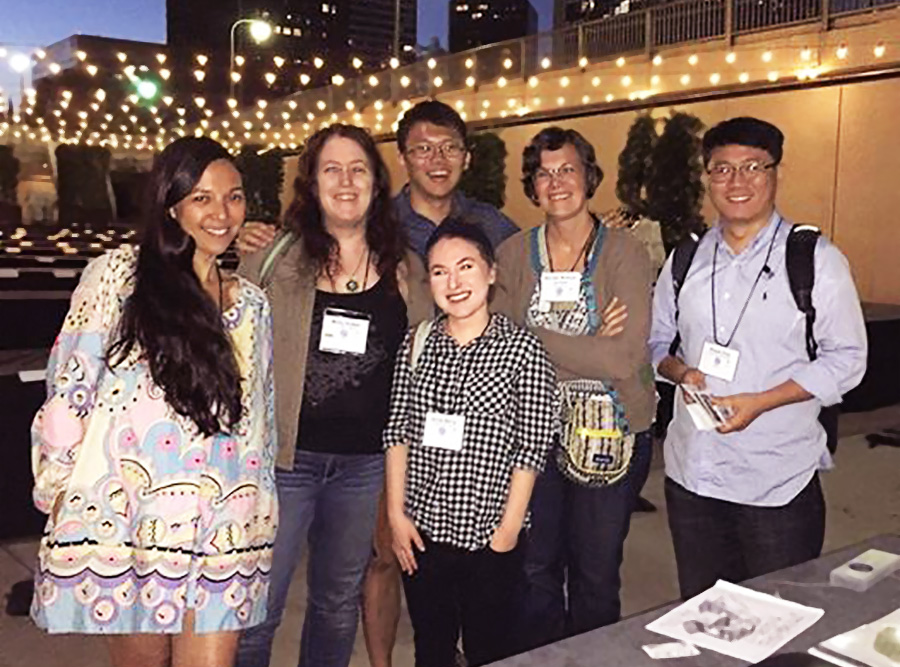 A few years of hard work and dedication passed, during which time I signed with my agent Rachel Orr at Prospect Agency, and started making books. Soon the coordinator of an SCBWI regional mingle approached me and asked if I would present my "Path to Publication" to her group. I said yes, but yikes! My stage fright was triggered. I lost many nights of sleep. But somewhere in the throes of fear, I knew that the emotion I was feeling could be a book, somehow — I just needed to translate it into a situation that a child would experience. Then I suddenly remembered my illustrations from the class — a girl facing a recital! I realized the sequence wasn't the beginning of a book at all! It was the ending of a book!
To all you illustrators out there — put your heart into your illustrations! Use your emotions and anxieties to inspire new ideas.

Meanwhile, a group of us from the original class with Marla had continued taking classes with her. I brought my idea into a new class we were taking at the time, and spent the next several months workshopping the details with the help of these talented friends. Many drafts later I had a book dummy, and the rest is history! (Our group is now an artist's collective called The Mulberries)
To all you introverts out there — You can't live this life alone. Finding a like-minded group of people to share the journey with can make all the difference.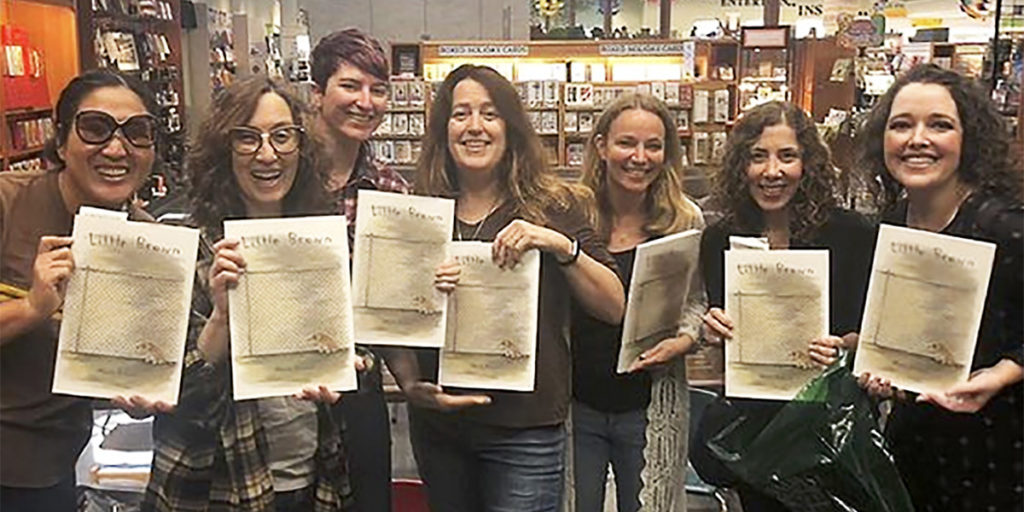 Q. What do you hope young readers will take away from your book?
I created this book to show how the love and passion for what we do can help us overcome the fear of being in the spotlight. I believe that when we put time and energy into mastering something, it becomes a visceral part of who we are, allowing us to trust in ourselves and our abilities. In addition, any time we prepare ourselves and truly face our fears, the possibility of coming out the other side as a more empowered human being exists, and can even be a motivating factor.
I also wanted to emphasize how supporting and being supported by other people can really make a difference. In the main character Hannah's case, I wanted her family (who represent any kind of support system a child may have in any given situation) to be a constant presence throughout the book. I also intentionally made the people in the audience friendly-looking, with many of them smiling. My biggest hope is that kids feel inspired and self-assured after experiencing Hannah's journey.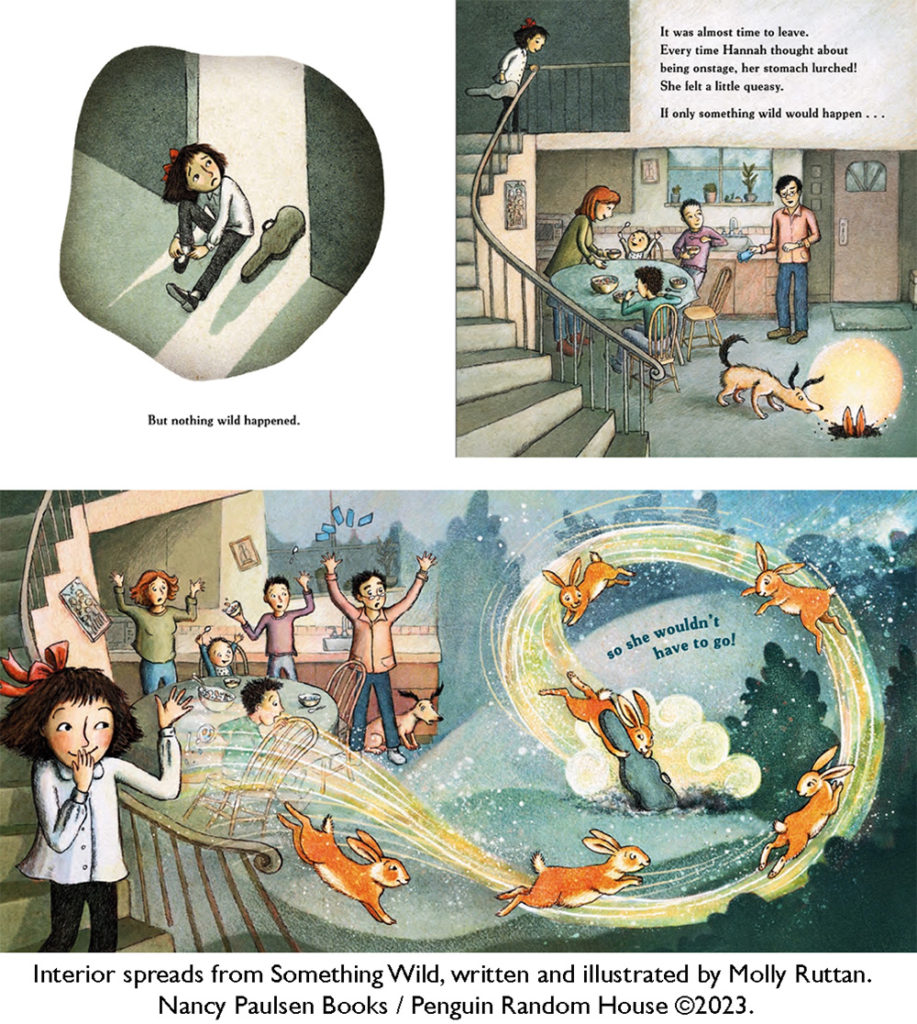 Q. What advice do you have for young writers and illustrators?
When I turned fifty, several (of many) thoughts occurred to me. The first was to celebrate the zero. I always love having a zero as the second number; it feels like a fresh start. The next thought was an affirmation that this was going to be MY decade. My kids were in high school and college, and my days were starting to become less scheduled, giving me the time to finally pursue my lifelong dream of making children's books. My third thought — or series of thoughts — were, am I too old? Did I miss the boat? Is it crazy to start a whole new career as I watch all my friends gearing up to retire?
I was haunted by these doubts. But my answer came one day from overhearing my father-in-law, who was a successful actor, giving my high-school-age daughter advice. When she asked him if she should pursue a career in acting, he told her, "Only do it if you know you will die if you don't."
He was talking to my daughter, but he could have been speaking to me. Advice for the ages! My doubts moved aside as I jumped in.
To all you new creators out there — Whether you are young or old, remember who you are on the inside. Discover and nourish those facets of yourself that are ready to shine, and take action!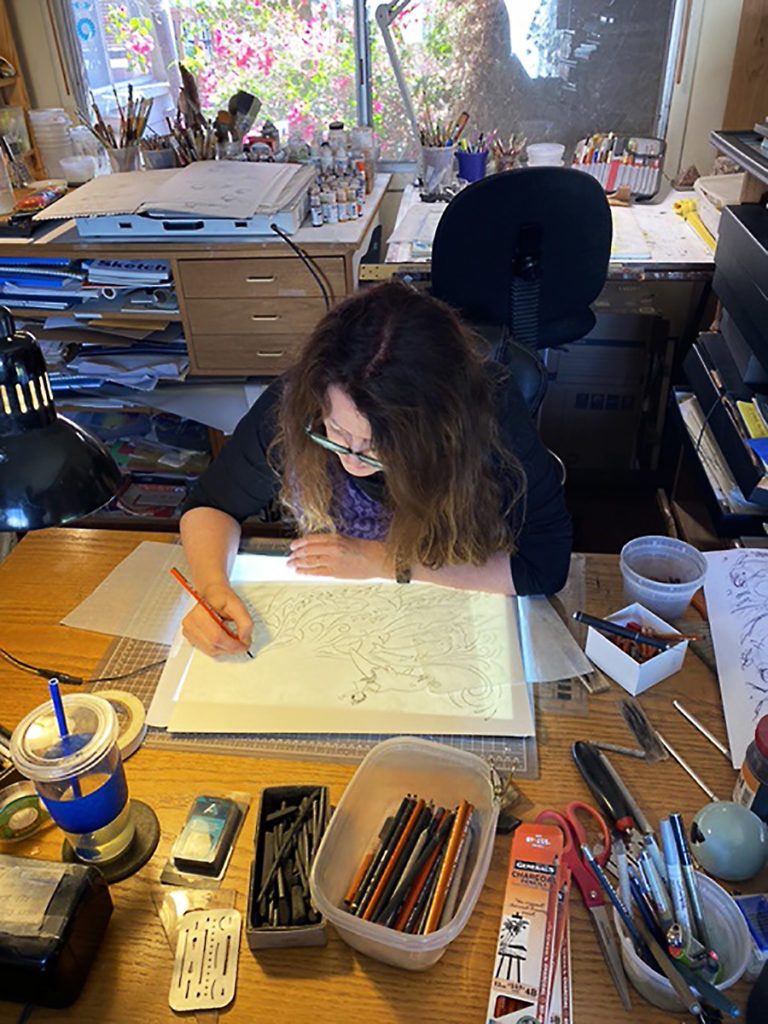 Q. What are you excited about now?
In celebration of my book Something Wild, I have begun taking viola lessons! I have my mother's viola, which she played for many years. She brought it home when I was 10, and I watched with fascination as my father immediately took it apart and put back together, improved. (It took him months!) In my eyes it is an exquisite, unique thing of beauty, (and the tone is great)! My fantasy is to be able to play a short tune at my book signings, but I will be lucky if I will be able to play a scale! We shall see … and hopefully my stage fright won't get the best of me!
More about Molly Ruttan: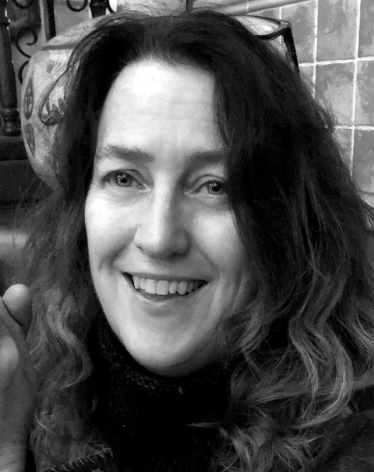 Molly Ruttan grew up making art and music in Hastings-on-Hudson, New York. She went on to earn a BFA in graphic design from the Cooper Union School of Art, while drumming in an art-punk band. Currently, Molly lives, works and creates art in the diverse and historic neighborhood of Echo Park in Los Angeles, where she and her husband raised three talented children. The family has recently grown with the joyful addition of a granddaughter.
Molly loves exploring all different kinds of fine art and illustration mediums, including making her own animated book trailers. She still plays the drums, sings in a community choir and has recently started taking viola lessons. Her life is full of art, music, family, friends and all kinds of pets and urban animals—even wild parrots!
Her book titles include her author/illustrator debut, The Stray, (2020 Nancy Paulsen Books/Penguin Random House) which was listed as a 2021 ALA CORE Golden Duck Notable Picture Book; I Am A Thief! by Abigail Rayner, (2019 North South Books) which earned a starred Kirkus review and won a 2021 Northern Lights Book Award for humor; and Violet and the Crumbs: A Gluten-Free Adventure by Abigail Rayner (2022 North South Books), which has been endorsed by the Celiac Disease Foundation. Something Wild is Molly's second author/illustrated book and has received a starred Kirkus review. She has two additional books forthcoming. Molly is represented by Rachel Orr at Prospect Agency. For more information, see her linktree: https://linktr.ee/mollyruttan
Praise For Something Wild:
★ "The denouement is a lovely testament to the best magic of which we are capable … combines sweetness, imagination, and gentle humor. Though this tale will appeal to all readers, it will especially resonate with introverts. Brava!"
— Kirkus Reviews, starred reviews
"Ruttan's … charming, expressive illustrations, in charcoal, pastels, and watercolor, entertainingly interweave the realistic settings with Hannah's fanciful daydreams, which nicely extend the text. This is sure to strike a chord with kid musicians, and the encouragement of family and rewards of following passions are heartening and reassuring notes to end on."
— Shelle Rosenfeld, Booklist
---
Also see other Interviews with Book Creators and Advice For Young Writers And Illustrators.