Interview with Molly Idle about writing and illustrating TEA REX (Viking/Penguin) plus advice for aspiring children's book writers & illustrators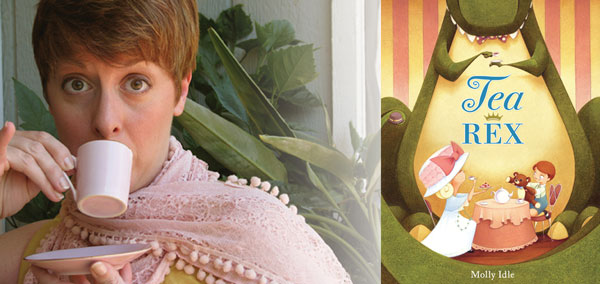 I first met Molly Idle at the 2010 SCBWI Summer Conference, when she won the overall portfolio competition and I remember being so impressed by her art. Molly worked for DreamWorks Feature Animation Studios for five years before leaving to devote all her time to children's book illustration. Molly's FLORA AND THE FLAMINGO recently made the semi-finals in the Goodreads Best Picture Book Of 2013!
Her recent picture books include TEA REX (Viking Press) and FLORA AND THE FLAMINGO (Chronicle Books); you can see covers and samples from all of Molly's book projects on her site. This interview focuses on TEA REX.
TEA REX by Molly Idle
Published by Viking Juvenile/Penguin / For ages 3-8
Where to find Molly: Website – Blog – Facebook – Twitter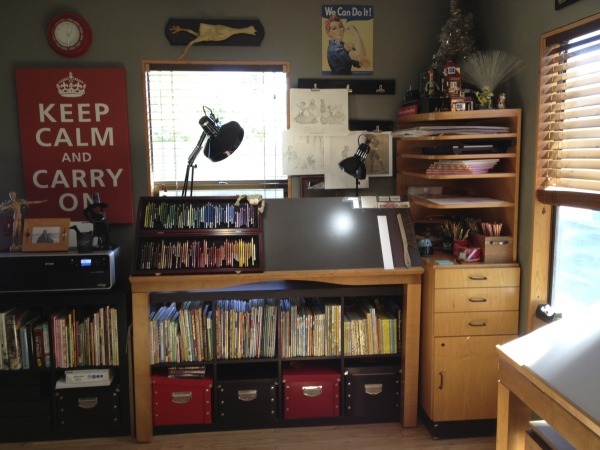 Molly's studio space.
Q: What was your publication process? Also: If you have an agent, how did you get your agent?

"My prized rubber chicken."Having lighted upon the idea for a tea party with a T-Rex, I proceeded to make a lot of truly terrible starts for manuscripts in my head, and on paper, before I hit upon the right way to tell the story.
All my early attempts, talked too much. I would set up a joke, tell the joke, and then explain the joke I just told… It was the picture book equivalent of someone winking and nudging you in the ribs after telling you a joke… "Get it? Get it?" These drafts all seemed to say. It just wasn't working… So, I decided to set aside writing for a bit and just start sketching the story out to see if I could make it work visually.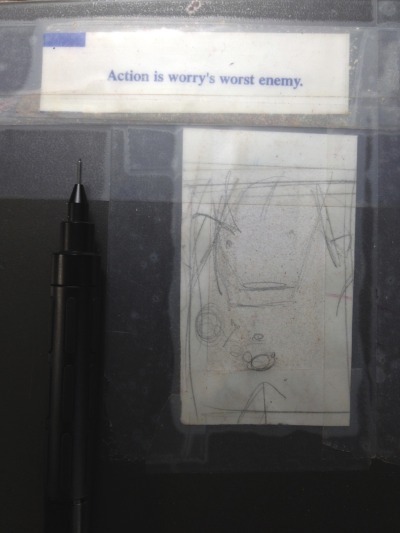 "Taped to my desk: The first tiny sketch I did for TEA REX (and a bit of fortune cookie wisdom that reminds me to keep my nose to the grindstone…)"
I had three sketches finished when, as a result of winning the SCBWI portfolio competition, I had the chance to meet with Denise Cronin at Viking Children's Books. Denise looked through my portfolio, and then asked if I had anything else to show her. I pulled out the three TEA REX sketches, and pitched the story. She said she would love to see the dummy when it was finished and asked if I had an agent.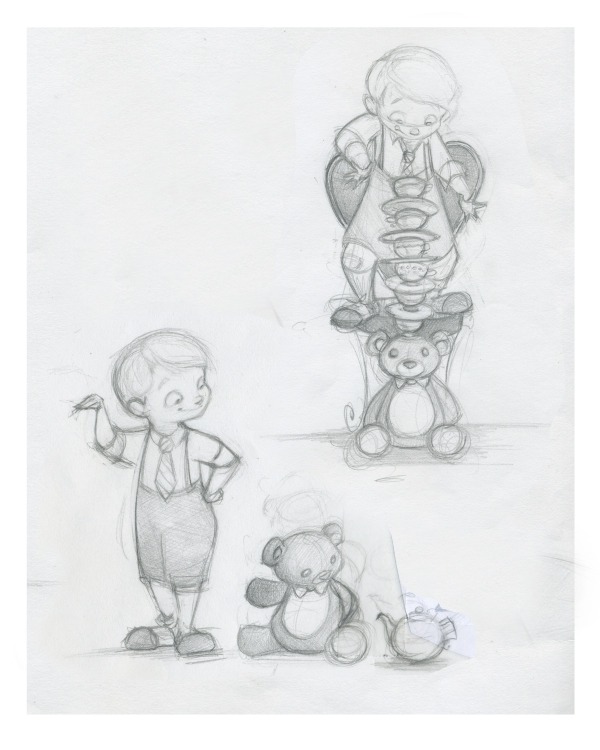 George and Ted. Image ©2013 Molly Idle.
The conversation went like this…
Denise: Do you have an agent?
Me: No.
Denise: Do you want an agent?
Me: Yes!
Denise: Well, I can't imagine you'd have any trouble finding one.
Me: You'd be surprised…
I proceeded to prattle on about the research I'd done looking into various agencies and the collection of polite rejection letters I'd accumulated.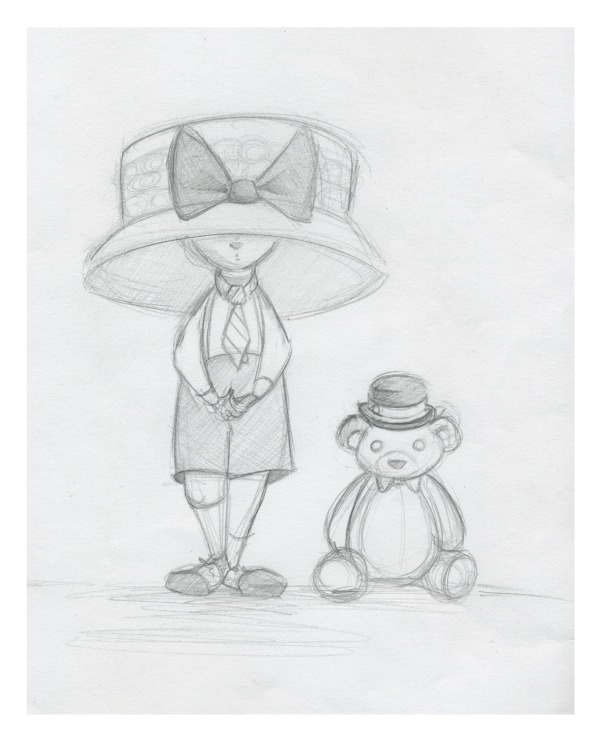 "My first sketch of George (Cordelia's little brother)." Image ©2013 Molly Idle.
Denise waved her hand as if shooing away a gnat, and said, "You've been talking to all the wrong people. I know a half dozen agents who would be a good fit for you and are looking for new clients." And by the time I got home from our meeting, there was an email in my inbox from Denise with a list of al their names. Is she an angel or what?!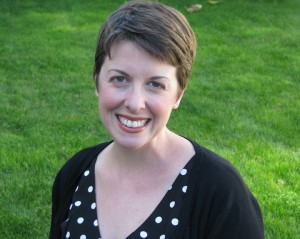 I looked over the list and decided to contact Lori Nowicki, at Painted Words.
When I told Lori that Denise had expressed interest in TEA REX, she asked if I would send her the manuscript that afternoon. The manuscript, if you'll recall, that I had yet to write.
So, I immediately sat down at the computer, and hammered out a step by step- outline of what happens at a tea party. No jokes, no asides, it was a "Just the facts ma'am" outline that I intended to use as a springboard. But, as I read over this straight-faced outline, while looking at my sketches, I finally saw how the text and pictures could work together as a comedy duo… like Laurel and Hardy! The text set up the joke, and the illustration delivered the punch line. The finished draft took about two hours to polish up (well, two hours, plus two years of drafting terrible versions)… and I sent it off.
Lori read it, signed me on, and we agreed that as Denise was the one who brought us all together- Viking should be the first house we submitted the book to. And that's how we came to strike a deal with the fabulous folks at Viking Children's Books.
Q: What was your writing/illustration process for TEA REX? How did it differ from that of FLORA AND THE FLAMINGO?
It took a long time for me to find the right voice for REX, but almost no time at all for FLORA… I think that's because I am so much more at ease when I'm at my drawing board than I am at the keyboard of my computer.
When I submitted TEA REX to Lori, she asked, as Denise had asked, if I had anything else to show her. All I had was a single sketch of a flamingo and little girl imitating his stance. I said I was thinking of working up a wordless picture book about the development of a friendship- told through dance… I was calling it: FLAMINGO DANCING. She encouraged me to dummy it up, and once I had, it found a home with the amazing team at Chronicle Books and became FLORA and the FLAMINGO.
Both books were scheduled for publication in spring 2013, so I worked on them simultaneously. Though the books differed in storytelling style and subject matter, both comedy and dance require a great sense of rhythm and timing. So, much of the revision work that occurred after the creation of the initial dummies, involved finding the right pacing.
I started by revising REX, then, once I sent those sketches off for comments, I started working on revising FLORA. By the time I sent off Flora sketches, I'd have notes back on REX, and back and forth and back and forth…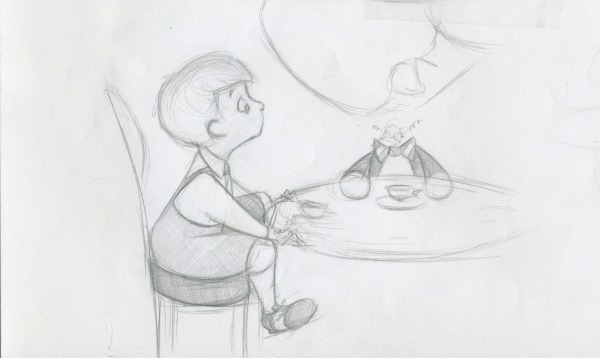 "In early drafts of TEA REX, Ted lost his head… completely." Image ©2013 Molly Idle.
Each book went through four rounds of revisions before I started in on final art. That may sound like a lot, and I'll tell you there were times when I felt like it was a lot too… Working up the finished sketches is the most time consuming, the most challenging and most important part of of the bookmaking process for me. It's the time in which I figure everything out.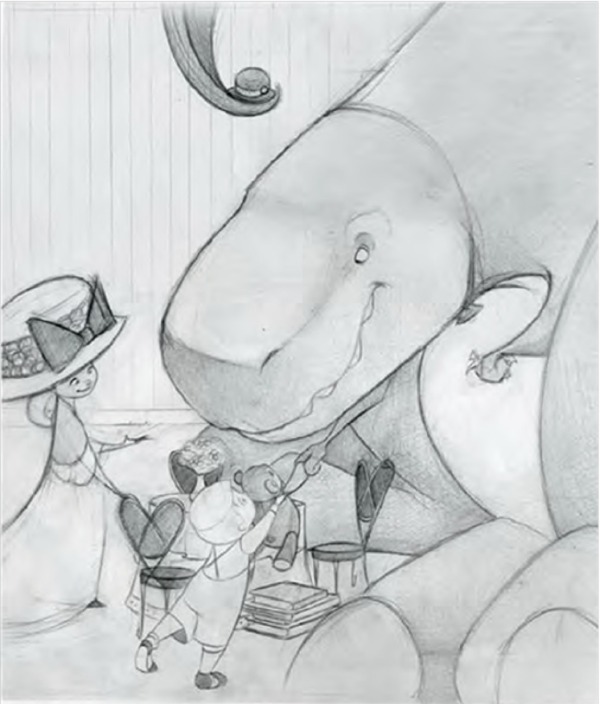 "But in subsequent drafts, Rex and Ted get along much more nicely…" Image ©2013 Molly Idle.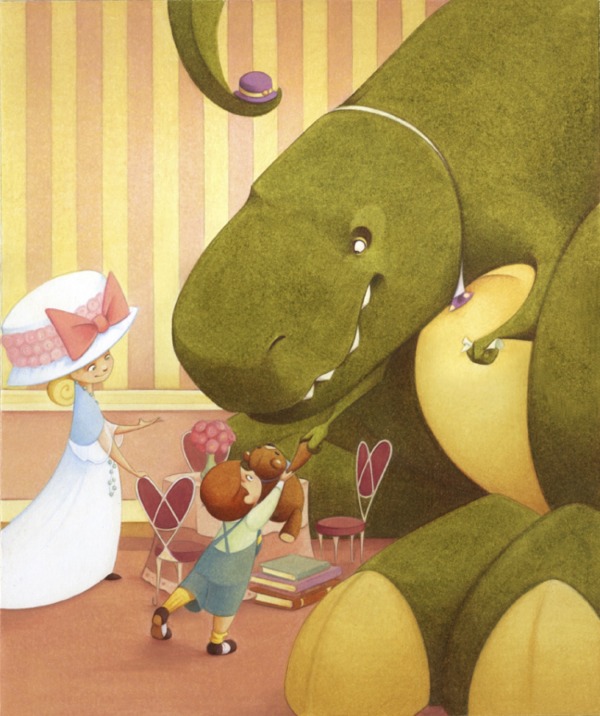 Because I work in traditionally, with colored pencils, I absolutely HAVE to know what each illustration is going to look like before I start. I can't paint over an area it if I decide to change something later, as I could if I worked in acrylics or oils… I can't add or delete a layer in Photoshop, as I could if I worked digitally. I chose to impose these limits on myself and my work because I enjoy working the way I do. There is just something about colored pencils… I enjoy their color, their consistency, the level of concentration using them requires…
In short, my choice of medium is dictated by the way I like to work.
I feel that enjoying the creative process- no matter the medium- is as important as the finished art.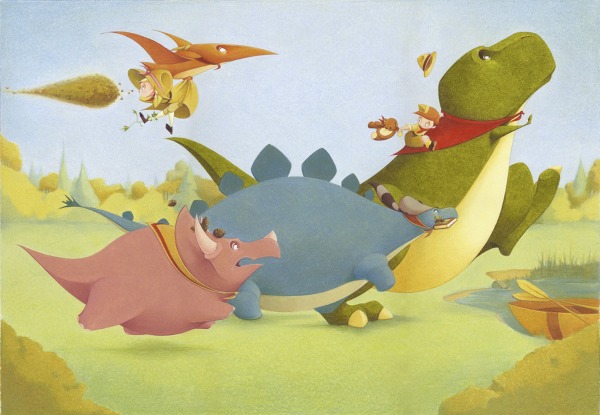 "Rex and the rest of the gang, enjoying the great outdoors…" Image ©2013 Molly Idle.
Q: What advice do you have for aspiring children's book writer/illustrators?
Learn to increase your pain tolerance.
I know this sounds weird- especially given what I've just said about enjoying the creative process- but stick with me for a minute…
Studies on the nature of creativity have shown that people who consistently come up with more inventive and creative ideas are not necessarily innately gifted, nor are they necessarily more intelligent than other people. They are however capable of tolerating a certain level of mental discomfort.
It works something like this:
When our brains are presented with a problem- any problem- we feel slightly anxious. When we solve a problem, our brains release endorphins that make us feel good. So, we have a problem to solve, we often run with the first answer we come up with because it feels good (literally) to find a solution!
But people who are willing to see that first solution, and then set it aside- delaying that endorphin high- while they continue to search for another answer, and another, and another… until they have compared all possible solutions and then chose the best option- and run with it- consistently come up with much more interesting, creative solutions.
John Cleese, (of Monty Python fame), talks about this research, and much more on the nature of creativity, in this lecture which I totally recommend watching.
Q: What are you working on now? Any other upcoming events or other info you'd like to share?
There is a lot going on in my studio right now- much of it is hidden behind a big black curtain with a sign that says- "Top Secret- NO Peeking!" Which is really really hard for me… because I am so dang excited about the projects I have coming out!! I want to stop random strangers on the street and say- OMG I am working on the coolest thing EVER- let me tell you about it…
Luckily, there are some things I CAN share, that I am equally over the moon about!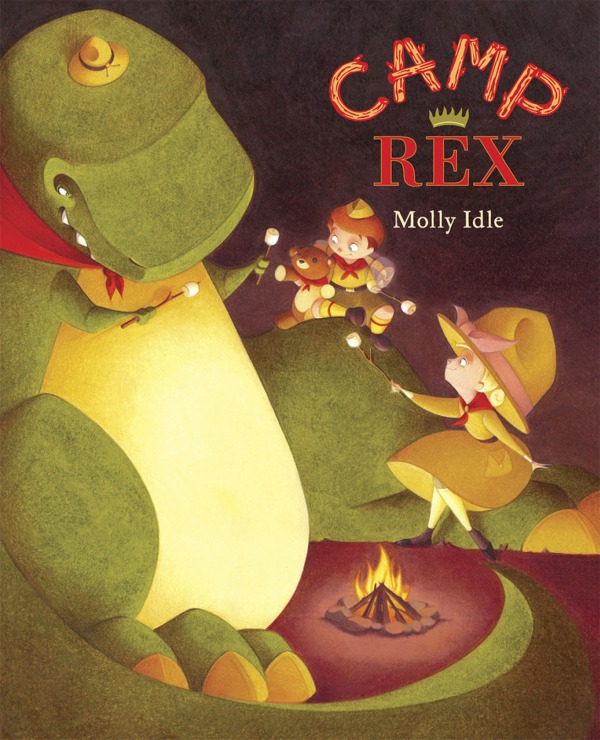 CAMP REX, is coming out in April 2014! I had so much fun getting to spend more time with these characters- so much so, that I am working on the third book in the Rex series as I type… well not AS I'm typing THIS… but, you know what I mean.
And, I just wrapped up artwork for FLORA and the PENGUIN– coming out next winter. I'm really excited about the new way readers will be able interact with the characters using the flaps in the book!
—-
For more insights from book creators, see my Inkygirl Interview Archives and Advice For Young Writers And Illustrators From Book Creators.