#KidLitArtPostcard: Gina Perry's monthly event for artists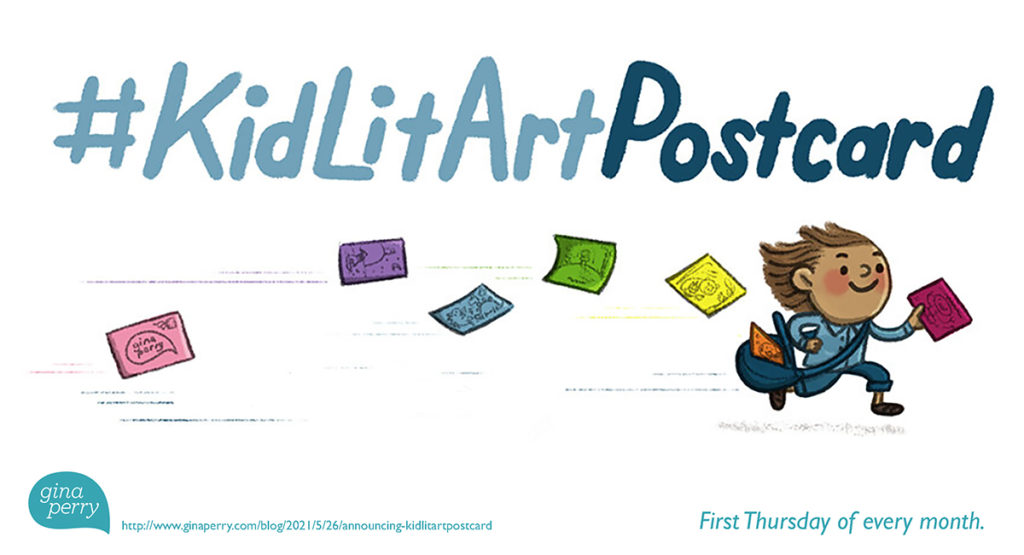 (Updated October 5, 2023)
Children's book illustrator Gina Perry started the #KidLitArtPostcard challenge to help fellow illustrators find work during the pandemic.

"I've been mailing promo postcards to editors and art directors for many years – it's part of the core #kidlitart experience – bringing illustrators new work, getting tacked up in publishing offices and filed away for that next book project around the corner. Since Covid made mailing postcards futile, illustrators (especially without or in-between agents or rep) have to create and maintain huge email lists, or throw their work online and hope for the best. I'd like to try something different."
The idea: the first Thursday of every month, Gina encourages illustrators to post a postcard image on their social media with the hashtag #KidLitArtPostcard. Suggestions on what to include in the post:
Your name (of course) and portfolio link.
Whether you're agented or unagented (and if you're seeking representation)
NOTE FROM DEBBIE: Make sure you're including the word "Art" in the hashtag! I'm noticing some illustrators accidentally leaving that out.
If you're an agent, editor or art director looking for illustration talent, I encourage you to browse the #KidLitArtPostcard hashtag! On Twitter, you browse the most recent #KidLitArtPostcard hashtags with this link. On Bluesky, browse the most recent #KidLitArtPostCard hashtagged posts and also do follow Gina Perry on Bluesky!
Thanks to Gina for launching this initiative!