Inspiration, Art and a 12-Course Susur Lee Dinner at the Autodesk SketchBook Toronto Event

I have been a fan of the iPad since it first came out, and my favorite art app is Autodesk Sketchbook Pro (I've just started to learn the desktop version). A while ago, I posted a sketch that I did with the app on my iPad while waiting in an airport. I had noticed a little boy with his family nearby, and he noticed me sketching. Curious, he came over to look. I did a quick sketch of him, and he was delighted.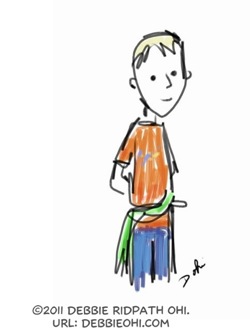 I posted about the experience, pointing out how cool it was that a quickie little sketch could bridge the communication gap between different cultures. Chris Cheung, the SketchBook product manager at Autodesk, e-mailed me about the post; we kept in sporadic touch after that. Eventually we met in person, hit it off (we're both nerds and love SketchBook — how could we not? :-)) and he invited me to speak at SketchBook's first dedicated Toronto event.
The theme: "Inspiration."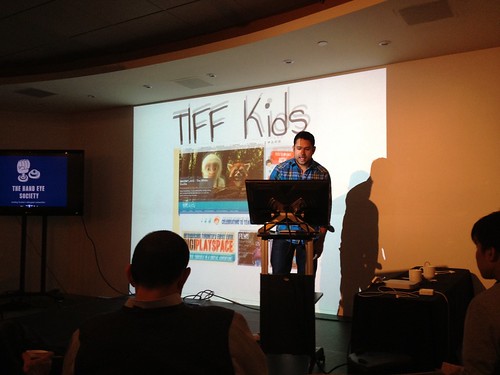 Above: Nick Pagee, TIFF Consultant: Gaming & New Media
I HAD AN AMAZING TIME. First of all, the other speakers were fantastic. They included Skottie Young, Bobby Chiu, Nick Pagee, Miguel Sternberg, C.B. Cebulski, Francis Manapul and Benjamin Rabe, among others. You can read their bios on the the SketchBook blog.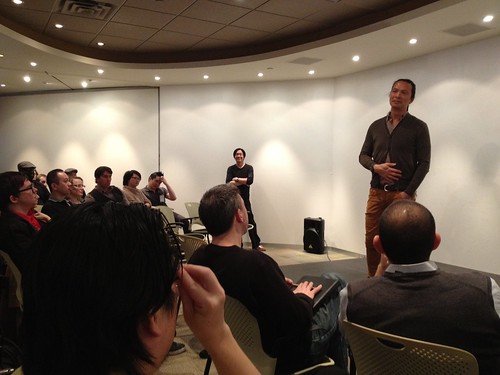 One surprise guest (above): renowned Toronto chef Susur Lee, who talked about inspiration and food. After Susur's talk, he went back to his restaurant to prepare a 12 course meal for all of us (!).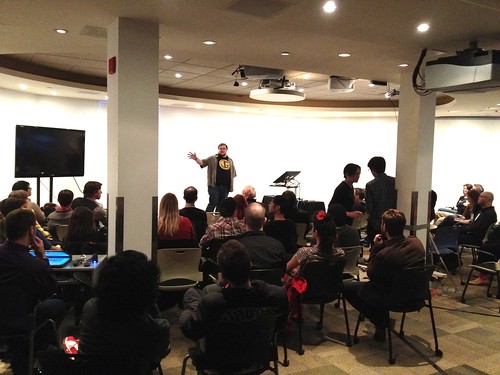 Above: C.B. Cebulski from Marvel.
The event was invite-only, and apparently even the waiting list filled up quickly. The speakers could invite a few people, so I sent invites to my sister (a children's book writer and illustrator) and Patricia Storms (cartoonist and children's book writer/illustrator). Sadly, Ruth couldn't come and I knew Chris Cheung was interested in the NCS, so I asked Patricia if any of the other National Cartoonists Society members would be interested.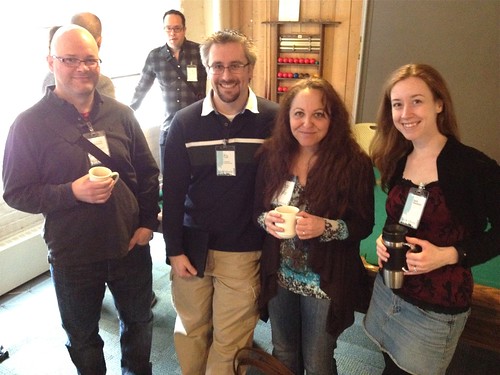 Above: my guests – Jonathan Mahood, Mike Cope (Chairman of the Canadian Chapter of the NCS), Patricia Storms and Katie Shanahan. Thanks to Jonathan for the photo of me during my talk.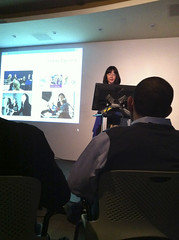 It was especially great to have Patricia in the audience since we were already friends through Torkidlit(Toronto Area Middle Grade and Young Adult Author Group) because whenever I got too nervous, I just focused on her smiling "YOU CAN DO IT!!" face. 🙂
From the feedback I received afterward, I think my talk went pretty well. Chris had asked me to describe my unusual career path from being a computer programmer to a children's book illustrator with Simon & Schuster.
Several of the people that approached me afterward said that they were programmers with creative streaks similar to mine, and that my story was inspiring (yay!!). Some said they enjoyed hearing about my process while others seemed drawn by the personal narrative. A lot of people mentioned my enthusiasm. 🙂
And quite a few of them said they planned to buy I'M BORED when it comes out this September (YAAAAAY!).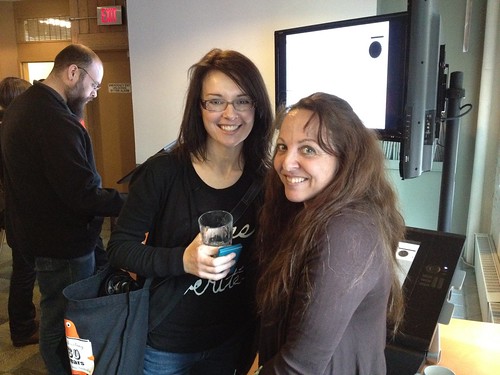 Above: Patricia Storms and Tina Burke.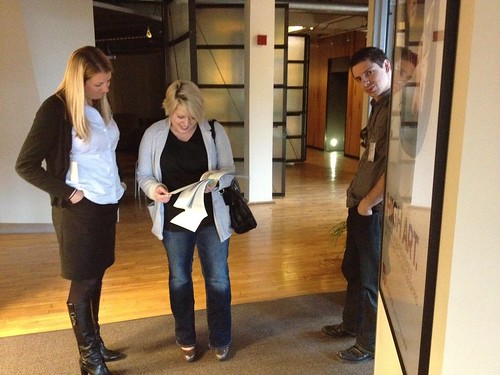 (Above: Autodesk staff peruse my I'M BORED f&gs. On the right: Brendan Frye of Comics & Gaming Magazine.)
The Autodesk offices are gorgeous. Unfortunately I didn't get a chance to take one of the tours, but I loved what I saw. When I arrived, I was asked if I'd be willing to be interviewed by the media. I said yes, of course. 🙂
I ended up missing some of the talks as a result, but I had fun chatting with Mark Askwith (Space Channel), Joanna Adams (Toronto Standard) and Brendan Frye (Comics & Gaming Magazine). Found out that Brendan is a fellow board gamer (on BoardGameGeek, he's bfrye26).

Above: Bobby Chiu & Kei Acedera from Imaginism Studios
There were plenty of opportunities throughout the afternoon for chatting with other attendees. Plus Marvel's senior VP, C.B. Cebulski, was available for one-on-one meetings throughout the day (he's always scouting for talent).
Two people I especially enjoyed meeting were concept artists Bobby Chiu and Kei Acedera. Bobby and Kei are co-owners of Imaginism Studios (Kei is also a children's book illustrator). They've done work for Disney, Warner Bros., Dreamworks, Sony, Universal Studios, among others. Bobby designed creatures for Tim Burton's Alice in Wonderland! He also teaches on Schoolism.com.
Plus both Bobby and Kei are INCREDIBLY NICE PEOPLE. Very positive, enthusiastic and supportive. I hope our paths cross again.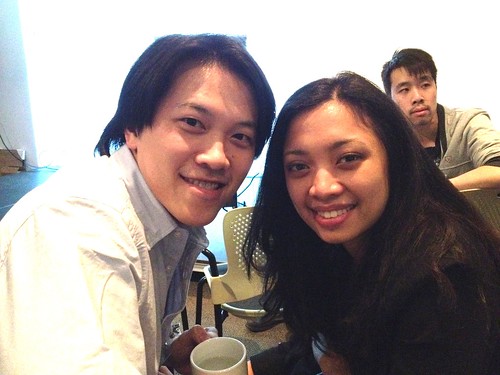 So many giveaways and freebies handed out throughout the day! Prizes ranged from graphic novels to artwork to a Intuos drawing tablet, Wacom Inkling, soooo much other cool stuff. Everyone who attended received a Silver Snail gift certificate, a bunch of Autodesk Sketchbook Pro tshirts, a copy of THE PERFECT BAIT by Bobby Chiu (tips for artists about finding your own style and creating demand), and (yes) more cool stuff.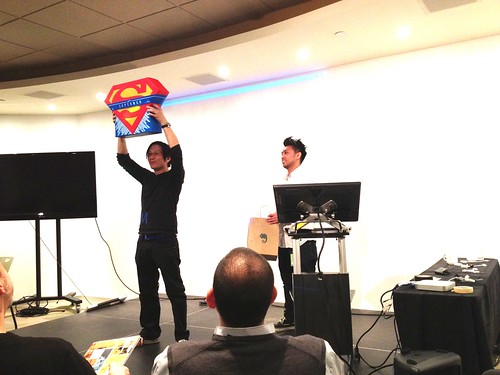 (Above: Chris Cheung does a giveaway with Francis Manapul (DC comic artist)).
Epson had an area where you could test out some of their artist quality printers by e-mailing them a file or ask any questions. In another area, you try drawing on Cintiques. And there was cake and other snackables always available. We all felt very spoiled.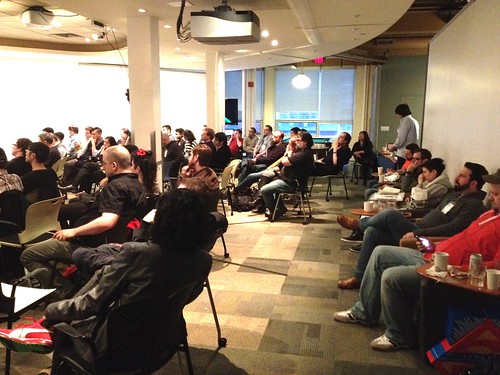 No one wanted to fill up on snacks, though, because we all knew that after the talks, we would all be heading over to Lee for a 12-course culinary extravaganza prepared by master chef, Susur Lee: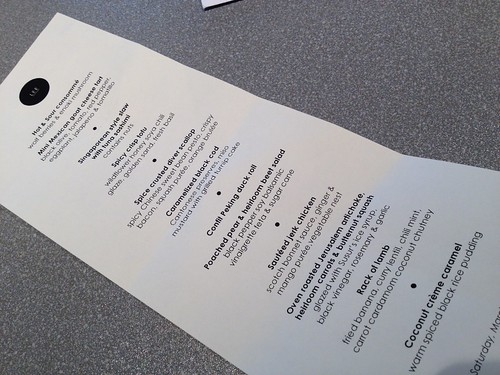 Omigosh…SOOOOOoooOOOOooo good! Drooling even now, just thinking about that incredible meal.
Thanks you SO MUCH to Autodesk and Chris Cheung for inviting me to this event. I had SUCH an amazing time.
You can see other photos I took on my iPhone at the event in my Autodesk SketchBook Event album on Flickr.