Video interview with Basil & Kevin Sylvester about THE FABULOUS ZED WATSON!, which launches *TODAY*
I am thrilled to be interviewing Basil Sylvester and Kevin Sylvester about their new middle grade book, THE FABULOUS ZED WATSON!, which launches *today* from HarperCollins. You can attend the virtual launch party tomorrow (Jan.27) courtesy Glad Day Bookshop and HarperCollinsCanada: see the Facebook Event Page and Glad Day Lit TV page.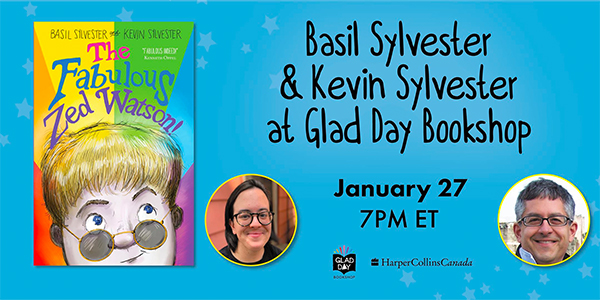 Excerpt from the Quill and Quire's *starred* review of the book:
There are few books that offer unadulterated joy from beginning to end. But The Fabulous Zed Watson! is a middle-grade wonder: a literary mystery and Onward-esque road-trip story that celebrates self-described nerds and weirdos, and reinforces the power of friendship.
Excerpt from CM Reviews review:
The Fabulous Zed Watson is a satisfying and entertaining novel about adventure, friendship, respect, and the many and varied ways of existing in the world, especially when people would sometimes rather have us conform. Parents, teachers, and librarians would be remiss not to have this fabulous book available for the young people in their lives.
Thanks to Basil Sylvester and Kevin Sylvester for answering questions about how it got created and published, the collaboration process, upcoming projects, finding community in unexpected places, much more.
Lots of photos of the process, sneak peeks at notes, interior art, and more!
QUESTIONS THEY ANSWERED IN THE VIDEO:
Timestamp 00:51 –
Q. How did you start working together on THE FABULOUS ZED WATSON! What was the collaboration process like?
Timestamp 06:43 –
Q. Could you tell us about your book?
Timestamp 11:03 –
Q. What are you working on now/next?
Timestamp 12:59 –
Q. What advice do you have for young writers?
Thanks to Basil and Kevin for their great interview video!
You can find Baz on Instagram at @GhostBasil.
You can find more about Kevin on his website, Twitter, Instagram, Facebook and YouTube.
And here are some more videos they created about their book, all found on Kevin's YouTube channel:
Q. How did you come up with the title for THE FABULOUS ZED WATSON?
Q. Why does Zed love monsters?
Q. Are Zed's glasses for seeing or for style?
Q. What would the elevator pitch be for this book?
---
For more insights from book creators, see my Inkygirl Interview Archives and Advice For Young Writers And Illustrators From Book Creators.