Three Questions for Kevin Sylvester: indie bookseller podcast, advice for young writers & illustrators, and outer space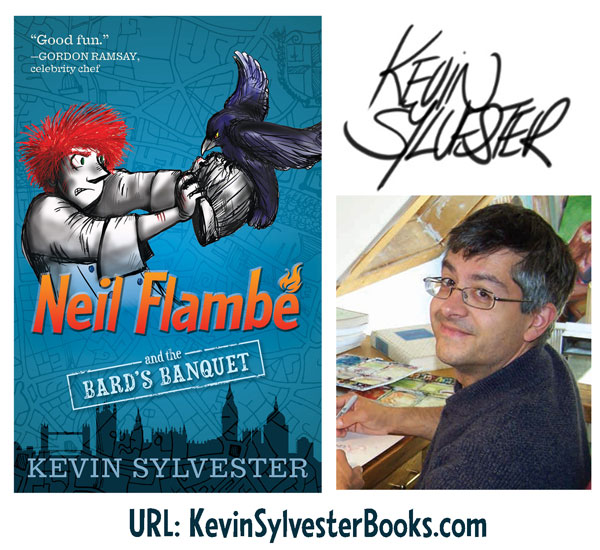 Kevin Sylvester is not only a talented children's book writer/illustrator and broadcaster, but he's also one of the nicest kidlit people you could hope to meet. His Neil Flambé books for Grades 3-7 are incredibly fun; you can find out more about these and Kevin's other books on his website. In addition to Neil Flambé and the Bard's Banquet (Book #5 of the Flambé series) coming out today, Kevin's Baseballogy: Supercool Facts You Never Knew just came out from Annick.
If you're in the Toronto area this Sat. Jan. 17, 2015, you can meet Kevin at Chapters Markham at 2 pm. Details on Facebook.
1. Could you please take a photo of a random object in your office and tell us about it?
How about this?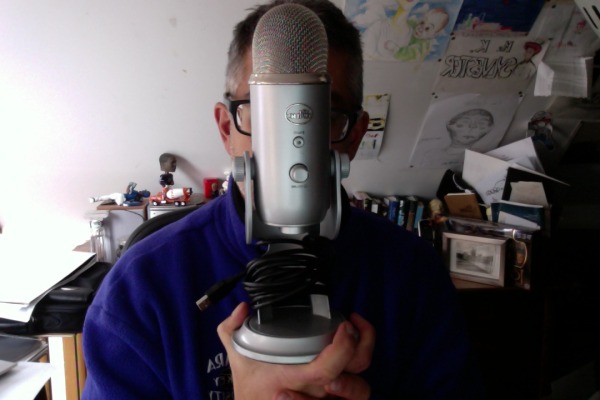 It was on my desk when I got the email, so I just picked it up and took the photo.
It's a microphone I use to record the Great Kids, Great Reads podcast. I bought it a couple of years ago and I can take it on the road with my iPad to interview independent booksellers. I've done "on the road" versions in Ann Arbor, New York, all over Ontario and in Phoenix. The podcast is my chance to talk to indie booksellers about their picks for the best books for kids. (It's available on iTunes)
I love independent bookstores a lot. The sellers there read everything, and tapping into their expertise makes me smarter too.
2. What advice do you have for young writers and illustrators?
The best advice is to very carefully examine your favourite artists and actually see how they do what they do.
Do they use simple sentences? Or complex? Do they mix it up? Do they end each chapter with an open question, hooking you in? Do they draw digitally with lots of details? Is line more important than colour? Find out what they do, and how they do it, and then copy them.
Don't plagiarize or steal, but mimic. I read a lot of Artemis Fowl when I was writing the first Neil Flambé and I can see echoes of Eoin Colfer's humour and descriptive sentences in my book. I think my own voice has emerged in the later books in the series (and my new series MiNRS, which launches this fall) but I stood "on the shoulders of giants" to get there. Bob Dylan sounded a LOT like Woody Guthrie on his first few albums, and the Beatles lifted songs straight from Chuck Berry, but that gave them the experience to go beyond.
3. What are you excited about these days?
Space. I grew up with a poster of the universe over my bed and I would stare at it for hours, meditating on the fragile improbability of our existence. 2001 is far and away my favourite movie. I've always wanted to set a book in space, and that book comes out in fall 2015 (MiNRS#1, Simon & Schuster).

But what's amazing (and unintentional on my part) is that we are in a golden age of space exploration right now. The Hubble telescope continues to unlock secrets of star formation, the european space agency landed a satellite on a rock, and NASA is discovering earth-like planets all over the place. Chris Hadfield also stirred up the popular imagination with his time in the space station. So, wow.
You can find out more about Kevin at his website, blog, Twitter and Facebook.
And here's me being all fangirlworshippy at the Inspire! Toronto Book Fair, in the Simon & Schuster Canada booth: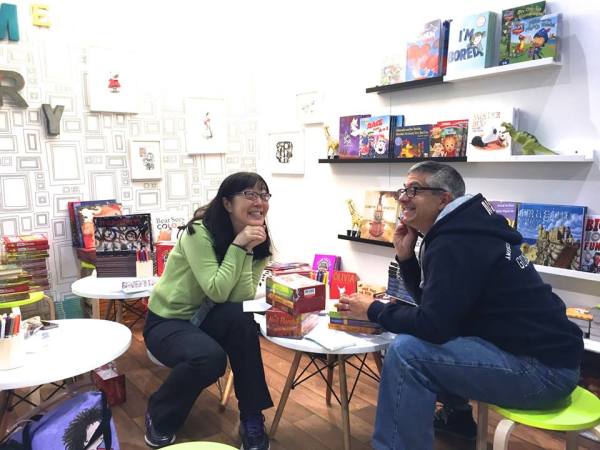 ——
For more insights from book creators, see my Inkygirl Interview Archives and Advice For Young Writers And Illustrators From Book Creators.