Great MG nonfiction book, whether or not you're a baseball fan: BASEBALLOGY by Kevin Sylvester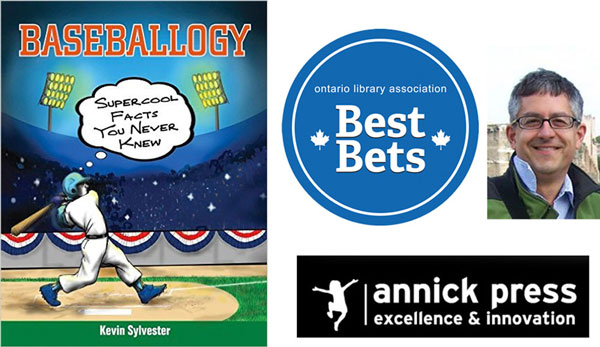 At the Ontario Library Association Super Conference, the OLA Best Bets Committee said that Kevin Sylvester's middle grade non-fiction book BASEBALLOGY: SUPERCOOL FACTS YOU NEVER KNEW (Annick Press) was a fascinating read, whether or not you're a fan of baseball. "…This book pulls you in as it shares a wealth of historical facts, scientific explanations, and general information on anything and everything baseball. Sylvester delivers non-fiction material in his signature compelling, storytelling style."
I confess I'm not a huge baseball fan, but the rave review during the presentation has convinced me that I need to check this book out!
More info about BASEBALLOGY on the Annick Press site.
More info about Kevin Sylvester and his books.
Side note: to those who heard my keynote at the SCBWI-Florida Regional Conference, Kevin is also the MINRS author I mentioned, who advises that you need to be ready when lightning does strike.
The OLA Best Bets lists were just announced yesterday. Full lists should be online at the Ontario Library Association website soon. I was super-honoured that Where Are My Books? was chosen for their Top Ten Picture Books list!
Also see Debbie's Reading Journal as well as Debbie's Bookstagram.