CLARA HUMBLE AND THE NOT-SO-SUPER POWERS by Anna Humphrey, illustrated by Lisa Cinar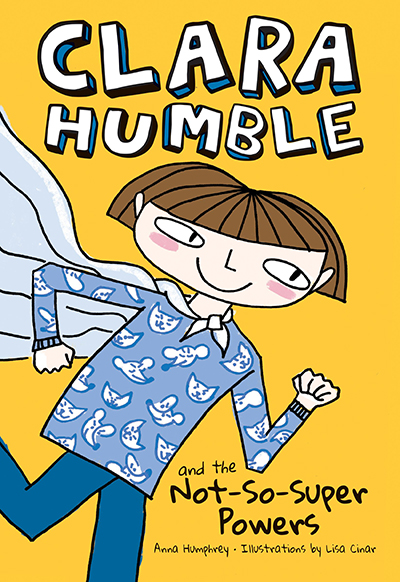 CLARA HUMBLE AND THE NOT-SO-SUPER POWERS is the first novel in a fun new middle-grade series written by Anna Humphrey and illustrated by Lisa Cinar, coming out from Owl Kids this week.
Not sure about the rest of you, but I clearly remember desperately wanting superpowers when I was a child.
The superpower I wanted the most: to be able to move things with my mind. I wanted to fly, of course, but even back then I knew that flying was beyond my own potential superpower capabilities. Plus as fun as it looked on tv and in movies, flying could quickly turn very bad and even fatal if things went wrong. But moving things by just thinking about it? Well…what was the harm in at least giving it a shot?
Like the star of CLARA HUMBLE AND THE NOT-SO-SUPER POWERS, I started giving coincidences a hopeful extra spin. In Clara's case, her not-so-super powers helped her cope as she dealt with the impending departure of her friend and 80-year-old next door neighbour and other issues going on in her life.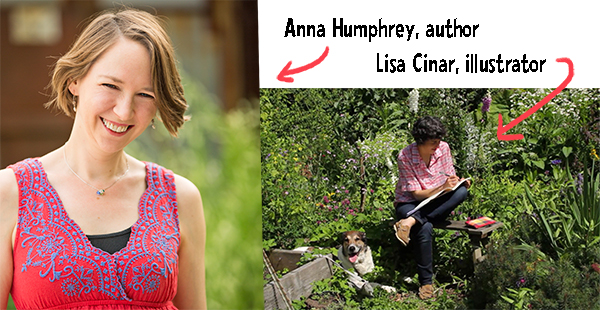 Synopsis (from the Owl Kids site):
Clara Humble may seem like your average fourth-grader who doesn't look before she leaps, but she has a secret: she thinks she might have superpowers. Which is convenient, because things aren't going so well for Clara. Students from rival R. R. Reginald are moving into her school for the term, and Clara's favorite neighbor, Momo, is moving to a faraway retirement home.
Together with her best friend, Bradley, the winsome and overconfident Clara becomes convinced that her knack for making liquids spill, overhearing her parents' conversations, communicating with her pet chinchilla, and maybe even mind-controlling teachers could be used to put a stop to these injustices. Sure, these "powers" may not be as impressive as built-in Wi-Fi or the ability to barf data clouds—both hacks possessed by @Cat, the bionic superhero of the comic book series Clara is creating—but they're Clara's best bet.
Told in Clara's clever, funny, and strikingly authentic voice, this novel kicks off a new series by inviting readers into this memorable character's inventive mind to share in her misadventures. Annotated with Clara's comic sketches, it's a fast-paced read with a spot-on perspective of life as a 10-year-old that kids will surely relate to.
Some Things I Loved:
– Clara's fun drawings (channeled via Lisa Cinar) are a great enhancement to the story, and it was fun as well as enlightening to follow the adventures of caped superhero @Cat, whose own stories often parallel what's happening to Clara in real life.
– The friendship between Clara and Bradley.
– Moving moments like the final discussion between Clara and Momo. "I don't need you to be my hero, Clara. I just need you to be my friend."
CLARA HUMBLE AND THE NOT-SO-SUPER POWERS is a strong debut in what promises to be a fun and satisfying middle grade series. You can find out more about the book at the OwlKids site, Anna Humphrey's website and Lisa Cinar's website.