Advice For Young Writers, Emergency Chocolate and A MOOSE GOES A-MUMMERING: Three Questions with Lisa Dalrymple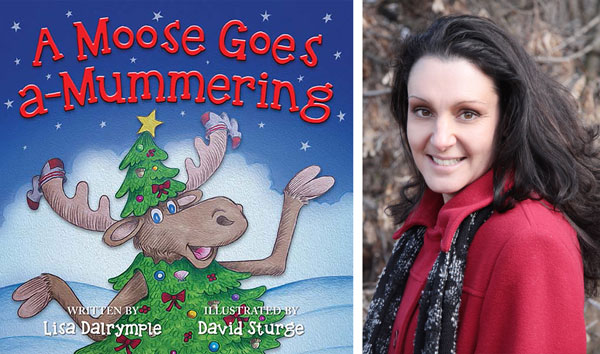 Lisa Dalrymple is the author of Skink on the Brink and many other books for children. She loves to travel. In Thailand, she shared her bath towel with a gecko that thought it was his bed. Lisa now lives in Ontario with her husband and three kids–but no lizards.
Also see my interview with Lisa Dalrymple and Suzanne Del Rizzo about how they created SKINK ON THE BRINK, a wonderful plasticine art book from Fitzhenry & Whiteside.
You can find out more about Lisa and her work at LisaDalrymple.com, Facebook, Twitter.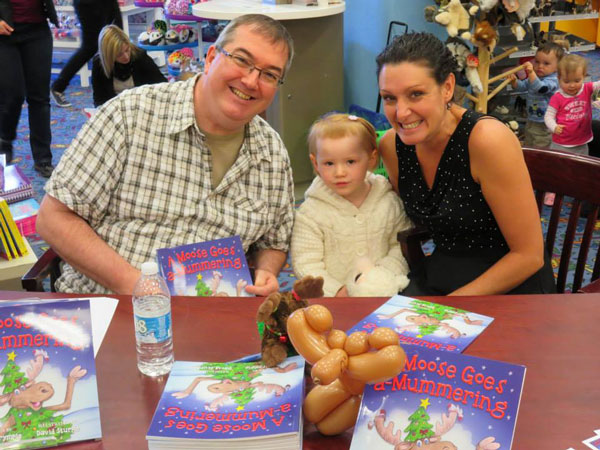 Synopsis of A Moose Goes A-Mummering, written by Lisa Dalrymple, illustrated by David Sturge (Tuckamore Books):
A Moose Goes a-Mummering is a Newfoundland "Twelve Days of Christmas." In it, Chris Moose loves to go mummering–donning his disguise, visiting each of his neighbors, and sharing the Christmas festivities. But, as his getup grows more elaborate, will Chris ever keep everyone from seeing through his crazy costume?
Q. Could you please take a photo of something in your office and tell us the story behind it?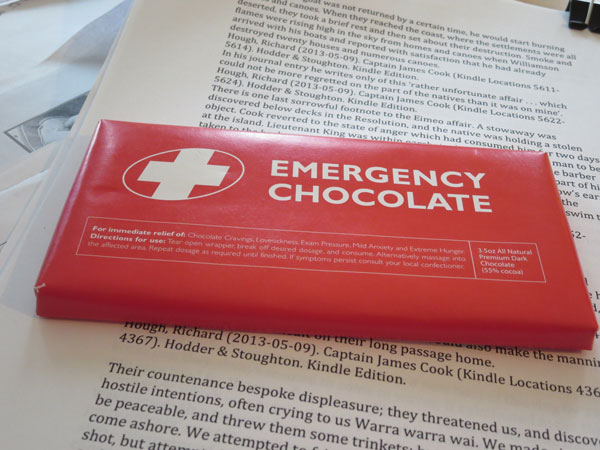 Chocolate! Not just any old chocolate. Swiss Army emergency rations for those extra-desperate writing days!
Q. What advice you have for young writers?
There's a lot of talk about whether, as an author, it's important to write what you know. I'd like to think, if there's something I need to understand in order to write a convincing story, there are many ways I can hope to learn it (well except maybe, in my case, something like spoken Mandarin or quantum physics!) The more important concern for me is to write who I know–the protagonist and secondary characters in my story.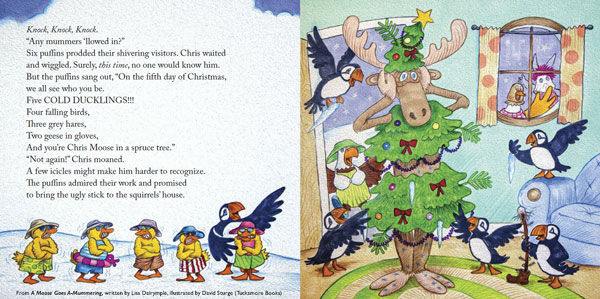 This doesn't mean my main character always needs to be someone similar to me, but I do try to write a character I can understand. For example, I seem to identify well with 10-year-old boy characters and not so well with 40-year-old women. (I'm not sure what this means: Am I a 10-year-old living in a 40-year-old body?) I try to spend time getting inside the head of my protagonist and understanding where he is coming from. It's through his awareness that my readers are going to experience the story–including those factual details I may have had to learn in order to write it.
Q. What are you excited about right now?
For as long as I can remember, I have wanted to be an author. In Grade 6 I began writing chapter books and sending them to publishers. Nobody wanted to publish them–although I did receive many very lovely rejection letters. Over the past few years, I have written 9 books for younger readers–both fiction and non-fiction picture books. But I can now announce that Orca Book Publishers is going to publish my first middle grade novel. The dream I've had since Grade 6 is coming true! The book will be out in the spring of 2017. It has no title yet, but it's a ghost story set in the Amazonian jungles of Peru. It features the spirit of El Tunchi, more than a few funny moments, and a kid named Potato.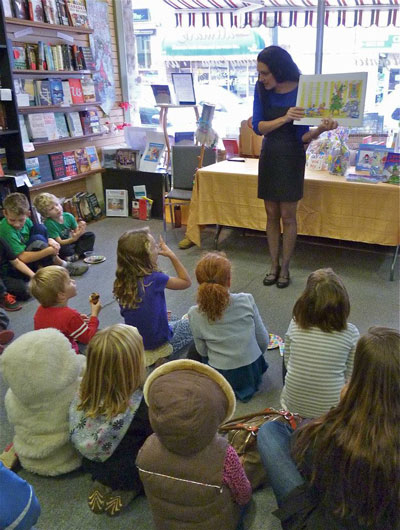 ---
For more insights from book creators, see my Inkygirl Interview Archives and Advice For Young Writers And Illustrators From Book Creators.