THE KIDNEY HYPOTHETICAL: OR HOW TO RUIN YOUR LIFE IN SEVEN DAYS by Lisa Yee (Arthur Levine Books)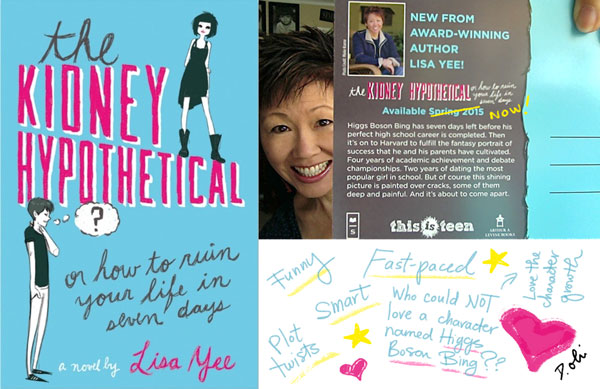 Just finished THE KIDNEY HYPOTHETICAL: OR HOW TO RUIN YOUR LIFE IN SEVEN DAYS by Lisa Yee​ (Arthur Levine Books, Mar/2015). I've been a fan of Lisa's since MILLICENT MIN, and I thoroughly enjoyed her new YA. What I love about all of Lisa's books, including this one: the wry sense of humor, flawed and appealing characters, how the relationships develop throughout the story. And who could NOT love a character named Higgs Boson Bing? 🙂
More info about THE KIDNEY HYPOTHETICAL on Lisa's website.
Read the (starred) review in Kirkus.
This book is on YALSA's BFYA nomination list!
Synopsis:
"Lisa Yee gives us her most fascinating flawed genius since Millicent Min.
Higgs Boson Bing has seven days left before his perfect high school career is completed. Then it's on to Harvard to fulfill the fantasy portrait of success that he and his parents have cultivated for the past four years. Four years of academic achievement. Four years of debate championships. Two years of dating the most popular girl in school. It was, literally, everything his parents could have wanted. Everything they wanted for Higgs's older brother Jeffrey, in fact.
But something's not right. And when Higgs's girlfriend presents him with a seemingly innocent hypothetical question about whether or not he'd give her a kidney . . . the exposed fault lines reach straight down to the foundations of his life. . . ."
---
Also see Debbie's Reading Journal as well as Debbie's Bookstagram.