#BookADay: This One Summer by Mariko Tamaki and Jillian Tamaki (Groundwood/House Of Anansi)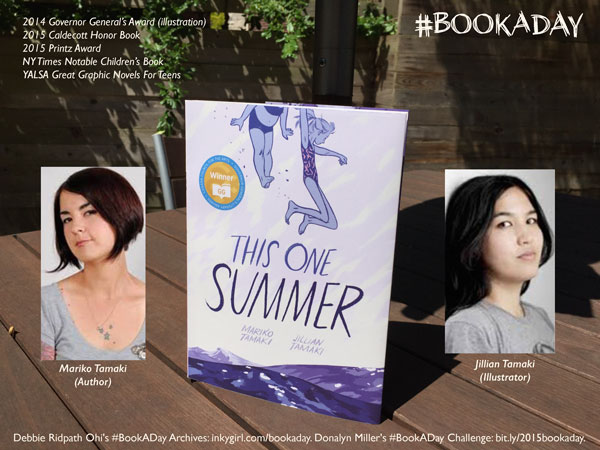 #BookADay: THIS ONE SUMMER written by Mariko Tamaki​, illustrated by Jillian Tamaki​ (Groundwood Books​/House Of Anansi, 2014). Bought this at The Beguiling Books & Art​ a while back after hearing it won the Governor General's Award for Children's Illustration. I found that the book perfectly captured the feeling of summer in both the text and illustration (the latter made me swoon) and there were so many "omigosh I have so felt like that" small and not-so-small moments of truth throughout.
From the publisher's synopsis:
"Rose and Windy are summer friends whose families have visited Awago Beach for as long as they can remember. But this year is different, and they soon find themselves tangled in teen love and family crisis. From the creators of Skim comes an investigation into the mysterious world of adults.
"Sure, Rose's dad is still making cheesy and embarrassing jokes, but her mother is acting like she doesn't even want to be there. Plus, being at the cottage isn't just about going to the beach anymore. Now Rose and Windy are spending a lot of their time renting scary movies and spying on the teenagers who work at the corner store, as well as learning stuff about sex no one mentioned in health class.
"Pretty soon everything is messed up. Rose's father leaves the cottage and returns to the city, and her mother becomes more and more withdrawn. While her family is falling to pieces, Rose focuses her attention on Dunc, a teenager working at the local corner store. When Jenny, Dunc's girlfriend, claims to be pregnant, the girls realize that the teenagers are keeping just as many secrets as the adults in their lives.
"No one seems to want to talk about the things that matter. When the tension between Dunc and Jenny boils over, Jenny makes a desperate and destructive move and Rose's mother is galvanized into action. In the aftermath, nothing is completely resolved, but secrets have been aired, which means that things are at least a bit better for everyone. For Rose and Windy, the end of summer brings the realization that, while Awago Beach might always be the same, they have both been changed forever.
From Mariko Tamaki and Jillian Tamaki, creators of the multi-award-winning graphic novel Skim, comes a stunning and authentic story of friendship, illustrated with subtly heart-breaking moments and pure summer joy."———————

More info: Donalyn Miller's Summer Book-A-Day Challenge | Archives of my #BookADay posts.