Interview with debut picture book illustrator, Ellie Arscott, whose NIGHT WALK launches from Groundwood Books *TODAY!*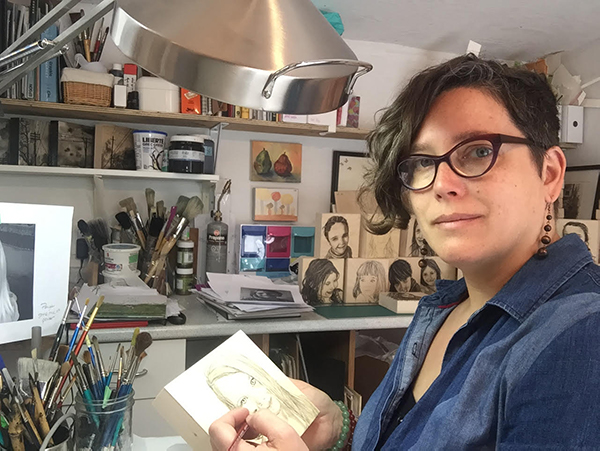 I'm a longtime fan of Ellie Arscott's art, so was especially excited to hear about her debut as a children's book illustrator for NIGHT WALK, a new picture book written by award-winning author Sara O'Leary and illustrated by Ellie. Launching Sept. 29th from Groundwood, their book has already garnered a lot of much-deserved praise, including The Wall Street Journal.
According to Sara O'Leary's blog post, the story of NIGHT WALK began as an offhand conversation with Groundwood's Sheila Barry "in which we both confessed a love of peering into windows while out on evening walks." Sadly, Sheila passed away before the book came out. Here is the author's dedication: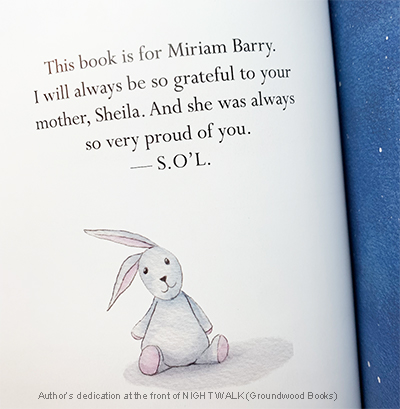 Ellie Arscott, NIGHT WALK's illustrator, is one of the nicest people in Canadian kidlitdom, always supporting others in the industry. In addition to volunteering for SCBWI Canada East in the past and organizing Sketch Crawls, Ellie also volunteers as part of the CANSCAIP Social Media Outreach team.
Ellie has been painting and illustrating for over 20 years. Her debut picture book Night Walk written by Sara O'Leary is coming out September 29th with Groundwood Books. When not illustrating for children's books Ellie is working on her Girls Stand Tall portrait project that focuses on girl's self esteem and painting scenery for some of Toronto's small and major theatre companies including Young People's Theatre and The National Ballet of Canada. Ellie is a graduate of Sheridan College's Interpretive Illustration program. You can find out more about Ellie at EllieArscott.com, Facebook, Twitter and Instagram.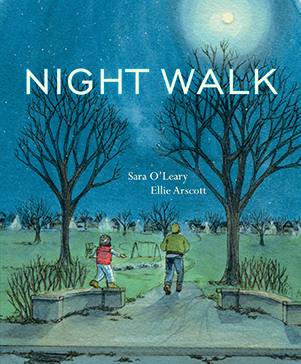 About NIGHT WALK, written by Sara O'Leary and illustrated by Ellie Arscott (Groundwood Books):
When a little girl can't sleep one night, her dad asks if she'd like to go for a walk. They tiptoe through the silent house and step out into the dark.
It's strange and exciting to be out so late. Walking down the street, the girl can see inside the lit-up windows of apartment buildings and houses where people's lives are unfolding. Kids are having a pillow fight in one house, while a family has gathered for a festive meal in another. She and her dad reach the still-busy shopping area, walking past restaurants and enticing store windows, then stop for a tranquil moment in the park before returning home.
Night Walk is Ellie's first children's picture book project! You can find some downloadable activities created by Ellie here. Thanks to Ellie for answering a few questions for me…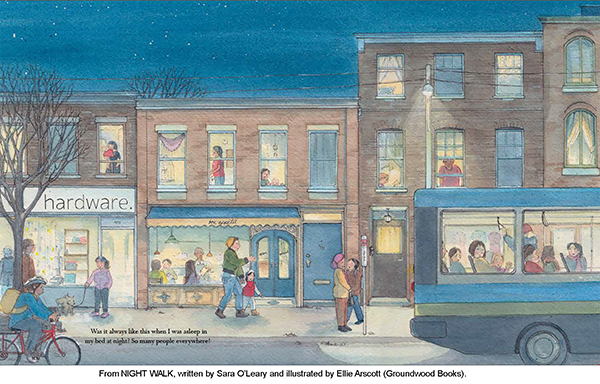 Q. Congrats on the upcoming debut as a picture book illustrator! What was your journey to publication?
Thank you so much Debbie! This book came to me out of the blue late December 2017. I had to read the email twice before I believed it was real and that it was actually from Groundwood Books, a publisher I've long admired. It's the first time I've been offered the opportunity of illustrating a picture book – something I have been working a long time towards. I graduated from Sheridan College in interpretive illustration quite a few years ago and promptly got busy with traveling and then working as a set painter in theatre. It wasn't until I had my kids that I started to get back into illustrating and working towards getting published. My kids are 11 and 13 so it's been a long road!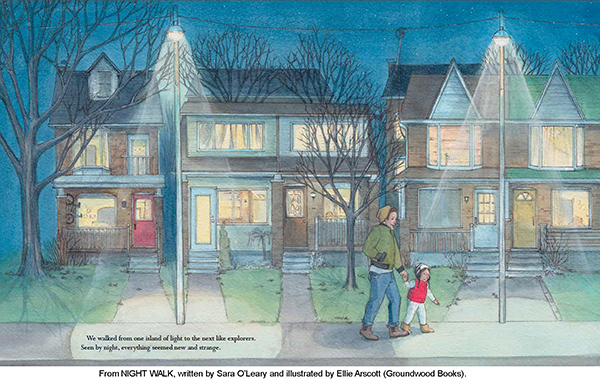 When the manuscript came in I immediately loved the whole feel of it. It resonated so much with how my kids and I enjoy walking in our neighbourhood and picked up on the fact that kids notice everything. The discovery of seeing their familiar place in a different light (night time) and that it's the same but different emanated the wonder I saw in my kids realizing new aspects of their home area. I also loved that it was a dad and child story. I have a very close relationship with my dad and it is because of him that I take time to enjoy seeing the details in the world around me.
Q. What was your illustration process like?
For the illustrations I started on the thumbnails with your downloadable template from Inkygirl.com. Then I worked on creating the neighbourhood in my mind and drew out a few routes as a map that would help keep me straight when I got to drawing out the details. I did a lot of walking around my area of east Toronto to get inspiration for the types of buildings in an urban environment and to take pictures of how streets look. I really wanted to create a familiar feel of the protagonist's journey around their neighbourhood and to have it come across as the reader's own journey of discovery. I also imagined kids being able to pull the illustrations from the book and that they would become one long street scene. To help with this I kept the ground line the same for all the street scenes.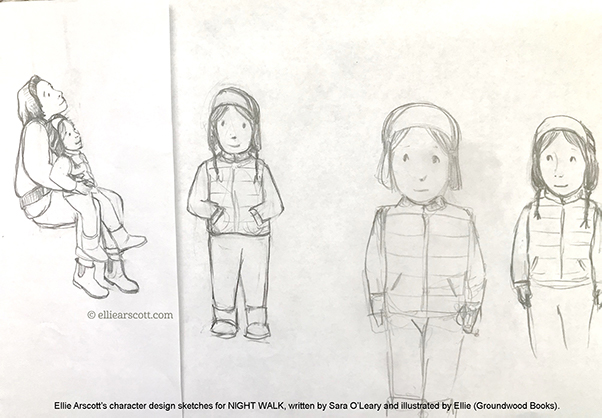 Once the drawings were approved I was finally able to paint. I worked with watercolours because playing with layers and tints creates such amazing opportunities for luminosity which are important when creating night scenes. I find night scenes magic. There are so many light sources to utilize to create whatever mood you want. In the window vignettes every scene revealed new people living out life all illuminated differently whether it be quietly reading or having a pillow fight!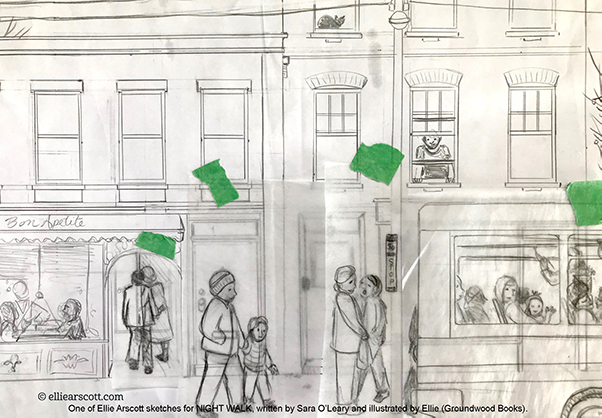 For the character designs I was trying to create a child that could be relatable by many. My youngest lives in her onsie pjs (even still) and when she was the age of the character also never took off her hat, so the outfit was easy. I really just kept sketching and doodling and eventually the characters began to define themselves. I find as I draw their traits start to come and eventually start repeating themselves.
Q. What advice do you have for young writers and illustrators?
My main advice is to just keep going. Believe in your work because only you can do work like you. Practice, network and get your work out there – you will be found. I find so much about illustrating for kids books from other authors and illustrators and organizations like CANSCAIP and SCBWI. There are also a lot of artists and authors around you that are all in the same boat. Be supportive of others and you'll find that you'll have a family of colleagues; before you know it, they will equally have your back along the way.
---
For more insights from book creators, see my Inkygirl Interview Archives and Advice For Young Writers And Illustrators From Book Creators.