#BookADay: A HITCH AT THE FAIRMONT by Jim Averbeck, illustrated by Nick Bertozzi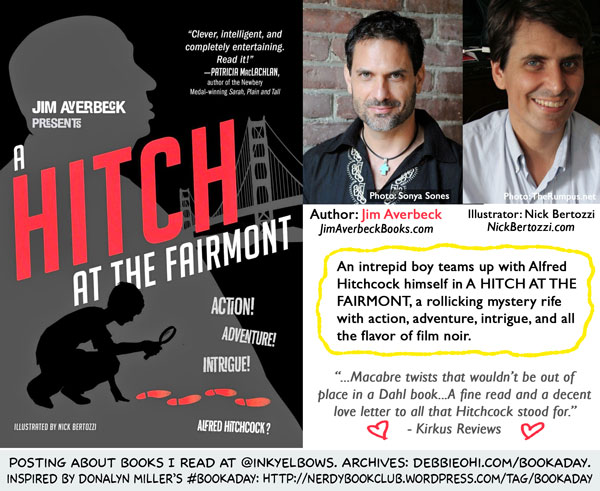 #BookADay: A HITCH AT THE FAIRMONT by Jim Averbeck, with very cool chapter heading comic illustrations by Nick Bertozzi. Fun and satisfying read with some great twists, and I loved the fact that young Jack is an artist. Advice for new illustrators and writers from Jim Averbeck from his interview on Kidlit411.com:"Grow a thick skin. Get great teachers. Challenge yourself. Value yourself. Put all of your heart into each story, but don't put all of your heart into only one story. Surround yourself with creative people. And if you can manage to get hold of a trust fund, do so." 🙂
Synopsis: "An intrepid boy teams up with Alfred Hitchcock himself in this rollicking mystery rife with action, adventure, intrigue, and all the flavor of film noir.
After the mysterious death of his mother, eleven-year-old Jack Fair is whisked away to San Francisco's swanky Fairmont Hotel by his wicked Aunt Edith. There, he seems doomed to a life of fetching chocolates for his aunt and her pet chinchilla. Until one night, when Aunt Edith disappears, and the only clue is a ransom note written… in chocolate?
Suddenly, Jack finds himself all alone on a quest to discover who kidnapped Aunt Edith and what happened to his mother. Alone, that is, until he meets an unlikely accomplice: Alfred Hitchcock himself! The two embark on a madcap journey full of hidden doorways, secret societies, cryptic clues, sinister villains, and cinematic flair."
More about the author: http://www.jimaverbeckbooks.com/
More about the illustrator: http://nickbertozzi.com/
More about the book on the S&S site: http://books.simonandschuster.com/Hitch-at-the-Fairmont/Jim-Averbeck/9781442494473
—————-
More info: Donalyn Miller's Summer Book-A-Day Challenge | Archives of my #BookADay posts.