Interview with SWIM, JIM! debut picture book author/illustrator, Kaz Windness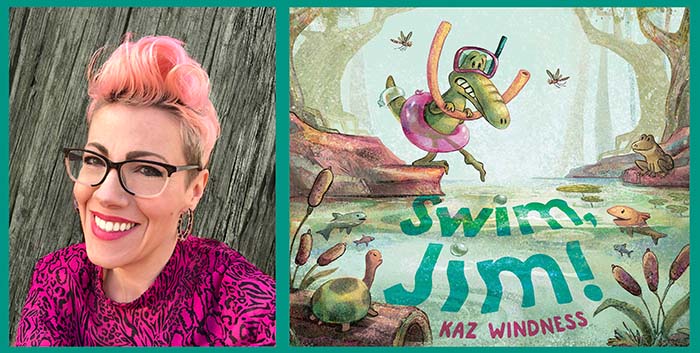 Kaz Windness is an author-illustrator who loves to make her readers laugh. When she's not writing or illustrating books, Kaz teaches illustration at the Rocky Mountain College of Art + Design and enjoys making deep-dish pizza. Kaz lives in Denver, Colorado, with her husband, two sons, and Boston terrier. Swim, Jim! is her first picture book. Visit her at WindnessBooks.com, Twitter, and Instagram. See Kaz's Linktree page for more links. Also check out Kaz's SWIM JIM! Blog Tour giveaway!
SWIM, JIM!
Written and illustrated by Kaz Windness
Published by Simon & Schuster / Paula Wiseman Books
Launching May 31st, 2022 – Pre-order
Synopsis of SWIM, JIM!
Jim the crocodile finds the courage to face his fear of swimming in this funny and charming debut picture book for fans of Jabari Jumps by Gaia Cornwall and Truman by Jean Reidy and Lucy Ruth.
Jim the crocodile is scared of swimming—or rather, of sinking. His family's swamp is just too deep, too dark, and too big. But maybe he could swim, if only there were a smaller swamp where he could try it on his own terms. Jim wiggle-waggles far and wide until he finds the perfect place. With the help of some floaties and his sisters, Jim just might find the courage to face his fear and show everyone—including himself—that Jim can swim!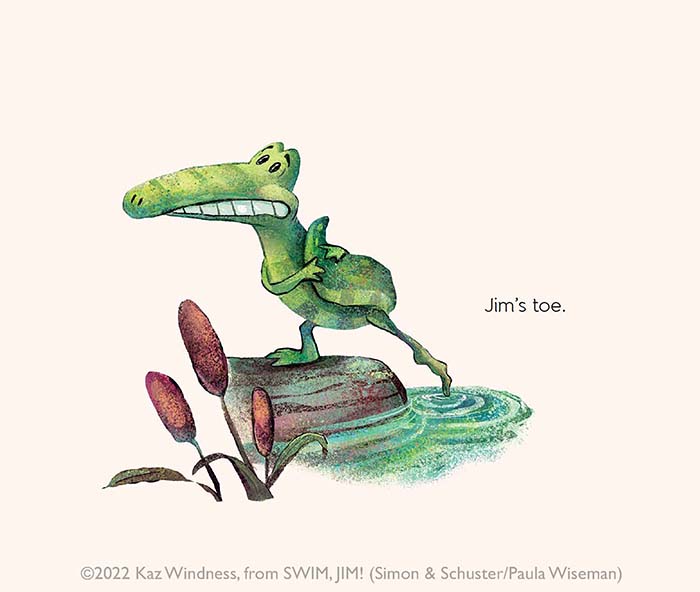 Q. How did you get the idea for SWIM, JIM?
Kaz: SWIM, JIM! was inspired by true events. A man in Key Largo, Florida was on his balcony and saw a crocodile swimming across a canal ontop of a yellow pool noodle. He took a picture of the croc and the story was printed in the news. I saw the article, drew my version of a crocodile who was afraid of the water, and sent the drawing to my agent, Timothy Travaglini, Transatlantic Agency. He told me to write the story, so I did!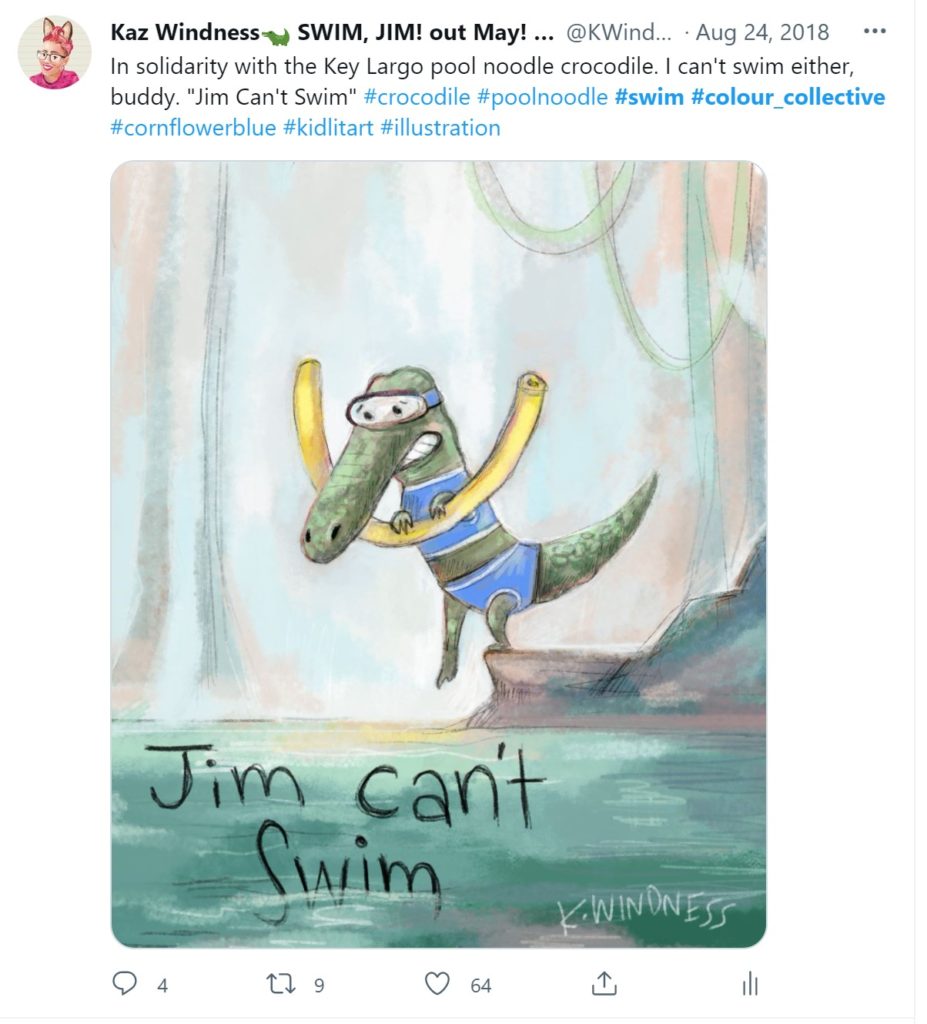 Q. What was your journey to publication?
Kaz: My career journey can be summarized as "play the long game." I've been pursuing my passion of writing and illustrating children's books my whole life.
As far as SWIM, JIM!, I wrote the story in about a month and then drew a small, rough version of what the book could look like (a dummy book) to go with it. My agent sent the sample book out to several editors. We got a lot of rejections at first– they either liked the art but not the writing or the writing and not the art, so we had to keep going until we found an editor who loved both.
After around six months, I had all but given up on SWIM, JIM! finding a home, when we all of the sudden received multiple offers at the same time. My first picture book was in auction!
Working with Catherine Laudone and Laurent Linn at Simon & Schuster/Paula Wiseman Books has been a dream come true, and we are currently working on our second book together– BITSY BAT, SCHOOL STAR (2023).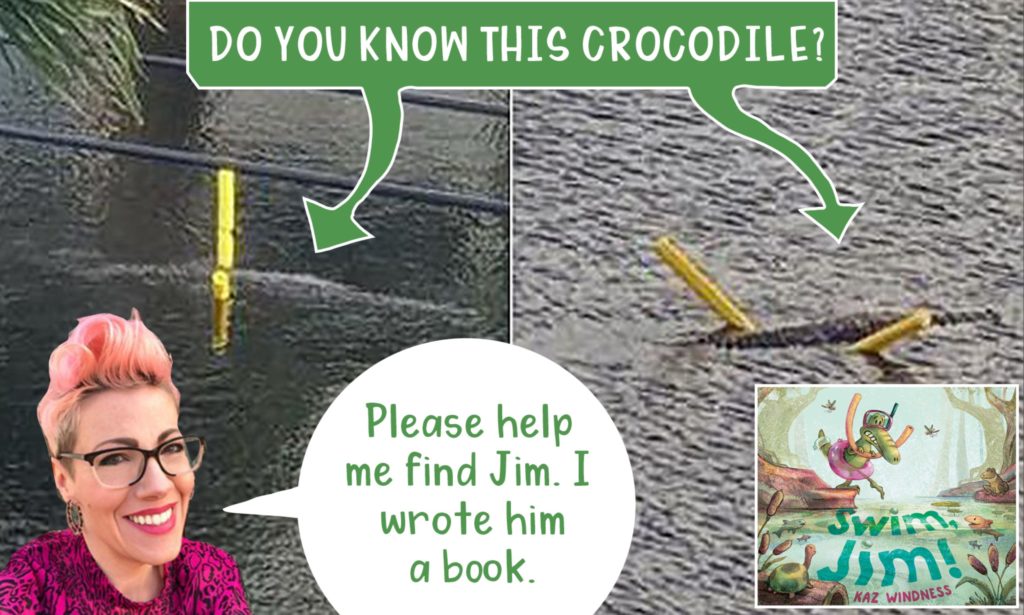 Q. What was your writing and art process for SWIM, JIM?
Kaz: Because I draw as well as write, I bounce back and forth between thinking in words and thinking in pictures. I do a lot of sketching and imagining, and often the story will appear in my doodles first. I always knew Jim would end up in a human pool – the fun of seeing a crocodile in pool floaties came from my sketching and from the original inspiration. Jim's story has a classic three act structure, so once I figured out what Jim's problem was, what he wanted to achieve, and all the main plot points in between, I could write the story, going back and forth between writing and drawing. I am a plotter, not a pantser– someone who writes without much pre-planning, but I do a lot of revision and editing and love when inspiration strikes and I think of a better story solution.
I'm also incredibly lucky to have a brilliant editor that saw the promise of little Jim and helped me focus on his fear of the water and develop the meaningful relationship Jim has with his family. Catherine has a special talent for working with someone who is more of an illustrator (me!) and helping their stories shine.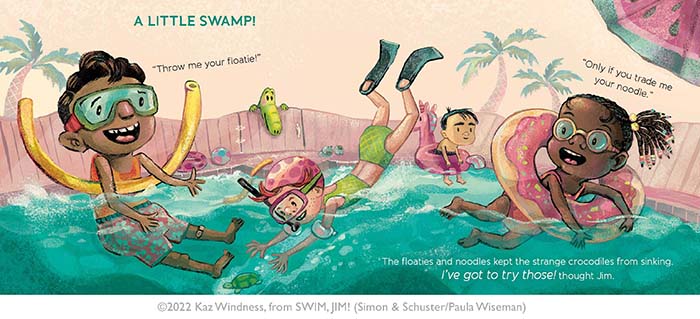 Q. What do you hope young readers will take away from your book?
Kaz: I hope Jim's story inspires young readers to face their fears– in their own way and in their own time. Writing Jim's story has helped me face my fear of the water, so much so, I am going to learn how to swim this summer! I'm not embarrassed to use my floaties, but I'm feeling braver and I'm ready to swim on my own. Like Jim, as long as I have my friends and family by my side, there's nothing I can't do.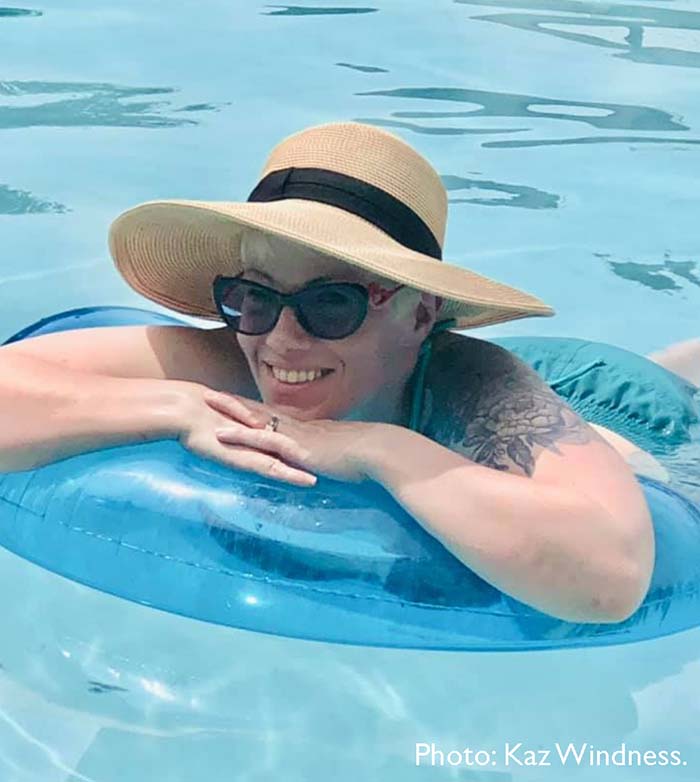 Q. What advice do you have for young writers & illustrators?
Kaz: Children's books is a career that requires a deep and abiding passion. It's not like in the movies where you have a book idea one day and get a huge book deal the following week and save the family farm from foreclosure. SWIM, JIM! is my debut picture book, and I've been out of art school for 20 years this summer. It's also not the kind of money that saves the farm. But it is a career that saves kids (books saved me!) so it's worth being persistent– but only if it's something you can't not do. If you can't quit, keep going. Your breakthroughs are coming!
My advice for illustrators is cast a larger net for art inspiration. While it's important to be on social media and also devour children's literature, especially recent publications, if we only look Instagram and other picture books, we're just stylistically regurgitating what's already been done. Go to the museum. Get inspired by musical theatre. Fall down the rabbit hole of Victorian fashion or hip-hop music or cave paintings. You are standing on the creative shoulders of thousands of years of artists and its a proud and inspiration-rich heritage. That can all becomes compost and fertile ground to draw inspiration from.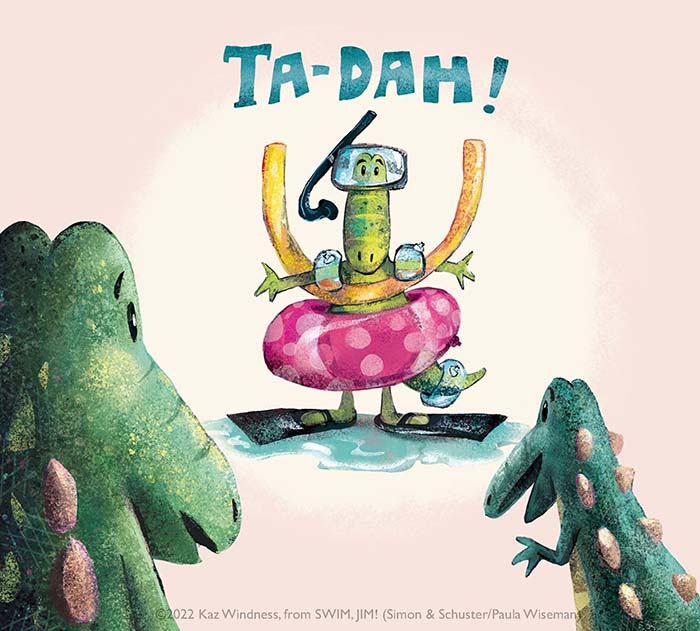 Q. What are you excited about right now?
Kaz: If you are in the northern Colorado area on June 4th, The Wandering Jellyfish is hosting a big SWIM, JIM! book release party at 4pm. We will have fun games, food, a reading and drawing demonstration, too.
You can also enter my SWIM, JIM! Blog Tour giveaway! (U.S. only) To enter: comment, retweet or tag a friend, and confirm via this Rafflecopter form.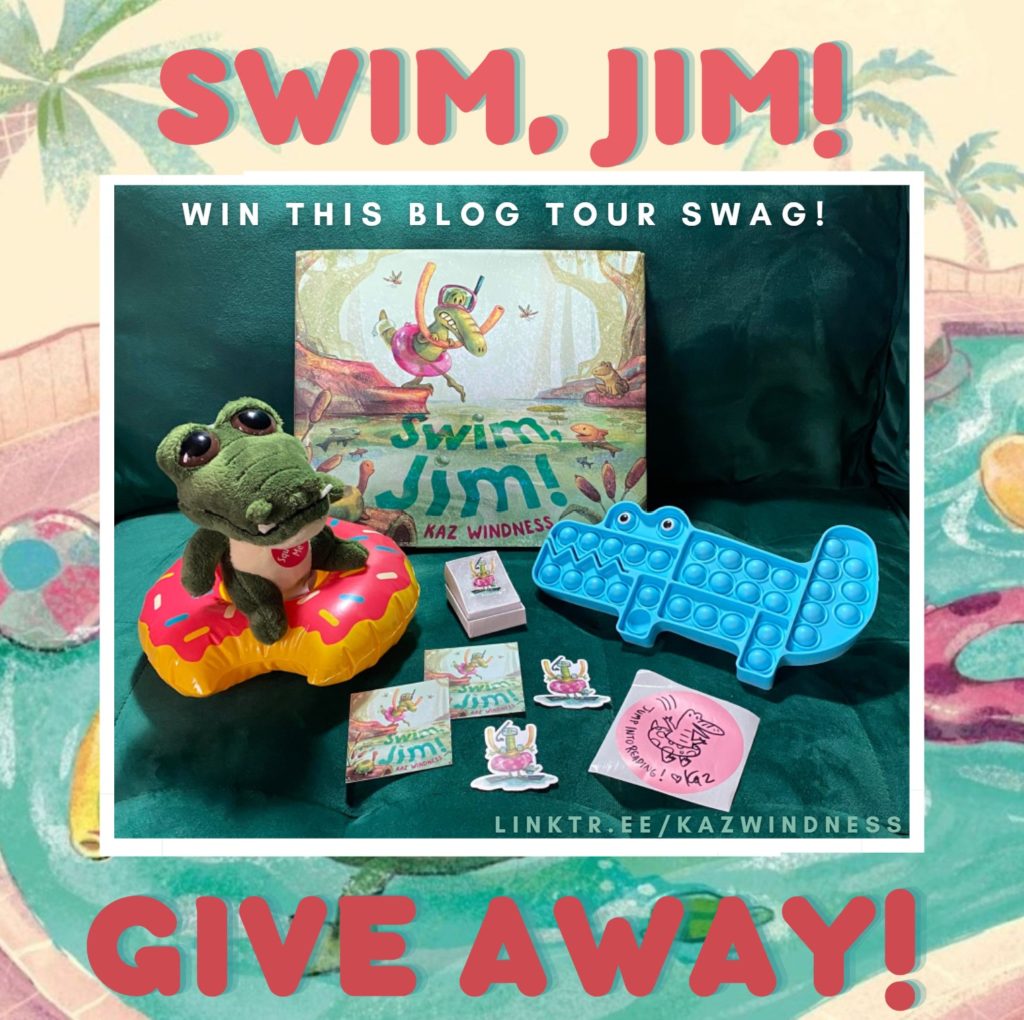 In other news, I am starting an advanced online children's book illustration school later this year with some very talented and successful author-illustrators called the Cuddlefish Academy, so please watch for that!
Also, please look out for upcoming 2023 books: WORM AND CATERPILLAR ARE FRIENDS (Simon Spotlight) and BITSY BAT, SCHOOL STAR (Paula Wiseman Books) + more in the works! You can find me at www.WindnessBooks.com and follow me on all your favorite social media.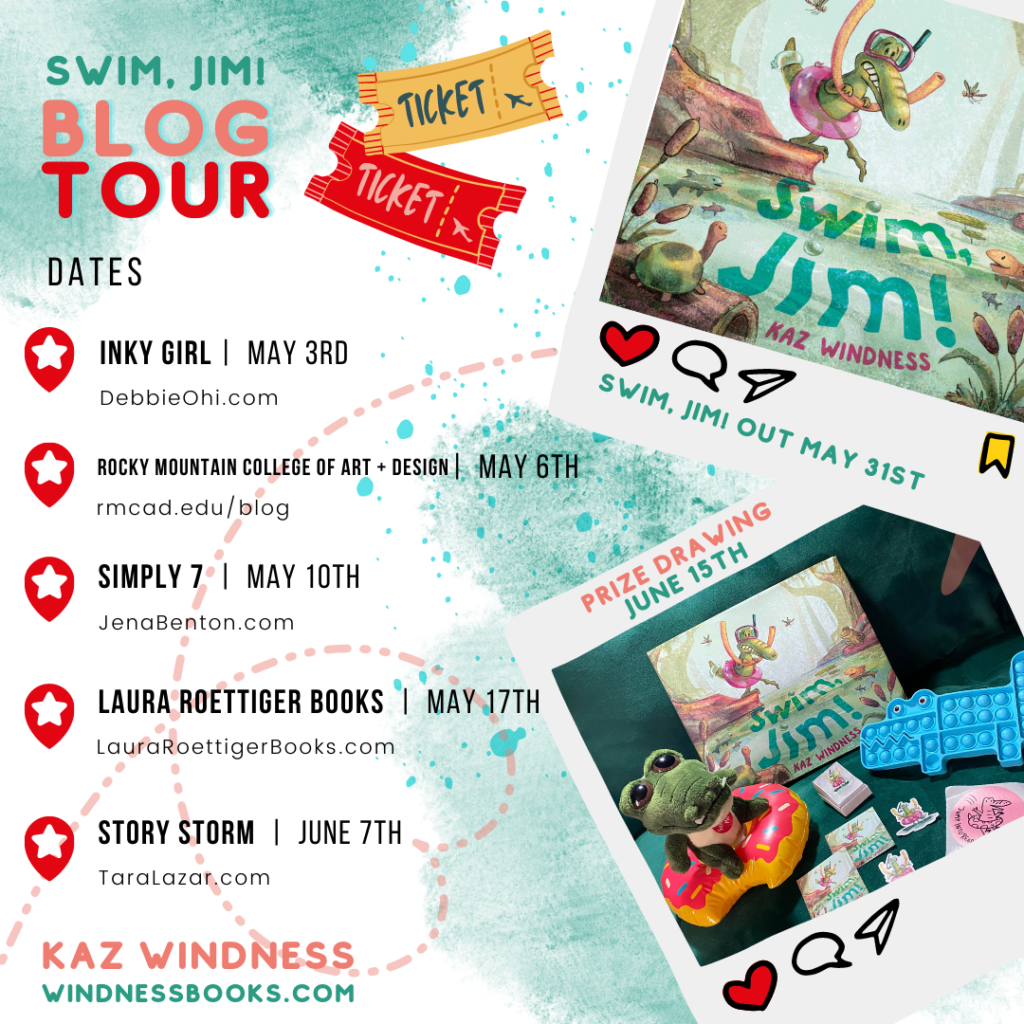 Next blog tour stop on May 6th: Rocky Mountain College of Art & Design (RMCAD) blog!
---
Also see other interviews with book creators as well as a compilation of advice for young writers and illustrators from interviewees.