Registration now open for SCBWI-Montreal conference (Oct. 4-6, 2013). I'm giving the opening keynote!
I had a fantastic time at the SCBWI Summer Conference in LA earlier this month and will be posting a bit about that soon, but I wanted to also announce that registration for the SCBWI Canada East Fall Conference in Montreal is now open. It's my first SCBWI faculty position, and I'm thrilled to be part of the event this year. I'll be giving the opening keynote! Nervous but also waaaay excited.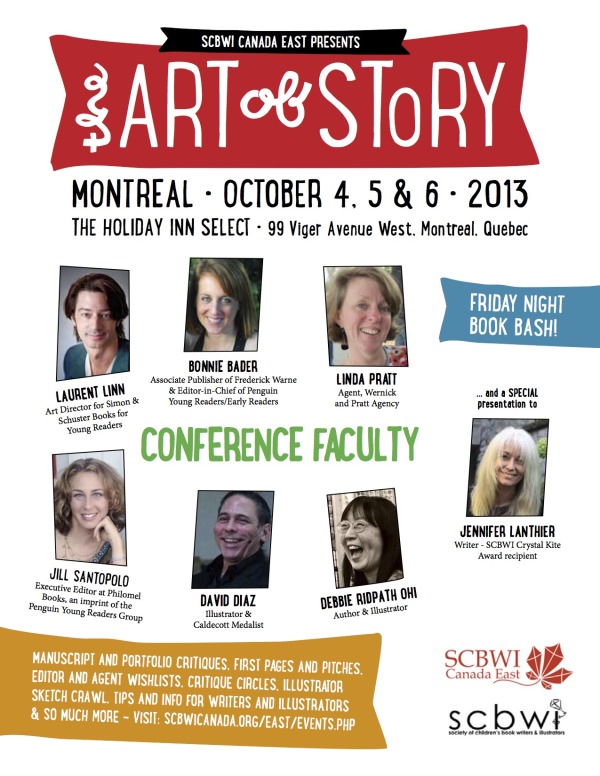 Conference promo above & conference info PDF put together by SCBWI Canada East Illustrator Coordinator Peggy Collins.
More info: SCBWI-Montreal conference brochure PDF – Registration
Here's more info some of the other faculty members and attendees: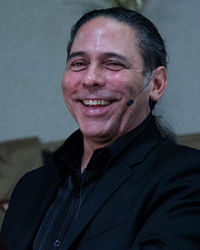 I met David Diaz when I was chosen for the 2010 SCBWI Illustration Mentorship Program; he was one of my Mentors. In addition to being on the SCBWI Illustration Board, David's been hugely supportive of the Mentorship program, generous with his time and knowledge (including opening up his home to some of the Mentees once a year for a creative retreat). David won the Caldecott Medal in 1995 for U.S. picture book illustration in Smoky Night (HMH Books For Young Readers) written by Eve Bunting. He's illustrated many other books and won other awards since. You can find more info about David and his work:
NCCIL profile for David Diaz – Wikipedia entry for David Diaz – David Diaz on Facebook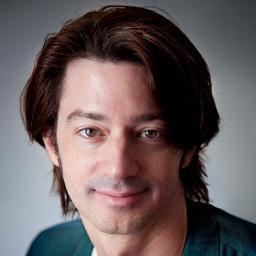 Laurent Linn is my fantabulous Art Director at Simon & Schuster Books for Young Readers. Laurent was so patient with me as I navigated my very first book illustration project (I'm Bored by Michael Ian Black) and I had so much fun working with him on Naked! Just about to start work with Laurent on the very first picture book that I'm writing AND illustrating, Where Are My Books?
Laurent began his career as a puppet designer/builder in Jim Henson's Muppet Workshop (how cool is that?!?), creating characters for various productions, including the Muppet Christmas Carol and Muppet Treasure Island films. With Henson over a decade, he worked primarily on Sesame Street, becoming the Creative Director for the Sesame Street Muppets, winning an Emmy Award. Currently, at Simon & Schuster, Laurent art directs picture books, middle-grade, and teen novels, including I, Too, Am America, by Langston Hughes, illustrated by Bryan Collier; Never Play Music Right Next to the Zoo by John Lithgow, illus. by Leeza Hernandez; The Scarecrow's Dance, by Jane Yolen, illus. by Bagram Ibatoulline; Better Nate Than Ever, by Tim Federle; and the Rot & RuinYA series by Jonathan Maberry. Laurent is Artistic Advisor for the annual Original Art exhibit at the Society of Illustrators in New York.
More info: www.LaurentLinn.com. On Twitter: @LaurentLinn.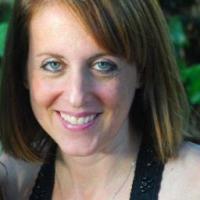 Bonnie Bader is the Associate Publisher of Frederick Warne and the Editor-in-Chief of Penguin Young Readers/Early Readers, imprints of Penguin Young Readers Group. At Warne, Bonnie overseas the Peter Rabbit, Spot, and Flower Fairies publishing programs. She also oversees all of Penguin's leveled readers, which fall under the imprint, Penguin Young Readers. In addition, she will be starting up an 8×8 picture book program, Penguin Core Concepts, which will launch in Spring 2014.
She continues to edit several bestselling series including George Brown, Class Clown and Magic Bone by Nancy Krulik, Almost Identical by Lin Oliver, and Here's Hank by Henry Winkler and Lin Oliver, coming out in 2014. Bonnie is also a member of the SCBWI Board of Advisors.
Here's a great pre-SCBWI-LA interview that Jolie Stekly recently did with Bonnie.
On Twitter: @BonnieBader.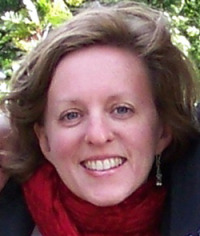 Linda Pratt, Agent, Werner and Pratt. After 20 years at the Sheldon Fogelman Agency, Linda Pratt and long-time colleague, Marcia Wernick, established the Wernick and Pratt Agency in January, 2011. The agency specializes in representing creators of children's books. "Our philosophy is client care that focuses not just on individual books, but the long-term careers of our authors and illustrators in the ever-changing world of publishing." Linda's clients include LeUyen Pham, Richard Peck, Denise Brunkus, Sharon G. Flake, and Kathryn Erskine among others. She also enjoys introducing new talent. Two 2013 debuts are author/illustrator Aaron Becker's JOURNEY (Candlewick) and middle-grade novelist Judy Hoffman's THE ART OF FLYING (Disney-Hyperion). Linda is a member of AAR, SCBWI, and served on the planning board for the Rutgers Oneon-One Mentoring Conference for five years.
More about Linda:
On the Wernick & Pratt agency site – Agent Spotlight on Literary Rambles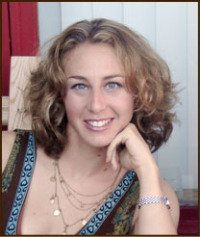 Jill Santopolo is an executive editor at Philomel Books, an imprint of the Penguin Young Readers Group, where she edits everything from board books for the youngest of readers to edgy novels for teens. Her list of authors includes many award-winners and New York Times bestsellers, most notably Andrea Cremer, David Levithan, Jane Yolen, T.A. Barron, Felicia Bond, Olivier Dunrea, Lisa Graff, Alex London, Peter Abrahams, and Erin Moulton. Prior to coming to Penguin in August of 2009, Jill worked for seven years at HarperCollins Children's Books, where she once had to dress in a pig suit and hand out cupcakes to booksellers (she edited a lot of books there, too). Jill holds a B.A. in English Literature, an M.F.A. in Writing for Children, and a Certificate in Intellectual Property Law. In addition to working as an editor, Jill is also the author of the Alec Flint series(Scholastic 2008, 2009), the Sparkle Spa series (Simon & Schuster, 2014), and the Follow Your Heart series (Puffin, 2014). In her spare moments, Jill teaches fiction writing online for McDaniel College and is an M.F.A. thesis advisor at The New School. Once in a while, she sleeps.
Website: Jillsantopolo.com – Twitter: @JillSantopolo
And ME!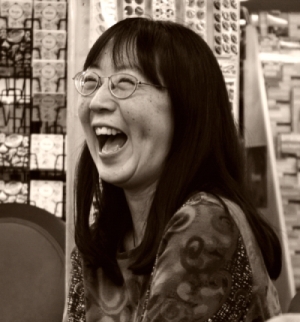 Photo: Beckett Gladneyis a writer and illustrator based in Toronto, Canada. Her debut picture book, WHERE ARE MY BOOKS?, will be published by Simon & Schuster Books For Young Readers in Spring 2015. Her illustrations appear in I'M BORED (NYTimes Notable Book) and NAKED! (comes out Summer 2014), both written by Michael Ian Black, published by Simon & Schuster BFYR. She also has upcoming book illustration projects with HarperCollins Children's (RUBY ROSE books by Rob Sanders) and Random House Children's (MITZI TULANE books by Lauren McLaughlin).
Plus a few other upcoming projects with Simon & Schuster BFYR she can't talk about yet. 😉
Debbie is represented by Ginger Knowlton of Curtis Brown Ltd.
For more info, visit DebbieOhi.com or @inkyelbows on Twitter.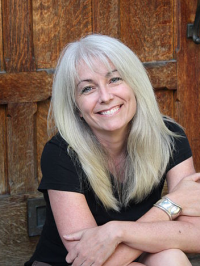 In addition, there will also be a special presentation during the conference for: Jennifer Lanthier, a Canadian children's author who recently won a Crystal Kite award for her wonderful book, The Stamp Collector (Fitzhenry & Whiteside, 2012).
Jennifer's one of my Torkidlit friends, and I was thrilled to hear that she had won the Crystal Kite for our region. You can see the other Crystal Kite winners on the SCBWI site. Looking forward to seeing Jennifer at the event!