2013 SCBWI-Montreal Conference Report (Part 3): Jill Santopolo, Bonnie Bader, Linda Pratt, Silent Auction and the Illustrator Sketch Crawl

Continued from Part 1 – Part 2 – Part 3
(Check the SCBWI Canada East website for info about upcoming events; see my conference photos on Flickr and Facebook)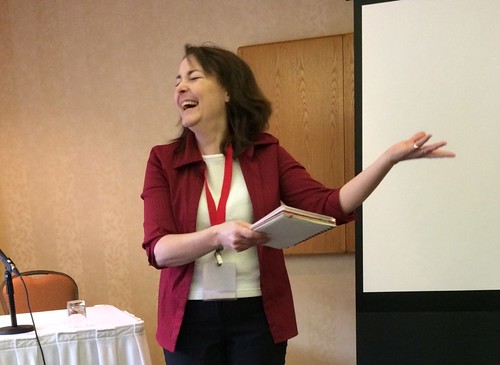 The fabulous Lizann Flatt during the morning announcements.
Continuing my report about the SCBWI-Montreal conference, we're now up to the Last Day. Not having to worry about a keynote talk, I was able to sleep a bit longer before heading down for breakfast. Had a delightful conversation with Linda Pratt and Michelle Jodoin about children's/YA books. Ended up buying Linda Urban's A Crooked Kind Of Perfect for my Kindle as a result. 🙂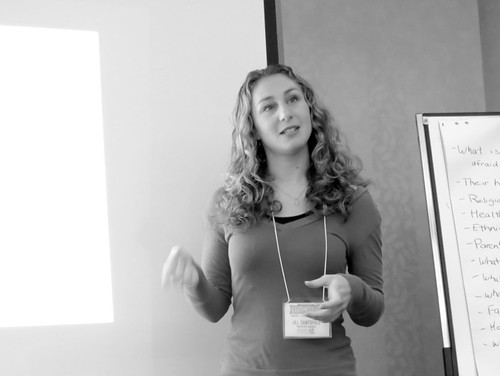 Philomel/Penguin editor Jill Santopolo talks about her list & what she's looking for
Sunday's sessions focused on wishlists: an open discussion about what Jill Santopolo, Bonnie Bader and Linda Pratt would love to uncover in their submissions pile, plus extra tips for authors and illustrators. 
Bonnie Bader talks about what she's looking for at her Penguin Random House imprints
And no, I'm not posting that info here — that was for conference attendees only. 🙂
I will, however, be posting a few of my conference takeaways tomorrow on the MiG Writers blog.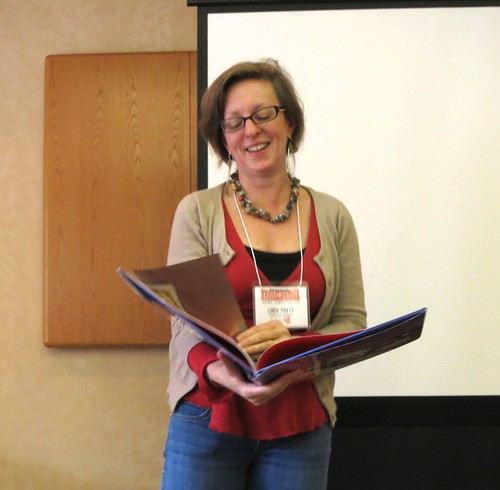 Literary agent Linda Pratt talks about what Wernick & Pratt Agency is looking for.
After the three sessions, there was a general Q&A with some of the faculty, and attendees were invited to ask anything: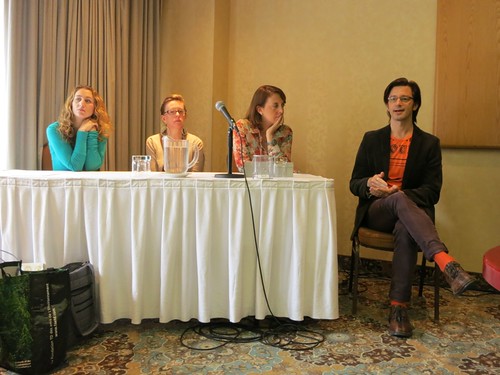 Then we found out who had won various Silent Auction items. Earlier on, the organizers invited everyone to submit items for an auction whose proceeds would be used to help offset the cost of the event. I had (stupidly) missed seeing this notice, else I would have contributed something. 🙁
I bid on a bunch of cool stuff that others had generously donated but got outbid on everything except for these two items:
1) A cuuute weiner dog sculpture made by Michelle McKeon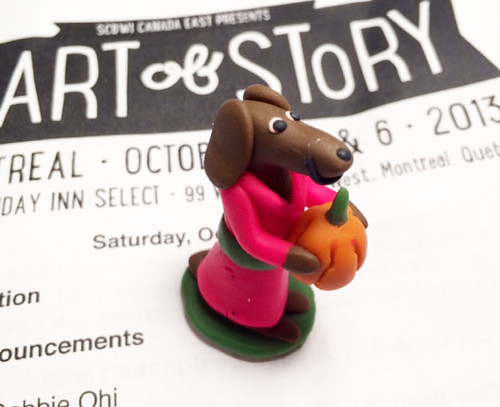 And (2) this great Chris Jones print: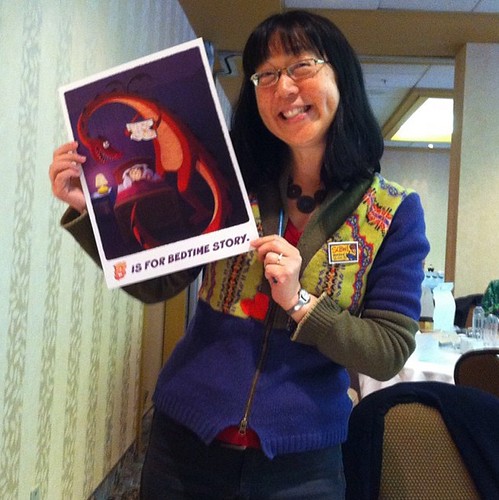 Chris, by the way, provided the fabulous illustration of the pensive artist at the top of the SCBWI-Montreal conference brochure (the brochure was designed by Peggy Collins):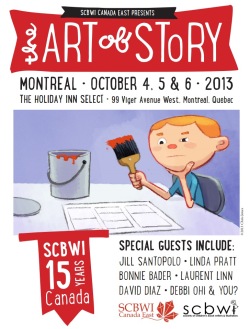 I also bid on a piece of original art by Niall Eccles, but the fiendish Hilary Leungoutbid me AT THE LAST MINUTE. (Insert image of me shaking fist at sky) 😉
David Diaz contributes a sketch he did at the conference to the Silent Auction.
After that were closing remarks from the organizers, and they also presented everyone on the faculty with gifts. Check out the Thank You card illustrated by Peggy Collins:
Inside, a gorgeous hand-blown pen made from Czech glass, created by Canadian artist Asem Nada: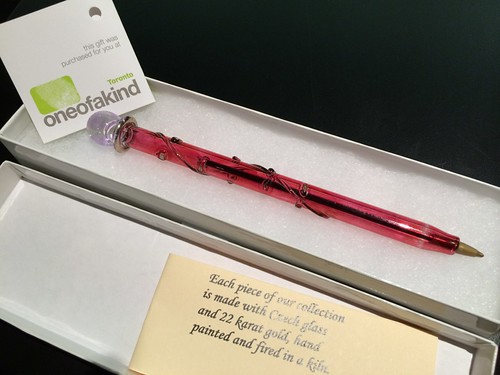 So beautiful! And what a wonderful souvenir of the weekend.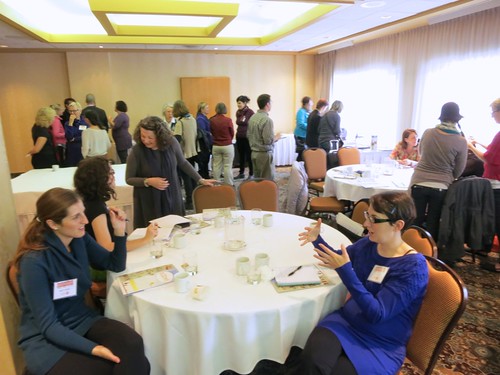 Some attendees had to leave at that point because of travel plans, but others enjoyed their boxed lunches in the conference room while doing more chatting. Here's what came in the boxed lunch: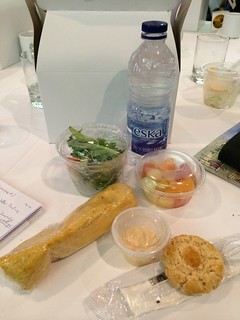 Yum! I was so tempted to decorate the blank box but resisted because I wanted to chat with Jasmine (who flew from Newfoundland to attend the conference!!) instead.
After that, people could opt for group manuscript critiques or the Illustrator Sketch Crawl. I opted for the latter, and we decided to settle in Chinatown to do some sketching: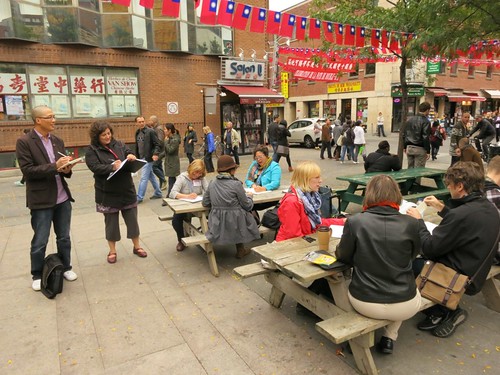 Sooooo fun! Thanks so much to Peggy Collins, who organized the Sketch Crawl. She also invited members of a drawing group in Montreal to join us as well (the woman in the red coat above was from that group, for example).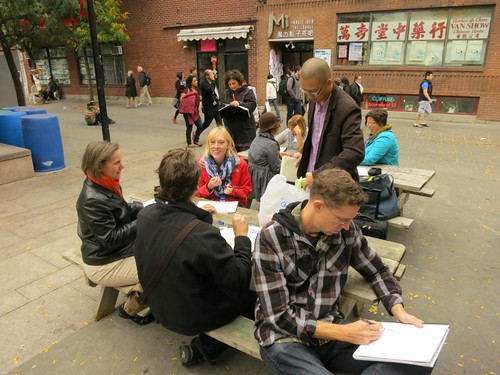 A few of us took a break during the session to check out a nearby shop that had art supplies as well as some souvenirs, and I bought these sweet silver fish earrings: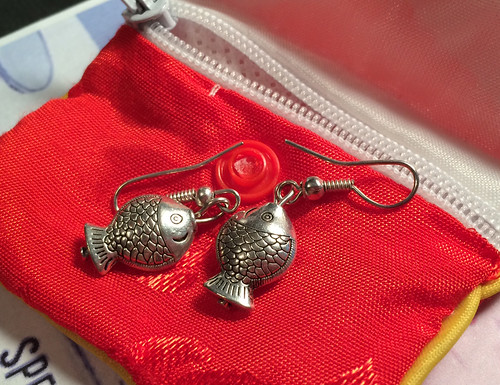 I chose fish because they remind me of the NEW BOOK CONTRACT I received last week, for illustrating Aaron Reynolds's SEA MONKEY AND BOB picture book for Simon & Schuster Books For Young Readers (comes out in 2015). They'll also remind me of this wonderful weekend.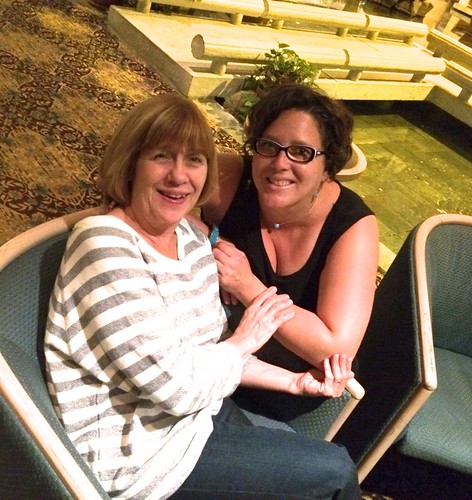 Christine Tripp and Ellie Arscott.
Huge thanks to SCBWI Canada East, Lizann Flatt, Alma Fullerton, Peggy Collins, Michelle Jodoin and Rachel Eugster. I had an amazing time and will never forget my very first SCBWI faculty position. The other faculty members (Laurent Linn, David Diaz, Jill Santopolo, Linda Pratt and Bonnie Bader) were fantastic, and so was Jennifer Lanthier in her Crystal Kite acceptance speech. I also enjoyed meeting new writers and illustrators as well as reconnecting with those I've met in the past.
Do visit the SCBWI Canada East website for more info about its members and upcoming events.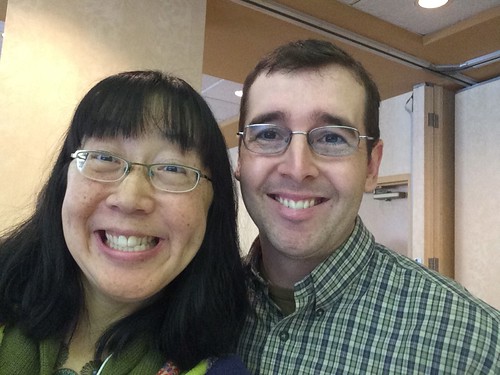 With Tom McGranaghan.
And here are some other SCBWI-Montreal conference reports I've found online (if you have one, too, please do post the URL in the comments):
2013 SCBWI Canada East Conference report by Chris Jones
https://www.instagram.com/p/fL6VWFK9Lr/?utm_source=ig_embed&ig_rid=da9dcef7-5fc0-4083-bf43-e4696b82af2d