2013 SCBWI-Montreal Conference Report (Part 2): Peggy Collins, Illustrator Critiques with Laurent Linn & David Diaz, Crystal Kite Presentation, Faculty Dinner, Sat night Schmooze
(Check the SCBWI Canada East website for info about upcoming events; see my conference photos on Flickr and Facebook)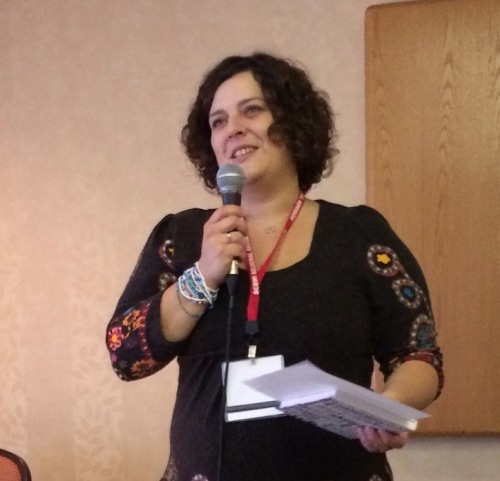 So yesterday, I inadvertently omitted Peggy Collins from the Bookstore Book Bash collage. This is especially embarrassing since Peggy was one of the people I most enjoyed meeting in person at SCBWI-Montreal! Not only did she design the great-looking conference brochure (with art by Chris Jones), but she's such a positive and enthusiastic person, working so hard throughout the weekend despite gradually losing her voice.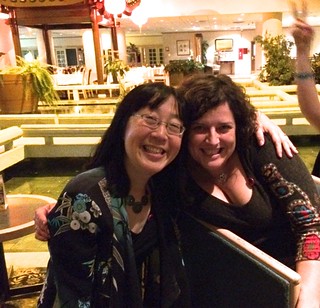 Do check out Peggy's blog and website to find out more about her and her work!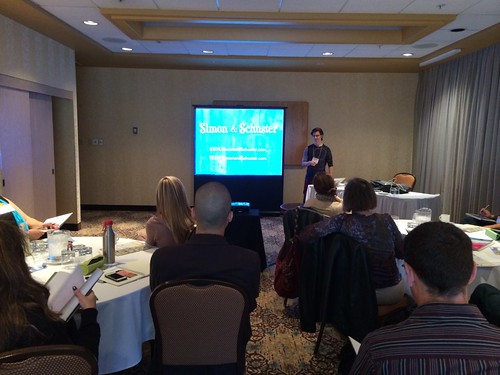 Simon & Schuster BFYR art director, Laurent Linn
But back to the conference. After my opening keynote, programming split into a For Authors and a For Illustrators track. I opted for the latter because two of my favorite illustrator types were on the faculty: Laurent Linn (my art director at Simon & Schuster) and David Diaz (one of my SCBWI Illustration Mentors).
Laurent Linn describes the illustrator choice process using THE SCARECROW'S DANCE as an example. Author: Jane Yolen. Illustrator: Bagram Ibatoulline.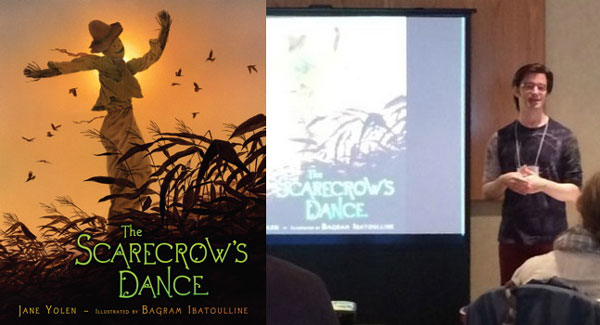 Laurent discussed the anatomy of a picture book with some behind-the-scenes examples of where picture books are today. He also analyzed popular book genres and demonstrated how writers and illustrators brought new ideas to well-trodden territory.
I've worked on two books (I'M BORED, NAKED!) with Laurent so far and am now working on a third (WHERE ARE MY BOOKS?), but always learn something new whenever I attend his sessions. One of the things I love most: how his focus is always on the young reader, and how we (as illustrators/writers) can best serve young readers.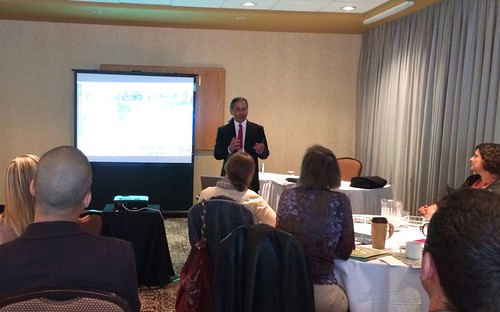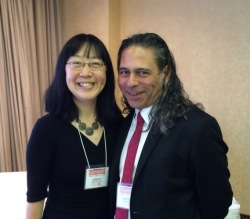 David Diaz was next. David's illustrations for Eve Bunting's SMOKY NIGHT won the Caldecott Medal in 1995, and his illustrations for Gary D. Schmidt's MARTIN DE PORRES: THE ROSE IN THE DESERT won the Pura Belpré Award this year. I met David through the SCBWI Illustrator Mentorship program; he's on the SCBWI Illustration Board and has been generous in his time/efforts re: supporting the Mentees.
After talking about his technique as well as showing examples through photos, David asked us all to write questions down on pieces of paper. Then he collected the slips and spent the rest of the session answering them. We learned more about his techniques and process, agents and illustrators, and much more.
After that was the Crystal Kite Presentation. Earlier in the year, I had been delighted that my Torkidlit friend Jennifer Lanthier had won the America's Division Crystal Kite for her picture book, The Stamp Collector (illustrator: Francois Thisdale, published by Fitzhenry & Whiteside):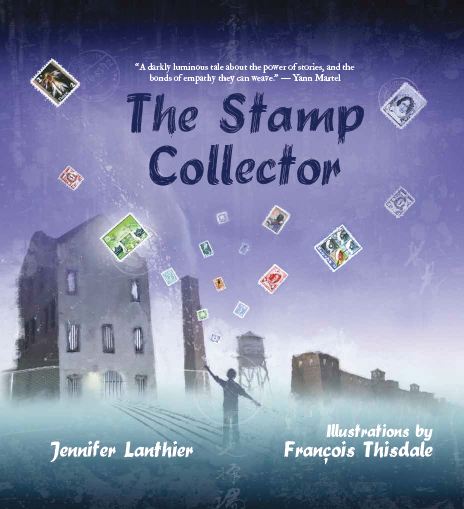 It was the first time I had seen the Crystal Kite award being presented up close — I hadn't realized it came with white gloves! Loved Jennifer's acceptance speech…so inspiring.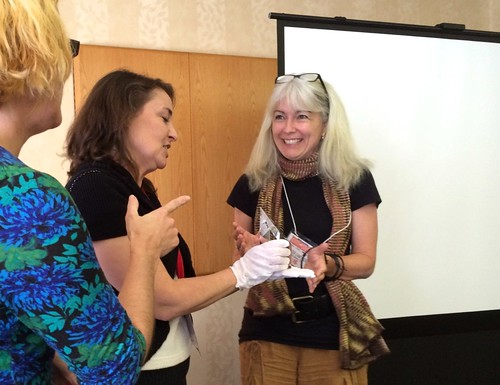 After a tasty buffet lunch, programming again split up into Author and Illustrator tracks. Most of the illustrator attendees had already been working on an assignment; Laurent Linn had provided a manuscript that had been acquired by Simon & Schuster Children's as an exercise. For those interested, the manuscript was for WAKE UP, RUPERT!, a book that was written and illustrated by Mike Twohy and is coming out from Simon & Schuster Children's in February 2014: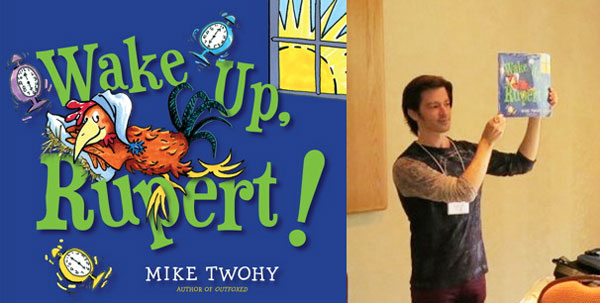 Peggy Collins had set up an online mini-community where attendees had already been discussing and critiquing each other's work pre-conference in a friendly and supportive environment (also, what a great way to "meet" each other before the event!), and they presented their final illustration in Montreal.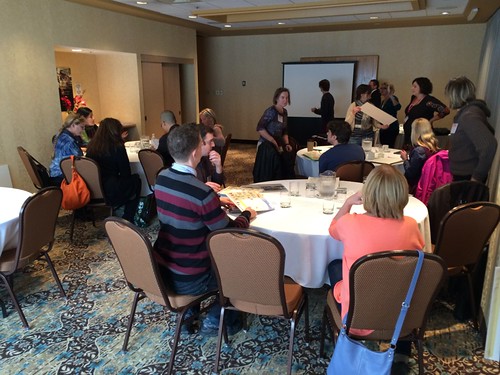 I sat in on David's group and was so impressed by the overall calibre of the pieces. Wow. Afterward, we talked over other aspects of the craft and business of children's book illustration, including comparing experiences using Twitter vs Facebook for children's book illustration promo.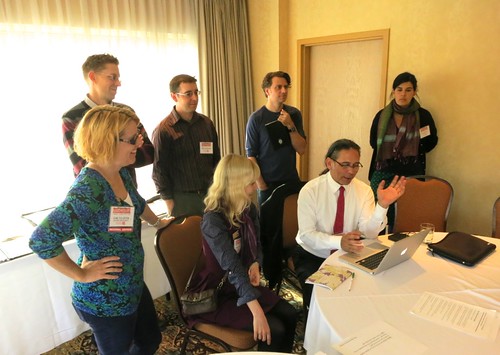 Here's a photo I took of Laurent's critique group:
Afterward, both Laurent and David browsed the work of the other group as well. After the conference, Laurent said he would look more closely at digital scans of everyone's art as well as check out their websites. What an opportunity for illustrator attendees!
Here's a photo I took of the whole group: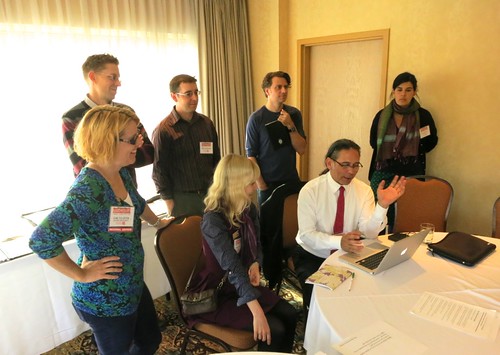 After the portfolio one-on-one critiques: dinner. I was invited to join the Faculty Dinner. (WOW, MY FIRST FACULTY DINNER!!!) While I waited for the others to arrive, I hung out with Hilary Leung (NINJA COWBOY BEAR series co-creator) and Ishta Mercurio at the bar, and sampled some of Hilary's uniquely-shaped snack thingies. Despite their appearance, they were actually really good! Or maybe it was because I was really hungry. Anyway, they tasted like Cocoa Puffs.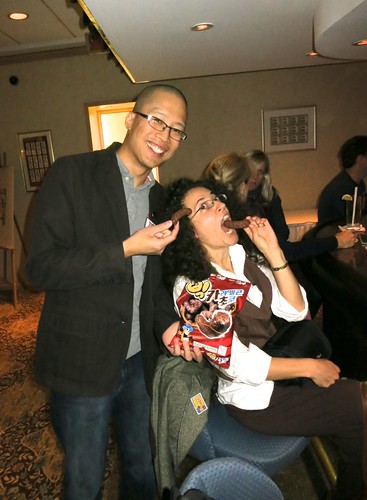 The faculty dinner was at Modavie, and it was excellent. PLUS the place had great live music: the Dray Wood Blues Band. The drummer came over after one of their sets; he said he could tell I was enjoying their music and wanted to say hi. He was curious about our group and asked who we were, was fascinated by the fact that we were all children's book creators. Look! He posed for a picture with me: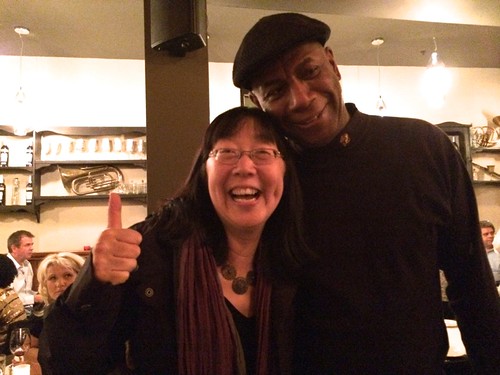 While we were waiting for our food, some of us started sketching on the paper table covering. Check out Peggy's cool sketch of the lead singer (which she later presented to the band):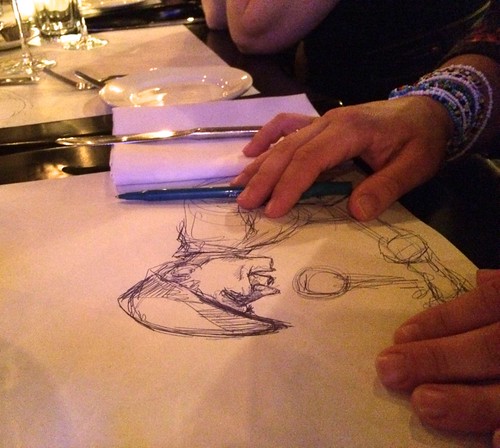 David Diaz's table sketch: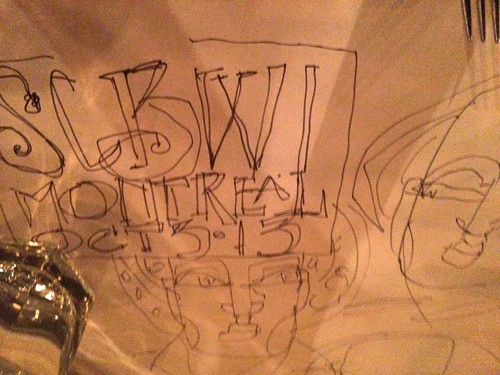 Dinner took longer than we expected, so we were late arriving for the Schmooze, originally scheduled for 9 pm. Some people (like Hilary Leung and Chris Jones) had already gone to bed. BUT we text-harassed them into coming back down, yay!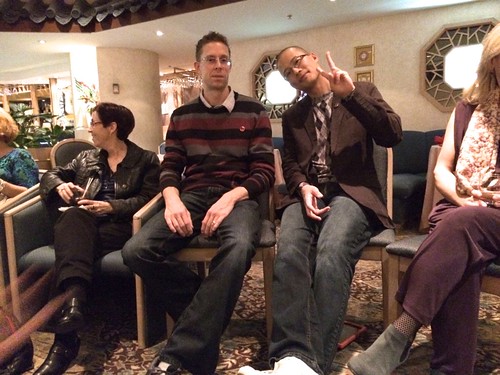 Again, I should point out one of the advantages these smaller regional conventions have over the national conventions: smaller size = easier to find opportunities to chat with faculty.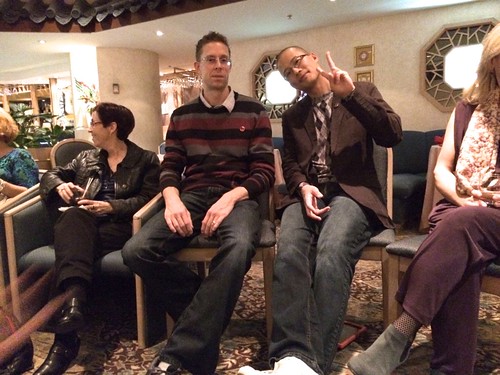 I went around at one point and just start snapping random photos with my iPhone. In the photo below, by the way, Ellie Arscott isn't being anti-social. We were all taking turns trying out some of the children's creativity apps by Hilary Leung's company, Sago Sago. Way fun! You can see a demo video on their site.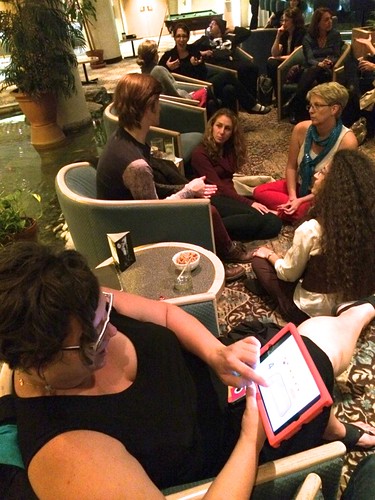 I ended up crashing earlier than the others, so I have NO IDEA how late the Schmooze went…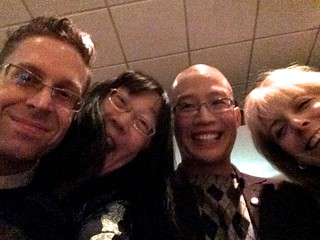 With Chris Jones, Hilary Leung and Kelley Fairbank.
Speaking of which, I need to crash now so will have to finish up my convention report tomorrow.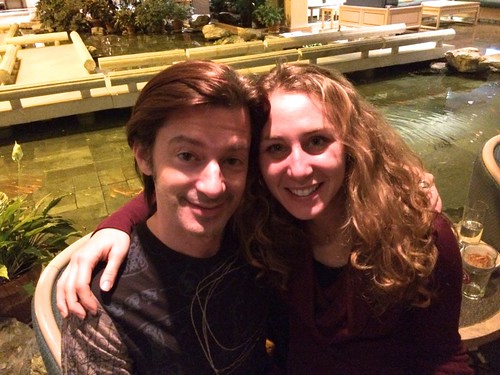 Laurent Linn and Jill Santopolo