Inkygirl Golden Cupcake Award: The World According To Maggie (Stiefvater)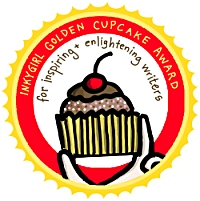 This week, I'm awarding the Inkygirl Golden Cupcake Award to Maggie Stiefvater for her The World According To Maggie blog.
I'm a huge fan of Maggie's books, including her Wolves Of Mercy Falls series and most recently, The Scorpio Races. Wonderful stories and characters, but I especially love this writer's voice.
Just some of the things I love about Maggie's blog:
– She talks about her writing process.
– Lots of great visuals. Not just photos but also Maggie's own drawings.
– Her wry, frank personality shines through everything she posts.
I've tweeted about Maggie's great posts frequently from @inkyelbows; her blog is one of my go-to blogs when it comes to looking for tweetable quotes.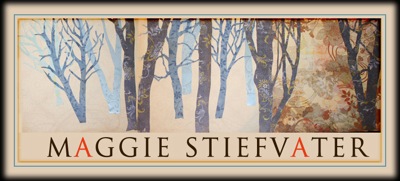 She also comes up with the BEST post titles, like her recent:
Why I'm A Writer & Not a Fighter Pilot
in which she answers reader questions about knowing one's goals as well as keeping true to yourself and your dreams despite other people. Do go visit her blog now! You'll be delighted, inspired and moved.
http://maggiestiefvater.blogspot.com
Established in July/2010, the Inkygirl Golden Cupcake Award is given to blogs or sites I find particularly inspirational to writers, especially those that may not already be well-known. Criteria is unapologetically subjective.
If you win the award, you do NOT have to display or acknowledge the award (but feel free, if so inclined). Just bask in the ephemeral, golden glory of online blog stardom and then move on, continuing to be an inspiration to the writing community. And THANK YOU for doing what you do.
Here is a list of other winners of the Inkygirl Golden Cupcake Award.