Interview with Jack Wong, debut author and illustrator of WHEN YOU CAN SWIM (Orchard/Scholastic)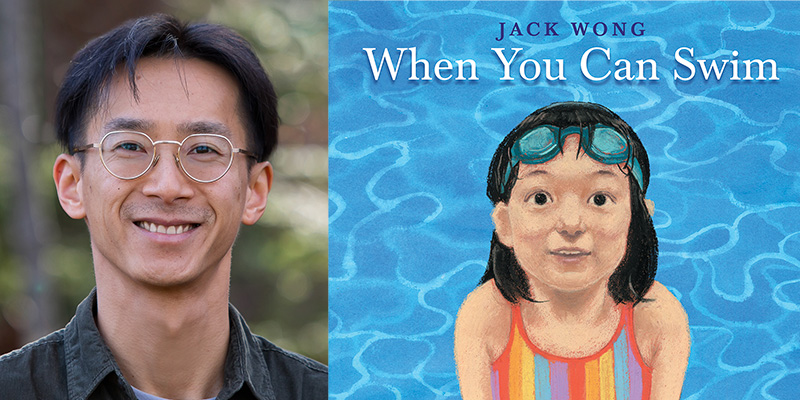 ​By Julie Damerell
Born in Hong Kong and raised in Vancouver, Jack Wong (黃雋喬) now calls Halifax (Nova Scotia, Canada) home, where he works as a children's author/illustrator. A self-declared actual Jack-of-all-trades, he's also tried his hand at bridge engineering, psychology research, bookkeeping, and running his own bicycle repair shop—a real education for creating children's books, if you ask him! Through a diverse range of stories, he seeks to share his hodgepodge journey with young readers, so that they may embrace the unique amalgams of experiences that make up their own lives.
You can find more about Jack on his website, on Twitter, and Instagram.
WHEN YOU CAN SWIM
Written and illustrated by Jack Wong
Published by Orchard (Scholastic) on May 2, 2023
For ages 4-8, grades P-3
ISBN: 9781338830965
More info on WHEN YOU CAN SWIM, plus see the ⭐starred Kirkus review⭐!
Synopsis: A reverent celebration of learning to swim among a diverse cast of children and families who each experience the mysterious joys of water in nature. In this exploration of what it truly means to swim, expansive vignettes introduce sandpipers, tannin-soaked lakes, and the feeling of a small waterfall on sun-soaked shoulders. But what about those who are afraid of the water's mysterious ways and resist learning to swim? Painting a compelling picture of the many joys and surprises that the water holds, artist and author Jack Wong has delivered an empowering, poetic journey that invites children to discover their confidence within to receive the warmth and wonder of the natural world.
Signed copies are available for order at Woozles (Halifax)

Q. How was When You Can Swim created?
A: The beginnings of this book came to me over the course of one summer when I felt particularly attuned to nature, taking notes and sketches during various hikes and camping trips. Actually, that's the first thing I wished to share and clarify with young and/or aspiring creators—I'm not always as attuned to nature as I'd like to be, and that's OK (I think!). I think it's perfectly normal to be drawn to something for a while, and also normal if that's a phase that passes. (At the very least, you'll know where a well of inspiration is if you want to return to it.)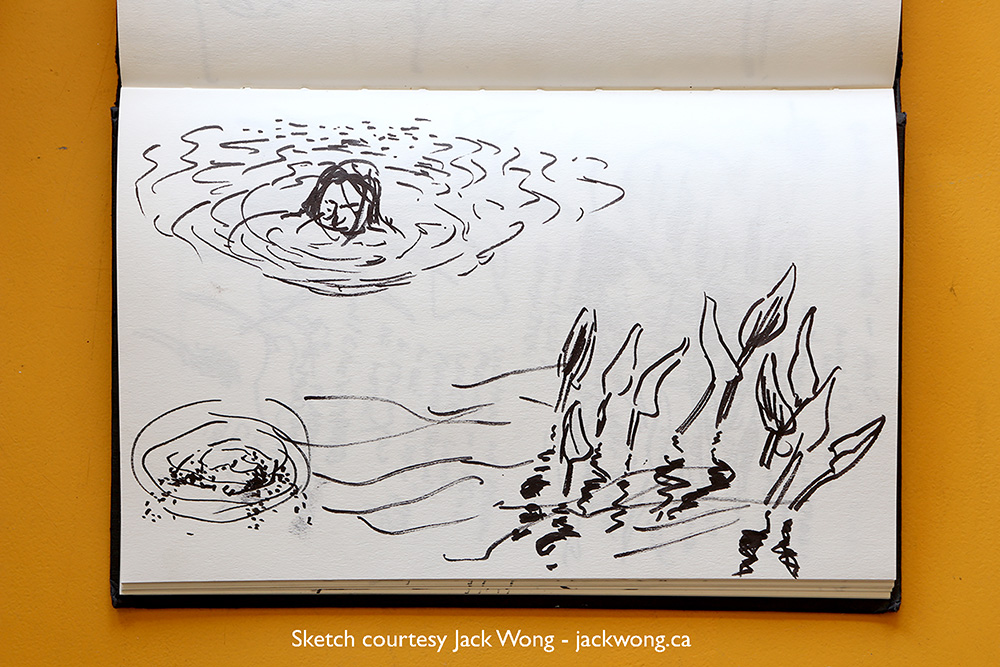 After that summer, I revisited my journals and noticed that many of my best musings were observations about some aspect of being in water. I have to admit, though: I'm actually not that strong or avid of a swimmer! So the writing process from that point onward was like a negotiation with that material: how do I use all this good stuff about swimming in nature, when a part of me feels I don't have the right to?
I arrived at an overarching theme of "overcoming a reticence towards swimming," I think, as an analog to my own reticence towards writing about swimming. It sounds more meta than it really is; I just identify so much with the little girl on the cover and first/last pages, standing at the edge of the water!
Q. What do you hope young readers will take away from your book?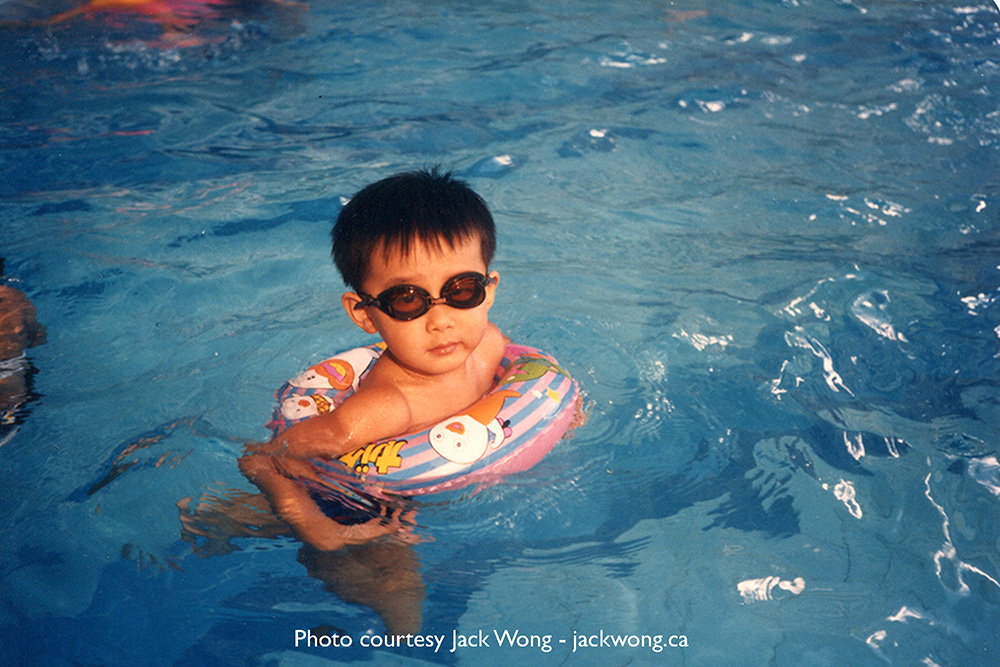 This book is, at face value, about the simple pleasure of swimming—but we know that swimming is anything but. The statistics show that people of colour, immigrants, and those with lower socioeconomic means are less likely to learn to swim, and more likely to drown—furthermore, this is an intergenerational disparity, because the children of non-swimmers are less likely to learn, too. Against these realities, I wanted to draw kids of all colours (as well as of different sizes, ages, abilities and disabilities) enjoying the water together, to normalize the notion that swimming belongs to all of us. I feel strongly that, as an author/illustrator, part of the meaning I created in the book is situated within the contrast between the pictures (which thoroughly show inclusivity) and the words (which make no mention of it). My hope is that, when young readers see this, the message they internalize is "somebody else sees it as a given that somebody like me gets to swim."
I hope readers of all ages also take joy, community, and a curiosity towards nature from reading this book. On that last point: because the drawings I made were so specific in their depictions of places near where I live, there was a point in the illustration process when I wondered, "What if the reader's neck of the woods looks completely different from mine? Would the book be any less interesting or relevant if they couldn't walk out their door and find the same things? Should I make the imagery more generalized?" I ultimately concluded that, by leaning into specificity and detail and showing the reader something new and amazing, what I'm actually suggesting is that any inch of the natural environment is rich and full of its particular wonders waiting to be discovered—so go out there and see what you find!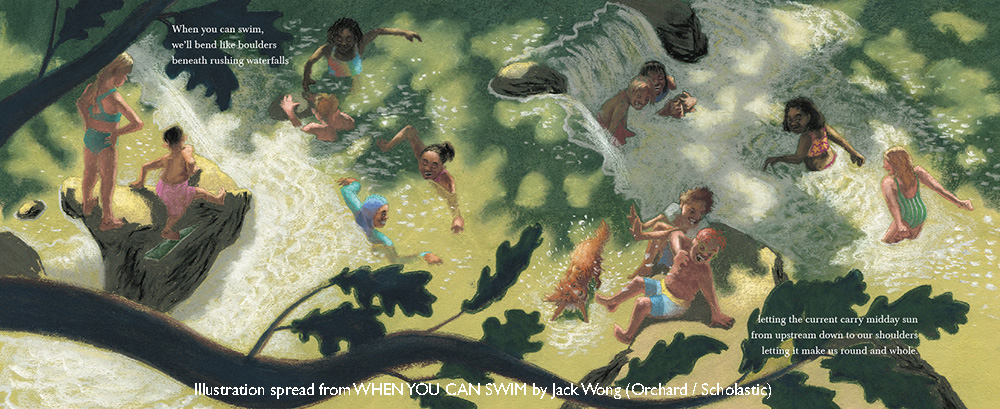 Q. What advice do you have for young creators?
I'm an author/illustrator today, but I wasn't always—see my bio (and that's just the tip of the iceberg!). For any kid who feels they're not that one super-talented student in the class who's clearly destined to be an artist, know that it's OK to take the winding road—you don't have to get there right away. In fact, whatever mixed bag of experiences I carry allows me to have the unique point of view that I have, which makes my art different from anyone else's (and that is true for all of us).
That leads to my other piece of advice: art is all about synthesizing (a fancy way of saying "combining") ideas—you may have heard the old saying, "there's nothing new under the sun," and it means it's unlikely you'll come up with an idea that no one has ever had before. But if you have two distinct interests, for example (like you're into science, and also ballet), that's a combination not everyone sees, and that combination of existing things is a new creation in itself.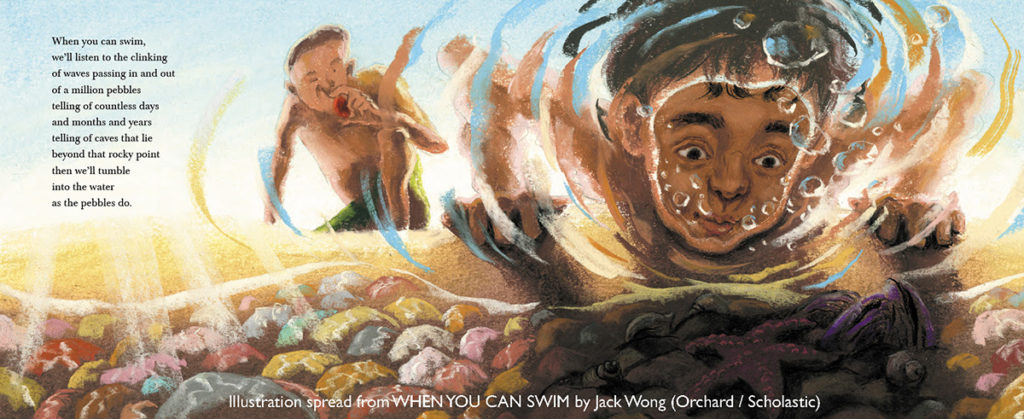 Q. What are you excited about now?
I just came back from an amazing school tour for When You Can Swim! It was my first-ever experience of presenting to classrooms(!) and I found it to be some of the most fulfilling work I've ever experienced: to strive to be the best version of myself for young people and see in real-time the impact I'm making. So I'm really hooked, and I have a brand-new section of my website where librarians & educators can find info about my speaking gig offerings!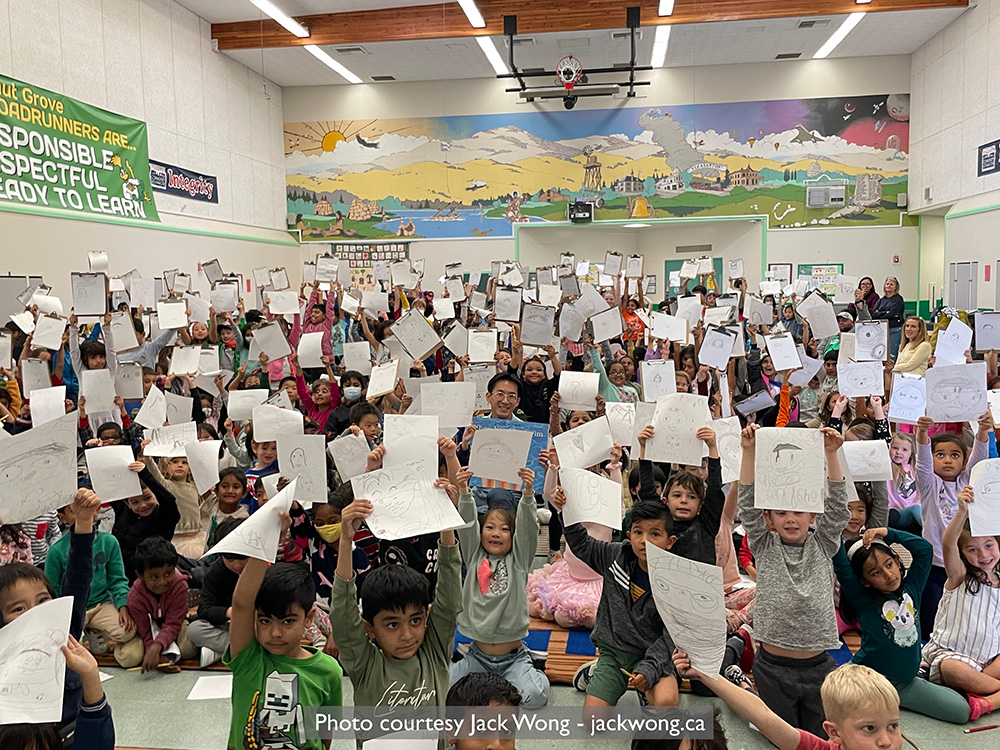 Another thing I'm excited about is IBBY Canada's Reading with Newcomer Children program. I began volunteering with this Toronto-based initiative when it went online-only during the pandemic lockdowns, but in-person readings are starting up again—and we're now trying to set up the program in Halifax where I live! I'm passionate about this program and very excited to see local immigrant and refugee children in Halifax get paired up with volunteer readers, to inspire their love of reading and support their journey in their new country.
---
Also see other Interviews with Book Creators and Advice For Young Writers And Illustrators.