Help an educator #ClearTheList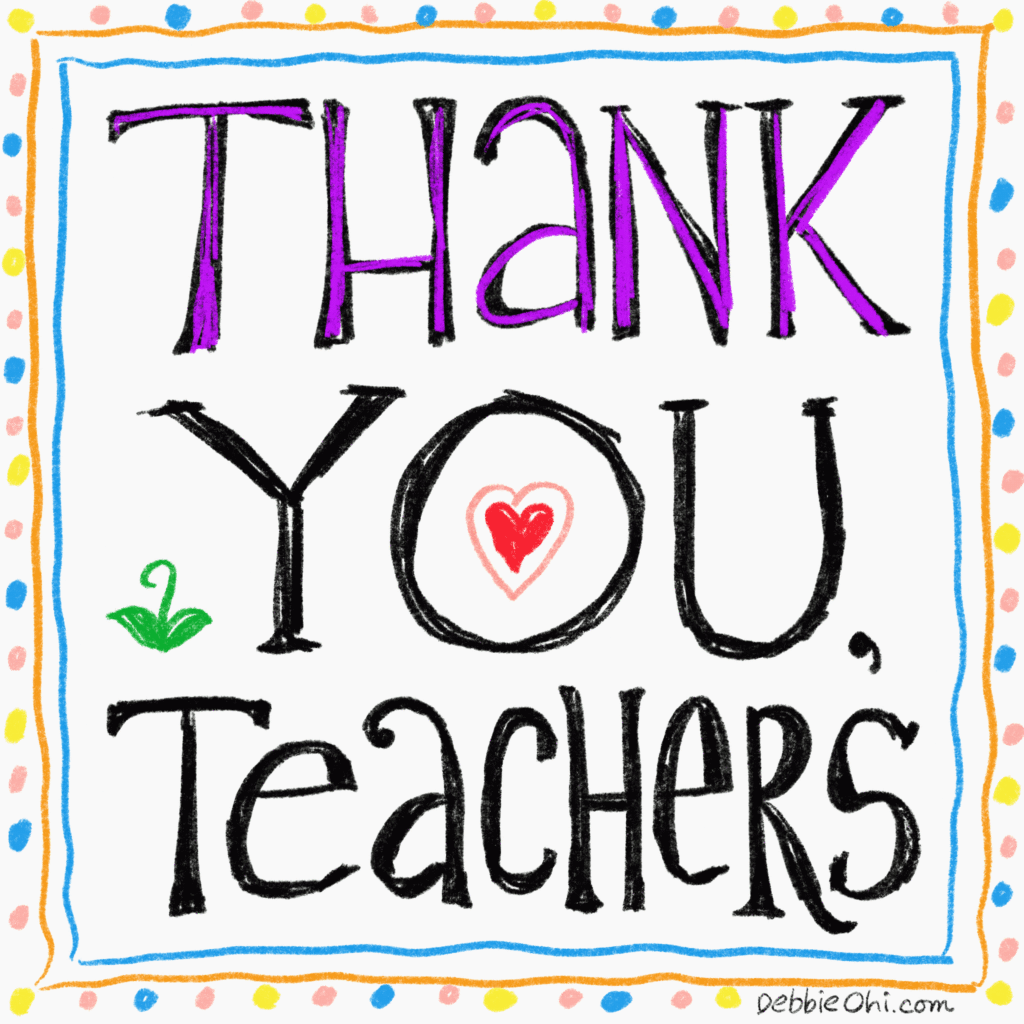 (Shortlink: https://debbieohi.link/ClearTheList)
UPDATED June 1st, 2023: I have a new Twitter thread for educators with crowd-funding projects.
Teachers spent an average of $750 out of their own pockets for classroom supplies during the 2020-2021, according to a survey by AdoptAClassroom.org. Many teachers started using the hashtag #clearthelist on social media in 2019 to help raise money for supplies. Here is a post by Tricia Goss with more info as well as how to get involved.
Today I posted a new thread on Twitter encouraging educators in all countries who use crowd-funding to reply with their location, grade level(s) and a link. I encourage you to browse! To book creators: one great way to connect with local educators might be to help them clear their list. If you can afford it, you can donate (instructions below) or you could also help them spread the word.
To educators who are asking me to RT their funding projects: I encourage you to add your info to the Twitter thread. Please understand that there are many (hundreds) of educators who have have asked me to spread the word about their projects, and this is the most efficient/effective way I can help, plus hopefully get the most people looking at your request. Be aware that many (most, from what I can tell) book creators are earning less from their books because of the pandemic, so make sure you have options of lower-priced items on your list. It would also help if you include your school district location as well as add a personal note about your situation. If you are employed full-time in a U.S. public or public charter school, you may also want to check out DonorsChoose.org. If anyone knows of an equivalent for Canada or other countries, please do let me know and I will add that resource here…thanks!
Here is the thread I started today:
I confess I always found it a bit confusing on exactly HOW to purchase an item for an educator, and was leery about privacy issues. Someone once explained ages ago but I had to refresh my memory. Thanks to Rebecca Flowers, Jess Sauer, and others for their advice!
Advice from Rebecca to educators about how to set up a wishlist so that their address is private: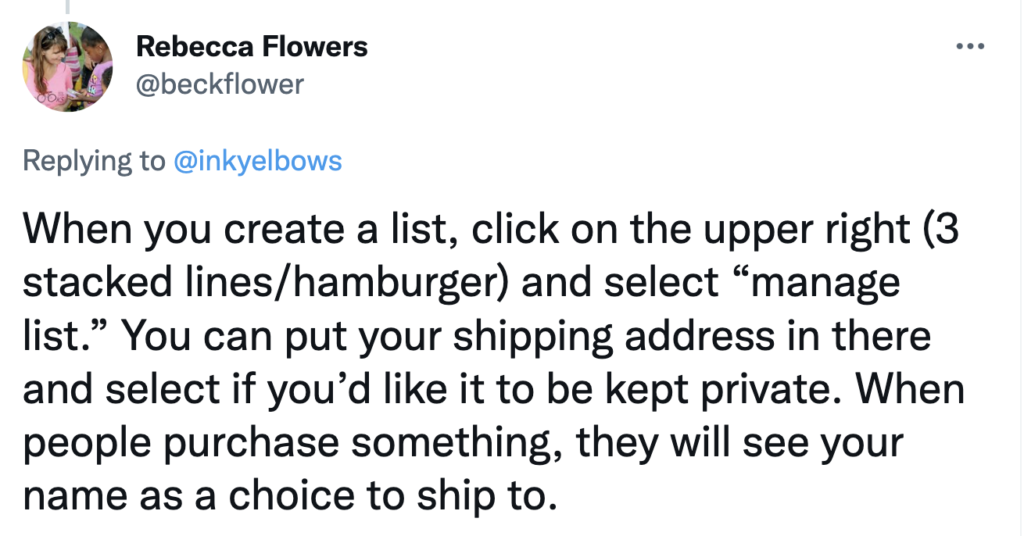 Advice from Jess Sauer about how to use an educator's wishlist: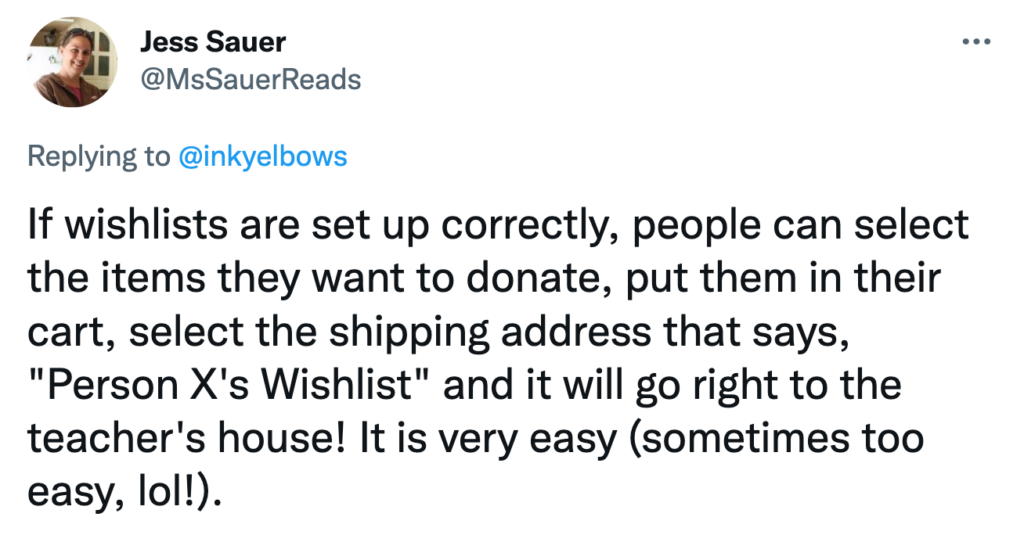 What I did: go through the list and found an educator who was in Canada (I live in Canada, and I've found that trying to help someone in the U.S. can be more complicated).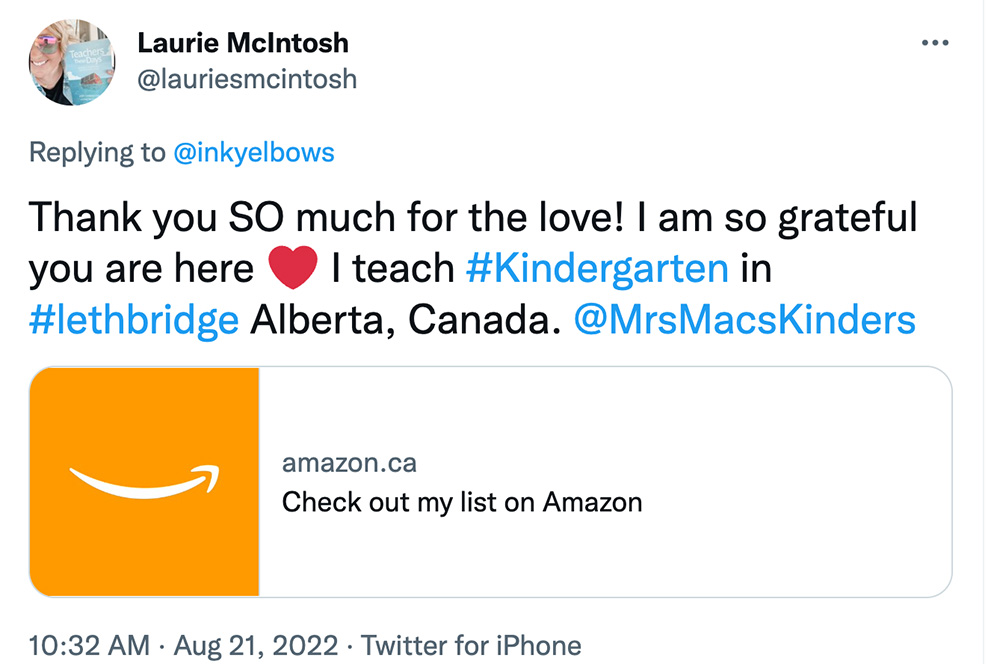 Then I followed Jess's advice, and everything went super-smoothly!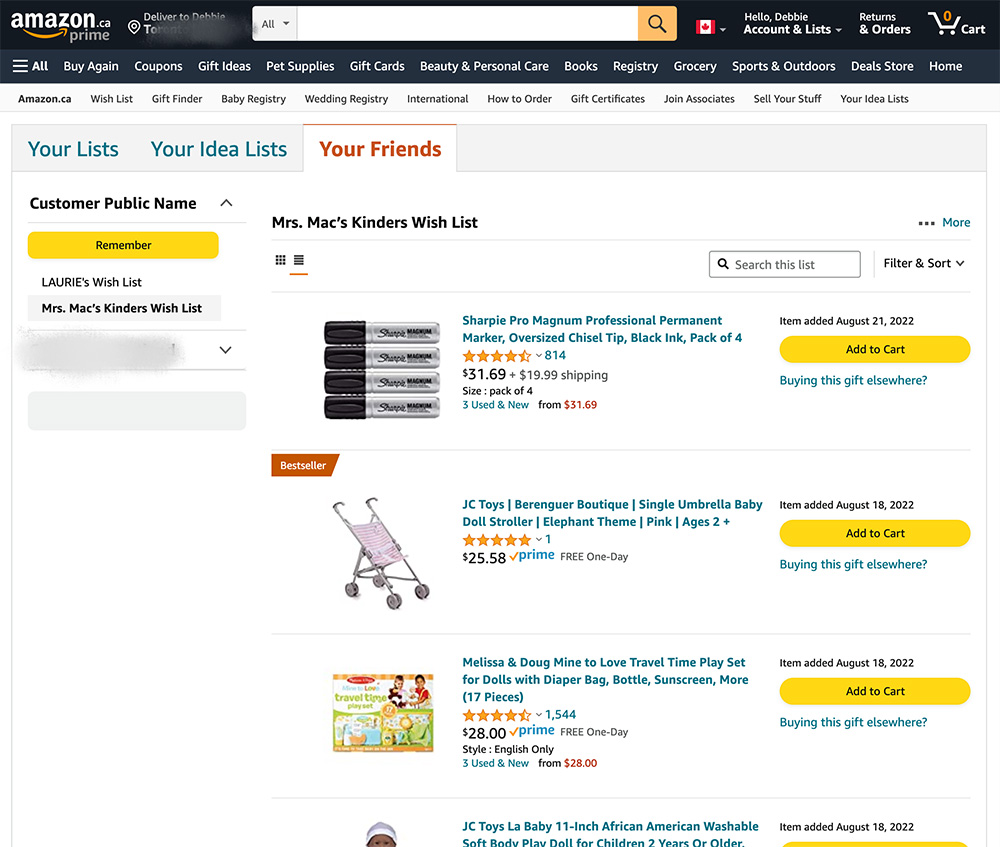 Next, find an item you want to donate.

Add it to your cart, and you should be given an option to have the item delivered directly to the educator without having to see their address (assuming they set up their wishlist this way):

I was able to select the educator's wishlist location without seeing their address, and was also able to include a short note.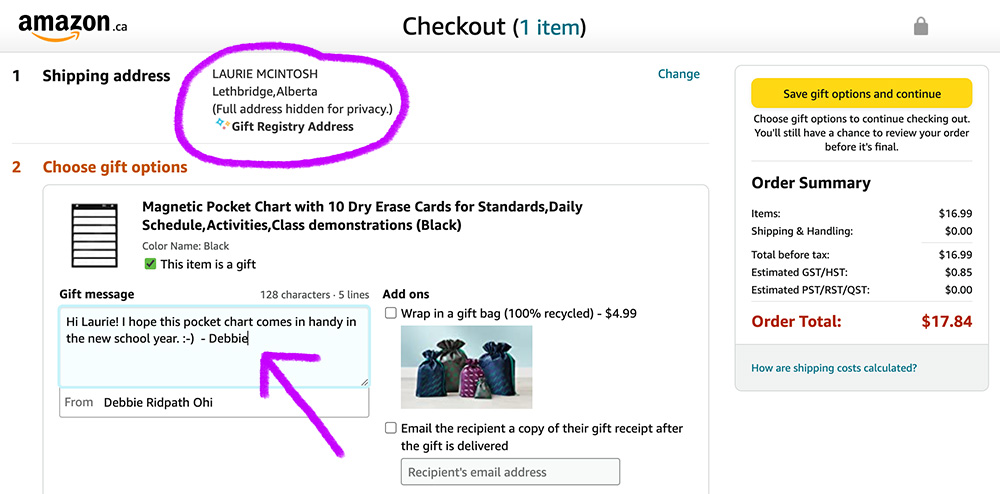 To educators setting up a wishlist: make sure you check whether your shipping address is private or not.
And again…I do encourage you all to pick one item from an educator's wishlist and donate, if you can afford it. Most of us have had challenges through the pandemic, but I especially feel for educators.