Advice For Young Writers, Quotes That Inspire, Why Picture Books Are Important, Advice For Young Writers – Three Questions With Author/Educator Frank Murphy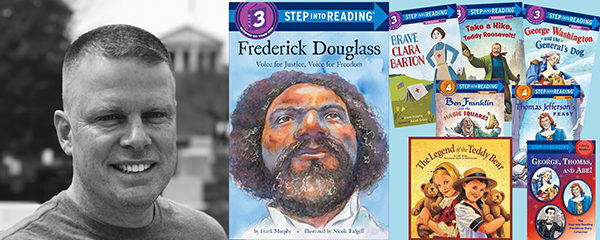 Frank Murphy is a teacher who writes and a writer who teaches. He spends most days at Holland Elementary School in Bucks County, Pennsylvania teaching 6th graders. I first came across Frank via Twitter, when I was impressed by his positive energy and joyous enthusiasm for teaching and children's books. You can find out more about Frank and his work at FrankMurphyBooks.com, Instagram and Twitter.
Upcoming Books:
A Boy Like You (Sleeping Bear Press, July 2019): Written by Frank Murphy, illustrated by Kayla Harren.
Frederick Douglass: Voice For Justice, Voice For Freedom (Random House, December 2019): Written by Frank Murphy, illustrated by Nicole Tadgell.
Q. Could you please take a photo of something in your office and tell us the story behind it?
I do most of my writing on a Chromebook in a little study I have that doubles as a sunroom – my dog, Jumper, usually sits with me! Right above the sliding glass door, I have a piece of wire art (that I had made by a street artist in SoHo, New York City).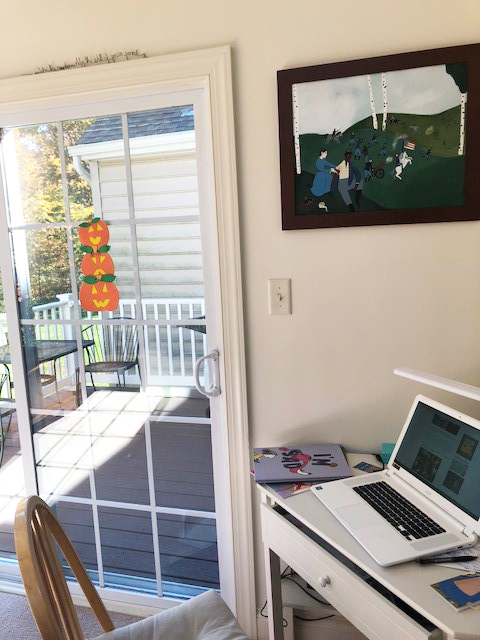 They are my favorite words written by Frederick Douglass, from his description of how he felt when he stepped onto free soil for the first time in New York City: "…after reaching New York, I said: 'I felt as one might feel upon escape from a den of hungry lions.' Anguish and grief, like darkness and rain, may be depicted; but gladness and joy, like the rainbow, defy the skill of pen or pencil."

For me, these words inspire me to write words and sentences and stories that people will stop and feel and remember – like they do when they see a rainbow; I want to string together words that "defy the skill of pen or pencil". I will never be the writer that Frederick Douglass was – but chasing that standard will only make me grow!
Q. What advice do you have for young writers?
I have much advice, being a teacher who writes for young readers and a writer who teaches young writers. But first on that list is to never stop reading picture books. In my opinion, all picture books should be for ages 0 – 99 (and beyond!!!). Picture books allow us, as writers, to study writing, the craft of writing at an essential level. Oh, and the beautiful messages; picture books are an invitation for somebody to be closer to you! Picture books can give young (and all) readers perspectives they may never had known. I think that picture books are the best medicine for helping to heal our world right now!
Q. What are you excited about right now?
I am most excited for my next two books to be released. A Boy Like You (Sleeping Bear Press, July 2019), illustrated by Kayla Harren, is my humble attempt at speaking to the young boys and young men in our world. It is filled with messages that suggest how to act and think and love.
Messages like the fact that it's okay to cry and that they should listen to people's stories and to give their personal best in all that they do. Another message is that words matter. I'm hopeful that this small contribution can help, in some small way, help grow the next generations of boys to become humans who see everyone as equal. I don't think I'll ever write anything more important than this book!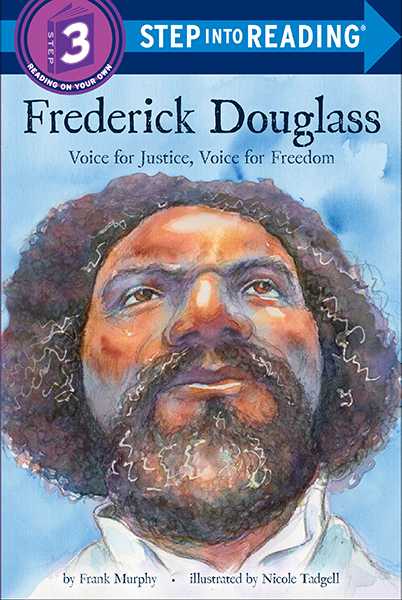 Then, my next book will be Frederick Douglass: Voice for Justice, Voice for Freedom (Random House, December 2019), illustrated by Nicole Tadgell. Frederick Douglass is my all-time favorite American hero! I discovered a little known story about him and it grew into much more, revealing the history behind the beginnings of Black History Month and its connection to Valentine's Day.
---
For more insights from book creators, see my Inkygirl Interview Archives and Advice For Young Writers And Illustrators From Book Creators.