Oculus Quest 2 (now Meta Quest 2) Apps For Artists Getting Started In VR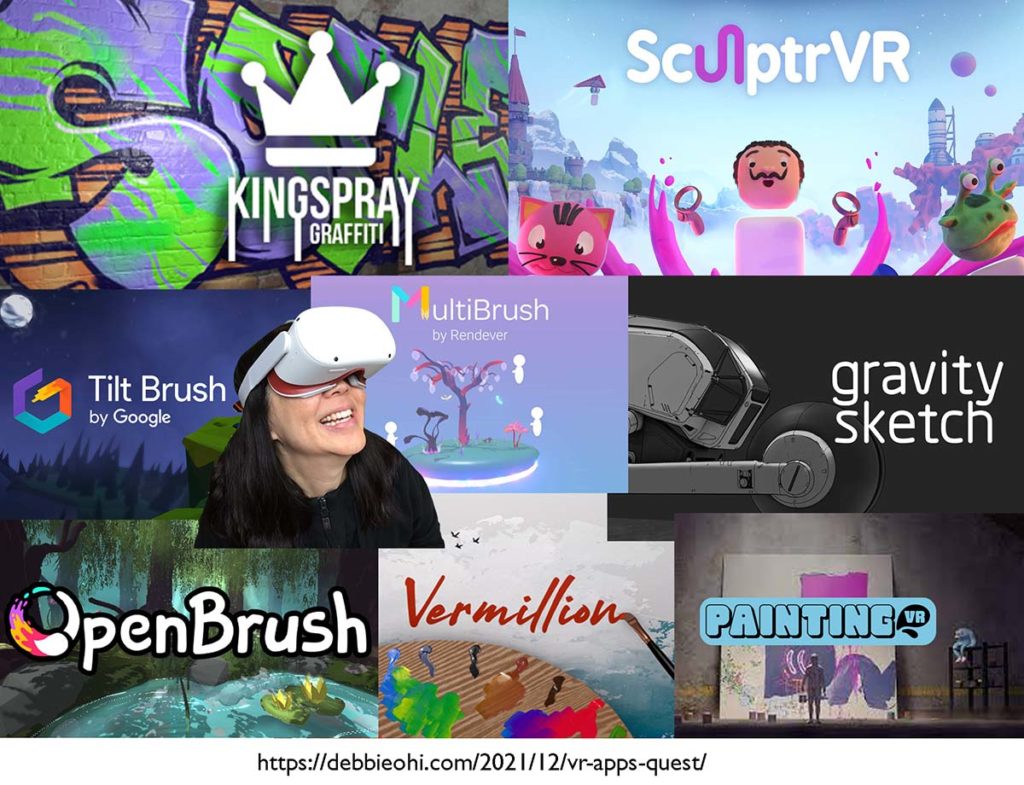 Also see my VR Art Page for info about why and how I'm using VR art to help me plan my picture book illustrations.
Since my husband gave me an Oculus Quest 2 headset for Christmas in 2021, I've been embracing the world of virtual reality. I first became interested when a friend of ours let me try his Oculus Rift years ago, and I was blown away by how FUN it was to create art in VR. Later in the year, I also found how useful it was to use VR art apps to help me figure out layouts for my picture book illustration. In I'M SORRY, for example, I created a tree and treehouse in VR as rough reference to help me figure out perspective lines and camera angles.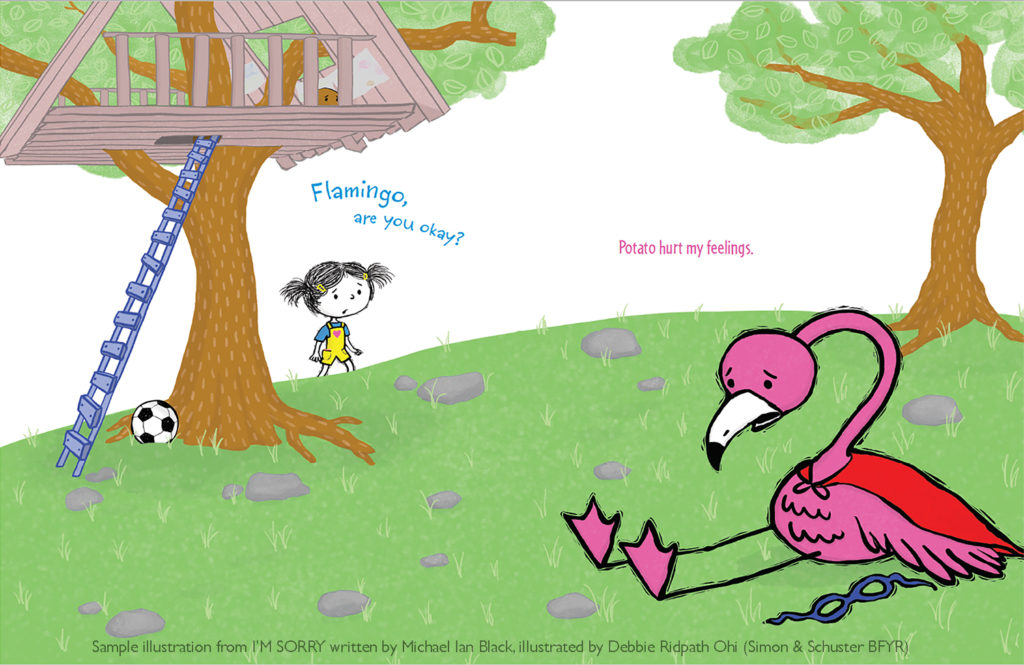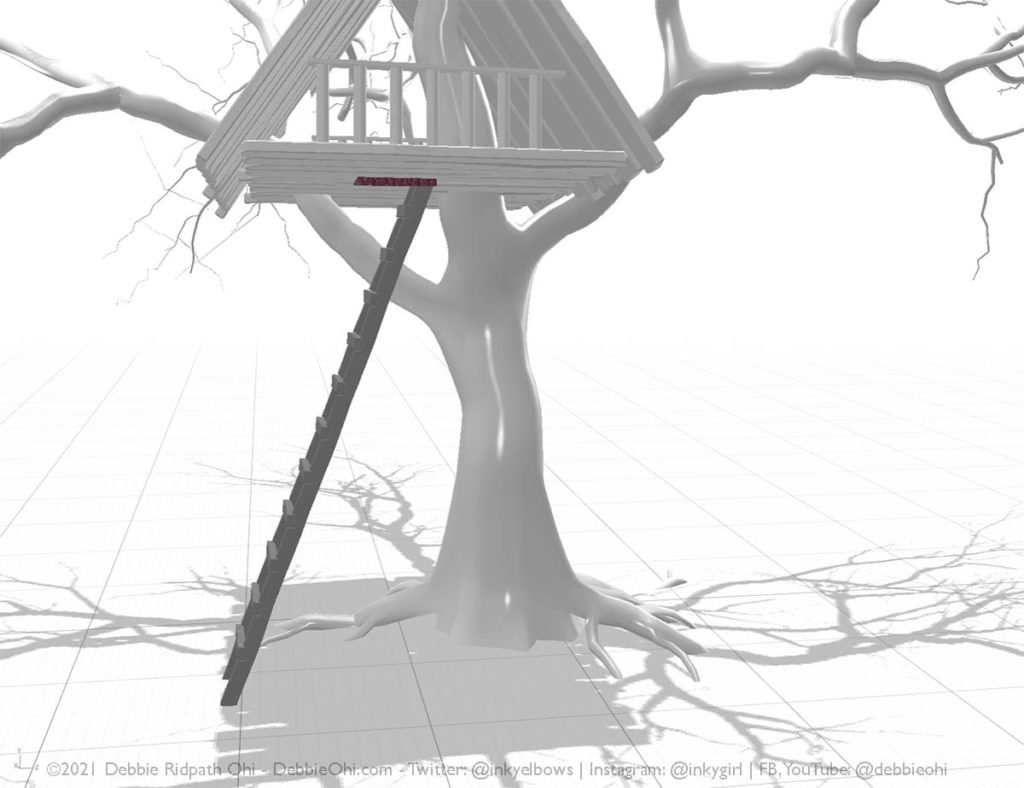 I'll post more about this process in a future blog post. You'll notice I have a new category in my website blog: VR and AR (virtual reality and augmented reality).
Because I've had so many inquiries from those who have recently acquired Quest 2 headsets or who have gifted Quest 2 headsets, however, in this post I'd like to list some of the creative art apps I've been using. Before purchasing, please do read the descriptions and tech requirements thoroughly. I'm more familiar with some than others. There are MANY art apps for the Quest 2 right now, but for this post I'm sticking with apps that are more intuitive (easier to learn for beginners), that have good user documentation online OR that have such enthusiastic communities that it's easy to find user-created how-to tutorials. If you're at all interested in creating art in VR, I highly recommend joining the VRArtLive community and signing up for the 2022 VRArtLive creative challenge. I'm an active member of the VRArtLive Discord community; everyone there is super-supportive and friendly, and it's the perfect place to ask questions.
KINGSPRAY GRAFFITI is my recommendation for those who are just getting started in VR. Reason: you're creating art on a flat surface, so the experience is more like real-life drawing. Basics are relatively easy to learn compared to some other art apps – you pick an environment (train yard, alleyway, rooftop etc) and start painting. You can adjust your spray can nozzle type as well as colour, plus there are in-game customizations possible. Beardo Benjo has a video walk-through showing the process. There's also a multi-player version where you an create art with friends – I haven't had a chance to try this out yet.
SculptrVR is a popular multiplayer app enables users to not only create their own worlds, but also makes it possible to explore them with friends. I only recently purchased this app so haven't had much time to use it; I'll post more about SculptVR when I haven. I confess I dismissed it because of the blocky-looking graphics, but I'm intrigued by the enthusiasm of the SculptrVR community aspect. There is plenty of user tutorials and documentation online; see SculptrVR – Getting Started for a jumping off point.
Tilt Brush is the first VR art app I purchased when I received my Quest 2, after trying it in my friend's Oculus Rift headset. You can see a great tutorial series (from 2019) by The Sabby Life that helps explain how to use Tilt Brush.

Before you purchase this app, however, be aware that Google no longer supports this app. Happily, however, Google made the app code available to its users via GitHub, and users have created apps that are very much like Tilt Brush. All are App Lab versions, however, which means that the apps have not yet gone through the official curation process and may be a bit glitchy or missing some features. My faves of these are Open Brush and Multi Brush.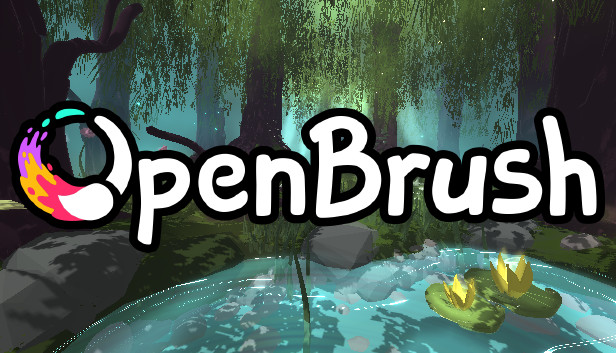 MultiBrush has multiplayer capability – I've already had fun getting together with friends in Multi Brush; we chat by voice as we create art in VR. Multi Brush is being developed by Rendever, the same company that released AlcoveVR, an app geared toward seniors and their families.
Gravity Sketch is one of my favourite VR art apps right now, and one of my goals for 2022 is to learn to use the app more effectively so I can more easily create 3D objects and scenes that I can use as reference in my picture book illustration layouts. I love that there's a built-in tutorial where I can watch/review short videos explaining different features while I'm trying out stuff right beside the video window, and can pause and rewind if needed. You can see Gravity Sketch's Beginner Tutorial series on YouTube as well.
Painting VR apps still in beta…
I've also been having fun with beta versions of two Quest apps that mimic the experience of painting with oils and other media: Painting VR and Vermillion. Both are still being developed and improved, so I'll hold off posting more details until more up-to-date versions are available.
Painting VR is currently available as an App Lab version in the Quest store, and hopefully they'll be posting more info in their website soon (which is desperate need of updating at the time of this post, since the announcement on the front refers to a summer 2021 update!). Not much user documentation available yet. What I love the most about this app: the tactile feedback (slap of the brush on the canvas, sounds) and graphics (seeing the brush bristles bend). I really do feel like I'm in a studio doing painting, without the mess! Also, my real-life basement studio has very little air circulation, so using real-life oils are out of the question. Painting VR also offers spray paints and markers, among other types of media.
Vermillion has been around longer and is therefore more polished, but has been available only via PC VR on Steam up to now. An Oculus version is supposed to released early 2022. I've been trying out the beta version for the Quest and am super-impressed! What I love most: the easy un-do, layers (HURRAY), intuitive user interface, wide range of brushes (including palette knife and fan brush).
I'll be covering some of these apps in more detail in a future post, plus will also be covering some of the other creative apps for the Quest. Meanwhile, though, do you have any other art or creative apps you enjoy with your Quest? Feel free to post below! Also let me know if there are any specific VR-related topics you'd like me to cover.