Free, Print-Ready "Gift Of Time" Certificate
Trying to think of a good holiday gift for a writer, illustrator or creative educator? Consider giving them TIME.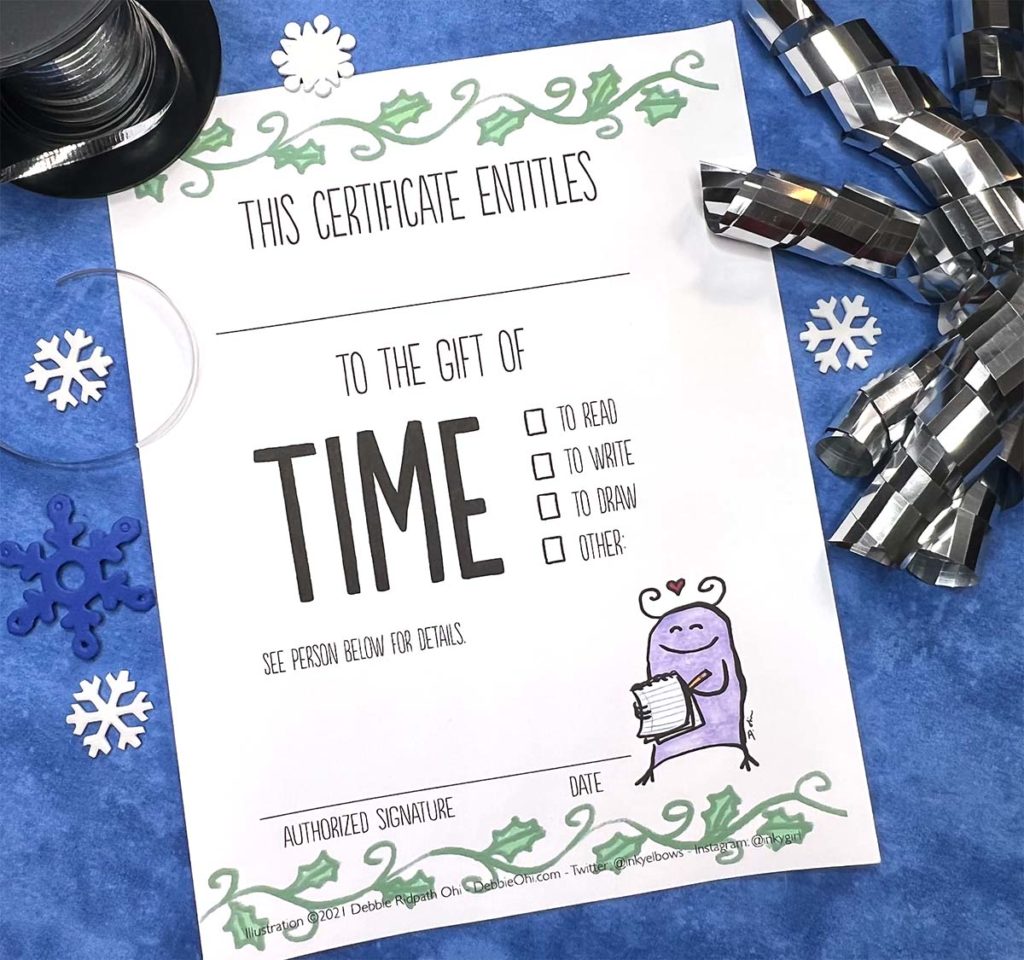 Download/print out this certificate, fill out the recipient's name, and choose one or more of the options.
Suggestions for how you can help give your friend more time:
Depending on your relationship with the recipient, you could offer to help run errands, do babysitting, grocery shopping etc. Set a time limit ("for a week") or number of times.
If in-person help isn't feasible because of pandemic restrictions/concerns and you want to gift to be used sooner than later, consider offering to do grocery shopping and leaving groceries outside their door at an agreed time, or adding a gift certificate for a shopping/meal prep or delivery service, or adding a gift certificate for a local business or restaurant you know your friend would enjoy supporting.
Combine this certificate with a book or indie bookstore gift certificate. If you opt for the latter, they can choose their own book, plus this helps support their local indie bookstore – look this up via Indiebound, BookShop.org (US) or the CIBA website.
Combine this certificate with some nice tea and/or self-pamper treats.
Suggestions for how to present this gift:
Slip the certificate into a white envelope (folded if necessary) and then decorate the envelope with holiday stickers, art, sparkles, etc.
Roll up the certificate and tie a color ribbon around it. Present it as is, or wrapped in gold tissue paper.
Send by email along with a personal note.
Do you have any other suggestions about how to help creatives find more TIME, especially during the pandemic? Please post your comment below.