NaNoWriMo Begins! (and why I am a NaNoWriMo Rebel this year)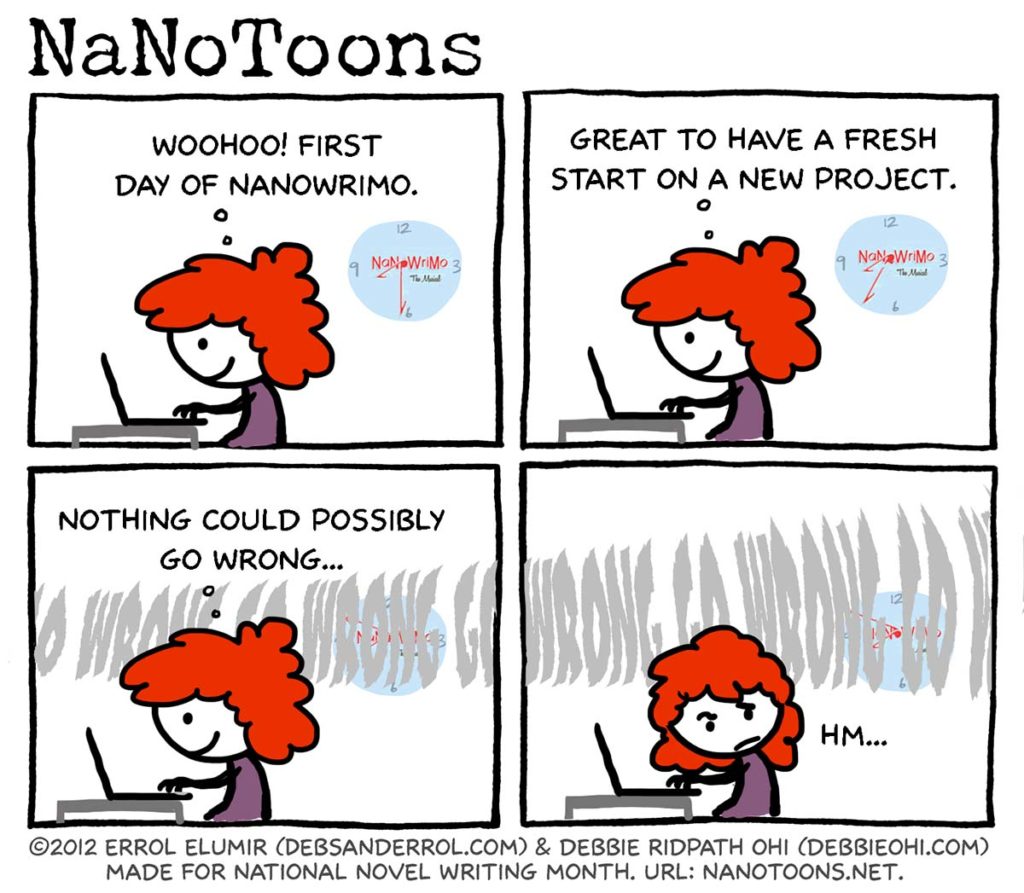 NaNoWriMo begins today! For those who don't know, the full name of this annual event is called National Novel Writing Month. There are many variations possible for those who want to use this community writing challenge in other ways (I'll be talking more about this later in this post), but the core focus is writing 50,000 words in 30 days. That's 1,667 words a day for the entire month of November. You can find the basic info about how to get started, who can participated, more about the organization etc in All About NaNoWriMo on their website.
NaNoWriMo purists should probably STOP reading at this point. 🙂
Why? Because I'm going to be a NaNoWriMo Rebel this year, using this challenge to write more in November than I usually do. I've participated in NaNoWriMo in previous years, "won" a couple of times (wrote 50,000 words) but I'm steering away from the "write 50k words or I lose" mentality because for me, that causes more stress than motivation. I'm going to only count the NEW words I write every day. Some people use NaNoWriMo for editing and revising, working on graphic novels and other types of projects. One of the things I love about NaNoWrimo is that you can use it however you'd like. If you're posting about it publicly, though, I encourage you to be upfront about it.
I've posted some related resources at the end of this pot, but those interested should also check out the NaNoWriMo Rebels forum on the official NaNoWrimo community page.
I'll be posting more NaNoWriMo comics and tips through November. My friend Errol Elumir and I used to do NaNoWriMo comics together; you can see some of the archives at NaNoToons.org (I eventually had to bow out so Errol took over solo for recent years). The clock in today's comic, for those curious, was inspired by NaNoMusical, a project that Errol helped spearhead via WeTangent. I was an extra in the first episode! You can watch it here:
How about the rest of you? Are you going to do NaNoWriMo "proper"? Or are you going to be a Rebel? Or are you one of those writers who doesn't enjoy these kind of challenges and never needs extra motivation? (Which I applaud you for, of course, but I gently ask that you be understanding of those who do get inspired by challenges like NaNo).
Related resources:
NaNoWriMo Rebels community forum
Ask A NaNoWriMo ML: What Is A NaNo Rebel? Are You One? by Hillary DePiano
How To Be A #NaNoWriMo Rebel – by Elizabeth S. Craig.
How To Be A NaNoWriMo Rebel – by K.W. Colyard on Bustle.com.
How I Became A NaNoWriMo Rebel – by Tim Pietz. Begins "#NaNoWriMo is over, and I did it all wrong." 🙂
How To Win NaNoWriMo: Be A Rebel – by Justin Cox (warning for those with little ones reading over their shoulders: strong language).