HOW TO CODE A SANDCASTLE by Josh Funk and Sara Palacios – Highly recommended!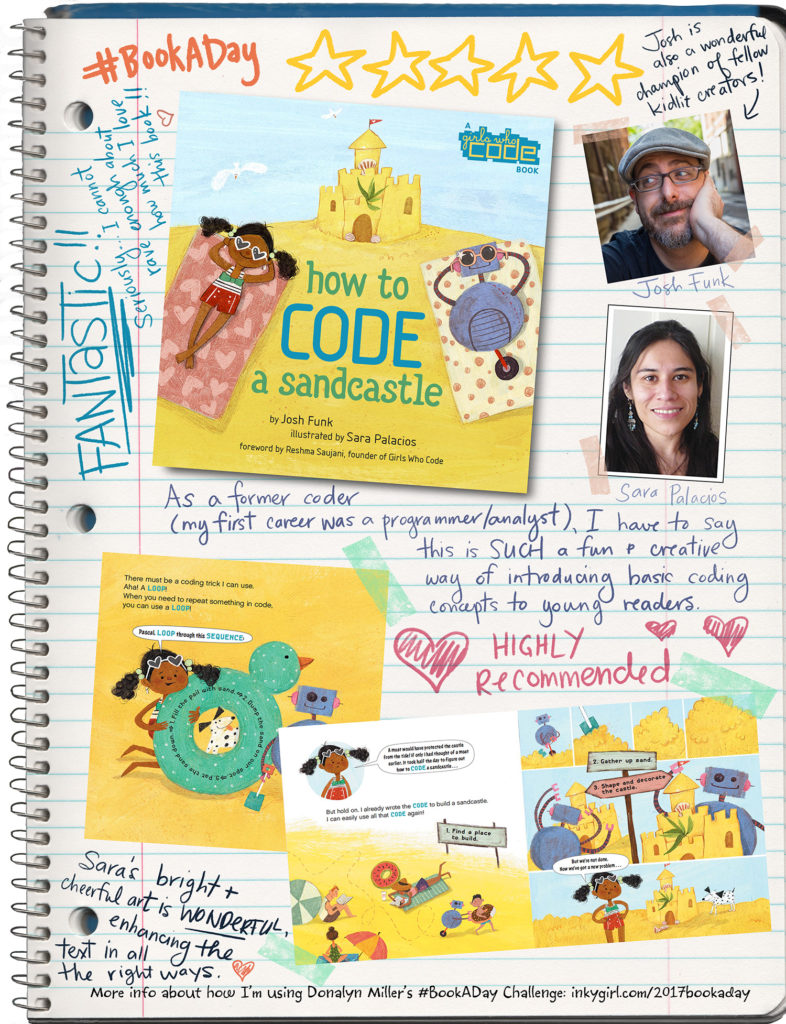 If you don't have time to read the rest of my post, that's fine. Here's a one sentence summary: I love everything about HOW TO CODE A SANDCASTLE by Josh Funk and Sara Palacios, and I can't wait until it launches from Viking Books For Young Readers and Girls Who Code on May 15, 2018!
Once upon a time, my full-time job was a computer programmer/analyst for a financial institution. My educational background is in computer science; I graduated with a B.Sc. from the University of Toronto, with majors in Computer Science and Psychology. One of my favourite courses at the U of T was a grad course in A.I. (Artificial Intelligence); in a different life, I think I might have pursued AI.
I was delighted (ok, I begged Josh) to have a sneek peek at HOW TO CODE A SANDCASTLE, written by Josh Funk and illustrated by Sara Palacios. LovelovedLOVED this picture book so much!
Not only does HOW TO CODE A SANDCASTLE do an excellent job at explaining basic coding concepts to kids, but it does so with a fun story with immensely engaging illustrations. Fabulous art design. So much to look at, so much to discuss….yet the story is simple and entertaining enough that it can also be just a great read-a-loud. SO MUCH TO LOVE.
I know I'm gushing, but I can't help it. I just love this book so much, and I'm also excited for the young readers who become interested in coding because of it.
One of the many details that helped me fall in love with this book: The robot's name is PASCAL, which was the first computer language I learned in university. 🙂
———————
More info: Donalyn Miller's Book-A-Day Challenge | Archives of my #BookADay posts.