Behind-the-scenes: How new picture book PIRASAURS! was created, with insights from author Josh Funk and illustrator Michael Slack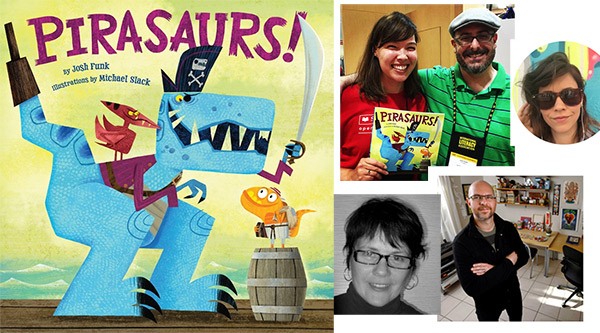 Back in May 2013, I posted an interview with Celia Lee, an editor at Cartwheel Books / Scholastic, and Celia invited Inkygirl readers to submit manuscripts for a limited time; apparently Celia received over a thousand submissions (!). A couple of years later, I met Josh Funk at nErDcampMI and found out that he had sold one of his picture book manuscripts to Celia as a result of my Inkygirl post, and it was being illustrated by Michael Slack.
I'm thrilled that PIRASAURS! is launching this week from Cartwheel/Scholastic. You can find out more about the book at the Scholastic page about the book, Josh Funk's Pirasaurs! page (where you can also find lesson ideas, reviews, links to other interviews and more), and the trailer below:
I asked Josh Funk how PIRASAURS! got created, and here's what he told me: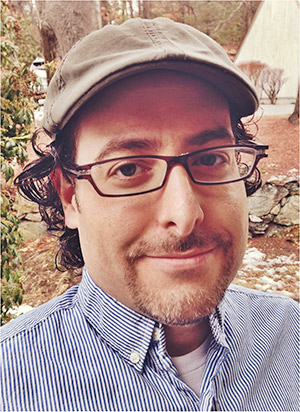 On February 27th, 2013 at 2:53 in the morning, I woke up. I don't remember what I was dreaming of. I don't remember what I watched on TV the night before or what I ate for dinner (or late night snack). I do know that I sent a text with a single word to myself:
pirasaurs
Ok, maybe that's not a word (yet). But it was a single string of letters. And I knew what to do with them.
Over the next two days, I furiously wrote a story featuring pirate-dinosaurs and a slew of other characters. It was my first time using internal rhyme (rhymes within a single line of text) and I had a blast with it. It turned out to be sort of a concept book. There were a bunch of crazy characters. The ending didn't really make all that much sense. But about 40 hours later, I had a full first draft that was ready to be sent to a critique group.
Here is the opening section of the 'Concept Book' version of Pira-Saurs!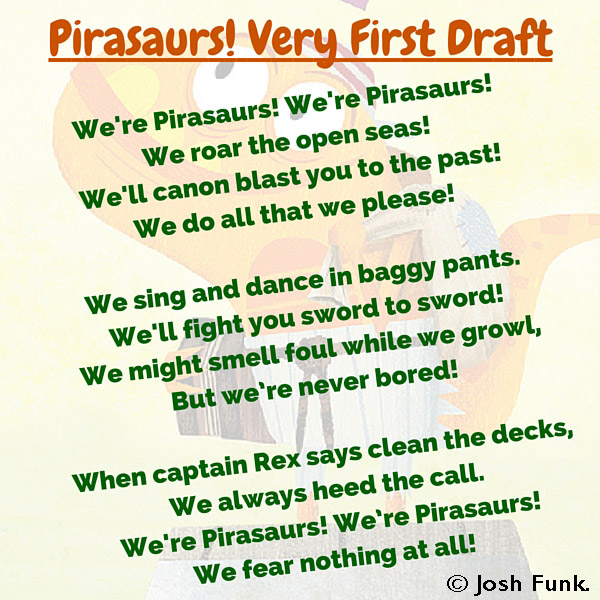 I brought the manuscript to my critique group twice over the next three months, and while much of the manuscript was tweaked, the opening Pira-Saurs! section stayed pretty much the same.
And then on May 20th, 2013, Debbie Ohi posted an interview with Celia Lee, editor at Cartwheel Books an imprint of Scholastic. Within a week, news had spread that a fancy Scholastic editor was accepting unsolicited submissions of picture books for ages 0-5. The funny thing was, Pira-Saurs! was the only manuscript I had that really fit the 0-5 age range. Most of the manuscripts I'd written fell more into the 5-8 area (although I personally believe that most of what I write is good for anyone between the ages of 0 and 92).
So, in late May, I sent Pira-Saurs! to the Scholastic offices in NYC via snail mail. I never sent Pira-Saurs! to anyone else. And then I went about my business, because at the time, I had no book deals, no agent, and really, I'd never received any positive feedback on anything I'd sent to an industry professional up to that point.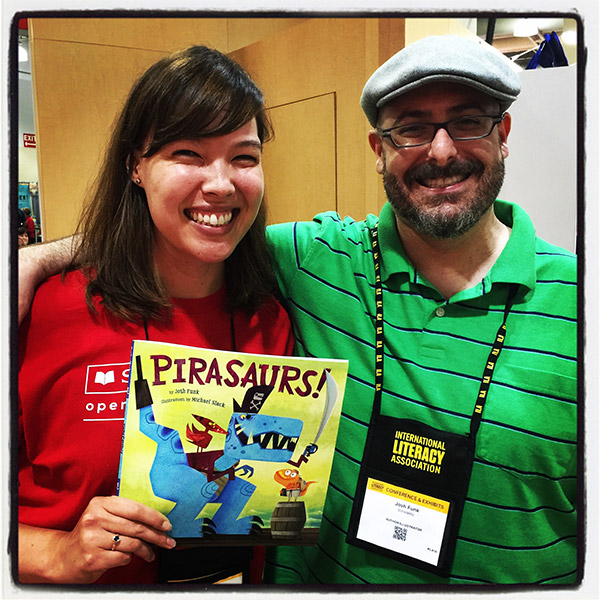 And then on July 9th, my phone buzzed. I'd received an email with the subject "Pira-Saurs! for Cartwheel Books" and everything slowed down. I was used to getting email rejections, so when I saw that it was a writing-related email, I instinctively thought, "oh, well, another no." But a few more synapses fired and I realized that I'd only sent Pira-Saurs! to one person, and it had been snail mail. And why would an editor bother sending an email rejection to a snail mail submission? That just wouldn't happen. Could this actually be good news?
Yes! Celia Lee had found the manuscript and liked it! It wasn't perfect (yet), but she wanted to work on it before bringing it to acquisitions. The next ten days were a flurry of emails and brainstorms and waking up in the middle of the night with new lines and rhymes. And on July 19th, Celia thought the manuscript was ready to bring to acquisitions. Hooray!
Or not hooray? On September 5th, Celia wrote back that Scholastic was going to pass on Pira-Saurs! … but, they editorial team liked my voice and writing style. Celia asked if I would write another story, this time featuring just Pirasaurs – and cut the rest of the slew of other characters. My answer was "Of course!
But all I had were those three stanzas. And I needed to create a whole story with a full plot and compelling characters. And as an unpublished, unagented writer, I felt I needed to strike quickly before Celia Lee forgot who I was. I frantically wrote a draft, shared it with a few critique partners: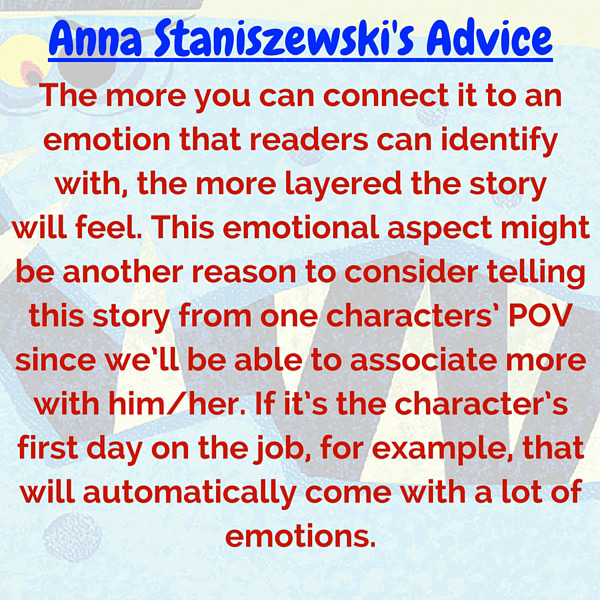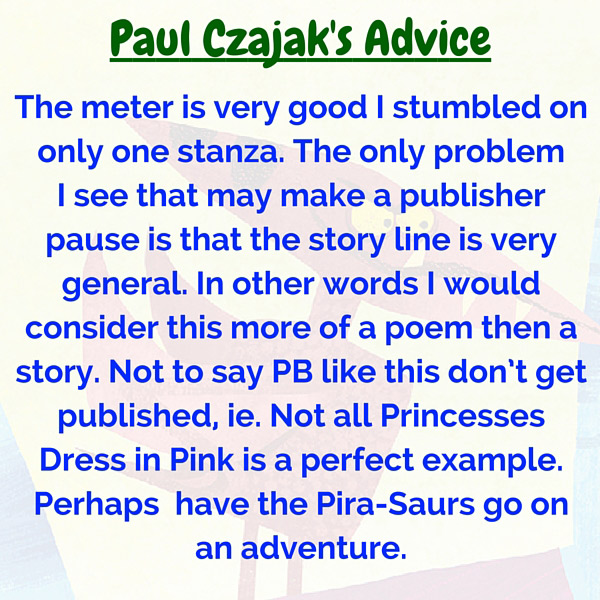 Thank you, Paul Czajak for suggesting I add an adventure and Anna Staniszewski for pushing that I add a little heart. Within a week of rejection, I had sent Celia a brand new completed manuscript. We revised it over the next few days, and on September 19th (which happens to be Talk Like a Pirate Day), I handed it off to Celia to take to acquisitions again. I didn't hear anything until a month and a half later, I received an offer on Lady Pancake & Sir French Toast and subsequently signed with an agent. At that point, Celia mentioned that the editorial director and art director were trying to set up a meeting to discuss potential illustrators before taking to acquisitions. I was told this was a good sign. And by late January of 2014, 8 months after Debbie's interview, Scholastic offered to acquire Pirasaurs! And pretty quickly they found the perfect illustrator… Michael Slack.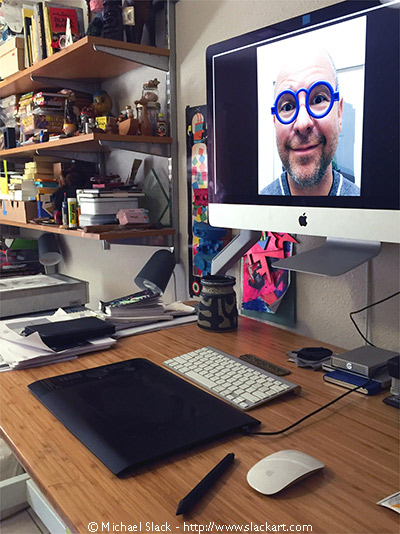 From Debbie:
Illustrator Michael Slack worked with art director Patti Ann Harris, editor Celia Lee and designer Jessica Tice-Gilbert for Pirasaurs!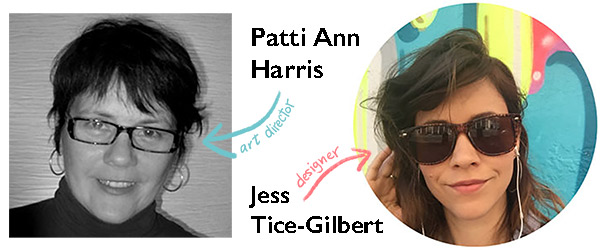 Michael says that he did a lot of sketches early on. "Pages and pages of dinosaurs, hats, swords, and cannons."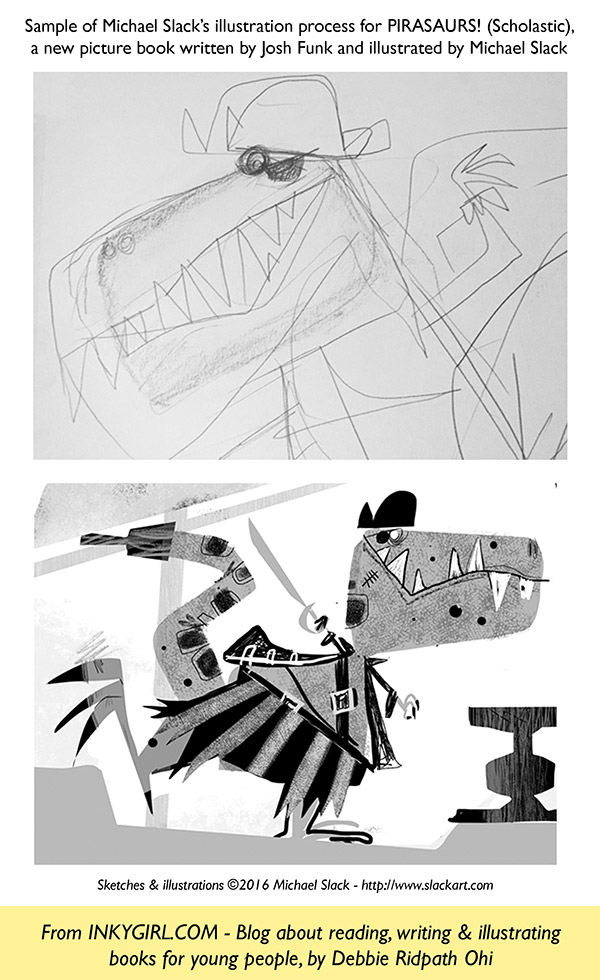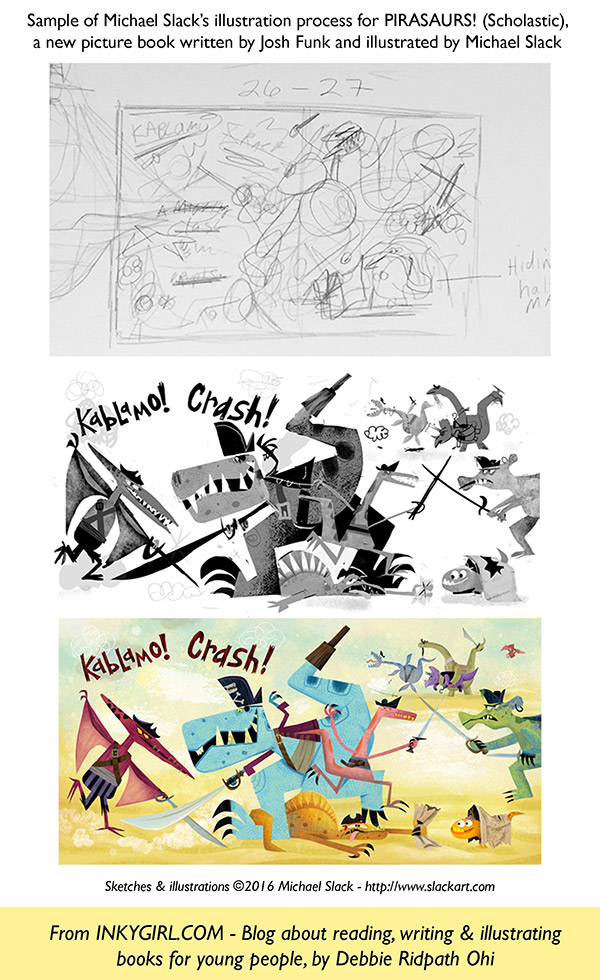 "Once I found the characters I did a few rounds of really loose thumbnails. After I had the story pacing in good shape, I switched from pencil and paper to digital to create the sketch dummy. Ultimately I ended up with three different versions of the dummy. The final illustrations were digitally painted in Photoshop."
Thanks to both Michael and Josh for sharing about the process of creating PIRASAURS!
You can find out more about PIRASAURS! at the Scholastic website.
More about Josh Funk and his work at JoshFunkBooks.com.
More about Michael Slack and his work at Slackart.com.