Gratitude: Lee Wardlaw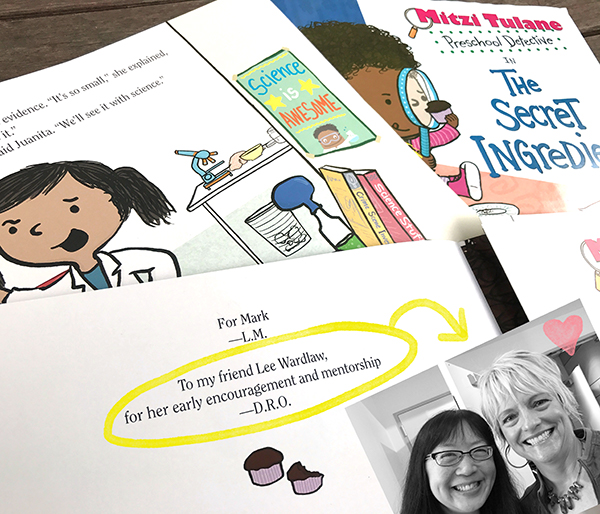 Lee Wardlaw was the very first children's book professional who ever showed an interest in me and my work. Lee's early encouragement meant SO much to me and she helped me get to the next stage in my career: Lee critiqued two of my middle grade novels and after she worked with me on my first novel mss, Lee introduced me to her agent at Curtis Brown, Ltd., Ginger Knowlton. Ginger is now my agent, too!
Lee was also the one who first told me about the SCBWI. She took me to my very first SCBWI conference, introduced me around. I enjoyed the conference a ton (and met author Bruce Balan there as well) but wasn't yet ready to take full advantage of everything it offered. Years passed before I smartened up and started going more regularly in 2009.
Lee was my first children's book mentor and continues to give me encouragement and advice. She is smart, funny, generous and explains things SO well. No wonder her school visits and Skypevisits are so popular! Lee was also the one who first introduced me to school Skypevisits, gave me tips.
Lee was my "Ask The Children's Book Author" columnist in Inklings, my email newsletter for writers back in the days I ran a website called Inkspot back then (anyone out there remember that site?).
Lee has won numerous prestigious awards, including the Lee Bennett Hopkins Children's Poetry Award and the Myra Cohn Livingston Poetry Award (both for Won Ton – A Cat Tale Told in Haiku). Her books have also been honored by the American Library Association, the International Reading Association, the Children's Book Council, the National Council of the Social Studies, the National Council of Teachers of English, Bank Street College of Education, the International School Librarians Association, and more.
THANK YOU, LEE!!!
You can find out more about Lee and her work at her website, on Facebook and on Twitter. Also do check out her Paws To Read website (and yes, that's my illustration, featuring characters from Lee's fun HAIKU books illustrated by Eugene Yelchin :-))