Inkygirl Profile: Meet Hannah Gavalis, Third-Generation Librarian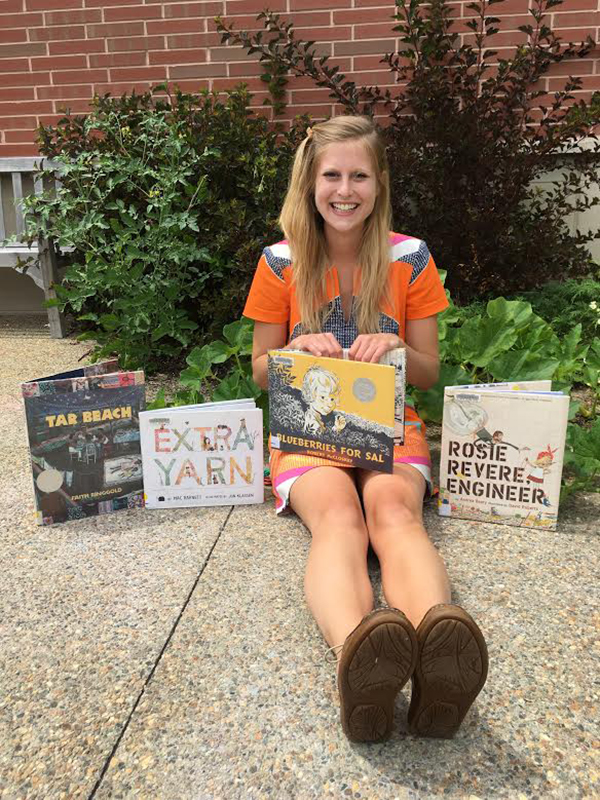 Earlier this week, I was so tickled to see this tweet: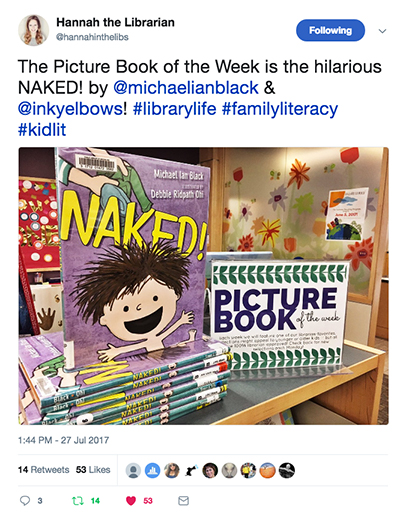 And then I also noticed that Hannah happened to be my 35,000th follower! I asked Hannah to tell me more about herself and her role at the library.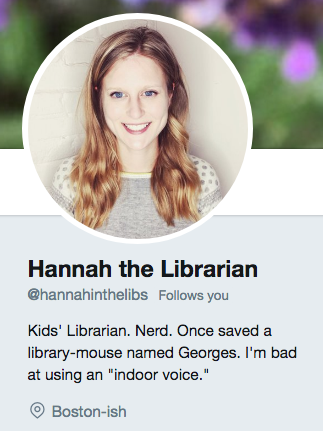 "My name is Hannah Gavalis and I'm a third generation librarian! My mom is a retired children's librarian and my grandmother was a high school librarian (who professionally 'shh'ed more than one of my dad's brothers when they were in school – possibly even my dad but this remains unconfirmed. If they were as loud or as chatty as I was in high school, no doubt they deserved it.)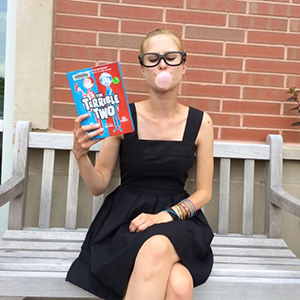 I've been working in libraries since I was 14 (coming up on my 15th anniversary in December!) At this point I've worked in most types of libraries. As a teenager I worked as the page/intern for my mom and her amazing job share partner in their children's department – I learned that when you work for your mom, they will have you clean out the library attic but they will also gave you amazing opportunities to work in library circulation, summer programming, and the best education in readers' advisory you can get. I went to Wheaton College (MA) and worked part time at the library information desk for three years where I learned to unjam any printer or copier under the sun.
During this time I worked two summers as a library intern at the Thoreau Institute's library which gave me the wonderful opportunity has an undergrad to work in an archive and become acutely aware that spending large amounts of time working in the quiet is not a good fit for me. After that, I went Catholic University in DC to earn my MLIS, where I had the amazing good fortune to work in the Local History and Genealogy Reading Room and Main Reading Room of the Library of Congress for a semester before I moved back north to the Boston area after graduation. I decided that following in my mom's footsteps (although I always swore I never would, a similar promise she broke to her mom when she became a librarian) and have been one of two children's librarians in Westwood, MA since 2012.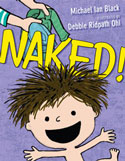 Which brings me to Naked!, a fabulous storytime read-aloud that was suggested to me by my one and only mom when she first read it in 2014. Now we are a proud family of women who are known for yelling, 'Eating another cookie mostly naked but also caped!' over enthusiastically to storytime crowds of all ages, or simply while running after my preschool aged niece and her toddler brother when they decide to make a dash for it while in the buff. Honestly, the tip of Naked! as a storytime read is one of the best she's ever given me because besides being incredibly fun to read aloud, the kids' big goofy grins and belly laughs all throughout the story really cannot be beat."
Q. What are three books you are currently reading?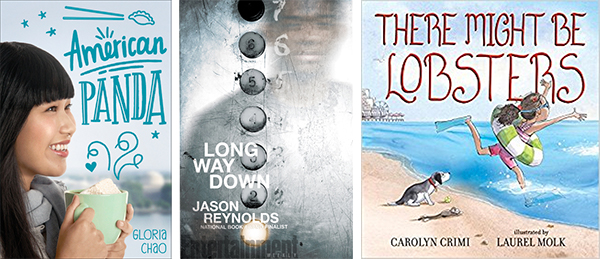 American Panda by Gloria Chao Long
Long Way Down by Jason Reynolds
There Might Be Lobsters by Carolyn Crimi
Thanks to Hannah for being my 35,000th follower! I asked Hannah to choose from any of my books for a signed copy. Here's what I'm sending her: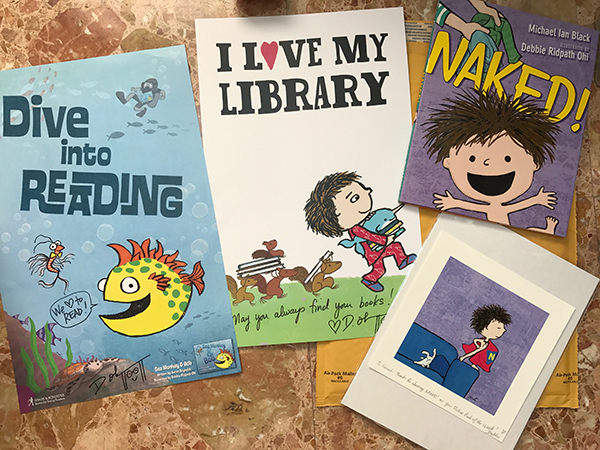 You can find Hannah on Twitter at @hannainthelibs.
---
For more insights from book creators, see my Inkygirl Interview Archives and Advice For Young Writers And Illustrators From Book Creators.