Giveaway: Win this Peppermint Fish Found Object original doodle by yours truly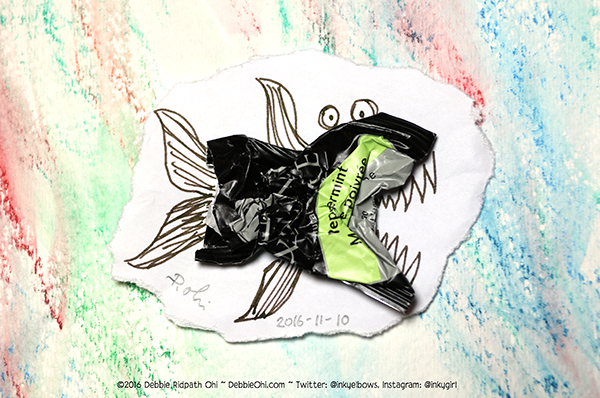 To help encourage people to sign up for my email newsletter (in which I share art, writing & interesting links – you can unsubscribe anytime) and also to expand my Rafflecopter giveaways outside of Facebook, I'm doing a giveaway of my Peppermint Tea Fish found object doodle. This one-of-a-kind found object doodle on a background I created myself (with Derwent Inktense water-soluble paint blocks) will be sent in a secure cello-envelope with cardboard backing. If you'd like it sent as a gift (I'm happy to mail it anywhere in the world), I can include a gift card message from you.
Click the link below for a chance to win this original art:
Peppermint Fish Found Object Doodle Giveaway
Not sure why the Rafflecopter widget won't embed in the space above, so I've just included the link and sent a message to Squarespace support. Maybe Javascript embeds aren't allowed? Anyway, clicking the link above will take you to the Rafflecopter page for my giveaway.
The contest will be open until 11:59 pm on Sun. Dec. 11, 2016 and a randomly selected winner will be announced on Monday, December 12th, 2016. Click here for official contest rules.