THE SECRET LIFE OF LINCOLN JONES by Wendelin Van Draanen (Knopf)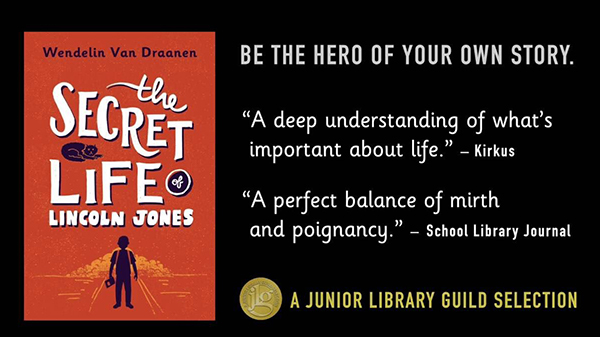 I recently read THE SECRET LIFE OF LINCOLN JONES by Wendelin Van Draanen, which launches today from Knopf Books For Young Readers. Thoroughly enjoyed it. The narrator is 11-year-old Lincoln, who keeps secrets in his notebook. His voice is fresh, funny and I love how he sees the world.
One of his secrets: In the afternoons, Lincoln hangs out at Brookside, a home for people with memory loss and dementia where his mother works. Something else I loved about this story: how Lincoln's observations about his mom and "the crazies" (residents of the home) gradually changes as his understanding deepens.
Unlike many books whose characters include those with dementia, THE SECRET LIFE OF LINCOLN JONES isn't about a beloved relative of the main character who has dementia. Nothing wrong with that approach, of course, but sometimes it can make a book too sad/heavy for some young (and not-so-young) readers. THE SECRET LIFE OF LINCOLN JONES, on the other hand, is laugh-aloud funny in many bits and is much more about family, friendships and coming-of-age.
It is SO well-written. Love the language. Love how Lincoln's quirky observations about the people around him are often infused with both humor and compassion.
This would be a great book for any young person who has relatives starting to experience dementia, but who doesn't want a heavy and potentially depressing story. The focus is on the characters and story, NOT the issue of dementia, and especially about Lincoln's coming-of-age.
SO many wonderful, moving moments.
– Like when Lincoln realizes that every person at Brookside had his or her own story, a life before they developed dementia.
– Like when Lincoln realizes how hard his Mom is working for him, and the challenges that she is facing. "More than any of the heroes in my stories, more than any other person I'd ever known, Ma was brave. Truly brave." Which makes him understand that he can be brave, too.
THE SECRET LIFE OF LINCOLN JONES launches today, and I highly recommend it.
More info about the book on RandomHouse.com.
More about author Wendelin Van Draanen.