Nerds, Books, Education & Literacy: nErDcamp recap posts #nerdcampmi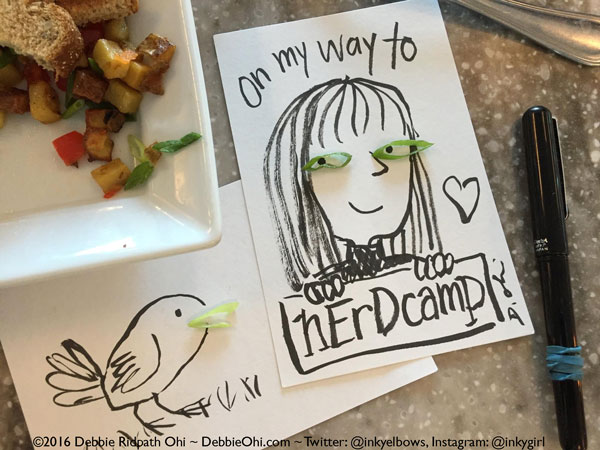 I had a fabulous time at nErDcamp. What a wonderful community! As author Ruth Spiro said, sometimes making a new friend is like meeting an old friend. Like many other authors attending, I am paying my own way.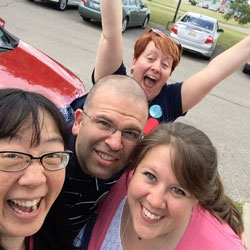 Thank you SO much to Colby and Alaina Sharp and the rest of the Nerdy team for all their hard work, as well as Nerdcamp sponsors. I'm especially grateful to Suzanne Stuart Gibbs, who helped me get the Mitzi Tulane keepsakes organized for the Nerdy Dinner, and Leah Calloway Whitford and her son Jack for their help with my Nerd Camp Jr sessions. I also so appreciate the car rides between the airport, hotel, Nerd Camp and other venues: fervent thanks to Lesley Burnap, Jess Keating and her husband Justin (aka "The Nerdy Photographer") and Ruth Spiro.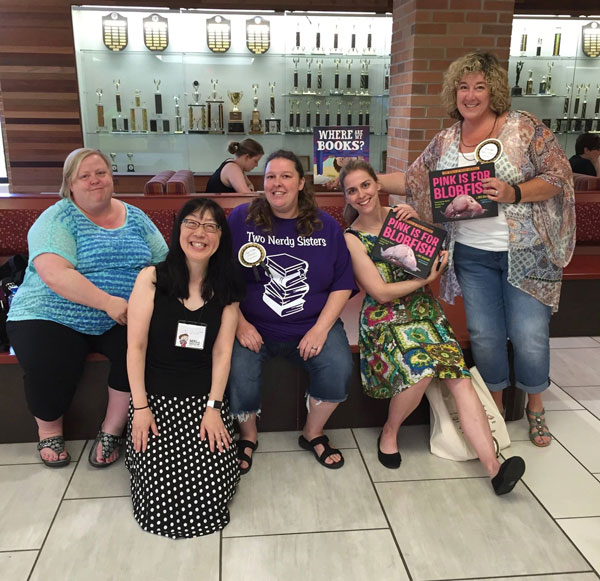 I've posted my 2016 nErDcamp photos on Facebook, and you can also browse the official Nerd Camp photos from Justin, the Nerdy Photographer (a.k.a. "Mr. Jess Keating").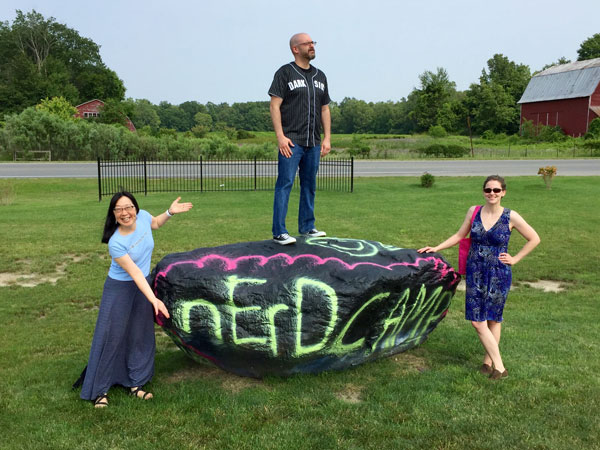 If you're not already, do follow The Nerdy Book Club blog as well as well their Facebook page and Twitter acct for year-round inspiring posts about kidlit/YA. For info about nErDcamp, see this page as their FB page and Twitter account. A note to those who have been admiring the nErDcamp logo: the artist is Laurie Keller, a wonderful Michigan author-illustrator.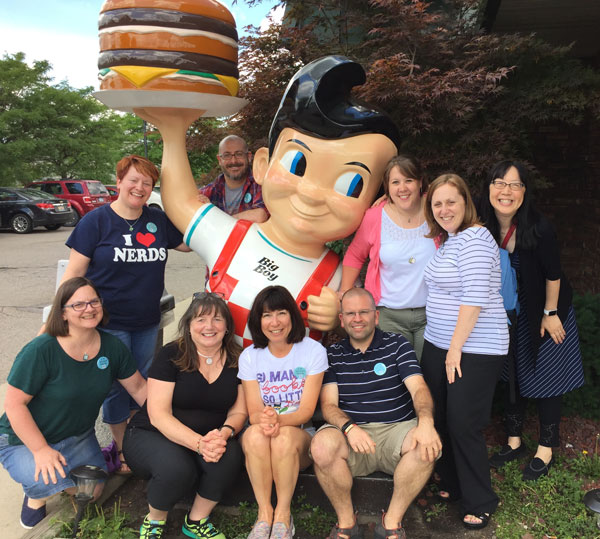 In celebration of the launch of MITZI TULANE PRESCHOOL DETECTIVE in WHAT'S THAT SMELL? (author: Lauren McLaughlin, published by Random House Children) during nErDcamp and in thanks for all nErDcamp does, I hand-painted 500 keepsakes for those who attended the Nerdy Dinner: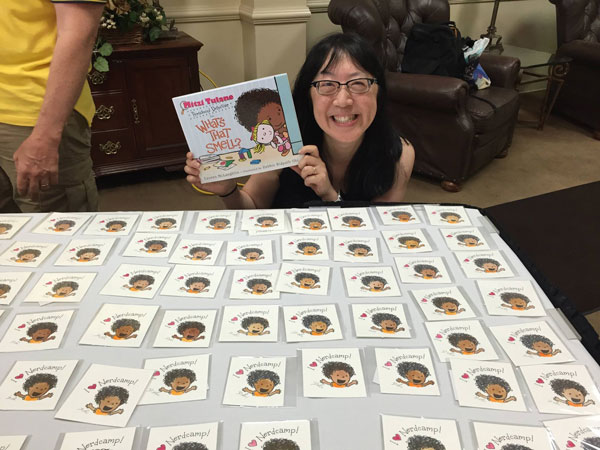 People seemed to like them, yay!
I've been collecting nErDcamp 2016 blog posts and recaps, am listing them below. If you see any that I'm missing, please let me know and I'll add them!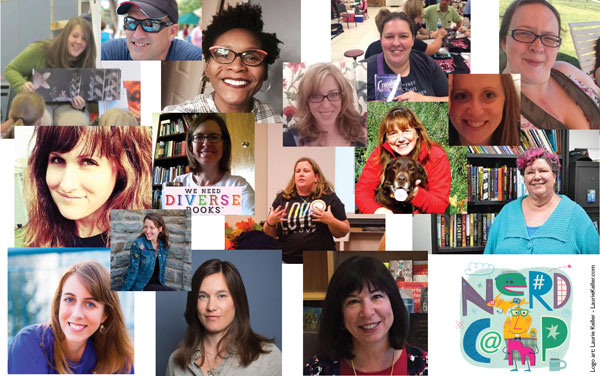 (Last updated June 24, 2017)
Patrick Andrus – Wonder Wednesday – My FIRST NerdCamp
Kelly Barnhill – In Which I Take A Hiatus From The Hiatus In Order To Talk About Nerd Camp
Jenn Bishop – Getting nerdy in Michigan
Crystal Brunelle – #nErDCampMI 2016
Kathy Burnette – NerdCampMI – Recap
Victoria J. Coe – ILA & nErD Camp 2016!
Melanie Conklin – A nERdcampMI Wrap-up!
Ann DiBella – A Weird and Perfect Tribe
Melissa Guerrette – Five Things I'm Celebrating About nErDcampMI
Jillian Heise – Summer Tour 2016 Highlights
Teri Lesesne – Mind, Spirit, Heart
Margie Myers-Culver – For The Very First Time – Reflections On NerdCampMI 2016
Amy and Sarah Ralph: Two Nerdy Sisters Go To Michigan: Our Nerd Camp Journey, Part 1 and Part 2
Melanie Roy – #nErDcampMI Day 1 July 2016
Katherine Sokolowski – NerdCampMI 2016
Jen Vincent – JOIN: nErDcamp Michigan 2016 (*** NEW ***)
OTHER PRESS:
Publishers Weekly: Nerdcamp 2016 In Photos
mLive.com: 'nErDcamp' Spreads Love Of Reading Among Teachers, Kids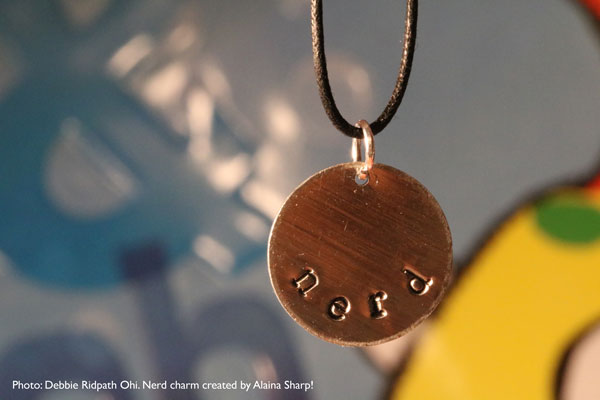 The handmade "nerd" charm in the photo above now hangs above my desk (thanks to Alaina Sharp!), where it will help inspire me throughout the year and remind me of the magic that was nErDCAMP 2016.
THANK YOU, NERDCAMP!