AWKWARD by Svetlana Chmakova needs to be in every school library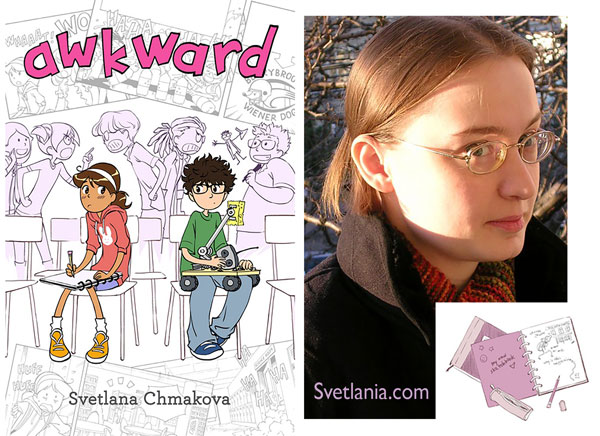 Just finished AWKWARD, an absolutely wonderful middle grade graphic novel by Svetlana Chmakova (Yen Press/Hachette, 2015). This needs to be in every school library. Why? Because it Svetlana does SUCH a great job at capturing the awkwardness of middle school personal interactions, especially for the insecure and shy. I wish this book had been around when I was that age, because it would have inspired me to take more risks, to not be so afraid of making mistakes when it came to social situations. AWKWARD is funny and sweet, with *so* much energy in the character drawings, and you must read it. Highly recommended.
Free preview – Facebook Page – Publisher book page – More about the author
Thanks to my friend Susan Rich for the recommendation.
Synopsis:
"Penelope–Peppi–Torres, a shy new transfer student, wants nothing more than to fit in and find a place among her fellow artistically inclined souls. The last thing she wants is to stand out. So when she bumps–literally–into quiet, geeky, friendly but friendless Jaime Thompson, and is teased as the Nerder Girlfriend, Peppi's first embarrassed instinct is to push him away and run. Though she later feels guilty and wants desperately to apologize for the incident, Peppi always ends up chickening out. She has no reason to speak to him, anyway, until she ends up bumping–figuratively and continually–into Jaime again! Will these two opposites ever see eye-to-eye, let alone become friends?"