#BookADay: MINRS by Kevin Sylvester (Simon & Schuster, Sept/2015)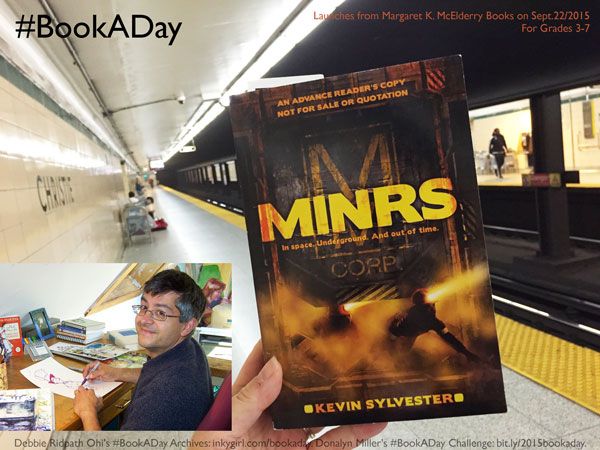 Appropriately enough, I began and finished Kevin Sylvester's MiNRS underground. It was soOooOooOOoo good that I missed my subway stop. Twice.
MiNRS is Kevin's upcoming action-adventure sf book for middle grade … though honestly, I believe older readers will enjoy it as well. The premise: A 12-year-old boy and his friends have to survive in the mining tunnels after their new space colony are attacked during an Earth communication blackout.
Love the unexpected plot twists.
Loved the action and adventure, sense of real danger. The darker bits are part of what helps set this sf middle grade apart from others.
Love the main character, Christopher, and how his character develops throughout the story. Love the fact that he's just an ordinary boy (no superpowers, etc.) who has to use resources available to him to figure things out and learn how to be a leader.
Loved the depth of the character interactions and complexity of some of the relationships.
Loved the strong female characters.
Loved the fascinating tech/science behind the asteroid mining process.
Just ***LOVED***.
Can't wait until MiNRS comes out this September from Margaret K. McElderry Books/Simon & Schuster.
And Kevin: I want MORE, PLEASE.
Read about MiNRS on the Simon & Schuster website.
Find out more about Kevin and his work at KevinSylvesterBooks.com.
---
More info: Donalyn Miller's Summer Book-A-Day Challenge | Archives of my #BookADay posts.