What do Minion Peeps, THE YETI FILES: MEET THE BIGFEET, Aya Kakeda and Joyce Wan have in common?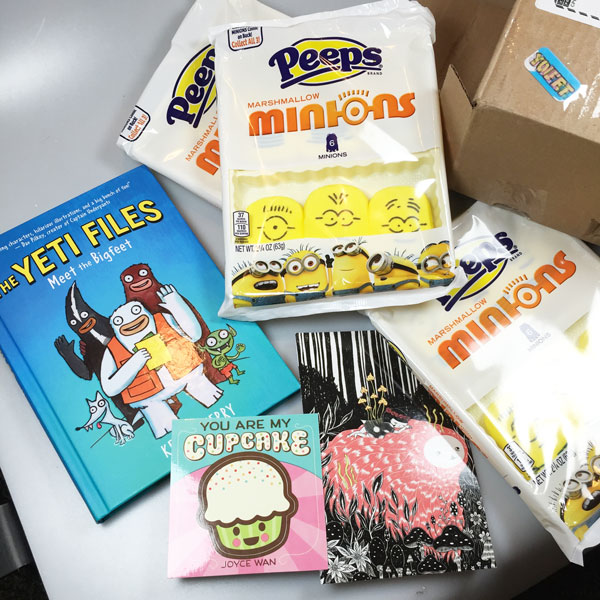 LOOK WHAT JUST ARRIVED. Huge thanks to Teresa Kietlinski!!
So here's the story….
Three weeks ago, I saw this photo in Teresa's Instagram feed. I was all excited because I'm a big Minions fan and also am curious about Peeps (have never had one). I asked Teresa where she got them and during the ensuing conversation, it became clear that I probably would not be able to find any in Canada at that point. I was sad. Teresa took pity on me and offered to mail me some.
The package above arrived today and not only did it have Minion Peeps but also (!) a copy of Kevin Sherry's THE YET FILES: MEET THE BIGFEET (Scholastic), a YOU ARE MY CUPCAKE sticker from Joyce Wan, and a lovely postcard showing illustrations by Aya Kakeda. Do check out Aya's website; her illustrations are so gorgeous and wonderfully odd and intriguing!
I'm also a Joyce Wan fan already and am looking forward to seeing her in NYC in a couple of weeks at SCBWI-NYC! So looking forward to getting my copy of THE WHALE IN MY SWIMMING POOL, which is coming out from FSG/Macmillan this April (and is a Junior Library Guild Selection!).
And I'm excited to read THE YETI FILES: MEET THE BIGFEET by Kevin Sherry. I've seen mention of this series online and been very curious, but hadn't yet gotten around to looking for a copy to browse. The illustrations look like so much fun, and I can't wait to read this soon.
By the way, I had already eaten a Minion Peep by the time I got this far in my post. 🙂 Talk about a SUGAR RUSH, WOW. About to eat the second one, so I can't blame him for looking worried: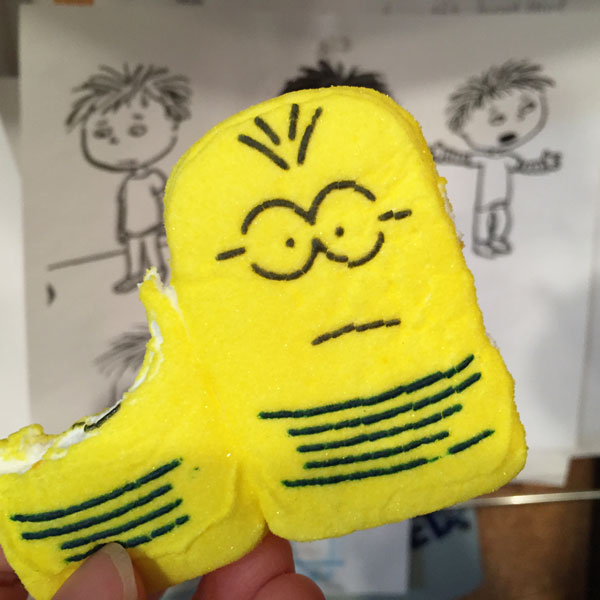 THANK YOU SO MUCH, TERESA!!!!
You can find out more about Teresa Kietlinski and the other literary agents at Prospect Agency on the Prospect website. Teresa reads five picture books a day (no exceptions). You should follow her (@teresakie) on Twitter as well as her blog.
Back to my Peeps now….