#BookADay: WE WERE LIARS by E. Lockhart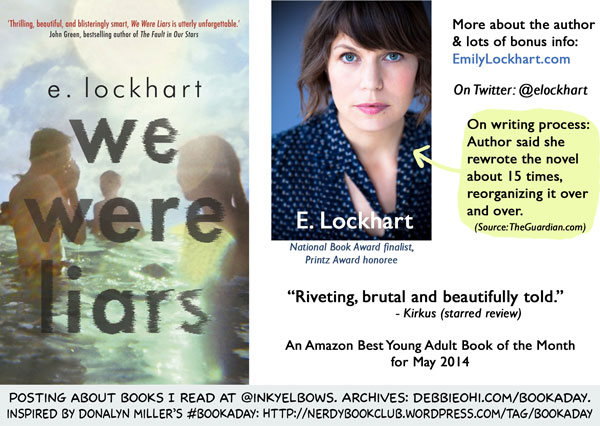 Just finished WE WERE LIARS by Emily Lockhart. Totally lives up to the hype, I have to say.
It's a novel I definitely want to reread (if you've read the novel yourself, you know why).
In hunting down interviews with the author, I was intrigued by the fact that Emily rewrote the novel multiple times as well as reorganizing "over and over." This hard work clearly paid off.
What I loved most: the voice. I only had to read a sample excerpt to be hooked, and immediately bought the book for my Kindle.
You can find out more about E. Lockhart and her work at EmilyLockhart.com. If you're on Twitter, you should follow @elockhart — she sometimes posts about her writing process, too.
More about We Were Liars on the Penguin Random House site.
——
More info: Donalyn Miller's Summer Book-A-Day Challenge | Archives of my #BookADay posts.